Today you can access music from more sources than ever before. This naturally includes streaming and videos from the Internet, digital radio, vinyl records – and of course, the good old CD. Modern CD receivers cover the whole range of music sources. They act as playback devices, streaming interfaces and control your speakers.
The most important criteria when buying a CD receiver
The main task of a CD receiver or CD player is to analyse the data stream on the CD by means of a laser, convert the digital data into an analogue signal (AC current) and amplify it. The amplified signal – which is causes the speaker cone to vibrate – is transmitted to the passive speakers via the connection outputs.
Both the integrated D/A converter or DAC (Digital Audio Converter) and the amplifier unit, consisting of a pre-amplifier and power amplifier, play decisive roles in the performance of the CD receiver and the signal sound quality. These components ultimately convert the high-resolution digital audio data into good sound. The differing quality of these components explains the price and quality differences between high-end CD receivers and budget devices.
What makes the CD receiver a real all-rounder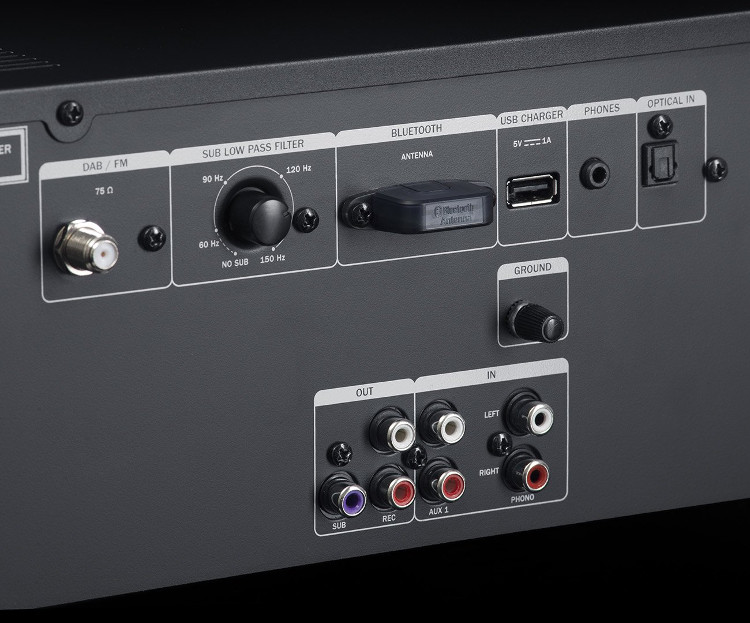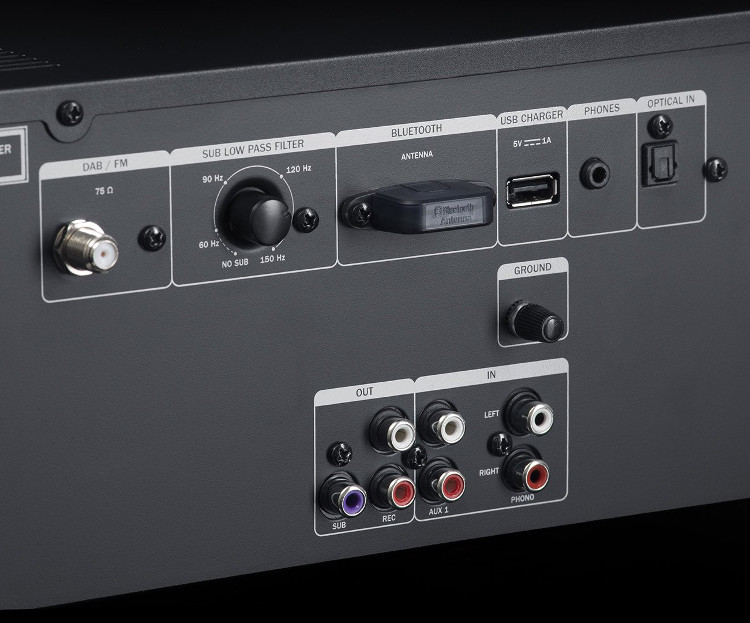 How flexibly a CD receiver can be used depends on the integrated interfaces and supported audio standards. These make it possible to control the system via various output devices: almost all smartphones and laptops support Bluetooth. If the receiver is also equipped with the wireless interface, streaming services can also be used. With Bluetooth aptX, the stream is even played back in CD quality.
The digitalisation of radio is continuing to progress rapidly. If you want to access radio stations with your CD receiver, you should make sure that it also receives DAB+. DAB+ compatible devices can also receive the previous DAB and FM standards.
If you want to play Blu-ray discs or DVDs as well as CDs, you should buy an AV receiver with an integrated CD player.
The important in- and outputs
Which connections should you have with your receiver? Here is an overview of the most important ones:
✔ Speaker output: It is important to note the type of speaker that you would like the CD receiver to control. You only need four outputs to connect stereo speakers. For a 2.1 set, an additional subwoofer output (mono-cinch) is required. If you want to play a surround set, look for the corresponding number of speaker outputs.
✔ Headphone output: Usually this is a 3.5mm jack. However, some headphones are also compatible with a 6.3mm jack.
✔ Optical input: In certain set ups, a different device can also be used as an audio source – for example, if the sound of a gaming console is to be played back. Then an optical digital input or TOSLINK is often a good solution. For the same reason, an HDMI input can also be useful.
✔ USB: A USB port allows you to connect USB sticks and external hard drives as a music source. It is important that the receiver supports the appropriate file format. Besides MP3, WMA and Wave are also relevant file formats.
Teufels Kombo CD receiver – sound and functionality
At Teufel, cutting edge stereo sound means outstanding sound quality, excellent performance and a wide range of interfaces. Our CD receiver in the Kombo 62 was made with this in mind.
▶ High-end converters and powerful stereo amplifiers with up to 200-Watt power output
▶ Universal compatibility with stereo cinch, 3.5mm jack, phono for turntables, USB and TOSLINK
▶ CD-quality wireless audio streams with Bluetooth aptX and DAB+ ready
▶ Robust and high quality finished aluminium housing with brushed front.
The Raumfeld Streaming Connector turns your old system into a Wi-Fi enabled streaming centre. It is connected via cinch or TOSLINK and enables streaming via Spotify, Tidal, SoundCloud and Co.
An overview of the Teufel Kombo stereo systems

Conclusion: Be ready for anything with CD receivers
The sound quality and performance of a CD receiver depend largely on the integrated D/A converter and amplifier.
An integrated Bluetooth module with aptX codec offers CD-quality streams.
DAB+ capable receivers support the new standard for digital radio.
Useful inputs are jack plugs for headphones, USB for digital storage media, TOSLINK for other players.