Ideally, it should be possible for a source device to transmit audio files to a loudspeaker quickly, easily, and without draining the battery on your smart phone. Bluetooth is just such a method and it has the added benefit of working independently of a Wi-Fi network: No Internet connection is required for two devices to communicate with each other via Bluetooth as long as these devices are within close proximity of up to about 10 meters. Within this range, it's possible to transmit music tracks, pictures, and documents from any two Bluetooth-enabled devices, including just about every smart phone made today.
But how does music transmitted via Bluetooth sound?
In order to wirelessly transmit the large quantities of data necessary for music playback, special ways of encoding data were developed that reduced file size. The standard coding employed by Bluetooth for audio transmission is SBC, or Low Complexity Subband Coding. SBC compresses audio files so that they can be transmitted without stops and interruptions and then decompresses them for playback on the receiving device. Sampling rates up to 48 kHz and maximum bit rates of 198 kilobits per second (kbit/s) for mono and 345 kbit/s for stereo streams are promised by this codec. These rates will deliver decent playback, however not all mobile devices support 345 kbit/s per second  for stereo audio and this data is rarely provided as part of a device's specs.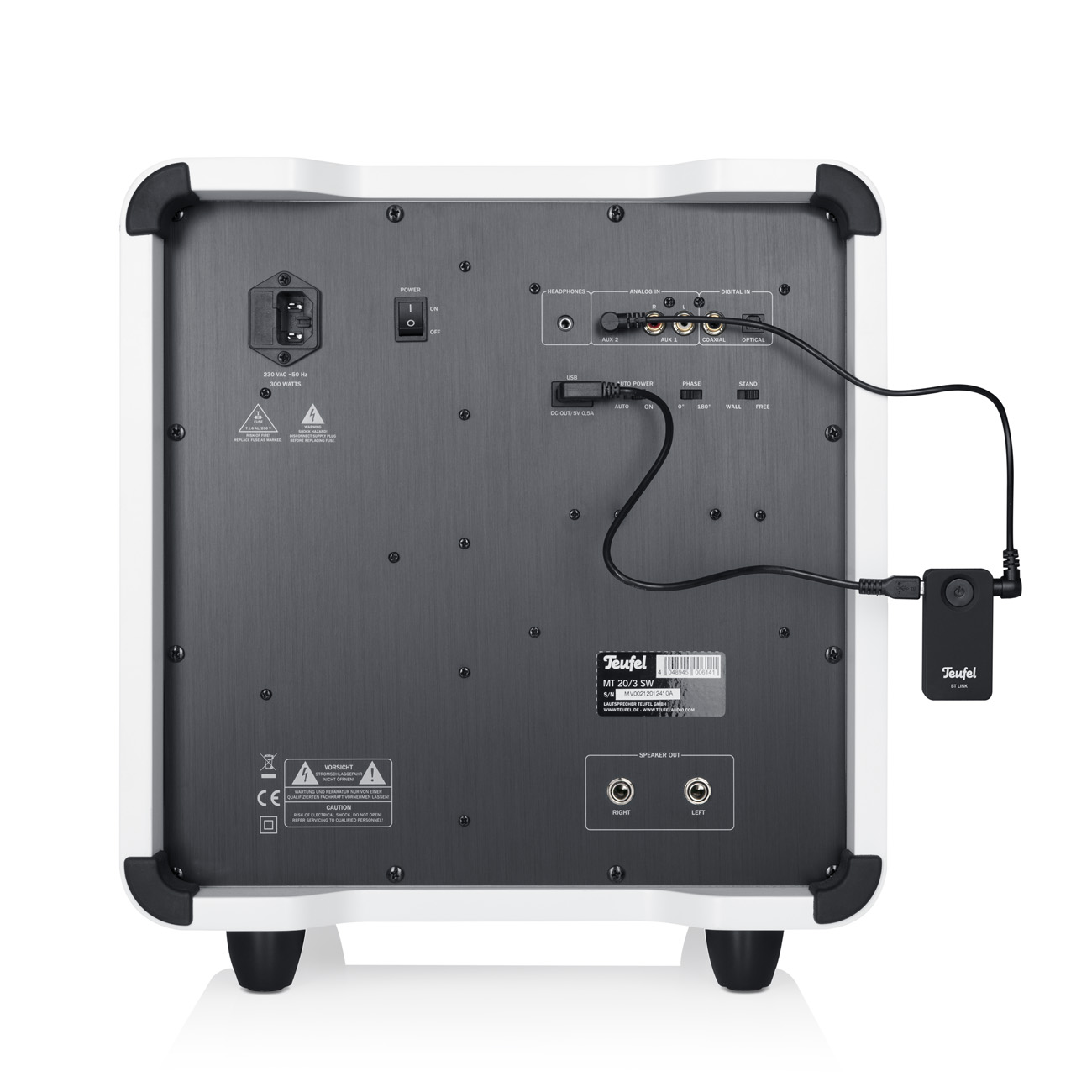 SBC was not intended to deliver high-quality playback, but rather to enable wireless music transfer that's inexpensive, low-power, and easy to use. Unfortunately, the idea many people still have regarding Bluetooth, namely that it's not suitable for high-end music playback, stems from their experience with SBC. Thankfully, Bluetooth technology is always evolving and many audio products on the market now support Bluetooth transmission that approximates CD quality. But how is this possible?
The 30 year old aptX codec is rediscovered
For a long time, it seemed like Bluetooth users wouldn't be able to enjoy the best of both worlds: Inexpensive and fast music streaming that could be used independently of Wi-Fi networks coupled with the ability to enjoy high-quality audio files. Until, that is, a 30 year old codec was rediscovered. Developed back in the 1980s by Dr. Stephen Smyth as part of his PhD work at the University of Belfast School of Electronics, Electrical Engineering and Computer Science, the aptX codec was designed according  time domain ADPCM principles and was used  in the telecommunications industry throughout the 1990s. We should therefore perhaps speak of a repurposing rather than a "rediscovery," as it's only in recent years that this low latency coding format has been applied to Bluetooth audio transmission.
"Latency" in this context refers to the time it takes to access data, low latency indicating a system with fewer time lags – something that was a problem with SBC. The aptX codec also results in playback with fewer "sonic artifacts," or unwanted sounds that are added to the additional recording as a result of the coding process. This was another problem with SBC for music streaming. The aptX codec's ability to transmit higher resolution waveforms without a time lag or artifacts made the it a perfect fit for high-end audio transmission via Bluetooth.
There are currently a variety of aptX Codecs for various uses:
| | |
| --- | --- |
| Codec | Use |
| Apt | Enables hi-fi stereo quality music transmission via a Bluetooth A2CP connection |
| aptX Enhanced | This standard has a higher resolution and was developed for use with professional radio |
| aptX Live | The lower latency of this codec makes it especially suitable for microphone audio recordings |
| aptX Lossless | A sampling rate of up to 96kHZ along with a resolution of up to 24 bit make the lossless version a high-quality standard |
| Low Latency | The name of this codec pretty much says it all. The aptX Low Latency codec was primarily developed for videos and gaming use where tone and picture need to be in sync. |
Teufel's new Motiv B and other Teufel products support aptX
As many will point out, the problem with many Bluetooth enabled speakers is not so much the limitation of the Bluetooth technology, but the hardware that plays it back. It's only with a truly good pair of speakers that the full potential – and limitations – of Bluetooth can be experienced. Teufel was quick to embrace the aptX codec because it provided a way to wirelessly deliver a high-quality audio signal for playback on its high-end speakers.
The following Teufel Audio products already use the aptX Codec:
• Bamster
• Bamster Pro
• Rockster XS
• Kombo 22
• Concept E Digital
What do I need in order to listen to music with aptX?
When two Bluetooth devices pair, the will automatically find the best possible codec supported by both. In order to enjoy high-quality playback with the aptX codec, it is therefore necessary that both Bluetooth devices being paired – the source device and the loudspeakers – support the codec. Happily, most smartphones today do support aptX, but it's good to check when making a purchase. If your tablet or smartphone supports this codec, you simply need to pair it with Bluetooth speakers that also support aptX and then select your songs as you normally would. High-quality music playback will automatically be transmitted and played back.
All pictures: Property of Teufel Audio