The 00s mainstream music if anything was very bubblegum pop, and soft. There of course were under themes of harder music making its own success but nothing. To twist things up we listed the best rock covers of our favourite 00s songs. We selected some of the biggest hits from 2000s and look at some famous bands that chose to cover these songs. And we also took at some of the greatest YouTube artist covers. So read on and rediscover the sound you love. And hear old sounds in new ways.
| | |
| --- | --- |
| Covered by: | Manic Street Preachers |
| Original artist: | Rihanna |
| Original release: | 2008 |
| Original single sales: | 10 million* |
Original release: 2008 | Original artist: Rihanna | Original sales: 10 million*
The Welsh band took a bold step by covering one of the biggest hits of the time Umbrella, from Barbadian singer Rihanna. It was recorded and released on cover compilation given away free with NME in 2008, to mark the awards for that year.
Arctic Monkeys – Love Machine
Original release: 2004 | Original artist: Girls Aloud | Original sales: 200 thousand*
No, this is not the F.R.I.E.N.D.S into music, despite the similar introduction. It looks like Girls Aloud weren't the only Love Machines around with Artic Monkeys. The beloved Radio One Live Lounge that often invites band or artists in to perform their newest tracks, also has a section where they cover another song. In the case of the Artic Monkeys they chose to convert the ultra-pop song and bring down to a rocky level.
 Don't foget to check out our other articles
The Flaming Lips – Can't Get You Out of My Head
Original release: 2001 | Original artist: Kylie Minogue | Original sales: 2.7 million*
The only thing we couldn't get out of our heads in 2001 was this classic hit from Kylie Minogue, which was an international number-one hit. The Flaming Lips, an American rock band saw the challenged and released their alternative rock version of the song in 2003 on their album Fight Test. They completely change the tempo of the song, and with the lead singer's raspy voice the lyrics suddenly have a deeper meaning.
Bloc Party – Say It Right
Original release: 2006 | Original artist: Nelly Furtado | Original sales: 2 million*
Things just got very British. This rock cover of Furtado's classic by Bloc Party fits in nicely into the stereotype of British rock bands. Apparently, the leader singer, Kele Okereke, was a huge fan of pop music artist such as Britney Spears and Nelly Furtado, and therefore loved to create rock covers.
The Wombats – Bleeding Love
Original release: 2007 | Original artist: Leona Lewis | Original sales: 7 million*
This mega hit from X Factor winner Lewis was an international best seller topping charts around the world. The Wombats a British indie rock band, who drunkly decided to record this hit in 2007, after emptying three bottles of wine. Despite the lack of preparation, the turnout was impressive.
The amateur covers
Ever since the birth of YouTube, covering or parodying popular songs has gained audience from around the world.  So we're going to focus on some these bands, that despite other material, perhaps are best known for their rock covers. Not pardoying. So let's share the spotlight.
First to eleven – Poker Face
Original release: 2009 | Original artist: Lady Gaga | Original sales: 10 million*
First To Eleven unlike most bands on this list haven't established themselves with their own music. This so-called, YouTube band has gain attention with their online covers of many classic songs. We had to pick Poker Face, the cover, although not super inventive is a nice soft rock take on the classic hit from Lady of all things Gaga.
BOOMSTER – Take good sound wherever you go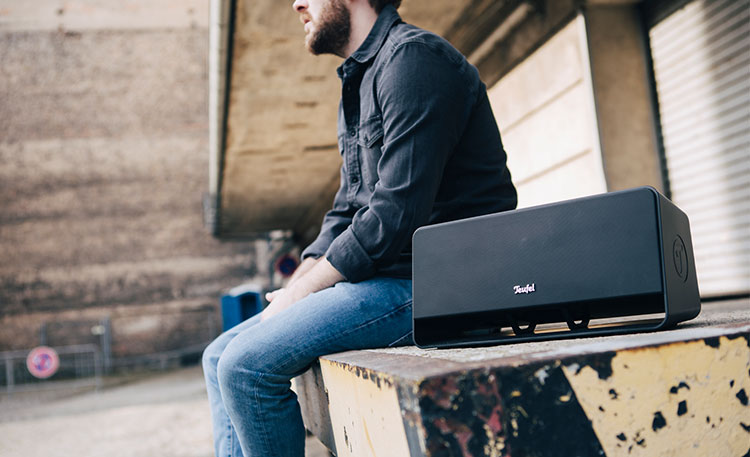 RIVETHEAD – SexyBack
Original release: 2006 | Original artist: Justin Timberlake | Original sales: 6 million*
RIVETHEAD, who seem to pride themselves on not being perfect, have taken SexyBack to the dark side with the hard rock cover of the experimental classic. There's something about the reputation of the heavy hook that makes this song just as addictive as the original. It seems good music formulations can translate well across multiple genres.
Seven Deadly – Crazy Love
Original release: 2003 | Original artist: Beyoncé | Original sales: 2.5 million*
Beyoncé is one of the ultimate powerhouses in the industry. No question. Her solo career started though with this upbeat song Crazy Love. The British band, Seven Deadly, created an interesting cover, by keeping the original vocals adding in their own scream vocals to the track. The mixture of both creates an interesting final piece that may fright the ear. Waring: heavy metal.
OHP – Beautiful
Original release: 2002 | Original artist: Christina Aguilera | Original sales: 1.1 million*
One of the great things about being a YouTube band, is that you can be your own band. Yes, if you have the talent and the mixing skills nothing can stop you from banging the drums to screaming the vocals. And that's exactly the case with this cover, the one-man band OHP took it upon himself to cover Aguilera's beloved classic Beautiful. Surprisingly, the lyrics fit the style of music perfectly.
Our Last Night – Who let the Dogs out
Original release: 2000 | Original artist: Baha Men | Original sales: 1 million*
Woof, woof! This last cover on the list is certainly unique, as it features the original artist. Yes, the original signers got in on the fun and helped piece together this rock version of the no 1 single. Despite Baha Men taking part in the recording, it sounds a far stretch from their original song.
Roundup of rock covers
These covers prove that good music can easily translate into any genre. Also, to those that aren't lovers of rock, perhaps this is a great first step to get into the genre. Of course, this list is just he tiniest atom of the great music covers out there. In fact, some covers are so great they outshine the original song, such as Otis Redding's Respect, which the Aretha Franklin's version is far more successful.
*All sales figures are not exact but roundabout figures – sources: ifpi.at, aria.com.au,belgianentertainment.be,ifpi.dk,snepmusique.com, nvpi.nl, nztop40.co.nz, musikindustrie.de, swisscharts.com, bpi.co.uk,riaa.com.