Physical music storage formats in the form of CDs have long gone digital and MP3 and streaming exploit the advantages of coded bits even further. Yet there remains one way we listen to music that has bucked the trend: Good ol'd analog FM radio. At the office, in the kitchen or car – many people the world over still regularly listen to FM and even AM radio. This could all soon change with DAB+, a digital technology that has left the starting gates and is galloping towards a victory over the airwaves.
DAB+ puts high-quality digital radio within everyone's reach
DAB stands for Digital Audio Broadcasting and is a new transmission standard for broadcasting and receiving audio via antenna. DAB originates as an anolog signal which is then converted to digital before transmission in the AM or FM frequency range. This makes it different from web radio (also called internet radio) which is simply the digital transmission of live streams. These streams can be received via a device with a wired connection to a router or over WiFi. Note that since DAB+ signals are converted from analog and directly sent, they are not a part of the World Wide Web, but comprise a separate and independent digital network.
DAB has been tested for a few years in large urban centres across many countries in Europe as well as the UK, Canada and Australia. The "+" in the name refers to the latest version of this technology which promises excellent, CD-quality sound.
DAB+ is able to transmit audio by compressing it by means of the MPEG-4 HE AAC V2 audio codec, a technology that makes it possible to shrink the amount of data for easy radio transmission without compromising on quality. In addition to the higher quality of audio DAB+ offers compared to FM radio, there's another major advantage: The ability to transmit other types of information with the audio such as album covers, the name of the artist or the latest news headlines.
Not fade away: One key advantage of DAB+
One large advantage of DAB+ is the quality of the reception. The first forms of radio, AM, short for Amplitude Modulation, and FM, short for Frequency Modulation, are based on the modulations of a carrier wave. Since FM waves are shorter than AM waves, they can't travel as far, but, because of their better sound quality, FM radio is the far more popular option. And we all know the frustration of the long fade as the signal strength of a favourite song weakens and dissolves into static. DAB+ signals, in contrast, never produce garbled sound. Even when the signal is weak, the listener enjoys good sound quality. The audio is only affected when the signal falls below 10 or 15 percent. At this point, instead of slowly breaking up, it simply drops off completely.
In addition to consistently crisp and clean sound quality, DAB+'s clever compression technology offers more room for different radio stations. Up to 200 DAB+ radio broadcasters are possible in a given region. Assuring a good level of diversity among these 200 broadcasters is the low cost of DAB+ transmission compared to FM radio. Along with the well-funded corporate and government news and music broadcasters, smaller groups can afford to broadcast more specialized or niche offerings.
What do I need to listen to DAB+?
In order to enjoy all the advantages of DAB+ radio, you'll require a receiving device that supports the technology. Teufel's Kombo 62, for instance, comes with a CD receiver that supports DAB+ as well as 3-way stereo towers capable of transducing the higher quality signal into hi-fi sound. Of course, FM radio is also included in addition to the older Digital Audio Broadcasting standard, DAB.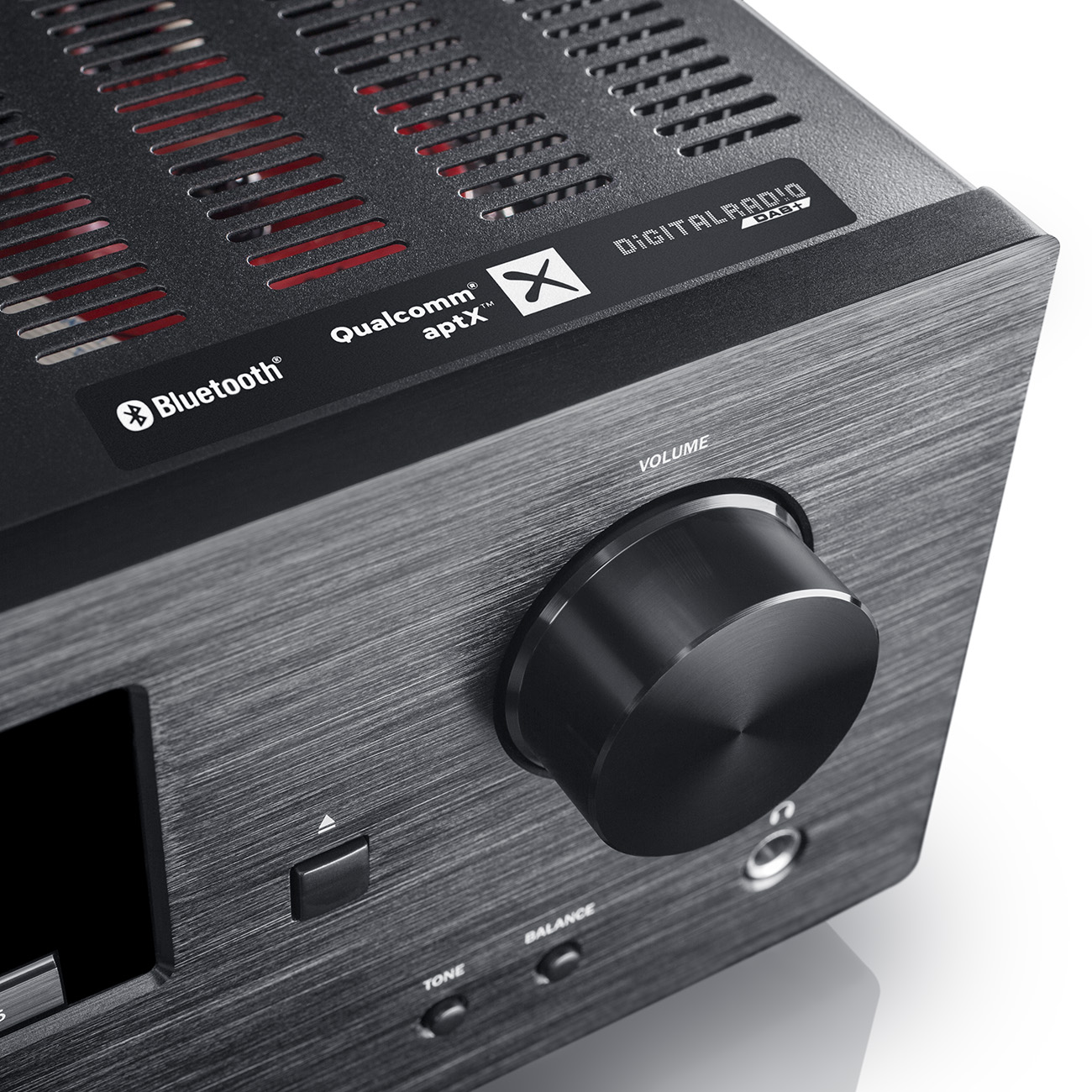 What are the prospects for DAB+'s future expansion?
The DAB+ network is being expanded throughout Europe. This involves building a network of transmitters which is an expensive infrastructure investment, yet necessary for full and uninterrupted DAB+ coverage. The Netherlands began a national service in 2013, large urban areas in France introduced DAN in 2014, already 43 percent of the Italian population has access to digital radio and the UK continues to expand its digital radio network. But by far the most ambitious country in terms of digital radio implementation is Norway which plans to completely switch from analog radio over to DAB by 2017. In the Americas, DAB has been launched in Canada, but is yet to make headway in the US. For Europe and the UK, the future of radio looks digital.
Coda: DAB+ is the future of radio
• DAB+ is a digital transmission technology for radio that offers better reception and less noise than its analog AM/FM counterparts
• Unlike web radio, DAB is not reliant on the internet but rather forms a separate and independent digital network
• Larger program offerings are possible thanks to DAB+'s clever compression technology
• Lower energy use and transmission costs allow more stations to broadcast DAB+ radio than FM and AM
• Receivers for digital radio are compatible with FM reception
• Many European countries and the UK can expect large improvements to the DAB+ infrastructure, placing the technology within the reach of many more people
All pictures: Property of Teufel Audio