Music streaming is on the rise. The advantages of using this method to play your favourite music are obvious: location-independent access, a huge selection across different devices and no extra component requirements. In this article we go into more detail about the topic of music streaming and also consider possible disadvantages.
The concept behind music streaming
Streaming music is like accessing an almost inexhaustible digital library. Streaming services keep not only music available for their customers on servers, but also audio books and podcasts. Spotify and other services offer such a large and varied selection that every taste in music is provided for. The providers pay license fees to record companies for the distribution of the audio content.
On the other hand, the services earn money through advertising and subscription fees. The low price offered to users (some services are even free of charge) is a key factor in the success of music streaming. The fee for most paid subscriptions is usually around 10€ per month, which is unbeatable in comparison to the approximately 15€ for a single album as a CD or 25€ for vinyl. Unlike songs on physical media or downloads, streamed music is however only on loan. You only have access to music within the app database, and only as long as you have an account with the provider.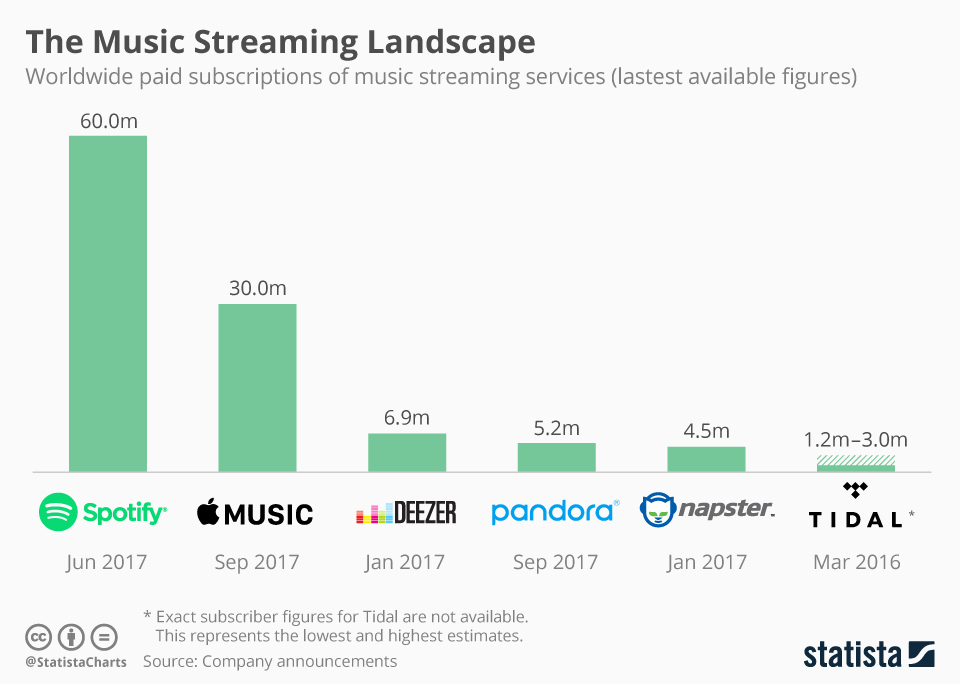 Find more infographics on statista.com.
So is it still worth buying music at all nowadays? We discuss the issue in this article.
Free vs. paid streaming services
Free music streaming is offered by market leader Spotify and competitor Deezer in the basic model. The free version features compulsory advertising, with adverts that are played on average after every third song.
However, if you choose a premium account, you won't get bothered by adverts. Premium also offers additional features. With Spotify, for example, you have the option of listening to selected music offline, which is almost indispensable for avid listeners, since audio streaming takes up a lot of mobile data volume. Another premium feature is the adjustable streaming quality.
Read more about Spotify tips and tricks for beginners and streaming professionals alike.
Music streaming from the artists' point of view
So we have considered streaming services from the users' perspective, but what about that of musicians and the music industry? A fundamental question is surely this: how are artists remunerated for their work?
As far as reimbursement is concerned, more clicks usually means more money. How much a single stream of one song actually brings for the artist, however, cannot be accurately defined, because official figures are missing. At Spotify it should be 0.0044 US dollars (0.5 euro cents) on average per stream. To make 100 dollars, a song should therefore be streaming 23,000 times. A study for the French market has also found that of the 10€ subscription fee, a good 2€ will go to the artists. Payments from other music streaming providers are similar – including Amazon, Deezer and Google. Apple Music and Tidal in particular, on the other hand, are expected to pay significantly higher premiums per stream.
It is understandable that artists often criticise the business model of streaming providers. However, one should consider in the evaluation that the record companies also have a say. They are the rights holders, conclude licence agreements with the services and often receive a substantial part of the revenues themselves.
Teufel Streaming speakers

Advantages and disadvantages of music streaming
With the exception of a few disadvantages, it should be said that the advantages of music streaming certainly outweigh the disadvantages:
          ➚ location-independent availability and huge selection
          ➚ various music streaming services to choose from
          ➚ low subscription price, much cheaper than buying CDs or downloads
          ➚ great functionality with playlists, offline mode and personalised music suggestions
          ➚ simple integration into the home entertainment system – think "multiroom ")
And as for the downsides:
          ➘ Dependence on the provider and a (fast) Internet connection
          ➘ Lossless file formats only available to a limited extent
          ➘ Very low remuneration for many artists