The popularity of audiobooks has boomed in the past few years, however they are by no means a new phenomenon. People have been creating oral recordings of literary works since the invention of the phonogram in 1877. However it was not possible to record full versions of novels until the 1930s when "talking books" were made available for those with visual impairments. Fast forward another couple of decades and the first real audio books were being made available to the greater public, with record companies issuing copies from some of the most popular authors of the time such as Virigina Woolf, Agatha Christie and T. S. Eliot.
Nowadays, thanks to the digital revolution, downloading your favourite reads has never been easier. Audiobooks have become a practical solution to our busy everyday schedules. On the daily commute, out for a run, or unwinding at home – they offer the same immersion in a gripping plot for those who don't have the time to sit down with a physical book for hours. In fact, whilst sales of books continues to decline, audiobooks are the fastest growing format in the publishing sphere.
Stream your favourite music, audiobook or podcast services easily with Teufel Streaming products:
Overview of audiobook services
With the popularity of audiobooks continuing to rise, there are now many apps and subscription services that offer audio- and bibliophiles alike the opportunity to discover new reads and re-live beloved classics at the touch of a button. We have compiled a brief overview of 5 of the best audiobook services available to give you an insight into which app could work for you.
Audible
| | |
| --- | --- |
| Library | 200,000+ |
| Trial period | You can try out Audible for a 30-day free trial |
| Monthly cost | £7.99 / €9.95 / $14.95 = monthly subscription, 1 free book + discounts off retail prices |
| Advantages | Huge range of titles featuring recently published bestsellers, high-quality audio, good playback features such as chapter navigation, sleep mode, choose to rent or buy books and download to listen offline |
| Disadvantages | Only provides access to Audiobooks as opposed to other formats, you can't download directly from the app or purchase extra credits |
Librivox
| | |
| --- | --- |
| Library | 15,000+ |
| Cost | Free |
| Advantages | Good if you are a fan of classic literature, voluntary, non-profit, ad-free project, save and listen to as many titles as you want, contribute to the project yourself |
| Disadvantages | Smaller library (you probably won't find contemporary bestsellers), small language selection, narration and audio quality can vary |
Overdrive + Libby
| | |
| --- | --- |
| Library | Location dependent |
| Cost | Free |
| Advantages | Variable speed settings, borrow books 24/7, create holds and wishlists, also provides access to eBooks and videos |
| Disadvantages | Whilst around 30,000 libraries provide OverDrive, content is subject to what your library has, you must have a library card to access books from individual locations |
Playster
Library
35 million
Trial period
You can try out Playster for a 30-day free trial
Monthly cost

Audiobooks: €15.95 / $9.95

Multi-media bundle (music, movies, books, audiobooks, games): €36.50 / $24.95

Advantages
Large choice, intuitive operation, local import function, Facebook log-in, web player available, offline function, sharing function, common playlists, shows concerts in your area
Disadvantages
Doesn't perform as well without Wi-Fi, you can't re-listen to old books if you cancel your subscription
Scribd
| | |
| --- | --- |
| Library | 30,000+ |
| Trial period | You can try out Scribd for a 30-day free trial |
| Monthly cost | £5.50 / $8.99 = monthly cost which allows access to 3 books and 1 audiobook |
| Advantages | Also get access to more than half a million eBooks, articles and documents, great value for money, good usability |
| Disadvantages |  Smaller title selection, not every title is available worldwide |
Great stories begin with great sound
Crime, thriller, romance, fantasy – you can transport yourself to a new world with an audiobook. But disruptive background noise shouldn't spoil the moment. Our range of Bluetooth and noise-cancelling headphones allow you to listen to the best-quality audio wherever you are. Voices are projected clearly and precisely, and not washed out by ambient sound whether you are sitting in public transport or out for a run.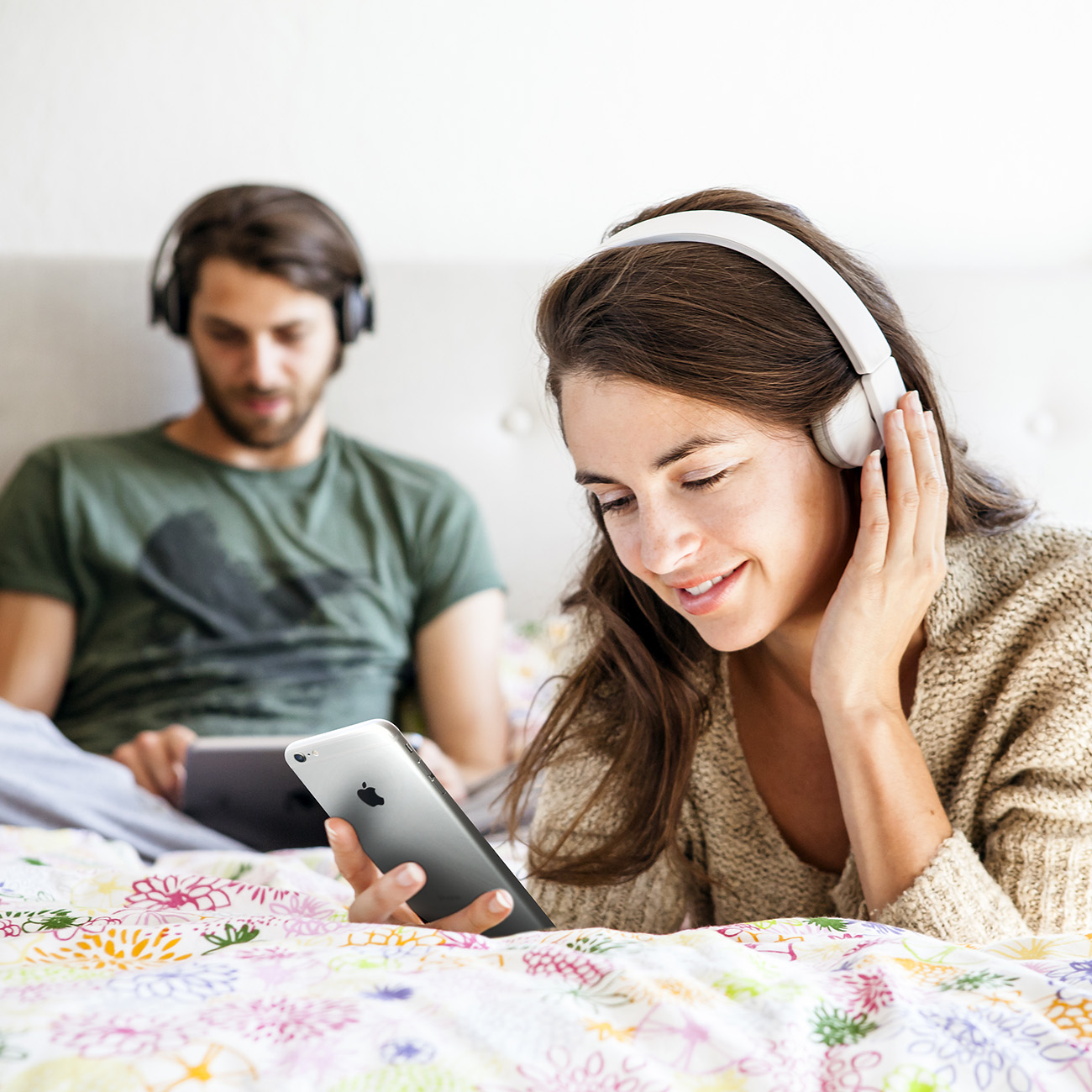 With up to 20 hours battery life and a comfortable on-ear fit, the Teufel Airy are perfect for long listening sessions.  They can be used with a cable or wireless thank to Bluetooth 4.0. and offer Hi-Fi sound for all audio playback.
See more Teufel headphones for audiobook listening on-the-go: