The popularity of podcasts is still on the rise. Just as audiobooks are the digital age's version of physical literature, podcasts are an accessible and handy source of news and entertainment in an episodic format that you can download straight to your smartphone. Whether you want to catch up on the latest news from around the world or get inspired to change it, tune in to some stand-up comedy or zone out with a thought-provoking lecture, improve your cooking skills or learn to speak a new language, there really is a podcast for everything. You can find out more about how best to organise your collection in this article.
Of course, the podcast format particularly suits the theme of music. Like a compact radio show, music podcasts offer insightful and interesting sneak peeks into the work of your favourite artists, and allow you to both discover new music and reconnect with the classics. This week on the blog, we are recommending our top 5 music podcasts. Anything to add to the list? E-mail us at blog@teufel.de.
Desert Island Discs
At the grand old age of 76, with a backlog of over 3,000 episodes, Desert Island Discs is a BBC institution. Broadcast weekly on Radio 4, the show is also now available to download as a podcast. In each episode, a different guest is invited to choose the 8 records that they would hypothetically take with them to a desert island, as well as a book and luxury item. The guest explains their choice of songs with anecdotes and personal stories, therefore creating a soundtrack to their lives. It's a personable and nostalgic format that proves that music really is one of the greatest forms of connection and offers listeners an intimate look into the lives of celebrity figures from royals to comedians. You will inevitably be left considering what your own playlist would include…
Recommended listening: Delve back into the archives and find gems such as interviews with Luciano Pavarotti, Louis Armstrong, Sir Edmund Hillary and even political figures such as Margaret Thatcher. Fascinating historical accounts of historical figures, cultural trends and musical evolution.
Extract from 1959 interview with Alfred Hitchcock

Hip Hop Saved My Life
British comedian Romesh Ranganathan (who you may recognise from Asian Provocateur) hosts this weekly podcast that features a different guest each episode. Within the framework of holding a conversation about rap and hip hop music, Romesh explores his guest's relationship with the genre and draws out personal anecdotes, whilst delivering a witty, warm and totally unpretentious show that makes for consistently entertaining listening. With guests that have ranged from fellow comedians Katherine Ryan, Frankie Boyle and Doc Brown to artists like Example, DJ Yoda and Loyle Carner, the show offers a great mix of music and comedy.
Recommended listening: Episode 38, which features an interview with Romesh's Asian Provocateur co-star, his mother. Hilarious, and heart-warming.
Song Exploder
If you always find yourself wondering what the meaning behind your favourite songs might be, this is a great podcast for you. The podcast series features bite-size 15-20 minute episodes, each with a different artist. Guests such as Björk, U2, R.E.M and Lorde reveal how a certain song was made, from original concept to crafting melody and lyrics to recording a track that will be heard by millions. It offers a sneak peak into the creative process of some of your favourite songs in an accessible and interesting story-telling style.
Recommended listening: Besides the impressive collection of big names spanning many musical genres, check out the episodes about TV and film music, such as La La Land and Stranger Things. You can also read more about how some of the most memorable TV theme tunes were created in this article.
An insight into the humble beginnings of MGMT's Time To Pretend

Sodajerker on Songwriting
Professional songwriters Simon and Brian invite different artists for a conversation about the creative process of songwriting. Expect interesting insights from interviews that focus on the stories behind the lyrics with some of the biggest names in the business. Great for music lovers who want to get behind the scenes.
Recommended listening: You really have your choice of mega names here – Yusuf / Cat Stevens, KT Tunstall, Paul Simon, Alicia Keys, Noel Gallagher…
Culture Creature
The Culture Creature podcast features a variety of interviews with a range of influential artists, discussing the cultural elements that have shaped their work, from music to film to art. Recent episodes have featured Run DMC's Darryl McDaniels and Rage Against The Machine bassist Tim Commerford.
Recommended listening: "The Story Of Rolling Stone Magazine, As Told By Paul McCartney, Mick Jagger, And More" – an account of the history of Rolling Stone  magazine as analysed by author Joe Hagan. With excerpts of interviews from some of the biggest names in modern music.
Optimal podcast listening
Listen to your favourite podcasts anytime, anywhere, with Teufel. Our wireless Bluetooth headphones give you the freedom to access Hi-Fi sound on-the-go.
▶ Teufel Airy: wireless on-ear headphones with handsfree call function and 40mm linear drivers.
▶ Real Blue: over-ear Bluetooth headphones with up to 30hr battery life and soft ear cups for optimal listening comfort.
▶ Move BT: Ultra-compact in-ear headphones with splash-proof design and optimal fit, great for sports lovers.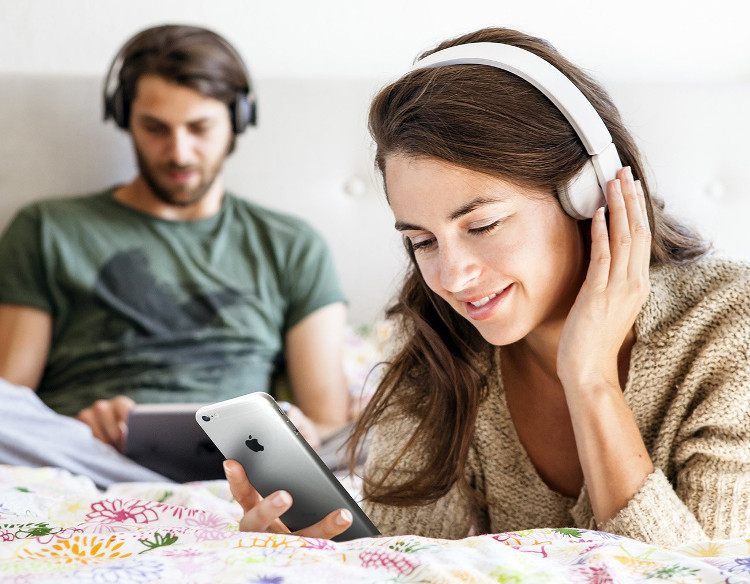 More Bluetooth products from Teufel: