In the modern age of Spotify, YouTube and an almost infinite range of genre specialist Internet radio stations, is there still any point in buying music? We say: yes – even if it sometimes seems as if music is available free of charge anywhere on the net. Purchased music also has its advantages over music streams – "rented" music, if you like.
Besides the fast and convenient access that streamed music offers, the tactile experience of holding a CD or vinyl in your hand or maintaining and organising your own mp3 collection or leafing through the booklet of a new CD or a record can be a invaluable part of the listening experience for many music lovers. Today we explore both traditional and new sources of music.
Legally download music
In the days of Spotify & Co., audio files stored locally on a hard disk almost seem old-fashioned. But they have their advantages. The songs are available independently of service providers such as streaming services, you actually own the music and don't just rent it, and you have greater control over the audio format in which the music is available. You can also easily store and play music files on different devices.
So where can I find legal music downloads?
✔ Musicload.de: On this site you can download single tracks as well as complete albums. Currently (as of February 2018) downloads are only available in mp3 format (between 256 and 320 kBit/s), but it has been announced that lossless WAV files will also be available in the future.
✔ Napster: In the 2000s Napster was the epitome of music piracy and the horrors of the music industry. On the site you can still download music in the form of individual tracks, albums and compilations – but today it is completely legal. In addition, there is a streaming or "flat rate" model.
✔ Qobuz: If you value downloads with high sound quality, Qobuz is a good place to go. Here you can download lossless music files in CD quality (24 bit and 44.1 kHz).
Streaming speakers from Teufel
Then there are also Apple and Amazon, which offer music downloads in addition to their streaming services. With Apple, this can be done via iTunes; the software is a shop, administration and playback programme in one. Music is also available as a download straight to iPhone via the app. A special feature of iTunes is its own AAC format (ending".m4a"). Like mp3, this is a compressed format.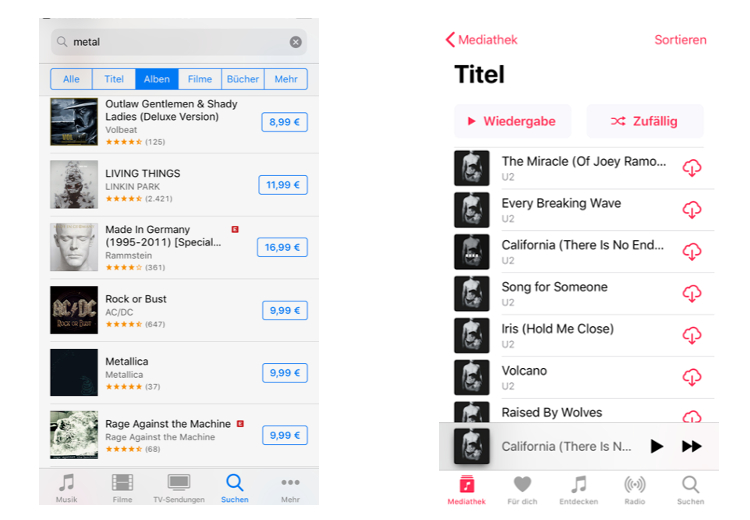 Buy music on CD and record player
Music on physical media – especially CDs – still accounts for a lion's share of the music industry's total sales. In 2016, the ratio of physical to digital sales (download and streaming) was 62.1% to 37.9%. Going purely by turnover, the significance of vinyl records is rather low despite the hype. They account for only 4.4% of total sales.
Ready-to-play stereo sets for CD and vinyl
Where can you buy music stored on physical media? First and foremost, there is local trade: from the CD departments of major consumer electronics chains to small, independent record stores. Of course, there are also a whole range of dealers for CDs and records on the net.
✔ discogs.com: On this marketplace you will find a variety of used CDs and records. The site is also a great place to browse categories and search for new music.
✔ watsonrecords.co.uk: Buy and sell your vinyl records on this site, which specialises in classical music.
✔ recordstore.co.uk: An easy-to-navigate site that lets you search for records according to artist, new releases and cheap offers. Great for discovering the latest records.
A universal connector from Teufel


▶ Teufel Connector: Digital music finds a home on this network player. It supports Spotify, Tidal, TuneIn and Chromecast built-in as well as all common audio formats for locally stored music. A high-end D/A converter converts the digital audio signal for your speakers. You can also easily connect it to your stereo system.
Conclusion: where to buy music
You can legally download music on sites including iTunes, Napster and Amazon.
Qobuz is a streaming and download service with a wide range of high-resolution file formats.
You can order music stored on physical media such as vinyl records on sites like discogs.com.