In addition to voice commands such as "Alexa, order a taxi", Amazon's Alexa voice control system already offers a wide range of voice commands for music playback such as "Alexa, play Radio 1" on its Amazon Echo systems. In our opinion, the Amazon speakers cannot replace a stereo or home cinema system in terms of sound. However, you can combine the sound of high-quality speakers with the functionality of voice control. We explain how to connect a voice control wizard like the Echo Dot to a Hi-Fi system.
Connect Alexa to a sound system via Bluetooth
If you are music lover interested in the possibilities of voice control, you might be considering investing in new speakers with integrated voice control. But it's often not actually necessary to buy a new product. If your existing sound system supports Bluetooth or has a line-in connection, it is very easy to integrate the voice assistant. As a prerequisite, you only need an Amazon Alexa system (e.g. Echo Dot, Amazon Echo, Echo Plus or Echo Spot). Each of the Amazon devices has Bluetooth and an analogue sound output which represent the interfaces to existing systems. You can pair an Amazon device with your own sound system in your Alexa app under Settings > Bluetooth. It is important that both systems are in pairing mode.
After successful coupling Alexa will answer with a voice message. Now you can hear the voice of the Alexa voice assistance software through your speakers. You can also control the playback of Amazon Music and Spotify via Alexa and listen to it over your speakers.
✔ NB: For speech recognition to work correctly, the Amazon Echo should be at least 1 metre from your speakers.
In addition to Bluetooth coupling, the Echo Dot can also be connected to external speakers or a receiver via cable. You can connect the Amazon Assistant to your system with an AUX cable (3.5 mm). You can then stream music using your smartphone over a system that is not equipped with Bluetooth.
These Echo speakers support cable connections:
✔ Echo Dot
✔ Echo Plus
✔ Echo (only 2nd generation)
You can also connect Google Home speakers to a system via Bluetooth.
Expand voice control for your audio system
The Bluetooth coupling described above is still limited in the control system. For example, you cannot switch the system on or off via voice control. You'll need additional hardware such as Logitech's Harmony Hub to give such commands. This control unit and app turns the smartphone into a multi-functional remote control. It is also Alexa compatible. The control unit can connect to a wide range of electronic products via infrared, Wi-Fi or Bluetooth.
You can also find devices compatible with the Harmony Hub in our online shop:
With the Harmony Skill for Alexa you already have a series of pre-set voice commands at your disposal. With services like Yonomi you can even define your own voice commands for your Hi-Fi system.
That might sound a little complicated, but the effort pays off. You can also use this set-up to control other devices such as TVs and SAT receivers via Alexa or your smartphone. For all those who are interested in Smart Home and automated control, it is definitely worth putting in a little time to set up your system.
Smart by nature – Teufel Streaming speakers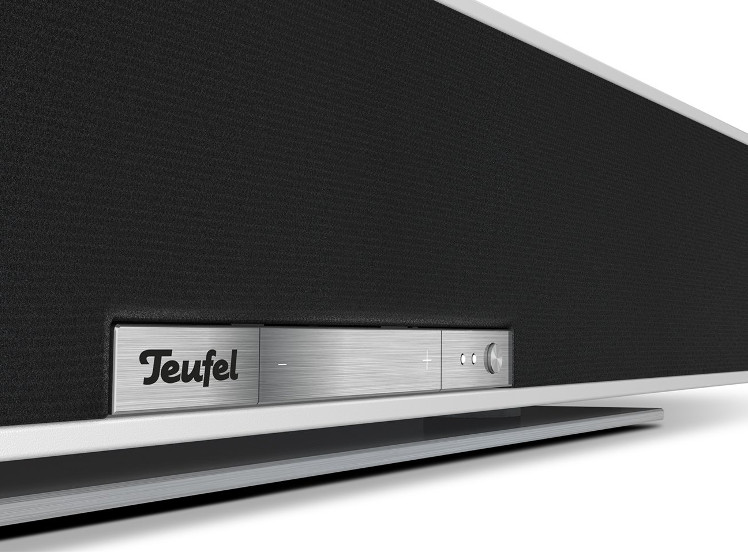 We make our speakers so that they are ready for the networked living room: they have a Wi-Fi module for integration into the home network, smartphone control, Bluetooth for coupling with other devices and support a variety of digital playback sources.
▶ Stereo L: The Stereo L combines the best of old-school audio with modern technology. It is a classic stereo set with two 3-way column speakers that deliver the finest sound. Secondly, they support lossless Wi-Fi streaming, multi-room playback and NAS servers as playback sources – you couldn't wish for more.
▶ Stereo M: The smaller sibling of the Stereo L is also a hit with audio fans. Here too, we offer a true 3-way system: one high-end coaxial driver and one Kevlar woofer per channel for a high-resolution sound image. In addition to all the advantages of the Stereo L, the smaller Stereo M offers excellent sound in a space-saving design.
More streaming speakers from Teufel
Conclusion: coupling the Amazon Echo with Hi-Fi systems
The Amazon Echo can be easily coupled with existing speakers or receivers via Bluetooth.
Connecting via AUX cable is also possible with the Echo (but not with first-generation Echo speakers).
Advanced voice control features such as turning channels on and off or selecting channels require additional hardware and software such as the Amazon Harmony Hub.
You can assign your own commands to the voice control via services like Yonomi.