Many homes have a dedicated hi-fi zone. This is where the stereo system is ensconced, where sound can be enjoyed in its purest and most natural form. There may be other sound systems in the kitchen or bedroom, but these are often provisional affairs: A cheap kitchen radio, PC speakers from the local electronics store or a radio alarm clock. The cost of installing a full-fledged hi-fi system in every room is simply too high, not to speak of the space requirements one would need for two stereo speakers, an amplifier and CD or record player. Multi-room speakers that stream audio from a home Wi-Fi network, however, make it possible to enjoy great sound across the entire home.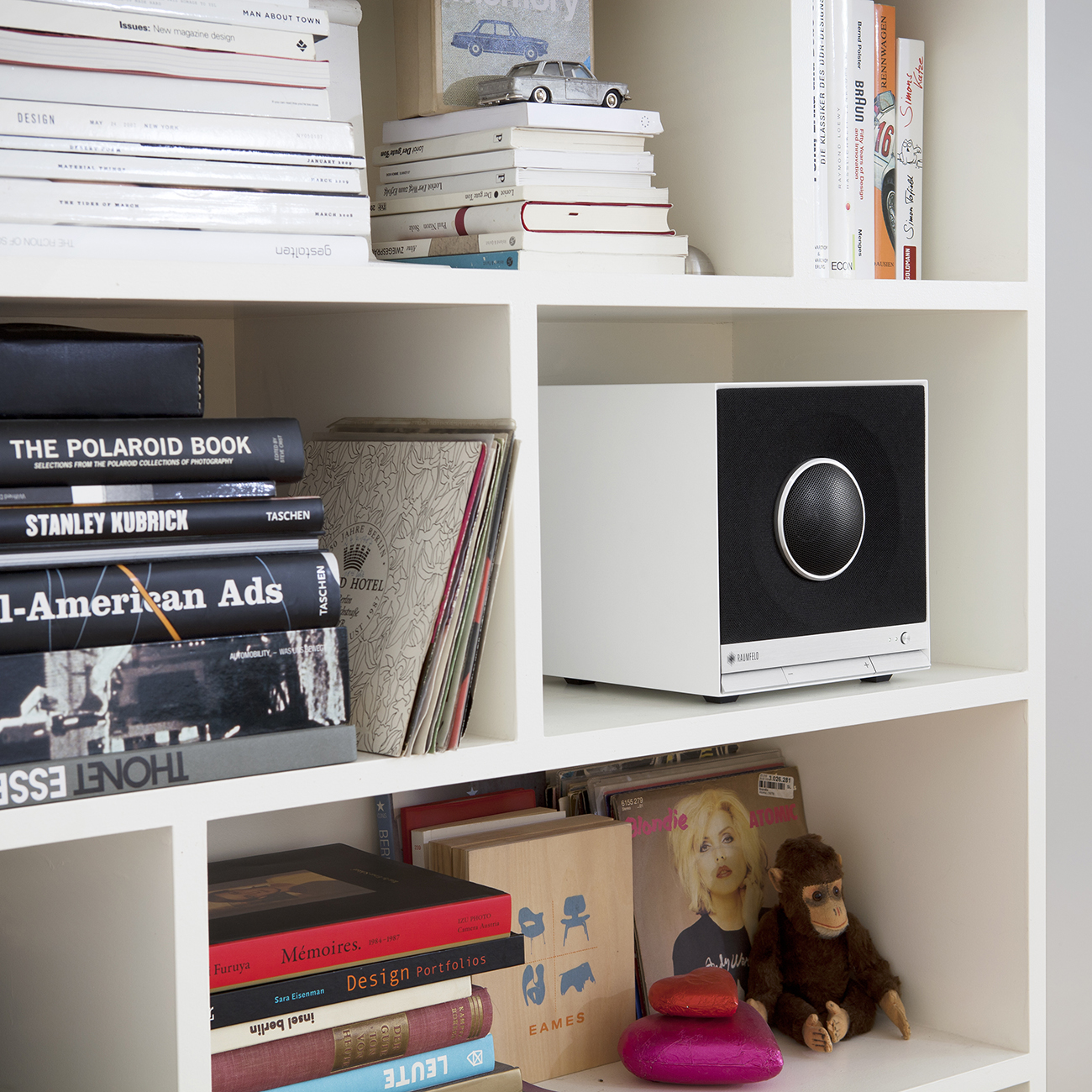 Compact, active, networked: The essence of multi-room speakers
Multi-room-enabled speakers are revolutionizing how we experience music in our homes by putting hi-fi within the reach of every listener, everywhere in the home. Unlike traditional hi-fi speakers, multi-room speakers are generally active. This means all the amplification they require is built into the speaker enclosure. Multi-room speakers also contain Wi-Fi modules for connecting to home networks. This effectively liberates the speakers from a wired connection to a source device such as CD, record or MP3 player. Instead, music is wirelessly transmitted from the home network or the cloud for infinitely more choice and flexibility. TuneIn alone offers over 100,000 live radio stations.
Free from amplifiers and source devices alike, multi-room speakers are easy to place and move around the home. Most only require mains power and an initial setup to introduce them to the home network. Once connected, multi-room speakers can also communicate with each other, allowing the user to easily extend a listening experience over multiple rooms. Playback on one or more speakers can generally be controlled by any smart device as long as the device is: a) registered to the same WiFi network and b) using a streaming software compatible with the speakers. Streaming software is what makes it possible for the user to adjust sound settings, create playlists and find new music. Some, like the Raumfeld App, are produced by the same company as the speakers and work only with those speakers. Others are cross-platform technology that work with a range of devices.

Multi-room control with Google Home and Raumfeld
One of the most popular cross-platform streaming technologies is Google's Chromecast. Together with the Google Home App, Chromecast gives the user the freedom to customise a multi-room experience from a variety of streaming sources. All that's required is that both the music app and speakers are Chromecast enabled. Thankfully, Raumfeld streaming speakers and over 100 apps including Deezer, Google Play, JUKE and Pandora currently work with Chromecast.
Music can be directly streamed from Chromecast-enabled apps to Chromecast-enabled speakers. It's that simple. In addition, Google offers a Google Home App for setting multi-room options. Here, all the Chromecast-enabled speakers that share a network can be organized into listening zones and each zone given a name. Once set up and named, these zones will appear alongside of the individual speakers in a network whenever the Cast button in a Chromecast-enabled app is selected.
Check out the following video to learn more about how Chromecast works:
The Raumfeld App is the interface to the software that works with Raumfeld speakers. A setup assistant within the app takes the guesswork out of installing the system, allowing users to get their new Raumfeld speakers up and running in a few minutes. Those with extensive private music collections can also access their audio files through the "My Music" option within the app. The Raumfeld App makes it incredibly easy to set favourites, create playlists and search by artist and song title. The Raufmeld App also gives users access to web radio via TuneIn as well as streaming services like Spotify and Napster. Private music collections and TuneIn radio stations can be freely programmed on device preset buttons for instant access to streams. Multiroom functions like assigning speakers to listening zones are also part of the Raumfeld App along with volume and equalizer settings.
Both technologies, the Raumfeld App and Chromecast built-in, stream all standard audio formats.
Multi-room speaker sets from Raumfeld
•    Multi-room speakers for 2 rooms: The 2Raumfeld Welcome Home  is a complete streaming system for two rooms consisting of a Stereo Cubes WiFi stereo pair, One M all-in-one WiFi stereo speaker and Expand streaming optimizer. The Cubes deliver fine resolution sound within a gorgeous stereo panorama. The One M is a powerful single speaker solution with clear playback and powerful bass. The Expand WiFi optimizer ensures optimal streaming conditions.
•    Multi-room speakers for 3 rooms: The Start TV Multiroom set is a complete multi-room bundle for TV sound plus music playback in two additional rooms. The Raumfeld Soundbar delivers thrilling sound with movies, shows and series plus music streaming, the One S compact speaker is a little power house for the streaming in the kitchen, bathroom or bedroom and the Connector makes it possible to bring an existing system into a Raumfeld multiroom setup. The included Expand is a WiFi optimizer for the best possible streaming experience.
•    Multi-room speakers for 3 rooms: The Start Streaming set is perfect for those who already have a stereo system they love. Thanks to an included Connector, this system can be introduced to a nearly infinite choice of music in the cloud. The Connector-attached system can also stream in sync with the included Stereo Cubes.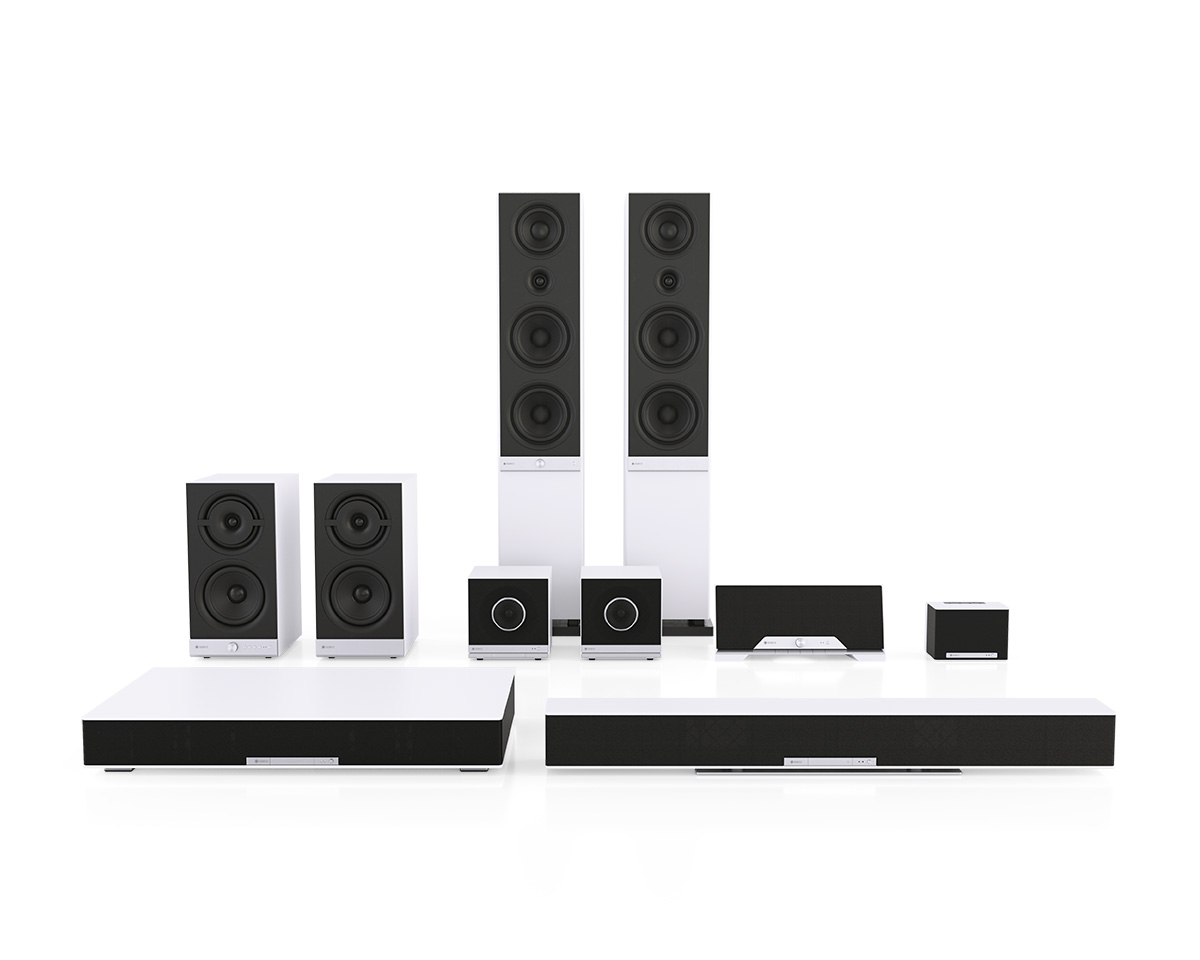 Coda: With multi-room speakers, hi-fi is no longer limited to a single room
•    Multi-room speakers are active speakers with integrated WiFi streaming modules
•    A multi-room system makes it possible to play back music in multiple rooms using a single control device
•    Smartphones and tablets are common control devices for multi-room music systems
•    Multi-room streaming requires a streaming software architecture. Many systems like Raumfeld come with streaming software. There are also cross-platform streaming architectures like Chromecast from Google.
•    Chromecast and the Google Home App allow the user to connect Chromecast-enabled speakers with each other and a world of content.
•    Chromecast technology is integrated in all Raumfeld speakers.
•    Raumfeld's proprietary streaming technology is controlled via app and allows the user to stream from private music collections made available on the home network.
Title picture: Property of Teufel Audio