If you don't have external speakers for your laptop, you have to admit: the sound you get is not quite the real thing. It is good enough for notifications, but for watching TV, YouTube and listening to music streams it is just not powerful or detailed enough. The small integrated transducers sound tinny and unclean, and the sound is not really massive anyway. If you want to get better sound for films, music and gaming, you need external speakers for your laptop. But considering everything from portable laptop speakers to multi-channel Hi-Fi systems can be controlled with a laptop, what should they be able to do? We explain which functions are relevant for different users.
On the move: powerful laptop sound without mobility restrictions
If your desk is usually overcrowded and there is little room in your travel bag, the size of the speakers is an important factor to consider before investing in a new sound system. If space is limited, a speaker system consisting of two small satellites could be the right choice. These significantly improve the sound quality whilst taking up little space. These are usually active speakers with integrated amplifiers that can be connected to a laptop via a jack plug or USB.
Space-saving alternatives to stereo satellites are systems that come with an integrated rechargeable battery. These can also be powerful 2 or even 3-way systems. Such all-in-one speakers are usually equipped with Bluetooth. As laptop speakers, they allow you to move your laptop from your desk to the sofa without having your music cut out. In addition to Bluetooth-enabled speakers, Wi-Fi speakers are also available for laptops.
Laptop speakers from Teufel with Bluetooth and Wi-Fi connectivity
➨ About Wi-Fi systems: Apple users depend on the AirPlay streaming architecture for their home network. For audio streams in the home network, the Wi-Fi speaker must also support AirPlay. Bluetooth, on the other hand, works independently of the operating system.
More bass please: subwoofers and laptop speakers
Movies, gaming, Internet surfing, music – laptops are modern entertainment centres. The demands on laptop speakers are therefore already rather high. Rich sound in the low frequency range would be appropriate, for example, if you like watching movies on your laptop. This can be achieved with an additional loudspeaker that takes care of the low frequencies – a subwoofer. These can be easily placed under a desk in order to save space.
The sound does not suffer from this position, because it is very difficult for our hearing to locate bass frequencies. How the subwoofer is connected to the laptop depends on the speaker system. The subwoofer can be connected via cable as well as wirelessly. An example of a functional PC and laptop soundbar with a wireless active subwoofer is the Cinebar One+.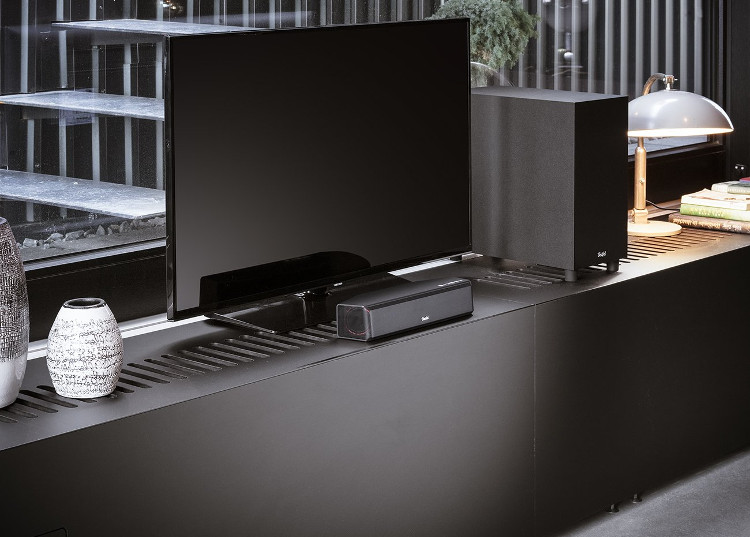 Movies and gaming: surround sound with laptop or PC as player
What goes without saying with regard to cinema sound also applies to gaming. Spatial sound provides an authentic audio-visual experience that cannot be achieved with conventional stereo sound. It makes a big difference if a car approaching from behind can also be heard from there. If there are several speakers for the laptop, the question of the sound card arises. This applies to 2.1 and especially to 5.1 systems. Not only integrated sound converters, but also the sound card installed on the mainboard of the laptop can stand in the way of good sound. The task of a sound card is to convert the digital audio data into analogue, since only these can make the loudspeaker membrane vibrate.
If the sound card does not process the digital signal ideally, for example due to the integrated D/A converter, the potential of laptop speakers is not effectively harnessed. Especially if you want to set up a multi-channel system around your laptop or play high-resolution audio formats, a new sound card makes sense. Depending on the type, this can be installed in the laptop or connected externally.
We explain the requirements for gaming speakers in more detail in this article.
➨ Surround sound from your network: 5.1 systems may not be able to exploit their potential with audio streams from the network because the audio data is only available in stereo. In this case, so-called surround polishers such as Dolby Pro Logic help. These process stereo sound for six channels or even more.
Teufel speakers for laptops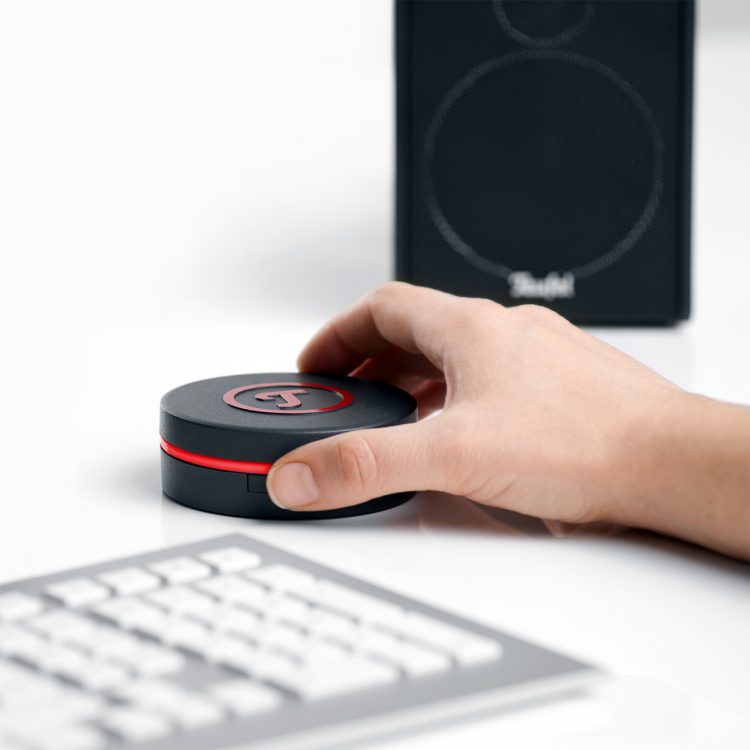 ✔ Teufel Concept C:  Plug it in, open your laptop and enjoy the new sound. This 2.1 system with practical, compact satellites and a powerful subwoofer can be flexibly connected to laptops, Macs and PCs. There is an integrated 2.1 USB sound card.
✔ Teufel Concept E Digital: The Concept E Digital is a ready-to-play 5.1 system that delivers surround sound for the online world, TV, gaming and film. The integrated sound card, a massive subwoofer and a high-end sound card make it a sound all-rounder. Connection options include stereo RCA, coaxial and optical inputs, jack, Bluetooth and of course USB.
✔ BAMSTER: The BAMSTER is a Bluetooth soundbar with supernaturally powerful sound. It produces a differentiated sound and is very compact with a width of about 30 cm. Thanks to the integrated battery, you can take it and your laptop with you when you travel. You can also connect two devices simultaneously to the BAMSTER via Bluetooth making it a great party companion.
Teufel multi-room systems
Conclusion: the most important factors about laptop speakers
Laptop speakers can usually be connected via USB and jack.
Depending on the system, Bluetooth and Wi-Fi are used as wireless interfaces.
Subwoofers specially designed for use with laptops are available for strong bass.
Weak sound chips in multi-channel systems can result in the full potential of your sound system not being met.