Is the hyper-realistic image on your screen matched by flat sound from your speakers? All-too-often, gaming visuals are prioritized over sound. Yet the same rules apply to gaming as to music: The better the speaker, the more realistic the sound and the more enjoyable the experience. The following explains the basic options when it comes to gaming speakers including the required connections and which audio formats you should look for.
2.0, 2.1 or 5.1: What's the best speaker setup for gaming?
A 2.0 setup is the most popular option for desktop PCs. Small speakers to the left and right of the monitor can offer good stereo sound. The lack of a dedicated subwoofer for the low end, however, means that bass effects won't be fully reproduced. The use of only two smaller speakers can also lead to distortion at very high volumes. This arrangement is best suited for enjoying YouTube videos, shows with a lot of dialogue and music. They won't be able to get the most out of today's games with their carefully crafted soundtracks, but are an easy and inexpensive way to enjoy clear dialogue and music in stereo.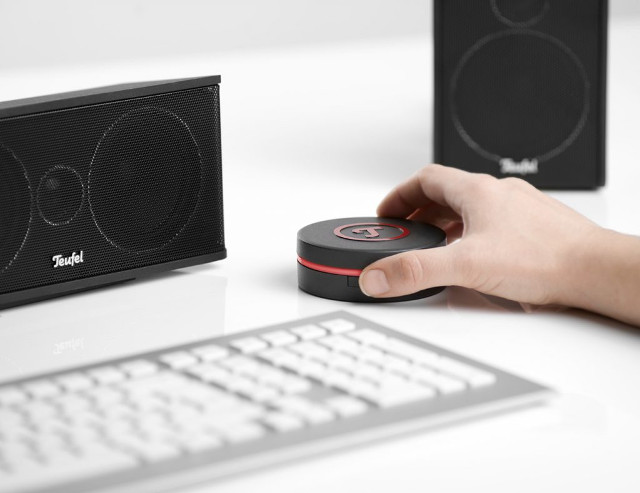 The next step up from a 2.0 system is 2.1. The number after the decimal point stands for the subwoofer. Subwoofers were designed to cover a frequency range from anywhere between 20 and 200 Hertz. This is useful since the average bookshelf or monitor speaker won't go below 150 Hertz. Subwoofers are therefore indispensable when it comes to experiencing effects like gun shots and explosions with a felt intensity.
A 5.1 setup is best known as a classic home cinema combination. The use of two front stereo speakers, a centre speaker, two surround speakers in the back plus a separate subwoofer offers the most realistic sound experience for enjoying movies. This is true for gaming as well. The practical advantage of surround speakers with gaming is that they allow the player to localise opponents and potential danger by sound as well as by sight. Many PC games like Assassins Creed offer impressive surround soundtracks. Both major gaming consoles on the market today, the Xbox One and PlayStation 4, support the surround sound format Dolby and offer the necessary connections for 5.1 systems.
Tips for connecting gaming speakers
The most popular audio connection for computers and gaming consoles is still the 3.5 mm jack. Both 2.0 speakers and 2.1 systems with active subwoofers as well as headphones can be easily connected in this way. The 3.5 mm audio connection is, however, not sufficient for surround sound systems. That's because the 3.5 mm RCA connection was designed for analogue sound. Multi-channel tracks require a digital connection.
Passive surround systems that use an amplifier or receiver generally connect to other source devices via TOSLINK or HDMI cable. Both the Xbox One and PlayStation 4 are equipped with HDMI connections for this purpose. In addition, many systems designed for PC gaming include a USB connection. Some even offer external sound cards via the USB port which is a great option for all but the most expensive gaming PCs with high-end inbuilt sound cards.
The importance of sound cards for PC gaming
Many people are disappointed by how weak and muddy their high-end speakers sound with their computers. The reason for this is usually not the speakers, but the internal sound card. The sound card primarily serves as a DAC, or digital-to-analogue converter. It processes digital audio data into an analogue signal. If you use quality gaming speakers with your computer but aren't experiencing good sound, the problem is most likely the in-built sound card. Upgrading the sound card is therefore the easiest solution.
A new sound card can be installed either internally (usually via PCI Express) or externally. External sound cards generally connect via USB or Firewire port. Sound card models differ in the connections they offer and the audio formats they support. To ensure the best surround sound, many surround speaker systems designed for gaming connect via USB sound cards equipped with surround sound formats. The following blog post will give you more information on gaming speaker connections and audio formats.
➨ Note regarding surround sound upmixing: It's possible to play games with surround sound even if the game's soundtrack was not mixed for 5.1 playback. Surround sound upmixing formats such as Dolby Digital or DTS-Connect are able to convert stereo signals into multi-channel gaming surround sound. Xbox and PlayStation both support the upmixer Dolby Digital 5.1. If you want the same option with PC gaming, simply check that your in-built or external sound card supports a surround sound upmixer.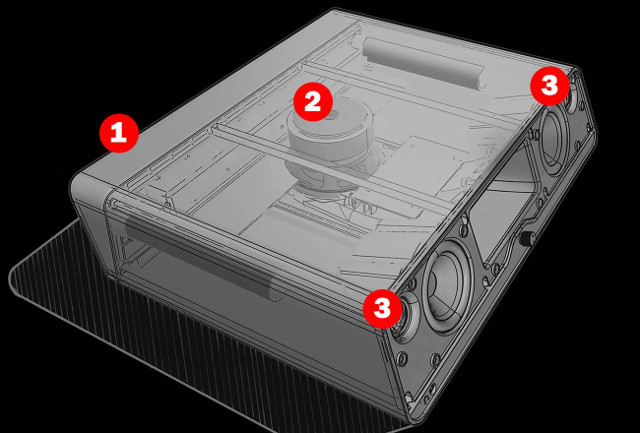 Gaming speakers from Teufel Audio
•    Mediadeck: This sounddeck was specially design for use with computers. Placed under a screen the Mediadeck is a complete 2.1 system. An integrated subwoofer ensures the necessary bass power without the need for a separate subwoofer. The Mediadeck connects to computers via USB port with USB sound card for the best audio signal from all digital sources.
•    Concept C: The Concept C is a complete 2.1 system with 2-way satellite speakers and separate active subwoofer. An integrated USB sound card makes the system perfectly adapted for PC use, ensuing that each quality speaker is supplied with an equally high-quality audio signal.
•    Concept E 450: This surround sound set designed for gaming includes five satellite speakers plus active subwoofer packed with digital technology. A 5.1 USB sound card, DTS decoder and Bluetooth with aptX codec get the most out of soundtracks from games played on PCs and Macs as well as Xbox One, PS4 and Wii consoles. The Concept E 450 is also the perfect surround sound system for televisions.
Key points to consider when purchasing gaming speakers
•    Most people use either 2.0 or 2.1 speaker systems for gaming
•    The most popular connection is a 3.5 mm RCA audio input
•    Surround sound gaming speakers cannot be connected via RCA cable
•    Integrated sound cards do not always produce good sound
•    Most external sound cards connect via USB or Firewire
•    Good surround sound speakers designed for gaming generally include USB sound cards
•    Surround sound upmixers like Dolby Digital can convert stereo into a 5.1 signal

All pictures: Property of Teufel Audio