Many people put up with mediocre or even downright bad sound quality when it comes to their desktop computer or laptop. They feel that this is an inevitable situation, but is it? And what causes many computers to generate unbalanced and distorted playback?
Part of the problem has to do with the in-built loudspeakers. Like flat screen TVs, laptops and contemporary computer monitors don't offer much space for proper speakers. And yet we often hear from people who purchase better speakers for their computer and still don't experience optimal sound. When this is the case, the problem is usually how the computer processes and converts digital audio data into an analog signal for the speaker to play back. The following will explain the importance of sound cards in generating quality sound from PCs and laptops.
Embedded sound chips: What are they?
Nearly every computer can process audio data. The hardware and software required usually takes the form of something called an embedded sound chip. Embedded sound chips are integrated circuits that process digital audio data. This data is then transmit it to the computer'S RCA audio output or integrated speakers in the form of an analog signal. The conversion of the digital data into an analog signal is performed by a codec chip. Codec chips can also work in reverse: They're able to process sound received via microphone and convert it into digital data. This back-and-forth ability is given in the name "codec" which is short for coder / decoder. The quality of this chip varies and has a big influence on the quality of the audio your computer produces. Because these chips come with your computer as part of the motherboard, sound chips are sometimes simply referred to as onboard audio.
Unfortunately, many integrated sound chips don't generation a very satisfying sound. One reason for this is that there often isn't enough space on the motherboard and price plays a role. Certainly a 5.1 system will not produce well-defined surround sound when the source device is a lap top computer using an integrated sound chip. It will also not be possible to get the most out of high-end headphones when connected to such a device. If a computer's integrated sound chip is holding back your system, never fear: It's possible to improve your PC playback by purchasing a separate sound card.
Dedicated sound cards: Internal versus external sound cards
Dedicated, also known as discreet, sound cards processes digital data from a computer for playback on audio devices. Because they contain processors, they take some of the workload away from the CPU – a nice feature for gamers. All but the cheapest dedicated sound cars also offer better sound quality than the sound chip your computer came with.
There are two main types of dedicated sound cards: External and internal. Internal sound cards are a type of expansion card that interfaces with the computer's motherboard. Small laptops will not usually have space for installing in internal soundcard, so this option is more for standard tower PCs. For the installation, the motherboard requires a corresponding interface. In most cases, PCI (Peripheral Component Interconnect) Express is used to connect the sound card to the motherboard.  Certain advanced onboard sound cards such as the Creative Sound Blaster Z offer a range of high-end sound features like 24 bit/ 192 kHz support, Dolby Digital Live, DTS Connect and a toggle switch between headphones and speakers so that you never have to unplug your headphones again. Internal sound cards usually come with software that allows you to customize things like EQ settings. In addition, a connection interface for front and rear speakers plus subwoofer and optical connections transforms your PC into an audio receiver.
The installation of a new onboard sound card requires the handing and installing of delicate equipment and so isn't for the faint of heart. An easier option is to purchase a dedicated sound card that connects externally. External sound cards generally connect to a USB port and are usually combined with digital to analog converters, or DACs. This means that the analog audio signal is not created within the computer, a fact that prevents distortion of the sound through electrical interference. Electrical interference is a phenomenon whereby the electrical components within a computer disrupt the audio signal, leading to hissing, crackling and other unwanted noises. Many good internal sound cards are shielded against this, yet removing the sound processing unit entirely from the computer is, naturally, also a good way to avoid electrical interference.
With USB DACs, power is usually supplied via the USB connection so there's no need to worry about an extra power cord. If your audio uses run to the more advanced, you might consider a sound card with a high-performance FireWire interface instead of USB. FireWire supports a higher bandwidth, which comes in handy with mixing and adding elaborate effects to a sound tracks. Not all computers come with a FireWire interface, but those that don't can be easily upgraded.
What features are important to look out for in a sound card?
External sound cards are usually combined with DACs. The quality of the DAC will have a major influence on the sound and quality levels vary widely. High end sound cards can easily set you back € 300 or more. Still, sound cars in the € 50 to € 100 range will also deliver markedly better sound than that produced by a typical PC's onboard sound chip. Another factor that's important to consider, and one which will also effect the price, is the number of channels a sound card supports.
The packaging of some sound cards advertise Dolby Digital Live, abbreviated as DDL. Dolby developed this standard especially for gaming in order to make it possible to play back gaming audio in surround sound no matter how the audio is formatted within the game. A similar standard is DTS Connect. Both DDL and DTS Connect transmit the signal via S/PDIF cable. Sound cards that support these standards offer the RCA audio ports needed for connecting a surround system. A third standard, Dolby Pro Logic, is sometimes found on very high-end sound cards. It should be noted that even some onboard chips offer these surround standards. It's definitely something to look out for when buying your next PC or laptop.
Some sound cards make use of an integrated headphone amplifier, allowing any hi-fi headphones connected to the system to produce the best possible sound. High impedance headphones especially benefit from this feature.
Sound systems for gaming and PCs from Teufel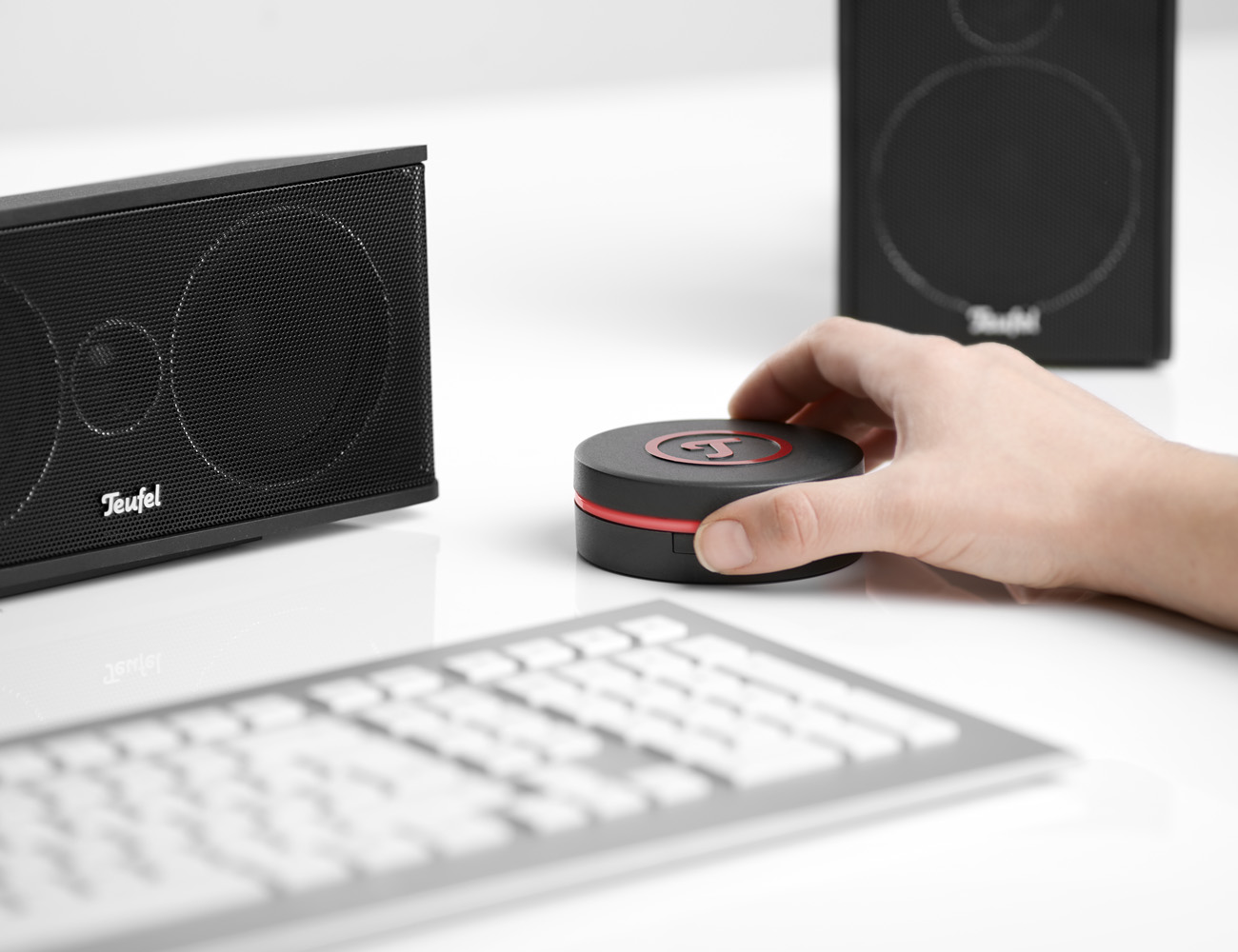 If your computer has a good onboard chip or dedicated sound card, there's no point in suffering through the weak and muffled sound from standard PC speakers. Teufel offers a range of options including the sleek and portable Bamster and Bamster Pro.
For those who want to spare themselves the headache of thinking about sound cards, Teufel even offers systems with integrated sound cards. The Concept E Digital is a 5.1 surround system with integrated USB sound card. Simply connect the system to one of your computer's USB ports and all your digital audio data will be transformed into clear and immersive playback. The system even converts stereo signals into authentic 5.1 surround. Those looking for something a bit smaller should check out the Concept C , a 2.1 system with integrated USB sound card. Enjoy pristine stereo sound accompanied by a powerful bass foundation – perfect for music, games and movies.
Sound cards: Many options for achieving better PC Sound
• Every laptop and computer is at least equipped with a sound chip in order to convert digital audio files into sound
• Integrated sound chips may not meet the quality standards required for hi-fi music playback or serious gaming
• Separate sound cards can be purchased for installing inside the computer using the PCI/PCI Express interface or via an external connection over a USB port
• A deciding factor for the quality of an external sound card is the integrated digital to analog converter or DAC
• When purchasing a dedicated sound card, it's important to consider what sort of devices will be playing back the sound: A surround sound system, 2.1 system, headphones, etc.
Title Picture: By Andrzej Barabasz (Chepry) (Own work) [GFDL (http://www.gnu.org/copyleft/fdl.html) or CC BY-SA 3.0 (http://creativecommons.org/licenses/by-sa/3.0)], via Wikimedia Commons