Modern speakers can do a lot, but ones that can handle water are few and far between. The only exceptions are true waterproof speakers. Depending on what you're planning to do with your speakers, you'll want to give some thought to just how much moisture your system can handle.
Waterproof speakers: just what can you do with them?
The answer is quite simple: every now and then you need to take your portable speaker somewhere conditions might be less than ideal. However, water resistance and robustness are not the only purchase criteria for speakers even in such cases. For stationary speakers – especially multi-channel systems – these properties are usually not relevant anyway, since they're most likely to stay dry in living rooms. If, however, you also want to bring powerful sound to a pool, terrace or balcony, the prerequisites can quickly change. In this case, robust and waterproof speakers are worth their weight in gold.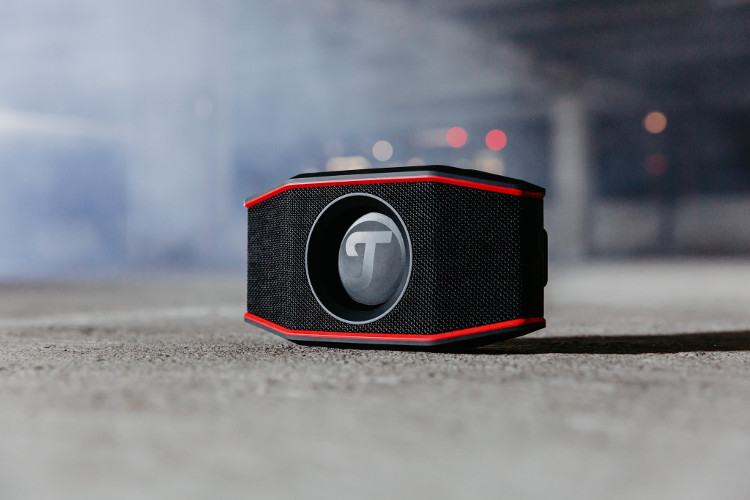 Here is what to keep in mind when buying waterproof speakers
Speakers can be very delicate. The voice coils, diaphragms, frames and grills are tuned down to the millimeter, and intereior electronic components can only make the picture more baffling. That's why it's so easy for speakers to go dull after being packed up for a long trip. And water can really wreak havoc on a small, portable sound system.
Water damage is not only caused when your speaker is caught in a rain shower. Even dew the morning after a big garden party can cause damage. This is why the following properties are required for speakers that are intended for use in multiple locations including outdoors:
✔ a high-quality and robust housing that resists shocks and bumps
✔ a protective device for the speaker diaphragm (e.g. a metal grill)
✔ a non-slip underside for safe placement on different surfaces
✔ a suspension device (openings in the speaker housing)
✔ waterproof or water resistant construction
The ROCKSTER family
IPX7 and other protection classes for waterproof speakers
The meaning of "waterproof" can vary considerably depending on the individual case. However, there is a standardized certification program you can rely on to find out specifically what to expect. If you want waterproof, IPX5 is the bare minimum. Anything less could only be described as water resistant.
The protection class is indicated as IP code (International Protection) with two digits – for example IP 34. The first digit stands for dust protection, the second for water protection. If either is not relevant, an X is used instead of a digit. The information is based on internationally standardized test procedures.
These are the types of protection that offer effective water protection:
➥ IPX5: Protection against water jets coming from all directions
➥ IPX6: Protection against strong water jets
➥ IPX7: Protection against temporary submersion
➥ IPX8: Protection against permanent submersion
Waterproof Bluetooth speakers
Portable waterproof speakers are often Bluetooth-enabled. With this transmission standard, a wireless connection can be established between source and speaker. The advantages are obvious: you no longer need to provide a cable connection between the speaker and your audio source, which simplifies setup. Further advantages of Bluetooth are fast pairing and stable data transmission over distances of up to 10 meters. In addition, Bluetooth is a low energy codec, so it won't drain your phone or speaker's battery too fast.
However, sound can suffer when streamed over a Bluetooth connection. In order to reduce the data volume, the audio data is encoded for the Bluetooth A2DP profile. Information from the source file is lost, which can have a detrimental effect on sound quality. Bluetooth aptX offers an improvement on the sound quality, as it ensures a transmission with virtually no data loss. This standard only comes into effect however if both the transmitter and the receiver support it.
ROCKSTERs on-the-go
With the ROCKSTER CROSS and ROCKSTER GO, we have developed Bluetooth speakers that not only sound awesome, but are also extremely heavy duty.

▶ ROCKSTER GO: The smallest speaker in the family, the ROCKSTER GO is ready for adventure. Equipped with an IPX7 rating, the GO can even withstand brief submersion in water. In addition, we have equipped the GO with very robust housing. Our powerful stereo system with Dynamore technology provides room-filling and powerful sound. The battery lasts up to 12 hours, Bluetooth aptX enables almost lossless audio streaming and you have an integrated hands-free system as well as a sound card for connection to PCs and laptops.
▶ ROCKSTER CROSS: At 2.4 kg, the CROSS is larger than the GO. It's also waterproof, though less than the GO at IPX5. In addition, the robust and thick-walled housing absorbs shocks very well. The stereo system consists of two tweeters and a subwoofer. Of course, aptX is also on board with the CROSS Bluetooth. In addition, we have given it practical extra functions: two smartphones can be connected at the same time and an integrated hands-free kit enables phone and video calls via FaceTime and Skype.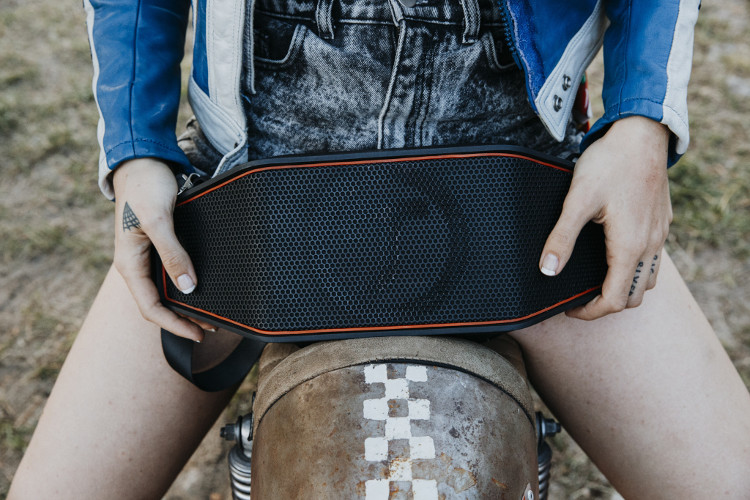 Teufel Bluetooth speakers
What you need to know about waterproof speakers
Waterproof speakers can survive contact with splashing water and moisture without damage.
Only speakers with IPX7 certification or higher can withstand immersion in water.
Protection class IPX5 means that a speaker is protected against water jets.
Other important features of waterproof speakers are a protected speaker diaphragm, shock-resistant housing and a secure stand.