The sound provided by laptop or computer speakers can often be disappointing. Even audio equipment connected to the PC via the universal USB interface can prove too weak to provide the best quality sound for gaming and music. Teufel explains how to get the most from your PC sound with specially designed USB speakers.
Universal Serial Bus
The USB interface (Universal Serial Bus) digitally transmits encoded data. Its great advantages are compatibility and flexibility. USB is still the most common interface on desktop computers, laptops and smartphones. Only Apple products prove a major exception to this.
USB is very versatile. It can transfer data from one local memory to another, connect peripherals such as printers and even charge batteries. And provided certain technical requirements are met, audio signals can also be transmitted via USB.
USB speakers from a technical point of view
The transmission of audio data in its digital form differs from that via an analogue jack. Jack or analogue cinch cables already provide the amplified sound signal.
Via USB, so-called frames or data packets are transferred from the hard disk to the USB sound card and then converted and amplified in the speaker.  The necessary converter is located on computer mainboards, sound cards and in A/V receivers – after all, digitally available data must also be converted into analogue data for CDs, Blu-rays and audio files.
The special feature of USB speakers is that they are equipped with an integrated amplifier, just like active loudspeakers, and therefore also perform the task of signal processing.
How to tell a good USB speaker from a bad one
Essentially, the quality of speakers that receive their signals via USB depends on two factors:
➊ How is the digital data converted into analogue data?
➋ How good is the speaker system?
➊ You can separate the good from the bad if you pay attention to which USB sound card is installed. A converter is integrated in each USB speaker to convert the digital signal for the amplifier into an analogue one.
➋ When it comes to the quality of the actual transducers, USB speakers are subject to the same criteria as other speakers. You can also connect multi-channel systems via USB, provided the sound card supports the corresponding number of channels. A 2.1 system is equipped with its own channel (subwoofer) for the low sound frequencies – quite important for the high bass elements in the sound of games, movies and music.
In this article, we explain how speakers generate sound from electrical voltage.
Teufel's PC sound companion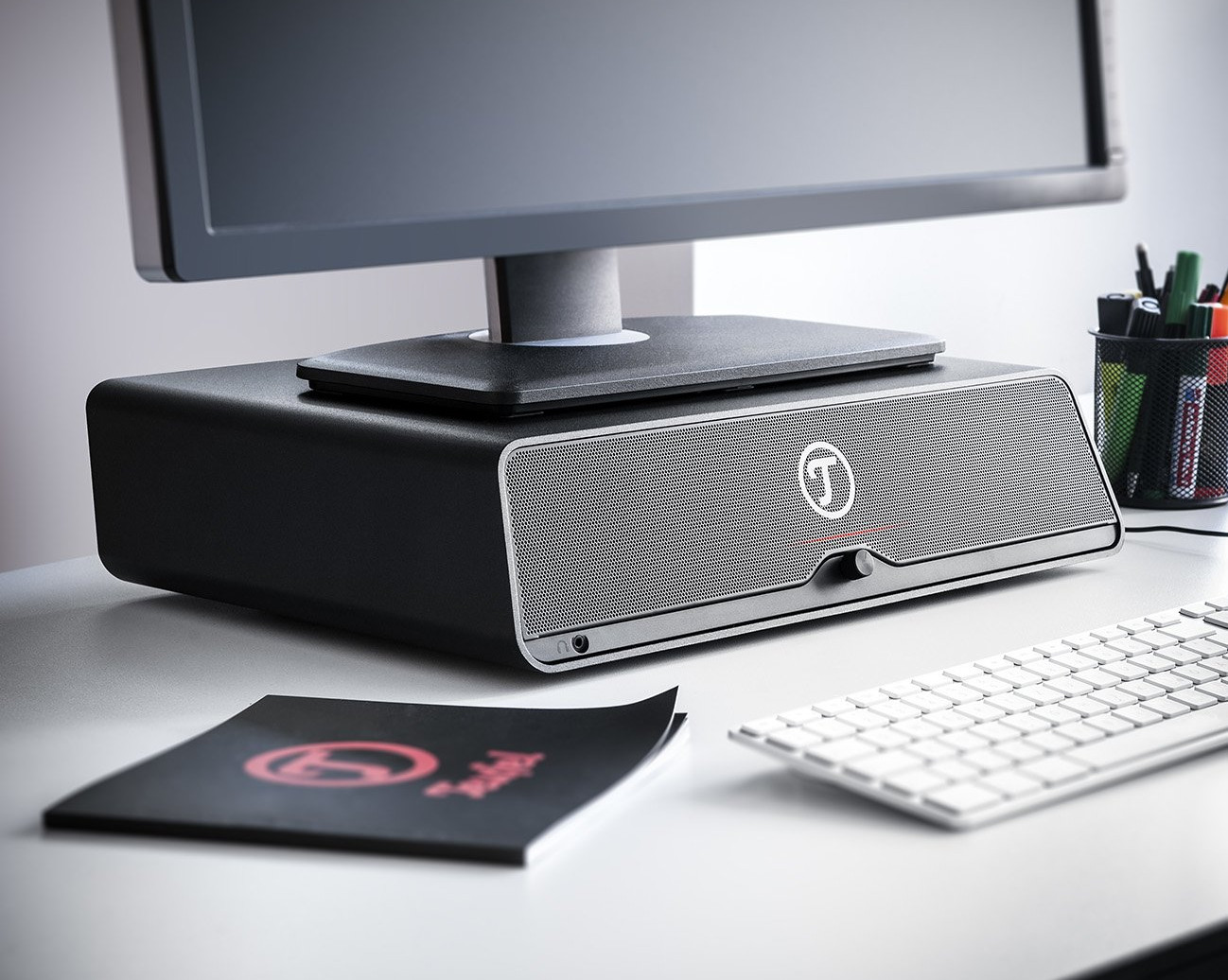 ▶ Concept E 450 5.1: This 5.1 set is tailored to the requirements of PCs, laptops and gaming consoles. The down-firing subwoofer not only fires powerful bass sound, but is also equipped with a 5.1 sound card. It supports sound codecs (Dolby Digital und Dolby Pro Logic II) as well as stereo sound. The sound output is shared by five 2-way satellites. You can also control the system via jack, digital coax, stereo RCA and TOSLINK.
▶ Mediadeck: A powerful 2-way system and USB hub, under the guise of a sleek sounddeck. To make sure that the digital audio data also sounds great, we have installed a sound card with high-quality converter. The aluminium structure also features outputs for headphones (on the front) and headsets as well as a mini-jack line-in. Just like with a sounddeck, the display screen or laptop can simply be placed on top of it.
Teufel Sounddecks and Soundbars for your TV set
Conclusion: how to boost the sound of your USB speakers
The USB interface can be used to transmit audio signals.
The quality of the integrated D/A converter matches the corresponding speaker.
In addition, the source format and the quality of the transducers have a significant influence on the sound.
Speakers with an integrated USB sound card can also support multi-channel sound.