They come in many flavors: apocalypse, natural disaster, or person versus nature. These days, the survival genre is more popular than ever. If you're looking for a movie night full of thrills and survival horror, Netflix and other streaming services are sure to be able to scratch that itch.
Survival movies and TV on Netflix
Survival fans who already subscribe to Netflix, rejoice. The selection they offer is tremendous. And it's just as rich in variety as it is charged with tension. Ranging from the apocalypse humor of Zombieland to the heart-wrenching drama of Adrift, there's really something for everyone to enjoy.
| Title (release year) | Genre | Season count | Trailer |
| --- | --- | --- | --- |
| Poseidon (2006) | Action/Adventure | | Link |
| Into the Wild (2007) | Drama/Adventure | | Link |
| Zombieland (2009) | Horror/Comedy | | Link |
| The Impossible (2012) | Drama | | Link |
| Circle (2015) | Horror/Thriller | | Link |
| Adrift (2018) | Romance/Adventure | | Link |
| Solo (2018) | Drama/Romance | | Link |
| The Rain (2018–2020) | Drama | 3 Seasons | Link |
| Lost in Space (2018–2021) | Sci-Fi | 3 Seasons | Link |
| IO (2019) | Sci-Fi | | Link |
| You vs. Wild (2019) | Reality | 1 Season | Link |
| Into the Night (2020) | Thriller | 2 Seasons | Link |
Are you a water rat and can't picture a better way to spend a vacation than on the ocean? Maybe The Impossible with Naomi Watts, Ewan McGregor, and a young Tom Holland will change your mind. This movie tells the story of one family's struggle to survive after a tsunami, making for shocking, emotional film-making that absolutely deserves a watch. On top of that, it is based on real experiences.
Netflix also takes the genre off earth, with series Lost in Space starring Toby Stephens and Molly Parker. In it, a family again has to survive, but in a somewhat unusually setting. Having been traveling on a rescue ship through outer space in search of a new beginning, the Robinsons end up going through a wormhole along with a few other ships. Stranded on an alien planet, the five-strong family must learn to survive where no human has ever set foot before.
Or are you more a reality show fan? In that case, make sure to give You vs. Wild a chance. This interactive program puts the life of adventurer Bear Grylls in your hands. Decide what he should do in various life-threatening situations, and lead him back to civilization. No pressure!
Keep moving or perish: Very often, survival movies revolve around a long journey fraught with all kinds of danger. For example, apocalypse survivors are regularly shown searching for shelter and food. But even in movies set in the real world like Into the Wild, the characters are constantly on the move, living by the motto, "it's not the destination, it's the journey."
Tips for surviving the concrete jungle: Teufel In-Ear Headphones
Survival movies and TV on Amazon Prime
Survival fans also have a lot to enjoy on Amazon Prime, ranging from drama and science fiction to horror movies like A Quiet Place. Here are our top recommendations:
| Title (year of release) | Genre | Season count | Trailer |
| --- | --- | --- | --- |
| Cast Away (2000) | Adventure/Drama | | Link |
| The Road (2009) | Drama/Sci-Fi | | Link |
| Buried (2010) | Thriller/Drama | | Link |
| All Is Lost (2013) | Adventure/Drama | | Link |
| Gravity (2013) | Sci-Fi/Thriller | | Link |
| A Quiet Place (2018) | Horror/Sci-Fi | | Link |
| Mine 9 (2019) | Drama/Thriller | | Link |
| The Hunt (2020) | Thriller/Action | | Link |
| The Wilds (since 2020) | Drama | 2 Seasons | Link |
In Buried, truck driver Paul Conroy, played by Ryan Reynolds wakes up in a coffin buried underground for one of the most terrifying experiences imaginable. The less oxygen he has left to breathe, the more tensions ratchet up.
The characters in the movie Mine 9 also have to survive underground. Director Eddie Mensore's thriller/drama revolves around several miners trapped beneath the ground by a methane explosion. With only one hour worth of oxygen before things turn lethal, drama runs high. Warning: not for those with claustrophobia.
More of an above ground TV show fan? In that case, look no further than The Wilds. The first season premiered in 2020 and depicts a group of teenage girls struggling to survive on an island after a plane crash. Without going too deep into spoiler territory, all we can say is that nothing is as it appears.
Survival movies and TV on Disney+
Anyone who knows Disney, knows that the House of Mouse is all too eager to sprinkle survival elements into their movies like an under-confident chef with a pepper grinder. Just think of Tarzan's struggle to survive, or the many Marvel characters, who hardly get a moment of peace on screen. But at Disney+, you'll also find some works whose creators have taken the genre a step further:
| Title (Year of release) | Genre | Season count | Trailer |
| --- | --- | --- | --- |
| 127 Hours (2010) | Drama/Adventure | | Link |
| Life of Pi (2012) | Adventure/Drama | | Link |
| Wild (2014) | Drama/Adventure | | Link |
| Primal Survivor (2014–2020) | Docuseries | 3 Seasons | Link |
| Remote Survival (2015) | Reality/Game Show | 1 Season | Link |
| The Revenant (2015) | Western/Adventure | | Link |
| The Martian (2015) | Sci-Fi/Adventure | | Link |
Director Ang Lee's Life of Pi is a cinematic masterpiece. Based on a novel of the same name by Yann Martel, it depicts a young Indian man's struggle to survive after a shipwreck. But his situation has a little catch that amps the precariousness up a notch. He finds himself adrift in the middle of the ocean on a tiny lifeboat, and along for the ride is a fully-grown adult tiger, who just like him, only wants to survive.
If you're more a fan of documentaries, we recommend survival series Primal Survivor. Follow the extreme adventures of Hazen Audel to exotic locations, and watch as he confronts the dangers mother nature throws at him everywhere from tropical forests to glacial landscapes. Disney+ is currently streaming seasons 1, 4, and 5.
And finally, of course they also have sci-fi. Experience astronaut Mark Watney's terrible misadventures in The Martian. Stranded alone on the red planet with little hope of rescue, he must stay alive as long as possible despite natural disasters and delays. Or, in the words of Mark himself: "I'm going to have to science the shit out of this."
YouTube: German series 7 vs. Wild brings hype to the genre
YouTube also offers a massive selection of survival movies to purchase or rent. You can find for instance such classic titles as Everest, Moonfall, and Passengers.
Don't want to spend money, or prefer non-fiction? Then you've probably already heard of the series 7 vs. Wild by survival outdoor adventurer Fritz Meinecke (at least if you're in a German speaking country like us here at Teufel). After two previous successful seasons, season 3 is slated to begin in the fall. This time, the show will be set in the barren arctic wastes of North America. Most likely, it will start coming out in November 2023. So far, sadly, the series has only officially been made available in German, but if you're satisfied with the auto-generated YouTube subtitles, eat your heart out.
Read also: Wilderness fever got you hooked? Then take a look at our article on microadventures. The tips provided there will prepare you for many different kinds of situations.
Survival Classics: The Fight to Survive Dates Back to 1968
Despite gaining major popularity only in recent years, movies have covered life-threatening situations for a very long time. Here, we've rounded up some classics from the 20th century:
| Title (Year of release) | Genre | Trailer |
| --- | --- | --- |
| The Night of the Living Dead (1968) | Horror/Sci-Fi | Link |
| Deliverance (1972) | Adventure/Drama | Link |
| Blue Lagoon (1980) | Romance/Drama | Link |
| Rambo (1982) | Action/Adventure | Deutsch / Englisch |
| Predator (1987) | Action/Sci-Fi | Link |
| Lord of the Flies (1990) | Adventure/Drama | Link |
| Alive (1993) | Drama/Disaster | Link |
| Apollo 13 (1995) | Drama/History | Link |
| Cube (1997) | Horror/Sci-Fi | Link |
| The Edge (1997) | Adventure/Drama | Link |
For foreign film fans: The movie Cube was such a big success that it was remade in Japan under the same name, and given a sequel and prequel. The director was Shimizu Yasuhiko.
Whether in the great outdoors or chilling at home, don't get caught without these Teufel products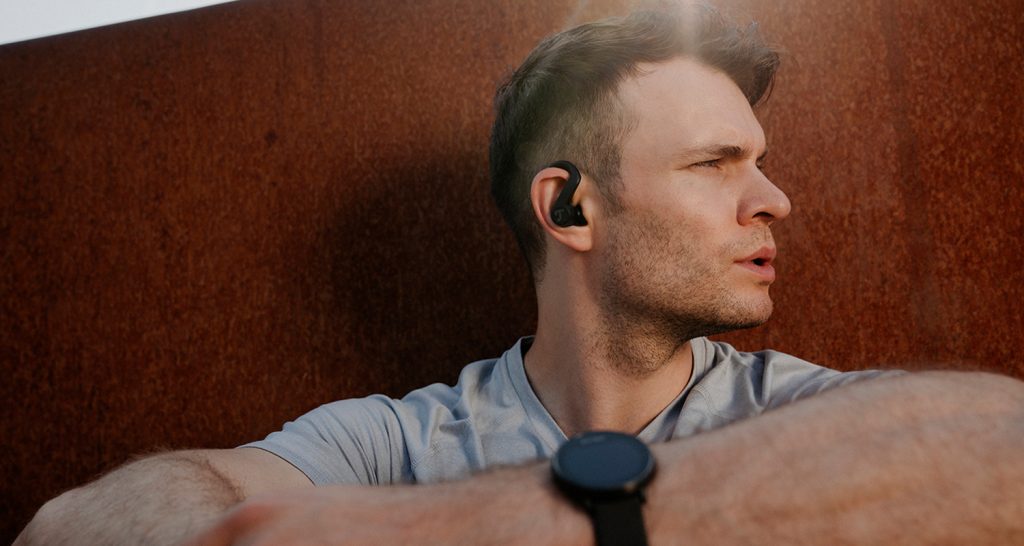 ▶ Polar x Teufel Sports & Sound: AIRY SPORTS TWS wireless fitness headphones and Polar Ignite 2 fitness watch form a duo you'll want to have by your side in everyday life and out in nature. Above all, the Polar watch's water-resistant construction and GPS function make it the perfect partner for your next survival trip.
▶ BOOMSTER GO: This compact outdoor speaker is your perfect partner for on the go. With powerful, distortion free sound, this super heavy-duty speaker is IPX7 certified for water and dust resistance. Let the outdoor adventures begin!
Even more Teufel outdoor speakers
Conclusion: Survival titles are ubiquitous, thrilling, and also often educational
The survival genre has long been an integral part of the film world. Every streaming service offers you a large selection of diverse titles. What kind of survival movie do you like to watch the most? Human versus nature? Human against the unknown? Or rather the classic battle of person versus person? Feel free to share your answer in the comments!