The latest Bluetooth version is due for release at the end of 2016 or beginning of 2017. Known simply as Bluetooth 5, the new version of this easiest of streaming technologies is set to greatly improve range and speed. Unlike the current Bluetooth 4.2, Bluetooth 5 will cast off the decimal place in its name for a less technical, more user-friendly look. Of course, Bluetooth 5 is much more than a re-branding strategy. It introduces a whole new range of improved specifications. According to the Bluetooth Special Interest Group, known under the abbreviation SIG, Bluetooth 5 will be twice as fast, offer four times the current range and eight time the data broadcasting capabilities of Bluetooth 4.2. These improvements are set to make Bluetooth more compatible with the Internet of Things.
Bluetooth 5: Improvements at a glance
SIG has announced the following big improvements for Bluetooth 5:
Twice the transmission speed
Four times the range
Improved transmission and compression
800 percent more capacity with broadcast packets
Bluetooth 4: Setting the stage with low energy use and speed
Bluetooth is a wireless technology standard that uses radio waves to send information between two devices. The latest evolution of Bluetooth mostly builds on Bluetooth low energy, also known as Bluetooth LE or Bluetooth Smart. Bluetooth low energy was introduced in 2006 under the name Wibree as an easy streaming technology aimed at healthcare, fitness, security and broadcasting applications. In 2010, Wibree was merged into the Bluetooth standard, Bluetooth 4.
Bluetooth 4 marked a sea change for the wireless technology, making it an efficient way to stream music between two devices – normally a smartphone and a loudspeaker. The sound, especially with the AptX codec, was very close to CD quality. This led to an explosion of Bluetooth-enabled speakers and headphones on the market. The new aspects of Bluetooth 5, however, have little to do with the aspects of Bluetooth that allow for quality music streaming. The improvements are aimed more at the Internet of Things.
Bluetooth 5: Keeping pace with the Internet of Things
The most important advances of this new protocol are built on this fast connectivity combined with low energy use. One way more energy efficient data transfers are achieved is by the use of small rest periods between transmission cycles. This comes in handy when receiving updates from other household devices or with wearables that employ the regular, but not continuous, transmission of data. Called "advertising packets," these bundles of information can be passed between devices that haven't been paired with each other. Receiving data via Bluetooth without first pairing your device with the source device makes it possible to transmit data to multiple recipients as long as they in the vicinity – a handy feature for stores that want to offer potential customers a discount voucher or restaurants who may want to advertise the daily specials.
Although the current Bluetooth standard already offers the ability to broadcast information without a pairing procedure, the data volume is limited to 31 bytes per advertising packet. Bluetooth 5's quadrupled transmission speed will bring this volume up to 279 bytes. This will enable airports, government agencies and universities to establish navigation services, something that could greatly reduce the stress of finding the right terminal in an airport, for instance. Cities could potentially use Bluetooth 5 to create voice-guided systems for the visually impaired. The possibilities when it comes to integrating locations with the smart devices of those passing through them are endless.
And increase in speed means that these packets can be sent quickly without battery drain. The greater range makes it possible to interact with one's environment both in the home and at places like shopping malls and airports. Bluetooth beacons in busy train stations, for instance, can keep passengers updated with the latest news and information regarding train schedules. It's predicted that 371 million Bluetooth beacons will be in use by 2020.
It should be noted that Bluetooth low energy was not suitable for the transmission of audio data as the data stream must be continuous. Bluetooth 4.0, however, already offered relatively low energy consumption with audio transmission making it possible to go on long runs with Bluetooth headphones without draining your smartphone battery.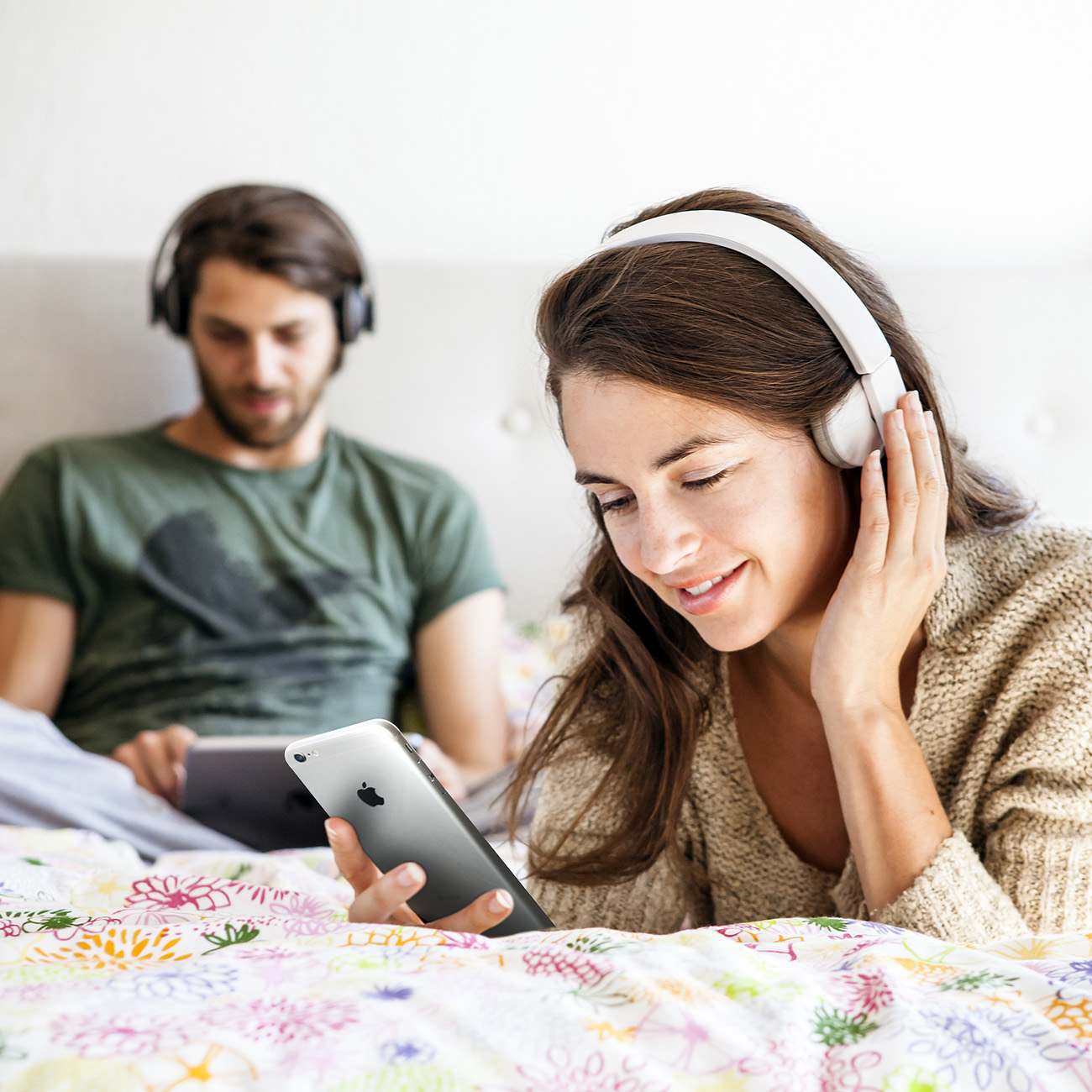 What does Bluetooth 5 mean for audio streaming?
Bluetooth 5 primarily opens up Bluetooth to the Internet of Things by making the wireless technology standard a great way to gather updates from the immediate environment, just like WiFi. When it comes to audio, however, the new version offers no significant improvements over Bluetooth 4.2. This is good news for all those who already have loudspeakers compatible with this standard: You already enjoy excellent sound quality which will in no way be made obsolete by the new Bluetooth version. Especially devices equipped with the AptX codec offer a CD-like quality that remains the very best Bluetooth has to offer.
Bluetooth 5 offers new possibilities for connecting with the world around you
The first devices with Bluetooth 5 should be available at the end of 2016 or the beginning of 2017
The new version offers higher transmission speed, greater range and new possibilities for broadcasters
The improvements are designed to make Bluetooth more compatible with the Internet of Things
Bluetooth 5 is not suitable fort he transmission of audio files for music playback
Bluetooth broadcasting opens up new possibilities for advertiser but also functions like offering navigation assistance
Bluetooth devices from Teufel
Designed for the best sound, Bluetooth speakers from Teufel come in a range of sizes and price points. All are packed with the best audio technology for hi-f quality playback with streamed audio files. Stream your own music collections on your smartphone or tablet or audio from your favorite apps. Portable Bluetooth speakers make it possible to enjoy powerful Teufel sound anywhere you go. As the Bluetooth standard continues to evolve, Teufel will continue to develop great products that take advantage of this easy and effective way to stream.