Listen up party people, we have something for you! There is no doubt that a good party needs a great playlist – and deserves even better sound. Whether you want chilled background music for an intimate dinner party or you're more into moshing through the night, your party playlist can create the perfect atmosphere and give you guests an unforgettable experience. Party of the year? We say party of the decade. Let us explain the whys and wherefores when it comes to finding the perfect party speaker.
The perfect speaker for your next event
Good music is always present when it comes to social events. It might not always be the focus, but it is a key factor in creating the perfect mood. However, not every party has the same demands on the speaker. For those who want their sound to be perfect, they certainly have a wide choice of party speakers. We considered what these requirements are exactly, and what good speakers should be able to do in order to add the perfect accompaniment to your own party with your favourite music. Let's start with some simple tips:
Tip 1: Pay attention to the quality of the speaker. Because good speakers, even if they are more expensive than others, are the best investment for the party and beyond. Nobody likes bad, tinny and bland sound. Music has to be fun to listen to.
Tip 2: Don't be tempted to play the music too loud. Especially at private parties, music tends to take a back seat since people want to talk. If they have to fight against music that is much too loud, it can end up having a rather negative effect on the mood. Of course, music should still be heard, but it shouldn't drown out conversation for a long time. Small exception: when the song comes on the playlist that will get everyone up dancing. Turn it up!
Tip 3: Think about the size of your event. Depending on the size of the party you will need a different type of party speaker, which we will go into more detail later. Just remember the following rule of thumb: small party = small speaker. Big party = big speaker. Got it?
Tip 4: Set up your speakers correctly. Whilst it doesn't matter where the speakers are located in small rooms that don't need a particularly loud sound anyway, at larger parties you should consider where to place the speakers so that the music fills the room well and equally from all sides. At outdoor parties this is a little trickier, but also feasible. Try out different set ups when you install the system.
Garden party: special speakers for outdoors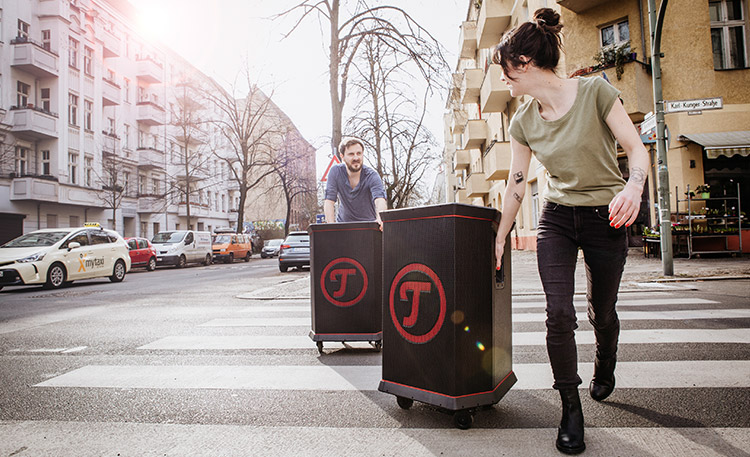 What does a typical garden party look like? Well, it's probably rather big with quite a few people, cold beers, and good food. Loud music to fuel the mood, maybe a few grilled sausages on a bread roll and nibbles on the table. With regard to the right party speakers, the size of the event plays a major role, as a larger and more open area is to be filled with many people, and thus loud background noise.
Many solve the problem by simply setting up their 5.1 system from the living room outside. From our point of view this is not a good idea, especially if it is a more valuable system. What you need are larger speakers, preferably wireless and both powerful (for volume) and precise in sound (no roaring or over-bearing). Such speakers can be positioned anywhere in the garden and, despite the uni-directional projection, are capable of enveloping the garden in a perfect sound stage.
Teufel tip: In our own range, for example, the Rockster is very suitable for outdoor use. Not only does it last a long time, but it also delivers a powerful performance and a perfect sound especially for such events.
After-dinner drinks: speakers for smaller occasions
We are imagining a small party on the balcony or terrace with delicious food and drinks, a good atmosphere and rather quiet music in the background. So it's clear that here, unlike at a big garden party, a powerful speaker system is not necessary.
What you have is a small group of people in a manageable area. What you need is a small, wireless Bluetooth speaker that you can put anywhere and still guarantee a top sound regardless of their size. These are the perfect party speakers for your little soirée, in our opinion. They will last for a long evening and guests can also connect their phones to share their favourite music.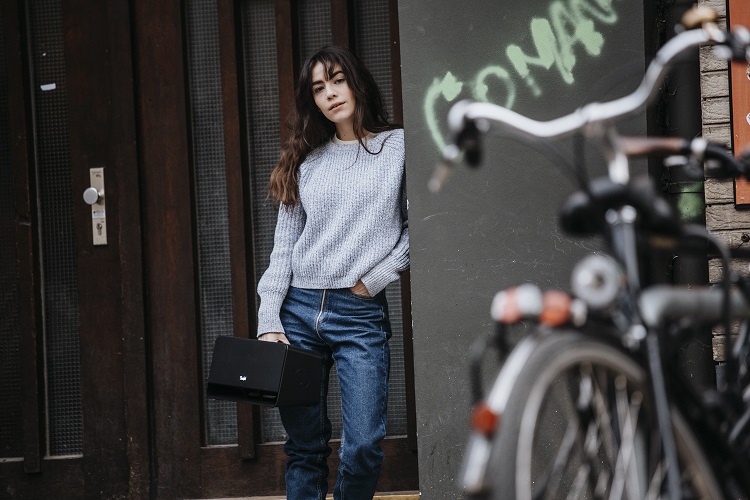 Teufel tip: You can also find such small all-rounders in our range, like the Bamster Pro for example. Or, as seen in the picture above, the Boomster.
Beach party: portable speakers
A soft sandy beach at dusk with the sound of the waves and perhaps a crackling campfire. Here, as for all parties that are not hosted at home, the speaker should be suitable for outdoor use, and above all easy to transport.
Wireless Bluetooth speakers are perfect for this – they have no problem bringing music to the beach. Strong batteries and connection options with smartphones must be taken into account; but also that there is a good local network connection if you want to stream music.
Teufel tip: We have several solutions in our range. Firstly our Bamster range, which provide enough sound for small beach parties. Or the bigger Boomster or Boomster XL. The Rockster Air would be suitable. Slightly smaller than the Rockster, it still offers powerful sound, but is easier to transport and has a carry handle for taking on-the-go.
House party: Optimum sound with 5.1 systems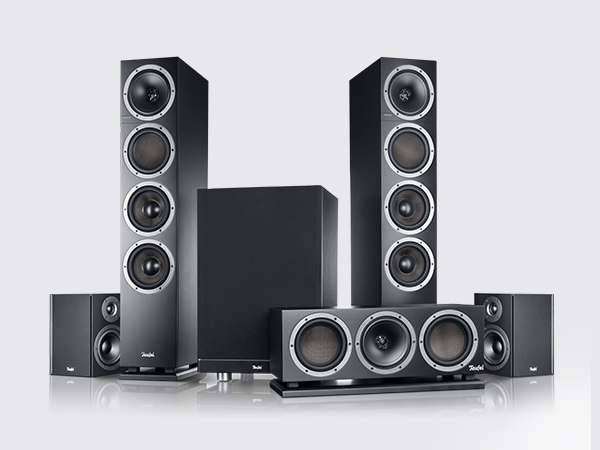 The final scenario: you have many people in a rather small space (depending on the room conditions), louder music for louder background noise, a good supply of drinks and snacks in the kitchen – this is the perfect house party. But when it comes to the right party speakers, you have to be careful. Sure, maybe a simple stereo is enough, but at the latest, when the party really gets going, it won't deliver the power that you want for a proper dance-off. You need a system with excellent performance, high-definition sound and the ability to produce sound from different positions at the same time. Ideally, 5.1 systems or really good stereo systems.
The advantage of good sound systems is that the overall volume remains low, because there is even more precision in the sound – that means no roaring. If the party takes place in several rooms at the same time, a speaker network could be useful, where different speakers are networked and play the same music at their respective locations thanks to multi-room.
Teufel tip: We recommend the Ultima 40 Surround 5.1 system or the Kombo 62 stereo system. Not just great for a party, but for your home entertainment system too.
Do you have any other ideas and tips when it comes to choosing party speakers? Leave us a comment.
More Teufel: