The new MusicStation from Teufel Audio offers quite simply the greatest amount of flexibility in terms of music playback together with authentic stereo and deep, punchy bass. This handy device can be easily mounted on a wall or placed on a sideboard.
Amazing sound anywhere you happen to need it
Multi-source music players are great, espeically since there are just so many ways to store and transmit music these days. Unfortunately, most multi-source players were designed primarily for convenience and less for sound quality. Conversely, devices that focus on exceptional sound don't usually find it necessary to offer the user many options. At Teufel, we saw no reason why you couldn't have your cake and eat it too, so we set out to design a multi-source player that produced a rich, transparent sound from just about any source.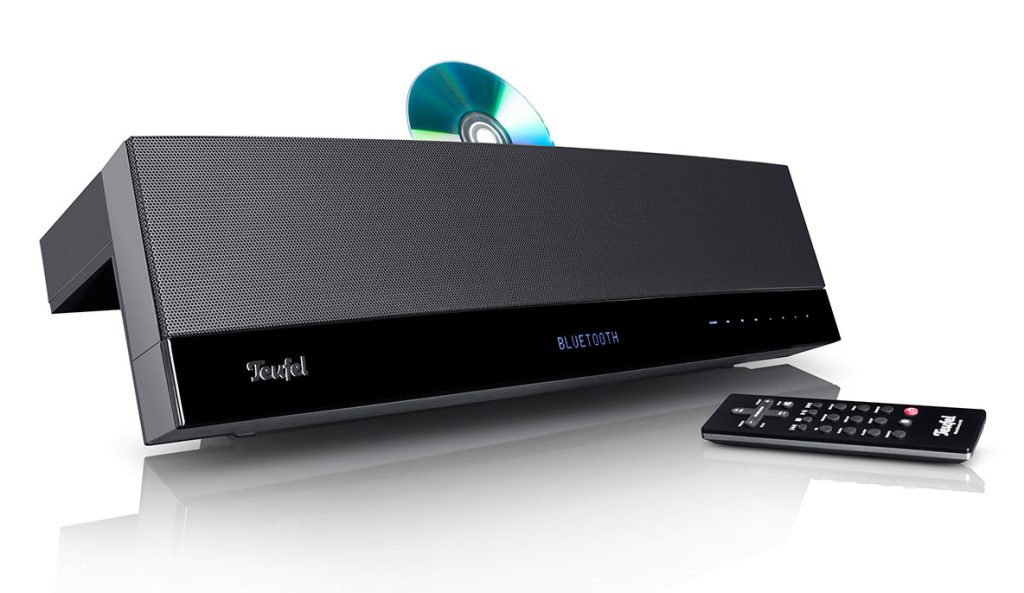 In the end, the MusicStation exceeded even our own expectations in terms of connectivity and sound thanks to the following features:
Two 65 mm high performance full range drives in a front fire arrangement for a precise sound with an exceptionally broad stereo image.
Two 10 mm side fire, long-throw subwoofers drive the lower frequency down to a rich 60 Hz and enable an exceptional bass performance, even at low volumes.
A class D amplifier with 40 watts of maximum performance ensures dynamic playback with low noise levels.
A handy remote allows the user to adjust the sound settings according to the music genre.
The drivers are arranged in a so-called 2.2 configuration. This ensures an authentic stereo sound with a strong bass foundation.
The MusicStation accepts just about all standard music storage and transmission mediums.
The MusicStation offers the following onnection possibilities:
Slot load CD Drive: All standard audio CDs as well as CD-Rs, RWs with MP3, WMA or WAV files can be played
FM Radio: Can save up to 40 stations
USB port: Connects to USB storage devices for playing back music in MP3, WMA and WAV formats
Analogue 3.5 mm stereo input: For connecting smartphones and MP3 players via stereo cable
Bluetooth with aptX codec for the highly stable wireless transmission of transparent sound
Headphone connection, time, and alarm function
Bluetooth with aptX is this multi-source music player's trump card
Thanks to the system's advanced Bluetooth technology, music stored on smartphones and tablets can be effortlessly played back in high sound quality. To this end, a sophisticated aptX codec is used which guarantees interruption-free wireless transmission in CD sound quality. With Bluetooth, you can even listen to streaming services like Spotify, internet radio as well as YouTube videos or games on the MusicStation. Simply open the respective app, pair your device to the MusicStation and allow the Bluetooth functionality to transmit the sound without interruption and in crystal clear sound quality up to a distance of 10 meters.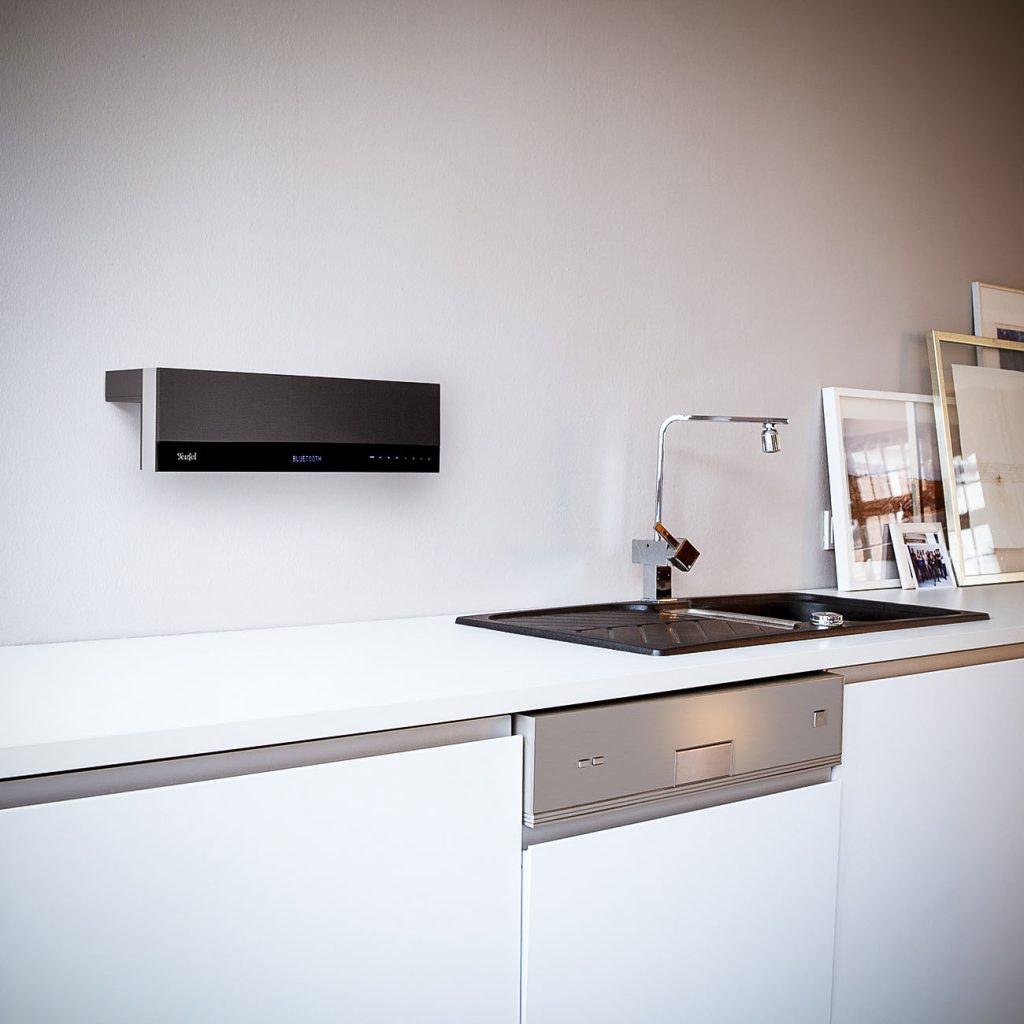 Easy on the ears, never in your way
The MusicStation's unique subwoofer placement makes it easy to mount on a wall or simply place on a table or shelf: Either way, the subwoofers will be able to radiate their sound sidewards without obstacle. The mid and treble ranges disperse forwards, creating a broad stereo panorama while leaving plenty of room for the high-excursion bass drivers to work on the sides. This ingenious design allows all areas of the frequency spectrum to reach the ear in a highly natural, well integrated fashion from an enclosure that's small enough to place just about anywhere.
Super easy controls for immediate access to what you want to hear
The MusicStation can be controlled by means of chic sensor buttons on the device itself or by means of a remote. An automatic off feature triggers a standby mode after 15 minutes have passed without an incoming audio signal – an environmentally friendly feature that will also save you money.
The device is easy to clean and solidly constructed. A protective circuit deactivates the system in the event of a thermal overload. The display shows the time and has an alarm function. A headphone output rounds out the MusicStation's multifaceted functionality.
With its winning combination of great sound and generous connectivity, the MusicStation is destined to be the sonic focal point of any household.
You can find out more about the MusicStation here.
All pictures: Property of Teufel Audio