Can you name a system that we use to reproduce our favourite multimedia sounds? -It's got to be a stereo system. Ever since the 1960s stereo systems have been playing our favourite sounds from vinyl, CD, or via streaming. And nowadays, TVs also support stereo systems, or HiFi systems, as we like to call them. We took a look back at the history of stereo players and looked into what makes them a durable, beloved piece of technology that we still use today.
One makes two: the history of stereo systems
The forerunner of our modern place-saving stereo system was the large radiograms of the 1950s. In one device, radio, vinyl, and sometimes TV could be combined. The sound was played via one channel, monophonic. In the last 50 years, the first devices were available that offered sound via 2-channels, at the same time the stereo vinyls were developed. Radio stations wouldn't be able to take advantage of stereo until a little later, starting in 1963.
Reader's tip: Stereo is characterized by two simultaneous but separated sound signals. They ensure that spatial hearing is possible. You can read more about how this works and what a phantom source is in our article on stereophony.
Stereo systems that are made of multiple components were developed in the early 1960s. The loudspeakers were separated into their own casing and could be independent from the rest of the system. One thing that is majorly different from today's systems, is the fact older stereo systems used to be upward-facing, with a plastic covering. As seen below.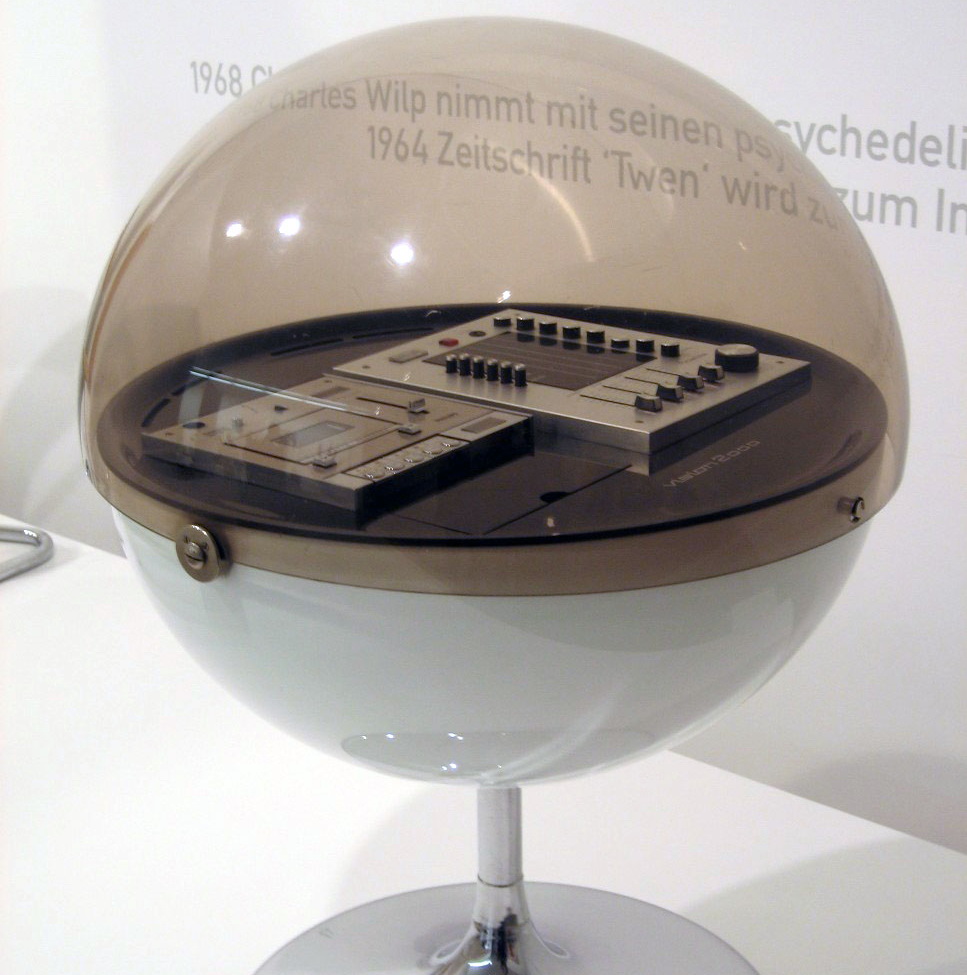 In the 80s stereos were a must-have piece of equipment for homeowners. But they were costly, becoming a status symbol for music lovers. And by the 80s stereo systems had taken on a new form. The speakers remained in their beloved form. But the rest, such as the amplifier, radio, cassette player, CD and so on – could now be stacked on top of each other making them easier to combine.
Even today, a stereo setup is still a solid choice when it comes to sound systems. We use stereo sound for our TV sound, music, and other channels. For Blu-rays we even have 5.1 sound possibilities, but only when the stereo system is permitting. Also, streaming services are offering better sound nowadays, too.
Twice the fun: Loudspeakers from Teufel
The components of a stereo system
A stereo system is characterized by its two-channel sound, but also individual components can be set up separately. Traditionally, a stereo setup consists of a sound source, an amplifier, and two loudspeakers. Let's take a look at these part in detail:
Playing device
Whether vinyl player, cassette, CD, music-streaming or radio – your system is always ready to play your favourite music, thanks to various connection possibilities. Depending on your preferred music you need the corresponding playing components.
The amplifier
The amplifier, found inside the system, has the job to deliver the sound from the sound source and deliver it to the loudspeakers, and in some cases the subwoofer too. Just like its name suggests, it amplifies the signal. Receivers can also perform the intermediary task in the stereo system: they are a combination of amplifier and tuner.
The loudspeaker
The loudspeakers ensure that you can actually hear something. There should be at least two in a sound system – one for each channel. Loudspeakers can be separated into two categories, active and passive loudspeakers. The classic, passive speakers need to be connected to an amplifier so that they can understand the signal from the playing source. An active loudspeaker has an amplifier built-in and can be connected straight to the TV for example.
Modern compact systems: space-saving sound
If you're on the hunt for gigantic sound systems, you can find them anywhere – but they're not the only systems with a kick. Thanks to advancing technology, bigger sounds can be packaged in smaller forms. Compact or micro systems, still deliver a heavy sound. Set up, connect and plugin – finished. As we now have the possibility to stream our music, we don't need CD players and so on, which means the larger components of a system aren't needed, allowing them to be more compact.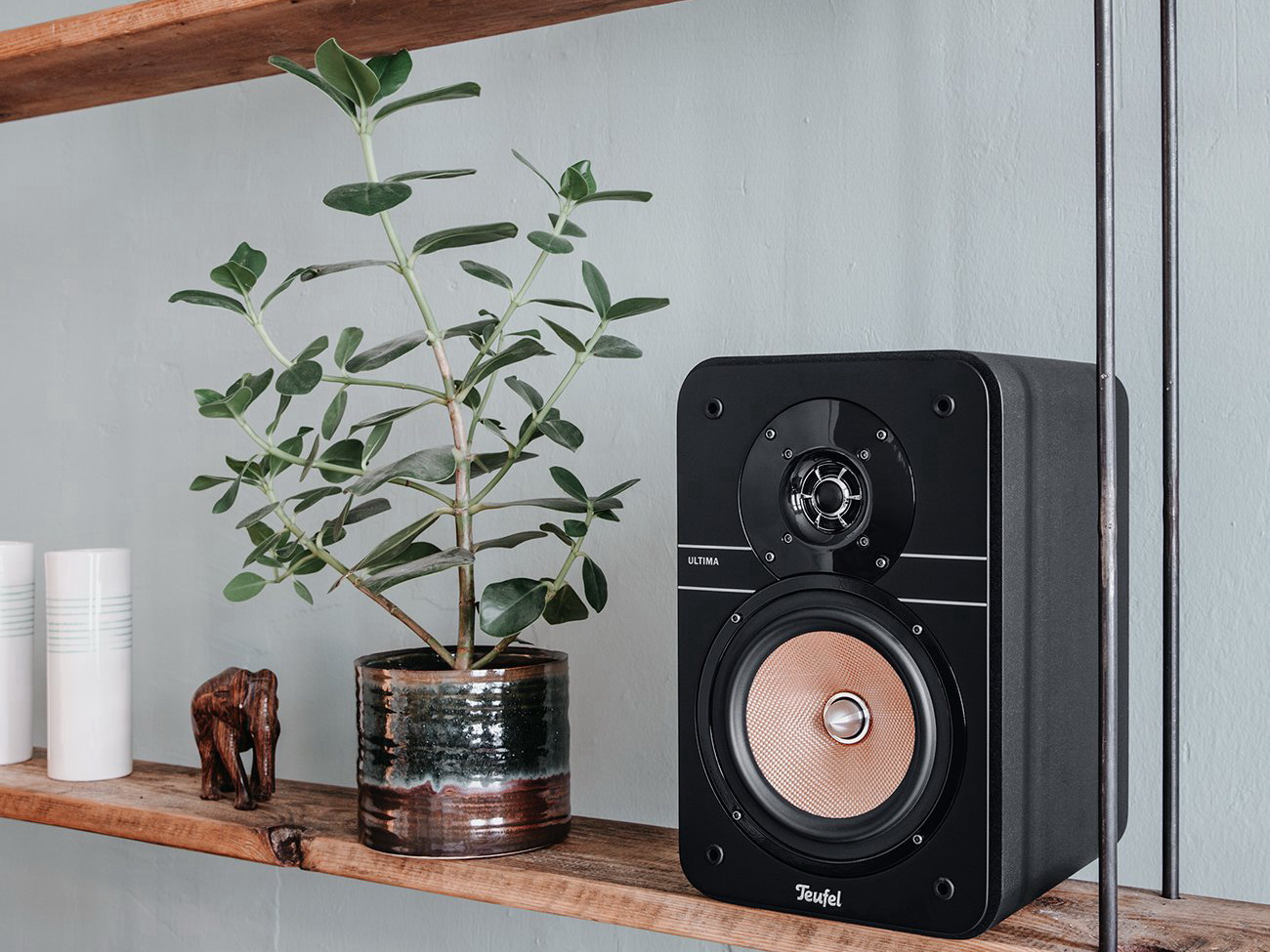 Readers' tip: When selecting a sound system that has to fit you and your home, there are a few things to watch out for. Read our article on how to set up your loudspeakers, full of all the tips you need when buying a sound system for the first time. You can learn about how to find the sweet spot and about the various connection possibilities.
Bluetooth and DAB: stereo system's modern components
The change from analogue to digital stereo systems has long been in practice. The majority of us have been listening to favourite songs via streaming, instead of CDs.  And luckily, music streaming isn't a problem for modern stereo systems. The work via Bluetooth, which allows you to quickly select and play your music from your smartphone, or other devices. There are now wireless systems that either communicate completely via Bluetooth or, for example, connect individual components such as a subwoofer to the rest of the system wirelessly.
Another technical achievement of the stereo system – DAB and the later DAB+. If your stereo system works with this transmission standard, you can listen to digital radio. A stereo system with DAB+ not only provides improved sound quality but also enables the transmission of additional information, in addition to the pure soundtrack.
Pimp your old stereo systems
If you're not quite ready to say goodbye to your beloved, but outdated stereo systems, there are a few possibilities to upgrade it:
Bluetooth adapter – if your stereo system isn't Bluetooth compatible, just connect a Bluetooth adapter and you can stream music easily.
WIFI steaming – stream anywhere in the house, even with an older stereo system. The Teufel Streamer, for example, allows your device to connect to the houses' streaming network.
Enough stereo – What to take things to the next level? With the Teufel expansion sets, you can expand your own stereo system, even turning it into a 5.1 sound system, or a home cinema system.
For two powerful channels: stereo systems from Teufel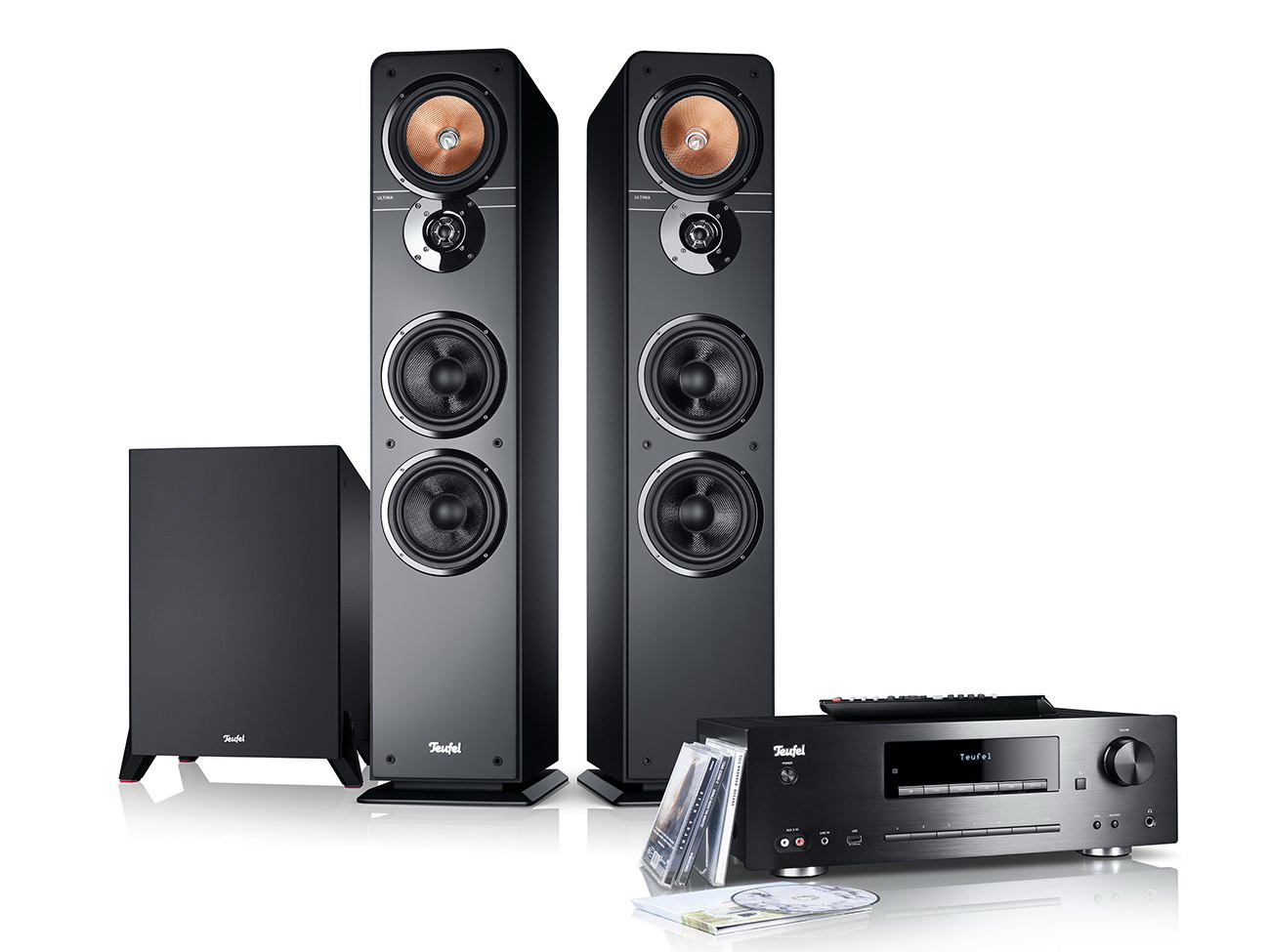 ▶ Ultima 40 Kombo Power Edition: The classic with a modern interpretation. In this system, two beautifully shaped floor-standing loudspeakers in combination with a powerful subwoofer provide the best sound. The sound is managed by the Kombo 62 CD receiver. Whether it's a classic disc, digital radio DAB+ or streaming with Spotify and Co. – thanks to Bluetooth and NFC, this system can handle just about anything without any problems.
▶ Ultima 20 Kombo: This stereo system makes it very compact. With its 2-way bookshelf loudspeakers, it is ideal for smaller rooms. Thanks to the bass reflex system, you don't have to worry about pale sound reproduction. The CD player has been omitted, but streaming via Bluetooth also allows musical accompaniment in every situation.
▶ You'll find many more stereo systems and speakers in the Teufel online shop.
Space-saving systems: Soundbars from Teufel
Conclusion: characteristics of a stereo system
Stereo systems let you enjoy sound on two channels – played from separate speakers.
The first stereos were produced in the late 1950s.
Today we still receive TV and radio sound in stereo. The standard is still ideal for listening to music.
Only in home cinema do 5.1 and 7.1 sounds slowly distribute the two channels