Home cinema and Hi-Fi technology are no longer as complicated for beginners as they were 20 or 30 years ago. Above all, the spread of user-friendly digital technology has simplified many things – but figuring out the back of an amplifier, AV receiver or compact system can still be quite confusing. Usually you will find several connection points there, although the purpose of each one is not immediately obvious to everyone. However, as soon as you know some basic terms and can distinguish a few cable types, it begins to get less complicated.
In addition, with a little extra knowledge, you might come across completely new possibilities: for example, when you realise that an old cassette deck could have been connected to your stereo system long ago.
AUX connections (input or output)
Alongside the inputs for various players such as Blu-ray players and connections for the speakers themselves, the most important input on the amplifier or compact system is called AUX or auxiliary. This is simply an audio input to which you can connect players of your choice. This could be anything from an old cassette deck or a modern player such as an mp3 player or smartphone. If you want to quickly and easily connect your computer, it's also best to use the AUX input.
As a rule of thumb, devices to which you can connect headphones can normally also be connected to your system via an AUX cable. However, the term AUX does not clarify exactly which cable to use. It merely describes the purpose of this connection, not whether it is a jack or RCA connection. The most common are RCA connectors – one red and one either white or black for the two stereo channels. To connect your iPod to it, you need a simple 3.5 mm jack to stereo RCA cable.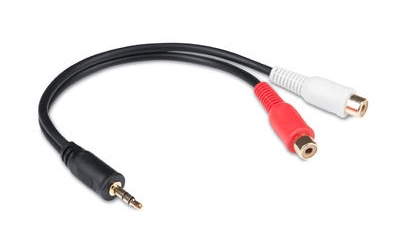 Connecting a record player to sound system – what cable to use?
Connecting record players is usually more complicated. In theory, they can also be connected to the amplifier without special cables, but whether they will actually work is another question. Often the device signal is too weak so that users of modern amplifiers can only hear a few quiet noises – if at all. The solution is a pre-amplifier. This can either be integrated into the record player itself or be part of the amplifier. If the pre-amplifier is in the record player, the AUX input of the amplifier can be used without any problems. When it is installed in the amplifier, in addition to the AUX input, there is also a so-called phono input, via which record players without integrated pre-amplifiers should be connected. Should neither amplifier nor record player has an integrated pre-amplifier, you have to reach for a phono amplifier – you can read more about this type of pre-amplifier here.
Learn more about audio amplifiers here
Relevant products from Teufel
Line-in and other connections
Some manufacturers contribute to the confusion by using many different names for the audio inputs of their devices. The amplifier may have audio inputs titled line-in, CD or Tuner. But don't worry: All these connections are basically AUX inputs, except for the previously mentioned phono input. The different designations primarily serve the order of the individual devices. That way you can quickly switch to the corresponding channel later and have the device that is located at the corresponding input already selected.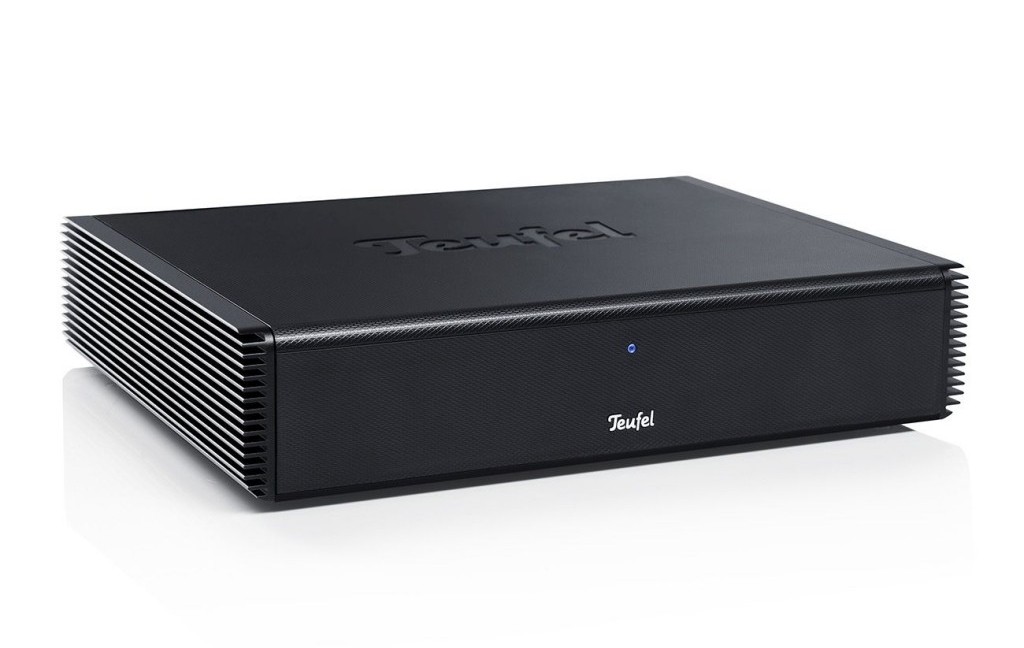 Digital connections
Most of the audio inputs, and all those that we have covered in this text so far, are analogue connectors. But there are also – especially with modern amplifiers like the CoreStation (shown above) – digital audio inputs. In this case, there is one input for one coaxial cable and two TOSLINK inputs: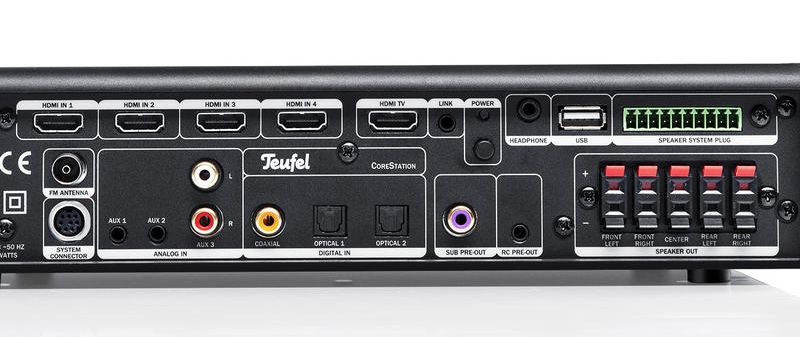 Of course, no analogue devices can be connected to digital audio inputs, only those with a digital output. This input is therefore not suitable for use with an mp3 player or another analogue playback device but can work with all digital players such as a Blu-ray player. This is usually connected via HDMI, but it is also possible to connect via a TOSLINK cable. Game consoles can also transmit their 5.1 signal to the amplifier via these digital inputs. Even if you have installed a high-quality sound card in your computer, you will usually find a TOSLINK or coaxial output there. This is usually the best way to connect your computer to the amplifier.
A better look at Teufel's CoreStation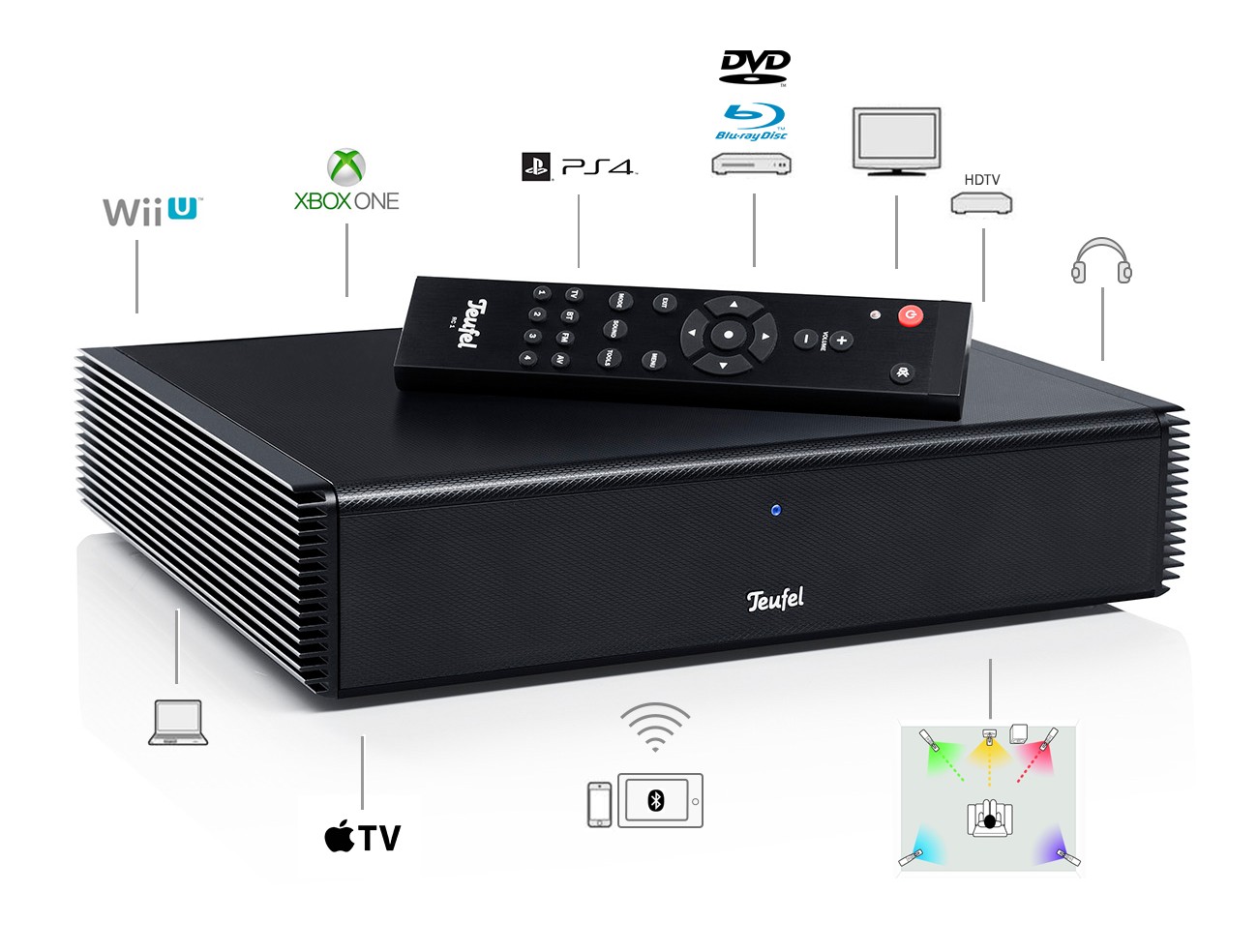 ▶ The CoreStation is your control centre: whether it's a Blu-ray player, game console, TV or system – they all find their connection, whether analogue or digital. And maybe even wirelessly, because Bluetooth can also connect the CoreStation. What's more, the 360-watt Class D amplifier ensures the best sound and the CoreStation does all its work quietly, or even completely invisible if you wish. Because you can simply hang the CoreStation on your TV like a backpack: It couldn't be more discreet.
Related products from Teufel
Conclusion
What sounds confusing at first sight turns out to be much less complicated than expected after clarifying some basic concepts.
An AUX input is basically a very normal audio input.
Which cable fits the respective AUX input varies from device to device.
There are also different names for this audio input depending on the device – but in the end, everything is more or less the same.
Only digital audio inputs such as a TOSLINK connector differ and can only be powered by devices with an appropriate connector.
For the fast "Plug & Play" with an mp3 player or computer, however, an analogue connection is best suited anyway.
Featured Image: © Iwan Gabovitch "Yamaha AV Receiver/Amplifier Back Panel for RCA Jack, TOSLINK S/PDIF, Cinch, RCA and Speaker Connector Cable Plugs (Public Domain Photo)"
All rights reserved. Source: Flickr.com