For a long time, Dolby's 3D Atmos sound format, was reserved only for selected Atmos cinemas and certain Blu-rays. Now, Netflix and other streaming platforms also offer more and more content with Atmos soundtracks. However, some of the requirements are quite specific and might deter some users.
The pre-requisites for Dolby Atmos on Netflix
Content that uses Dolby Atmos is only available on Netflix for holders of a premium account. Anyone who has taken out a basic or standard subscription (HD available) gets the sound in Dolby Digital Plus. As a rule, however, only the English original soundtrack comes in the Atmos sound. An exception is the German series Dark, which is also offered in German with Atmos. German dubbing is otherwise streamed in Dolby Digital Plus. The Amtos codec is also transmitted by Netflix based on Dolby Digital.
In addition to having an Atmos-capable system, other requirements must be met: Netflix recommends a bandwidth of at least 3 Mbit/s. For many users, however, the requirements for streaming receivers are likely to be much more problematic. Only a comparatively small number of smart TVs or streaming speakers are suitable for Atmos reception. According to Netflix, these are the compatible models (as of November 2018):
✔ LG Oled-TV (2017 model or later)
✔ Sony Bravia Android-TV (2018 model or later)
✔ Apple TV 4K (from tvOS 12)
✔ Xbox One, Xbox One S and Xbox One X
✔ Pixela 4K Smart Tuner
✔ Windows-10-App (Windows 10 from RS3 Build 16299)
Even if you have an Atmos-enabled AV receiver, you will still need one of the listed devices or software.
Atmos productions on Netflix
The first Netflix movie with 3D sound was the Netflix-own production Okja. Other Atmos films are also predominantly Netflix productions. Here is a selection of the films and documentaries that are available with Atmos under the conditions mentioned above:
▶ Chef's Table
▶ Dark
▶ Godless
▶ How It Ends
▶ Jessica Jones
▶ The Innocents
Netflix does not have a filter function for Atmos movies. If the 3D sound is available, it is marked with the Atmos logo on the overview page. In addition to Atmos, Netflix is also increasingly offering Dolby Vision image content for high-contrast images.
Dolby Atmos on Amazon Video and maxdome
Amazon Prime Video introduced 3D sound a little later than Netflix. The first step was the release of Tom Clancy's Jack Ryan on 31st August 2018. In addition to an Atmos-enabled system, an Amazon Fire TV, Fire TV Cube or Fire TV Stick 4K are required for playback.
Even before Amazon, the German streaming media library maxdome had introduced films with Atmos sound. In terms of hardware and software requirements, maxdome is far less strict than its competitors from the USA. Therefore 3D sound can be streamed over compatible Atmos systems with smart TVs from the following manufacturers (the list refers to models from 2017 and later):
✔ Samsung
✔ Sony Android TV models
✔ LG
✔ Panasonic
✔ Loewe
✔ Technisat
You can also use a PS4, Windows 10 devices and the following streaming boxes: Fire TVs, Fire TV Stick (v2), Chromecast Sticks, Chromecast built-in devices, Technisat DIGIT ISIO STC+ and DIGIPAL ISIO HD.
Dolby Atmos x Teufel
Dolby Vision, 4K, Dolby Atmos, audio streaming, lossless music – Teufel high-end systems have mastered the truly state-of-the-art innovations in modern home cinema. With Atmos-capable high-frequency speakers, the integration effort is particularly low.
▶ LT 5 for Dolby Atmos 5.1.4 set: With the LT5 licensed by Dolby Atmos, you'll experience sound from every angle, including from above, thanks to innovative up-firing speakers. With its sleek aluminium columns, the system is also one of the most attractive home cinema sets on offer and Teufel's acoustic technology guarantees the very best sound experience.
▶ Reflekt Dolby Atmos speakers: Do you already have a surround sound system? Experience it in an extra dimension with Dolby Atmos Reflekt speakers. These easy-to-install additional speakers put you squarely in the action and delivers an even more cinematic and immersive sound experience for home cinema.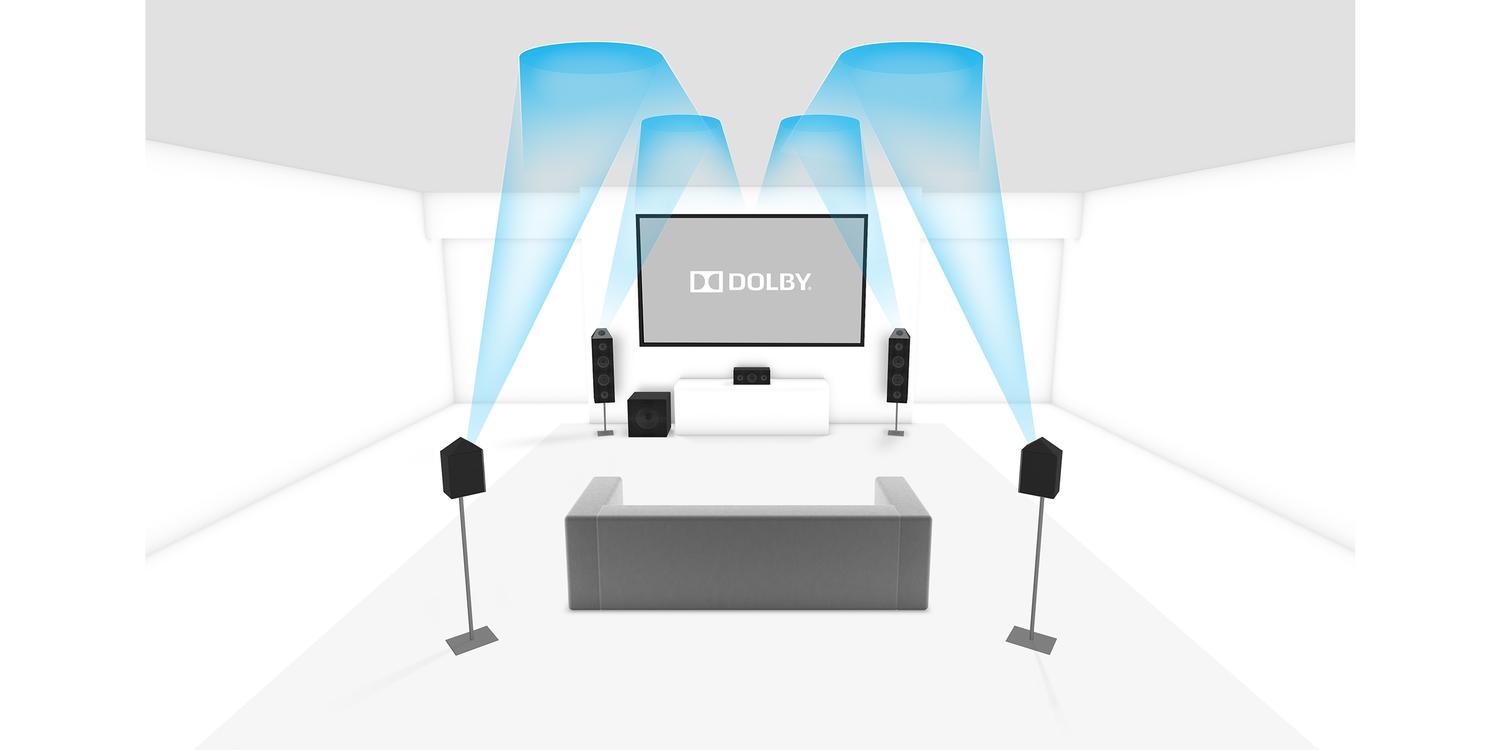 Teufel THX-certified home cinema systems
What you need to know about Dolby Atmos on Netflix
Netflix offers certain content with Dolby Atmos 3D sound.
Content with Atmos soundtracks are only available in the premium subscription.
The prerequisites for playback are an Atmos-enabled system and a compatible Smart TV or streaming speakers as listed by Netflix.
In addition to Netflix, Amazon also offers Prime Video and maxome content with Atmos sound.