For the company's anniversary, Teufel produced a video story that shows a day with Teufel in Berlin's urban jungle. And of course, music plays an important role. The English-Irish songwriter Ryan O'Reilly, who now lives in Berlin, appears in person. He wrote the song from the Teufel video, "The One". The blog team wanted to know more about the charismatic musician and recently met him for an entertaining interview at the Teufel Store in Berlin. But first, we show the Teufel video again to everyone who might have missed it. Here it is:
Teufel wanted me as I am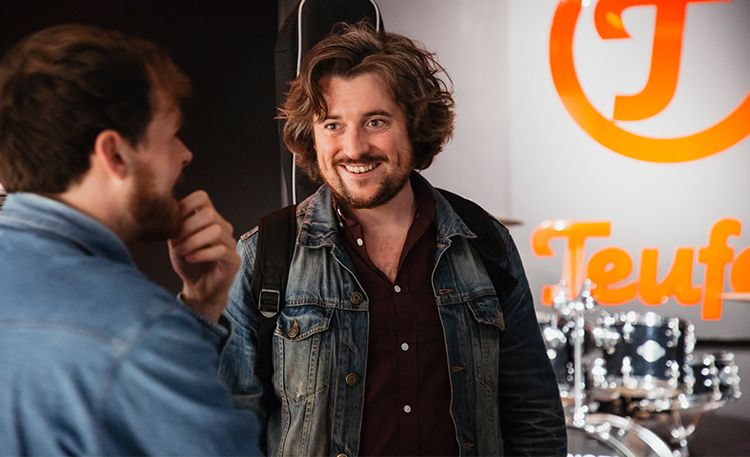 Blog Team:  Your track The One was featured in the Teufel 40-year promotional video. How did that come about?
Ryan: Teufel contacted me. I think they were on the lookout for my kind of music, which is quite amazing as the Internet is quite a haystack and they managed to find a needle in the haystack, and that needle was me. I get emails out of the blue almost every day, but not all of them follow through. It was nice that Teufel wanted me for me, and not trying to turn me into something else.
Blog Team: How was it getting involved in the filming in and around Berlin??
Ryan: It was very similar to filming a music video. I think because we were performing in it, and I was busking, it felt like shooting a music video – just really good fun. They kind of built it around me a little bit, I started off as a street performer and the idea is that it's a day in the life in Berlin. Different people going about doing different things, and I finish inside a packed sold-out venue – it's a fun progression to see. So, for me, it wasn't too much to do, just had to make sure my hair wasn't messy.
Blog Team: Can you tell us more about the song The One?
Ryan: There is a bit of a holy grail in songwriting when you get the hook for a chorus, you want to say something that people feel, but hasn't been said very often. So, I liked the idea of people talking about "the one". You might have lost the one, searching for the one, you might say someone is the one, but I haven't heard anyone say that they were upset that this person was the one and kind of wish they weren't. It was an unusual feeling and as I soon as I felt it, I wanted to capture it.
Blog Team: How do you go about writing your songs??
Ryan: I work a lot on the lyrics. My degree was in literature and poetry, focusing especially on creative writing and poetry. And I think you come to music in different ways, it ticks different boxes for different people. I always listen to lyrics first when it comes to listening to a new song. Some people listen to the beat first, some people listen to the melody first, but for me, it was always lyrics first, so that's how I write. And I think for people who listen to lyrics they might click with my music. If you're more into dancing you won't get much out of my songs. My songs are more for those who like to sit down and lose themselves in the story.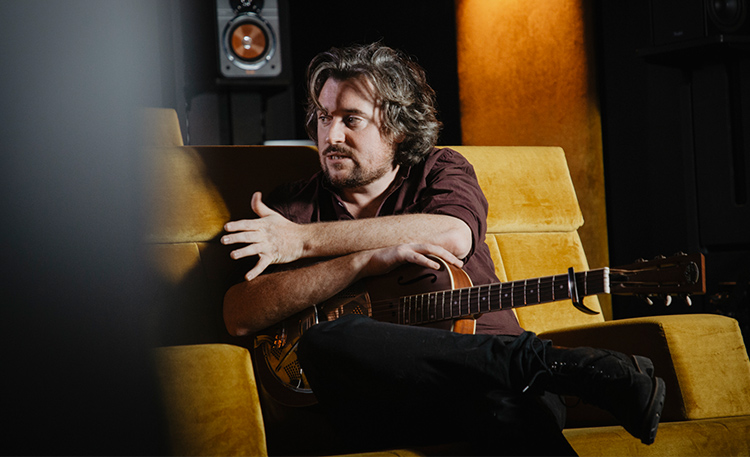 If you write good songs, good musicians want to work with you
Blog Team: Did you study with the intention to improve your songwriting?
Ryan: Yes. I didn't do it knowing I was going to get a job. I thought as well, being an actual musician is really difficult, but if you write quality songs good musicians will want to play with you. It was a lot easier than actually taking piano lessons.
Blog Team: You often perform alone, but you're also part of a band. Can you tell us a bit more about that?
Ryan: Sort of, yes and no. I worked with the same people for a long time. I've worked with my producer since I was 20. And I have a co-writer and best friend in music who I've worked with since I was 18. However, because the songs are very singer-songwriter I tour maybe tour 2/3rds of the time alone, and when we record we record together and if we release something we try to tour as a band, but it's just under my name because I also need to live with the songs. It's more of a team than an actual band.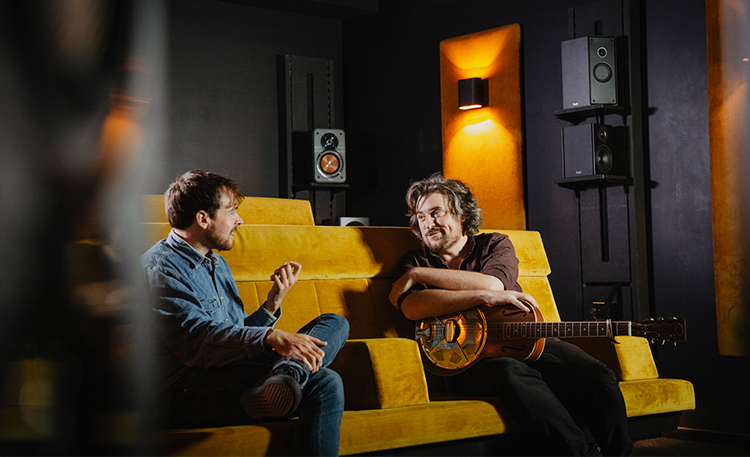 Bob Dylan? He was a favourite of mine
Blog Team: Who are your biggest influences musically, any major names like David Bowie?
Ryan: I've always been interested in Bowie, but never been a massive fan. You can dive into the depths of his world so deep and I like that. I feel like I haven't scratched the surface, but for me, I did that with Bob Dylan. I knew the trivial things about his life, like where he was born, where he grew up and I know a little bit about that when it comes to Bowie.
When I was in London I worked as a Beatles tour guide. That was my last job in London I was a Jack the Ripper and Beatles tour guide. But with the Beatles, I own all the records and I know their music, but there are still depths that I haven't discovered. My first love surprisingly was Motown. My mum used to play Sam Cook a lot and my dad used to play the Clash and punk.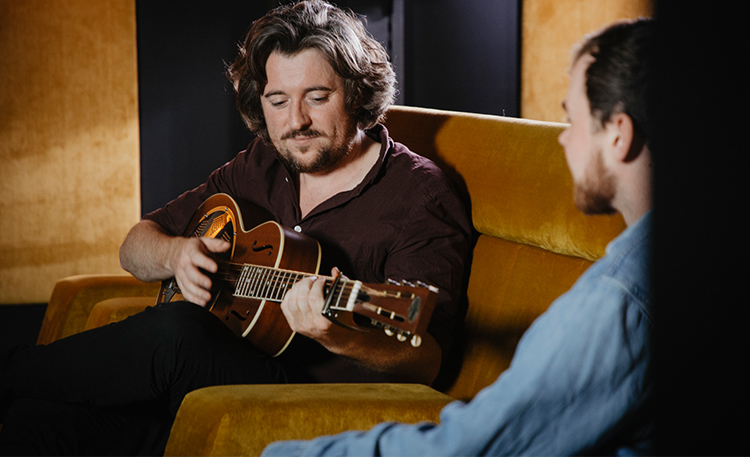 Blog Team: You're touring, writing, and performing – but what do you love the most about being a musician?
Ryan: Writing, definitely. There's a moment where you are hunting a song, and a little moment where you realise, you're going to get it even though you haven't gotten it yet. You suddenly stumbled across something that feels very important and that is when I feel most alive. Second is performing. When I perform a really good show it feels amazing. I like writing on the road, in a hotel, in the park or the back of a bar. I am not very good in the studio. As for studios, I am not one of those people who can lock myself in the studio for a year and create this sort of masterpieces, I haven't got the attention span for it nor the technical ability and I like to be in control a little bit more and with songwriting, you are in control of it.
Blog Team: What is one of the absolute highlights of your career so far?
Ryan: When I finish a song. I always like it when I finish a song and it feels like an open letter and the person who the letter is meant for is in the audience and you want to make them cry. I want them to know it's about them because there is extra pressure that it's got to be really good. It's got to be so good that it can't be embarrassing. This has to be devastating, it can't be embarrassing. I often write miserable sad songs about people, and as long as it's good it's fine. There is one song I wrote about an ex-girlfriend's new boyfriend that goes down well. But I had to walk down a fine line with the song. And when she heard it she broke up with him. The power of music.
It makes sense for me to stay in Berlin
Blog Team: You're currently living in Berlin, how long have you been here and what brought you to Berlin?
Ryan: I've been here for 4 years. I was just always here. We toured here a lot and the regional stations in Germany were playing me and I wasn't getting played in the UK. We were building up a fan base in Germany and Scandinavia. So, it made more sense to be here. You can have a standard of life here that you can't have in London and I was sick of living somewhere between a homeless person and a student in my 30s.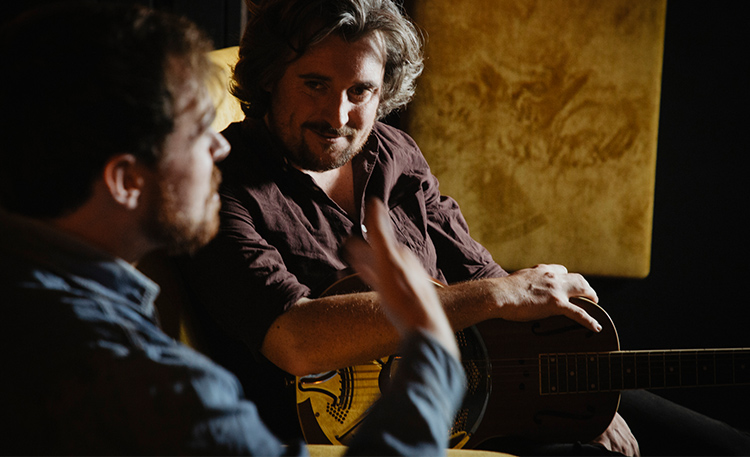 Blog Team: Tell us a bit about the Scandinavian tour that you are about to start?
Ryan: I will be touring with Hayley Reardon for the Scandinavian tour. She is from Boston and we're going to be playing in Copenhagen up through Sweden all the way into Norway. We toured Germany together last year and this is our first Scandinavian tour together. I'm really looking forward to it, we're going to be playing in a bookshop, a church, in different cultural centres and even a big red barn in the middle of Norway.
After the show selling merch, talking to people and going for a drink is fun
Blog Team: What goes through your head before you start a tour?
Ryan: I hope that the car doesn't breakdown. I hope no one robs us when we leave our stuff behind. Very practical problems, because I like to tour manage myself have more control so I take on that element. But once we've played the first show all the logistical problems melt away. After the show selling merch, talking to people and going for a drink is really fun.
Blog Team: Last question, when and where people next see you in Berlin?
Ryan: I don't have any shows actually planned in Germany, but Hayley is playing at Rickenbackers Music Inn on the 18th of September. I will be having a drink there and supporting her. But I will definitely be playing Berlin towards the end of the year.
After the end of the interview, Ryan kept his word and played together with Hayley the song "The One" live at the Teufel Store Cinema.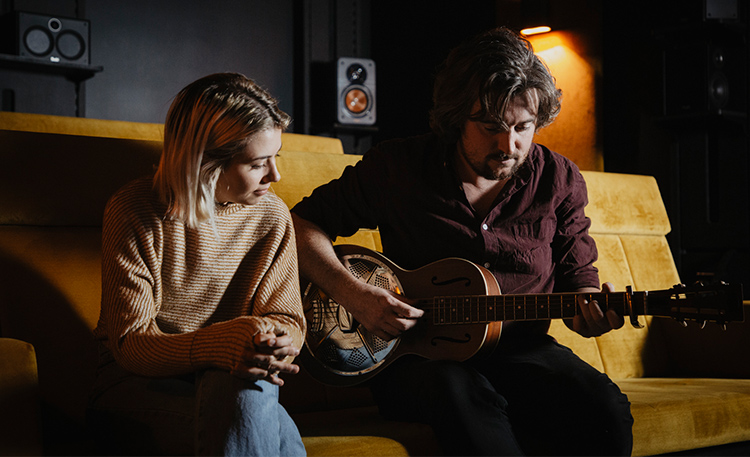 Hayley, too, did not miss the opportunity to join in singing.