Soundbars are most commonly used to improve the quality of TV sound, but they can also be connected to your PC to provide high-quality sound for movies and gaming. We explain when using soundbars with your desktop computer or laptop can be useful, and what you should consider when thinking about buying a soundbar for this reason.
Are soundbars too big for your PC?
One of the main arguments against using a soundbar with your computer is their size. Most commercially available soundbars designed for TV sets are often about 1 metre wide. These soundbars are just too big, both in terms of the space you might have on or under your desk and how they look in your living space, to be placed in front of or under a 21-inch monitor (approx. 50 cm). You should therefore definitely consider the size requirements, as well as your available space, when looking at soundbars.
The next important aspect concerns the interfaces and connection options in the combination of PC and soundbar.
Teufel soundbars
Connection options
When connecting external speakers or soundbars to a PC, it is important to distinguish where the audio information is processed. There are two possible constellations, the first being much more frequent: Usually the processing is done by the sound card installed in the PC; alternatively the external audio device can be equipped with a sound card (and D/A converter).
➨ 1. The connection can be made via common analogue and digital audio interfaces such as AUX, TOSLINK or HDMI. Depending on whether the data was transmitted analogue or digital, the D/A converter of the computer or the external audio device will be used.
➨ 2. The interface with which the external sound card is controlled is crucial for it to be used at all. As a rule, USB is intended for this purpose.
An obvious question in connection with sound cards is: what good is an additional sound card if it is already installed in the PC? The answer depends on the quality of sound cards and converters used on computers (usually a sound chip on the motherboard). This can be an important factor that means that high-quality speakers on PCs can perform significantly poorer than their technical capabilities.
Read more about the importance of sound cards in our article "Sound cards: How to get the most out of computer sound".
Wi-Fi and Bluetooth as wireless connection standards are a standard feature for many soundbars and especially practical for external players such as smartphones. In principle, an external sound card can also be controlled for the wireless transmission of audio data. Read more here about Bluetooth soundbars.
Sound requirements for network audio
The actual performance requirements for PC soundbars can sometimes be low, as often only a small listening space needs to be provided with sound. However, this of course does not mean that film and game sound on computers should settle for a poorer quality. For good quality audio, clean playback even at high levels and over a wide frequency range is essential. Spatially differentiated sound effects can also add a new dimension to gaming fun.
Soundbars offer particularly large possibilities for the reproduction of surround sound. Multi-channel transducer architectures can be implemented in soundbars, and can do far more than provide a neat stereo panorama. Modulation techniques and targeted tuning of the transducers allow for a authentic, virtual surround sound to be created. This is exactly what Teufel's stereo-widening Dynamore® Ultra technology achieves.
Cinebar One – tailor-made for strong PC sound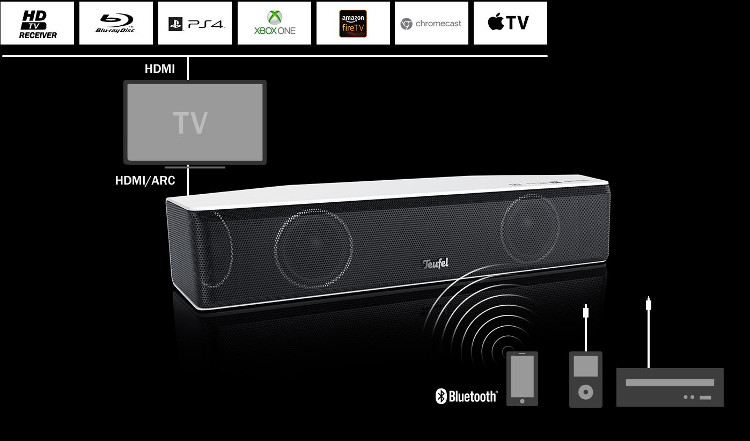 Even though it is only 35 cm wide, the Cinebar One is a real sound giant. We have not only integrated four innovative full-range speakers with side-firing speakers into the compact soundbar, but also all important interfaces and a powerful sound card.
▶ Virtual surround sound from a soundbar with Dynamore® Ultra technology
▶ Bluetooth 4.0 with aptX transmission standard for streaming sound in CD quality
▶ HDMI 2.0 (CEC), Line-In, TOSLINK and USB for versatile integration into home entertainment systems
▶ Can be extended to a Cinebar One+ with an external subwoofer for stronger bass
Our solutions for PC and gaming sound
Conclusion: Combining soundbars and PCs
Compactness is an important factor when it comes to soundbars that will be used on a desk for PC sound.
Soundbars are usually compatible with a PC/laptop via various interfaces.
An additional soundbar can significantly improve the computer sound.
Soundbars are particularly well suited for creating surround sound simulations.