Bluetooth soundbars can provide what flat-screen TVs lack: massive sound, natural-sounding dialogues and impressive surround effects. But the good sound and small space requirements are not the only advantages. Thanks to Bluetooth, Teufel soundbars are more flexible than ever. You can connect the soundbars to smartphones, tablets and laptops without additional wires. The selection of soundbar systems offers everything from compact solutions to multi-way systems.
Analogue, digital and wireless – connect our Bluetooth sound bars
As is well known, the HDMI standard makes life easier (for home cinema fans) and is also indispensable for soundbars. Both audio and video data are transmitted digitally via cable, for example from a Blu-ray player to the television set. Thanks to the large data bandwidth, a modern HDMI connection also supports 3D video and high-resolution surround sound formats. The HDMI Audio Return Channel (ARC) also allows data to be transmitted via a cable in both directions simultaneously. This will play the sound of the TV without a second cable. In addition, Teufel Bluetooth soundbars also support "Consumer Electronics Control" (CEC). If the TV also supports CEC, you can control the soundbar via the remote control of your TV.
Set your TV on a Teufel soundbase
When using Bluetooth, you only need to plug in the power cable of the soundbar, and optional external subwoofer. The Bluetooth modules used by Teufel support the aptX codec. This compresses the audio data in such a way that hardly any data loss occurs. The soundbars therefore achieve Hi-Fi quality. If "Near Field Communication" (NFC) is integrated, Bluetooth is even easier to use with your phone. Just hold the NFC-enabled smartphone to the NFC symbol and the connection will be established.
You'll also find an optical digital input (TOSLINK) and the classic 3.5 mm jack connection so you can dock to our Bluetooth soundbars with almost any player.
How to install our Bluetooth soundbars
Our soundbars come ready-to-play with integrated amplifiers. Thanks to the interfaces presented, they can be combined with all common music players. We present three set-ups:
▶ Bluetooth soundbar with smartphone: Hold your phone next to the NFC symbol in order to pair the two devices. The Bluetooth connection is up and running in a few moments without you having to press a single button.
▶ Soundbar with TV and Blu-ray player: Connect your Blu-ray player to a Bluetooth sound bar via HDMI. The soundbar is connected to the HDMI output of the TV with an additional HDMI cable. With this configuration, you can hear both Blu-ray sound and the sound of the TV programme (e.g. via antenna).
▶ Soundbar with mp3- and CD-player: In order to transfer the audio data, simply connect to your CD player via an optical TOSLINK cable. mp3 players can be connected via a 3.5 mm jack cable.
Streaming possibilities with Teufel soundbars
A lot of technology in compact dimensions – that's how you could best describe the recipe for success of Teufel soundbars. From the outside, it is hard to imagine all the features that can be housed in such compact devices. The most obvious difference is between soundbars with an external subwoofer and ones without. There are also considerable differences between the type and number of transducers housed in the bars. The Teufel Cinebar Trios, for example, contains 9 different converters, which together form the front and centre loudspeakers.

More Teufel soundbars:
▶ Cinebar One: At only 35 cm wide, this is our smallest soundbar, but it knows how to deliver powerful sound. It offers comprehensive connectivity via Bluetooth aptX, HDMI (ARC) and other interfaces such as TOSLINK. In addition, the transducer system with side- and front-firing speakers has a great effect in a small space. If you want more bass, you can add the CB 11 SW subwoofer to this Bluetooth soundbar as the Cinebar One+.
▶ Cinebar Duett: You don't get more elegant than this. This slim soundbar looks great from the outside alone and of course delivers impressive TV sound. This is made possible by a high-end 2-way system. The integrated Dynamore technology produces impressive surround sound through precise sound wave modulation. This 2.1 system has an external, wirelessly controlled subwoofer with bass reflex system for bass reproduction. Of course, the Duett is equipped with all important interfaces and transmission standards.
▶ Cinebar Pro: The Pro sets the bar for what is possible to achieve with a soundbar. 8 transducers, driven by 6 power amplifiers, offer enough power to pin you to your sofa. The Cinebar Pro delivers the finest sound even when you turn it up to full volume. At high levels, the sound remains precise and the XL subwoofer does impressive work in the deepest bass range. With this Bluetooth soundbar, we have also integrated what is possible in terms of interfaces: a wireless subwoofer, TOSLINK, digital coax and Chromecast built-in.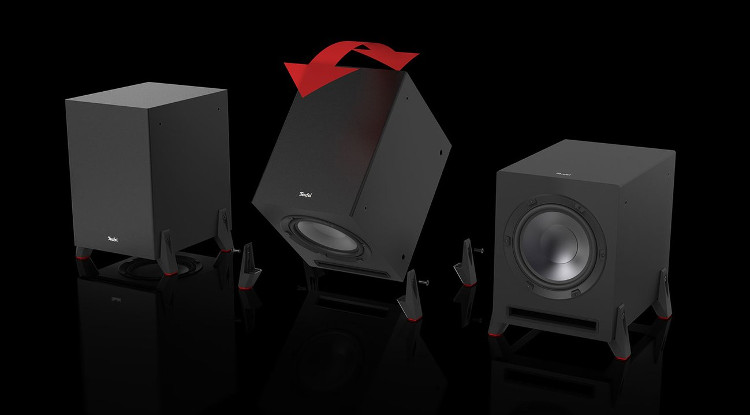 Even more Teufel soundbars
Conclusion: enjoy a better home cinema experience with a Bluetooth sound bar
With a Bluetooth soundbar from Teufel, you get maximum sound effect with minimal effort.
The connection of Bluetooth and wired interfaces offers comprehensive connectivity with your smartphone, Blu-ray player, console and much more.
Bluetooth modules with aptX enable Hi-Fi quality audio streaming.
At Teufel you will find a whole range of Bluetooth soundbars, from the simple 1-way solution to the multi-way system including external subwoofer.