A classic home cinema setup comprises a 5.1 system with AV receiver. The AV receiver powered the speakers, decoded the soundtrack and connected devices like DVD and Blu-ray players. Today,  many speakers power and decode on their own thanks to built-in electronics. Today's televisions have also adopted the role of multimedia interface so that audio from any source device (Apple TV, Blu-ray player or game console) connected to your television will be passed on to any active audio system that is also connected to it. Does this mean that you actually, technically don't need a separate AV receiver to enjoy great home cinema sound? Yes it does.
The many active speakers systems on the market today offer movie lovers and series junkies a near-endless choice when it comes to better TV playback. From soundbars to active 2.1 speaker sets, those looking for fatter sound from flat screens can pick the system just right for their interior, listening preferences and budget. Read on to discover great alternatives to AV receivers.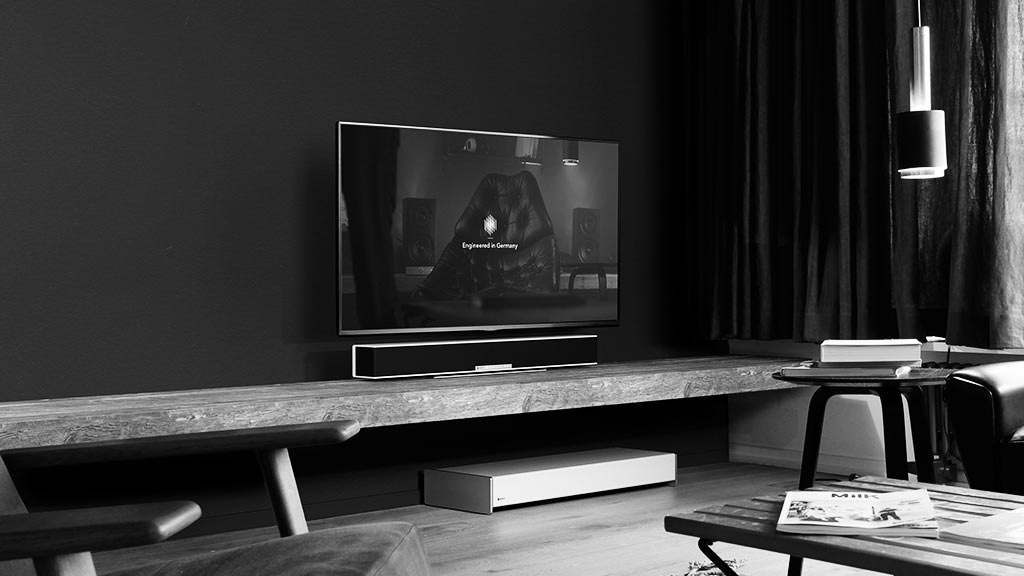 Soundbars and soundbases
Soundbars are active single-speaker solutions that provide markedly improved TV sound. Simply connect the soundbar to the TV via HDMI cable and instantly enjoy clear dialogue and more realistic effects. Many come with subwoofers for the sort of high-impact bass you can feel. Common features include virtual surround sound technology for the impression of rear effects speakers. Some also have Bluetooth and "stereo" modes for music playback.

For wall-mounted speakers, soundbars are best as they can be hung beneath a TV or placed on a lowbard. For free standing televisions, soundbases are a great option. These function as a sonic pedestal for your TV. Because of their greater depth, they also unusually include bass woofers making an extra subwoofer unnecessary. You can learn more about the difference between soundbars and soundbases here.
Soundbars with wireless surround speakers
This is a bit like having your cake and eating it too. A soundbar/wireless rear speaker/wireless subwoofer combination does away with the need to run cables across your room. Teufel's Cinesystem Trios, for instance, comes with a soundbar that functions as the equivalent of two front speakers plus a discrete centre. The set also includes two wireless rear speakers and a wireless subwoofer. All together, the easy-to-install Cinesystem has a total of 5.1 channels. The result is amazing surround sound with movies without the need for an AV receiver. Simply connect the soundbar to the television via HDMI and enjoy! This is a perfect option for those who really want the full home cinema experience without all the cables.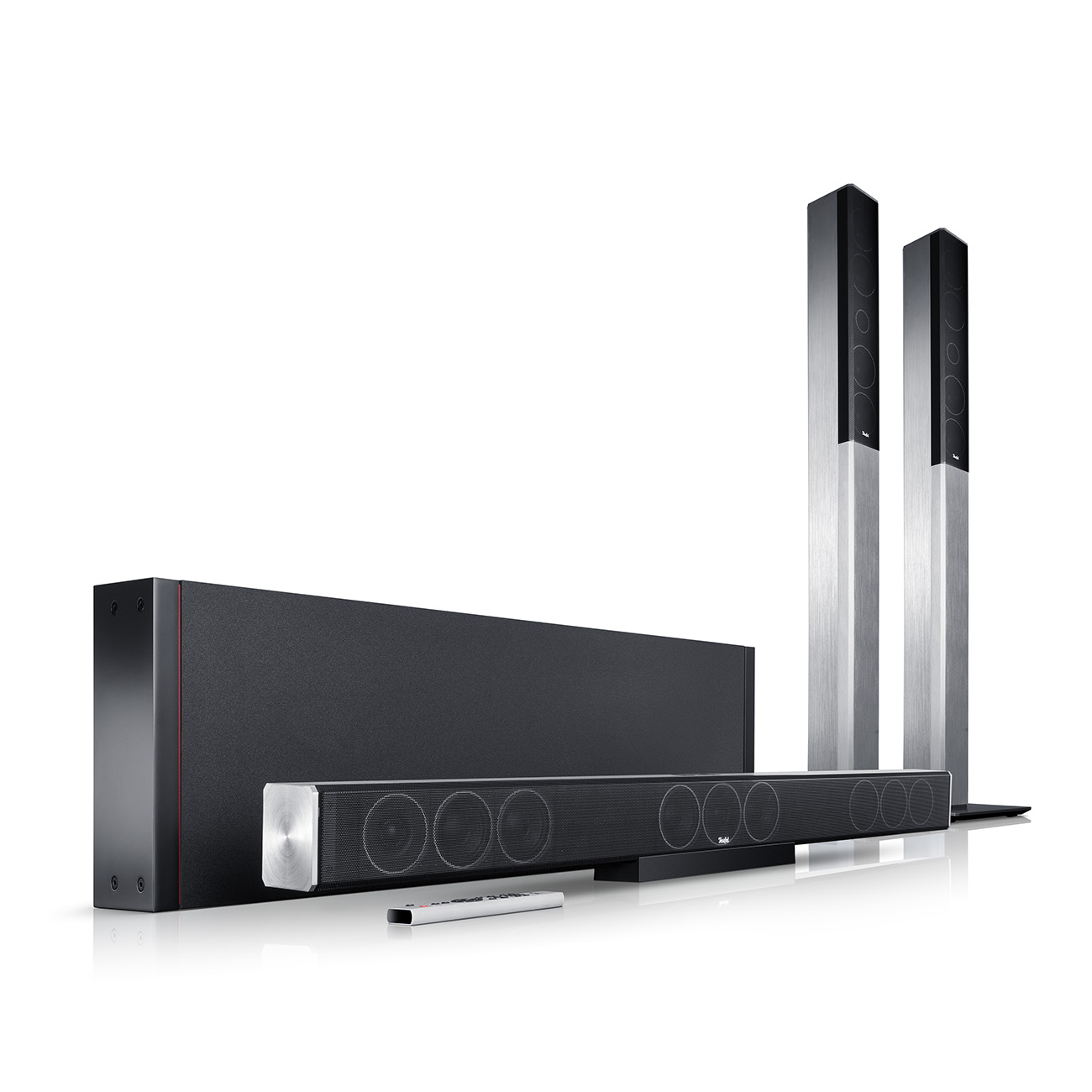 Active speakers with HDMI inputs
Traditional passive stereo speakers require an amplifier to work. There are also active varieties that come with their own internal amplification, but these are generally designed for music playback. Teufel's Ultima 40 Active is the first active tower speaker pair to come equipped with an HDMI connection for TV use — an ideal option for those who listen to music at least as often as they watch movies and shows. A standby function switches the speakers on automatically when an incoming signal is received and an included puck remote makes switching between sources effortless. The speakers even stream with Bluetooth for access to a vast range of music via the cloud. For extra power during movies, the Ultima 40 Active also comes in a Club Edition. The addition of a powerful active subwoofer makes movies and shows but also electronic music a thrilling experience.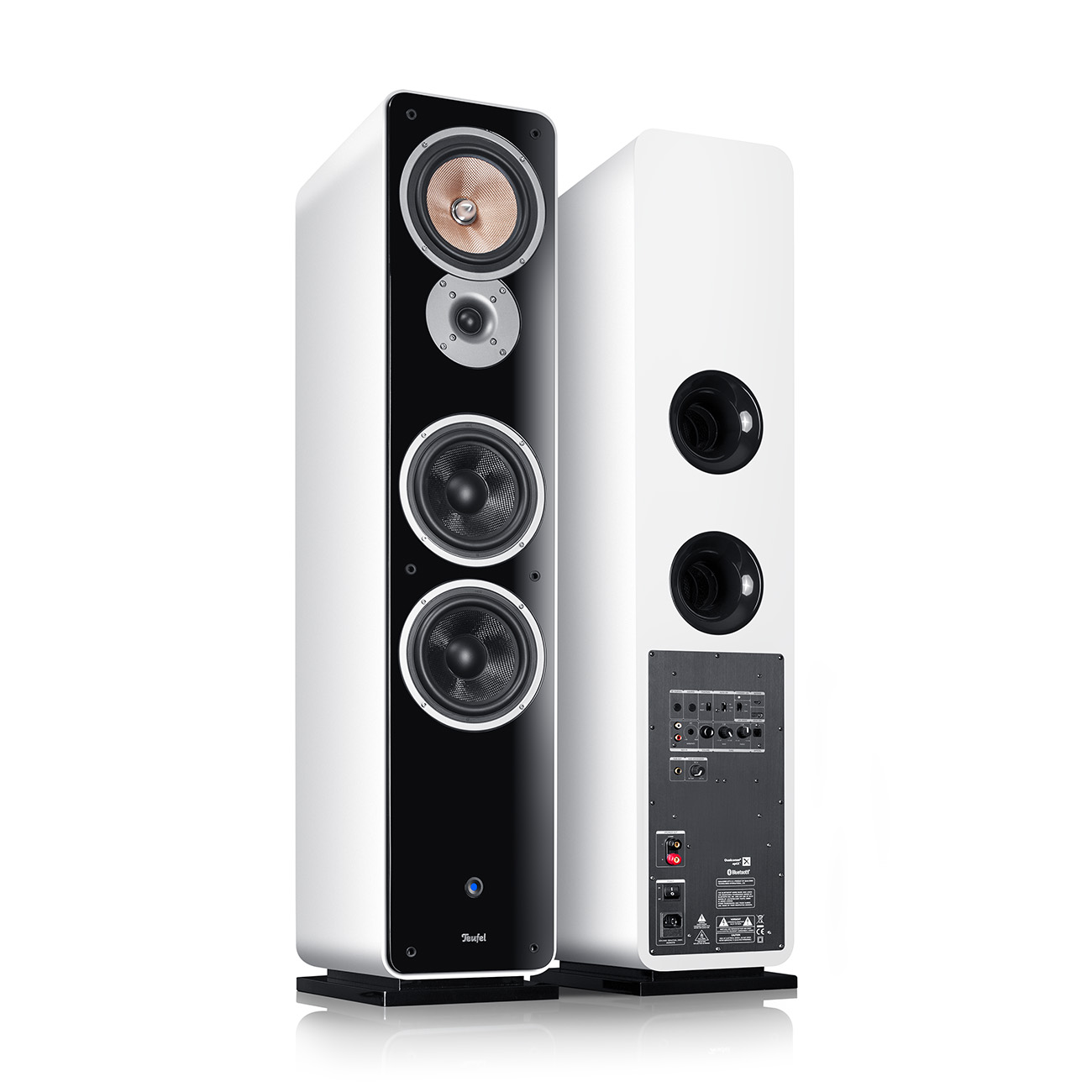 When is an AV receiver a good idea?
While there are plenty of alternatives to  AV receivers, they're still the way to go for some setups, such as:
A traditional 5.1 or 7.1 surround sound system
Systems that include more devices than the television has inputs
Wall-mounted TVs with many peripheral devices (to avoid unsightly cables)
Other pluses:
AV receivers come equipped with radio, many also offer Bluetooth.
Most AV receivers offer a range of sound formats.
Many AV receivers help calibrate your system using microphones and software to adjust the sound for the room acoustics and speaker positioning — a perfectionist's dream!
Newer compact AV receivers, such as the CoreStation, can also be easily tucked away inside a drawer or even mounted behind the television and wirelessly controlled. For those who want a traditional 5.1 system without any larger electronics getting in the way, this can be a good compromise.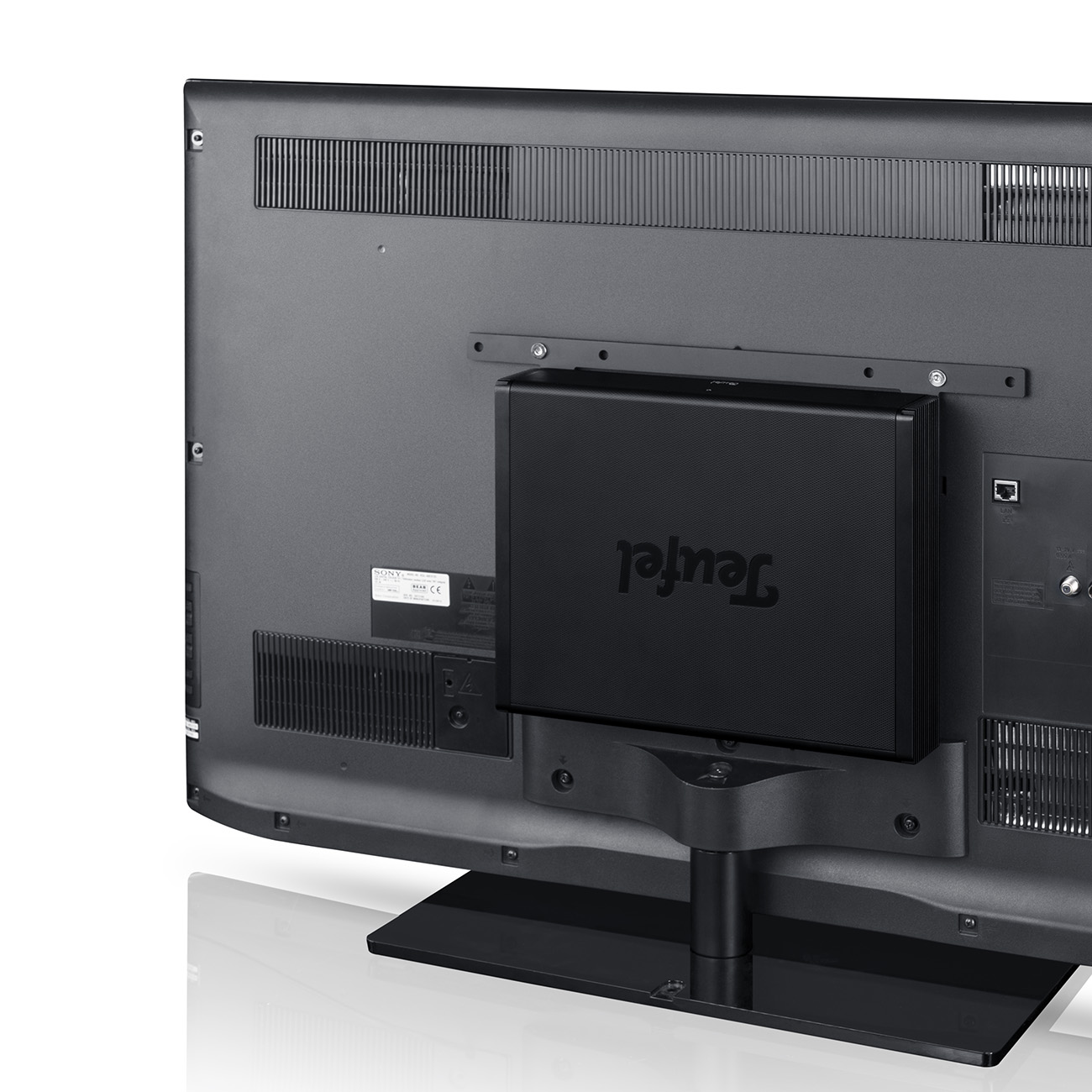 Another options is a complete 5.1 system like Teufel's Cubycon Complete and the Varion Impaq that come with all the necessary speakers, required cables plus an AV receiver. This is an excellent option for those who want it all but who don't want to piece together their own system. In a complete bundle, everything is guaranteed to work optimally together. Simply connect the components, plug in the receiver and enjoy.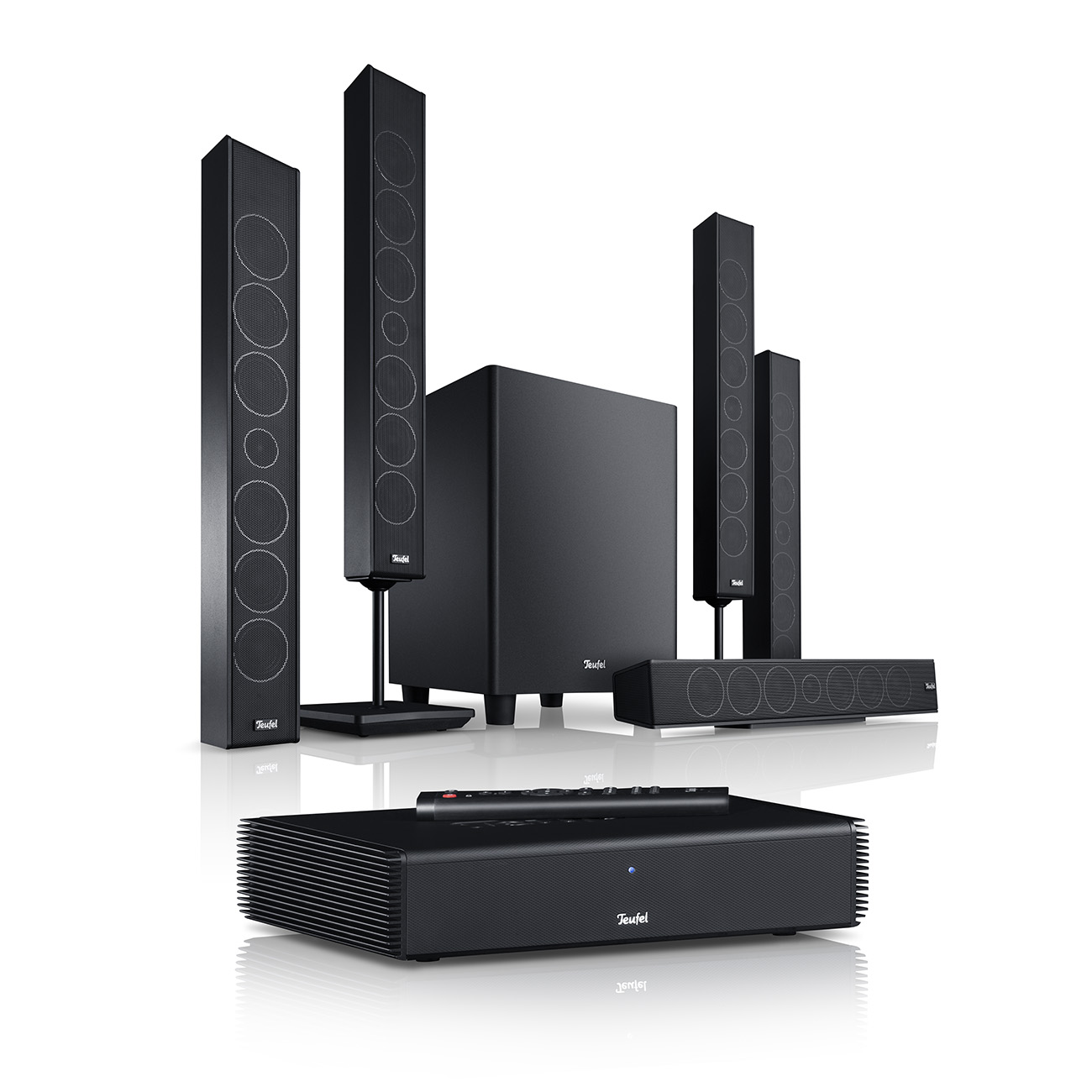 Coda: There are many alternatives to AV receivers to choose from
Home cinema no longer means a 5.1 speaker system plus AV receiver. Many fully active systems without surround speakers deliver excellent movie, gaming and music playback. They offer the added advantage of not having an additional electronic device to turn on and store in the room. However, those who want a traditional surround sound system with 5 discrete speakers plus subwoofer are still well served by an AV receiver to amplify and decode the audio signal before passing it on. Even here, however, there are new options such as compact models that offer virtually invisible operation.  The bottom line: Those looking for alternatives to AV receivers and better home cinema sound are spoiled for choice.
All Pictures: Property of Teufel Audio