AV receivers organize and control the main functions carried out by home cinema speakers. This is where the source and playback devices come together, signals are decoded and amplified and from where the user can configure various settings. Traditionally, AV receivers have been rather large. After all, many functions are contained in this one device.
At Teufel Audio, we realized that there was a need for a compact AV receiver that wouldn't take up half of your sideboard. Of course, any decrease in size is worthless if it means a decrease in performance. The trick was to create a compact AV receiver that could still power a large speaker system and offered all the latest features and connections. With the CoreStation, these goals were met: A powerful receiver small enough be mounted behind a television or placed in a drawer that still offers HDMI and a range of other connection possibilities plus all the essential decoders.
Out of sight, but still in your control
Because the CoreStation was designed to be placed out of sight of the user, and because of its smaller surface area, it was decided to make the device easy to control via the television display. This eliminated the need for a display on the device itself. Aside from a connection panel, the CoreStation's sides are therefore unadorned. There are no dials or screens with pixelated numbers and characters. Instead, a comprehensive menu is clearly shown on the television and can be easily selected via the system's remote control. Thanks to an included VESA compatible mount, the CoreStation can be stowed behind the display where it's out of sight and out of the way, yet ever responsive to the user's needs.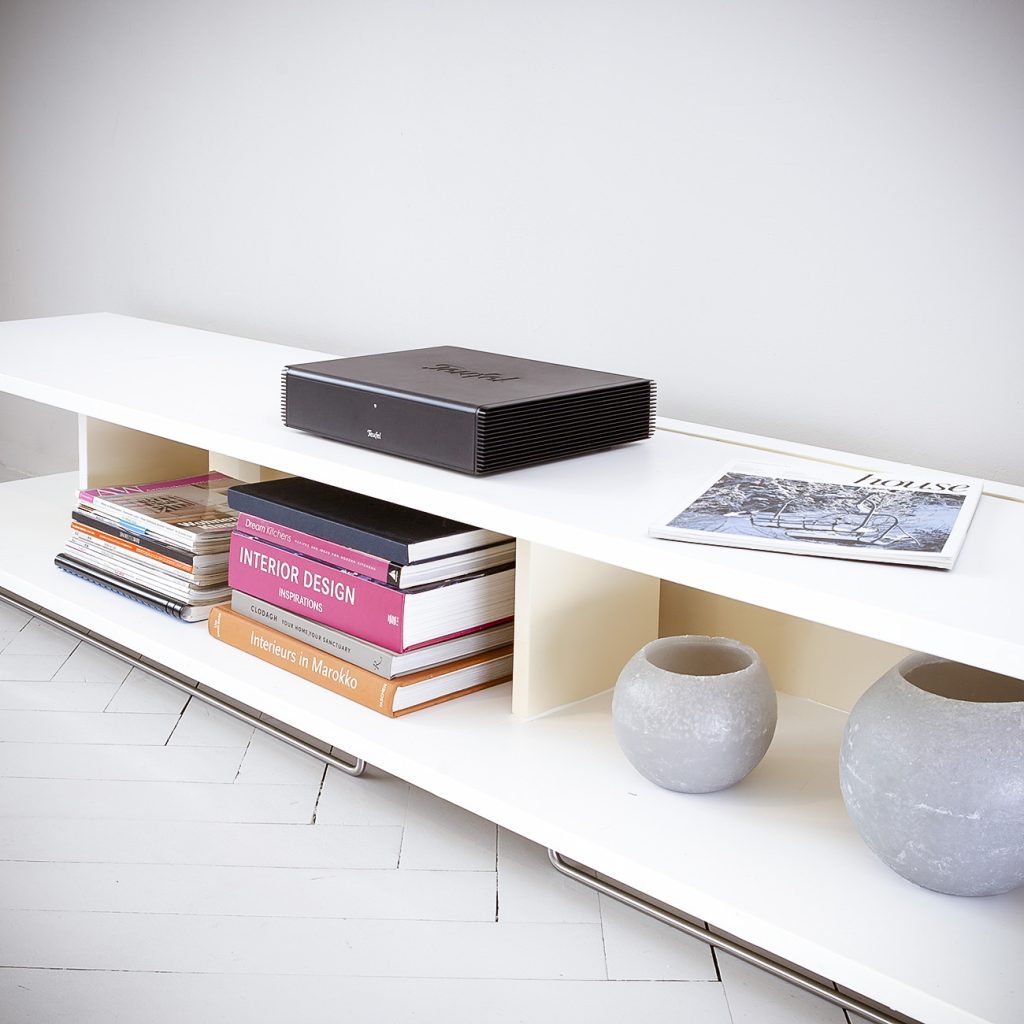 Your home cinema's central nervous system
Just about everything connects to the CoreStation. A total of 4 HDMI inputs, an HDMI output, 3 analog and 3 digital inputs ensure that you'll have no problem connecting your television, game console, Blu-ray and CD player, smartphone or tablet. In terms of outputs, there's a high-level connection plus subwoofer cinch input for a 5.1 speaker system plus a headphone output.
Powered by a 360 watt class D amplifier from Texas Instruments, the CoreStation is a real powerhouse. Our engineers developed a unique fanless design that allows 360 watts of amplification to fit into a compact, easily-placed enclosure. Not only is it powerful, the high-end amplifier from Texas Instruments delivers an absolutely linear signal without colouration. You'll enjoy music, movies and games exactly as their creators intended. Since the system does not use fans, you'll be able to hear the finest details.
What else can the CoreStation do?
Decodes standard surround formats
Minimizes the cable chaos surrounding your television
Can be controlled out of your line of sight
Communicates with Teufel wireless subwoofers
You can learn more about the Teufel CoreStation on its product detail page.