For years, soundbars have been available for those who want to improve their television sound without purchasing a complete surround sound system. Soundbars are long and narrow loudspeakers that can be placed either above or below a television or display. Many come with additional subwoofers for that bass kick that truly good movie sound requires. Subwoofers are also generally necessary because they contain the  amplification units that a soundbar's enclosure is too narrow to accommodate. Since soundbars have very little depth, they are the perfect accompaniment for displays that are mounted directly onto the wall.
Like soundbars, soundbases are compact single loudspeaker units. They are, however, not as wide as soundbars and have much greater depth. This allows many soundbases to include drivers on the sides as well as integrated down fire subwoofers, making them an even more compact option than soundbars. The amplification units are also integrated into their enclosures making them true all-in-one solutions. Their size also makes soundbases the perfect pedestals for most displays. This means that no thought need be given to soundbase placement: Simply put the unit beneath the television and you're done. No space in your living room is wasted: The unit supports your display both physically and sonically.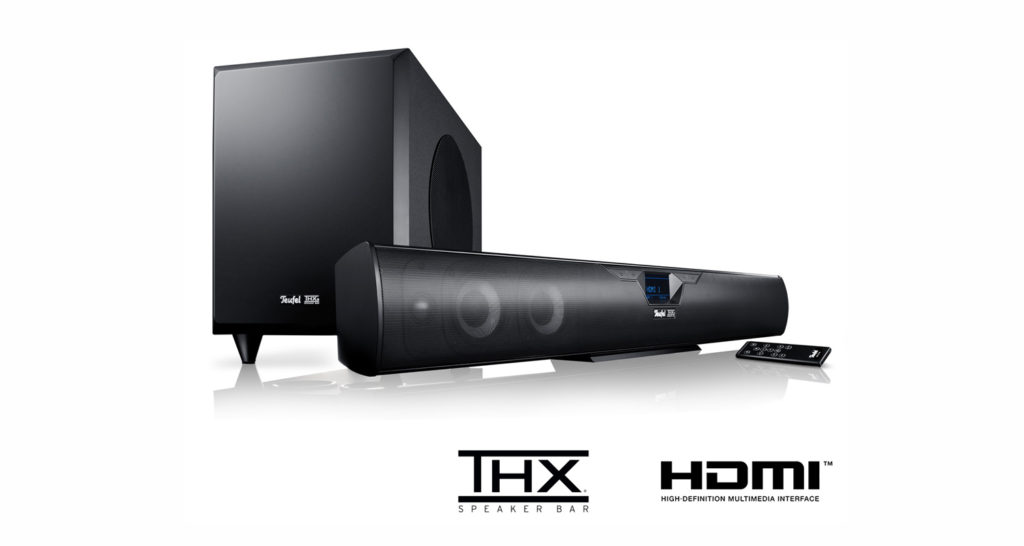 Teufel offers a wide range of soundbars
 Teufel Audio offers a wide range of soundbars and was the first audio manufacturer in the world to introduce a soundbar with THX Speaker Bar certification. This really raised the stakes in the soundbar segment, transforming these small speakers from space-saving compromises to full-fledged sound systems in their own right. The Cinebar 52 THX is Teufel's latest incarnation of this sonic wonder. It's also equipped with Dolby Virtual Speaker, a surround sound technology that uses two speakers to create the effect of a 5.1 system.
Teufel has also kept up with trends including the use of a Bluetooth subwoofer with its Cinebar 11 soundbar: An incredibly slender loudspeaker that communicates with its compact subwoofer via Bluetooth. Teufel has even created mini, portable soundbars for use with PCs, laptops, or smartphones: The Teufel Bamster and Bamster Pro. The latter also uses Bluetooth to receive audio signals from mobile devices and is equipped with an 8 hour battery.
Teufel's first soundbase: The Cinebase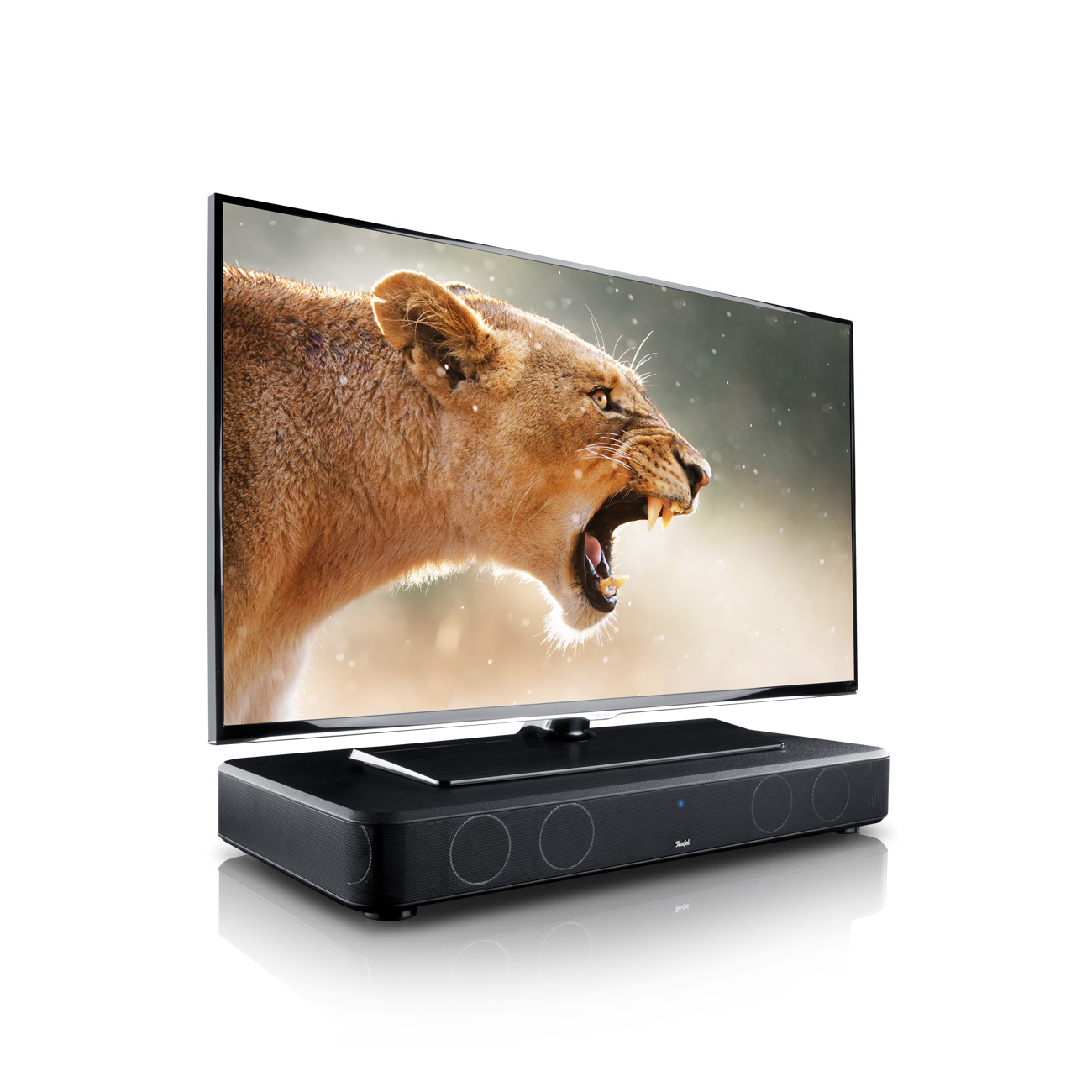 The Cinebase is Teufel's first foray into the soundbase segment, but represents an incredibly strong entrance into this market. Many soundbases and sound decks offer either a wide range of features or high-end sound. Teufel's Cinebase is truly the first soundbase to offer both. A total of six midrange drivers and two down fire woofers using Teufel's proprietary Air Stream Bass technology allow the unit to produce stunning sound. The Cinebase is also fully equipped with all standard audio formats including Dolby Digital, Dolby Pro Logic, Dolby Pro Logic II, DTS and offers the cutting edge virtual surround technology, Sonic Emotion Absolute 3D. Connections include 1x HDMI in, 1x HDMI out, 3D support, CEC and ARC ensuring that just about any and all source devices can be connected without  problem.
With so many options that deliver high-quality sound, soundbars and soundbases have officially entered the domain of serious home cinema.
Soundbase or soundbar? A comparison of the key advantages
| | |
| --- | --- |
| SOUNDBARS | SOUNDBASES |
| Won't fill your living room with wires or speakers | Won't fill your living room with wires or speakers |
| Can be wall mounted | Supports your display – setup is a cinch |
| Additional subwoofer for excellent bass | Side-mounted drivers for even greater sound dispersion |
| You won't need an A/V receiver | You won't need an A/V receiver |
| Less expensive that a 5.1 system | Less expensive that a 5.1 system |
| Ideal for smaller rooms | Ideal for smaller rooms |
Some essential features to look for when purchasing a soundbar or soundbase
Drivers dedicated to all three channels: Treble, middle and bass
Cinch inputs for smartphones and MP3 players
Digital inputs for TVs and game consoles
Features that are optional – but pretty nice to have
HDMI ARC (Audio Return Channel) for connecting playback devices directly to the soundbar/soundbase
Virtual surround technologies such as: Dolby Virtual Speaker or Sonic Emotion
Bluetooth-enable subwoofer for easier room placement (no connecting wires)
Decoders for DTS, Dolby Digital, Dolby Pro Logic, Dolby Pro Logic II
HDMI CEC for controlling the system with your current TV remote
Bluetooth for playing music from mobile devices
Streaming capability
All pictures: Property of Teufel Audio