In order for your speakers to work with a source device, they need to be able to communicate with it, either wirelessly or via cable. But what if the speaker system doesn't offer the same connections as the source device? Not to fear, audio adapters are here! Read on to find out how you can easily (and, usually very inexpensively) solve your connection problems.
Audio adapters for stereo jack and RCA connections
Cables with jack plug connections have been around for a long time – since the 1940s, to be precise. Still, the electronic signal they transmit has a few simple advantages over digital signals or Bluetooth streaming. For one, analog signals transmitted in this way can be easily duplicated. A simple Y adapter or multiple distributor, for instance, will do the trick. The right adapter can even transform mono cinch outputs into two stereo outputs.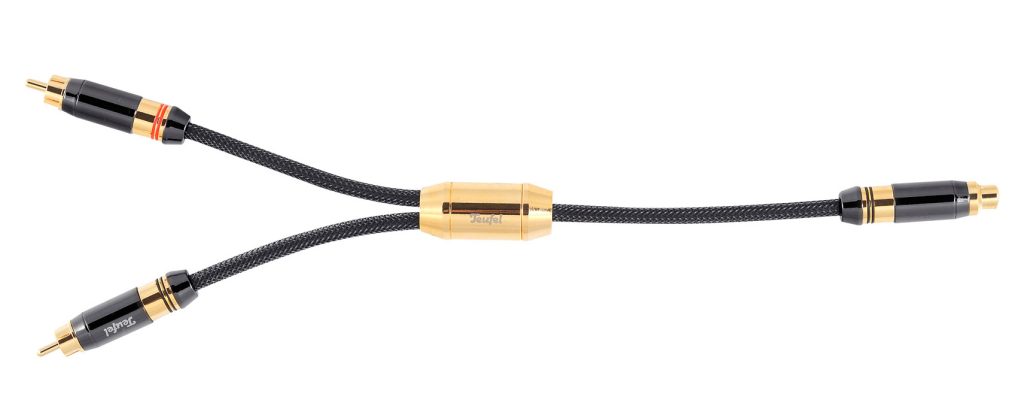 Common analog audio adapters:
• ➥ A split or multiple adapter for stereo outputs: A signal distributor makes it possible to send a signal from a signal MP3 player or smartphone to two separate pairs of headphones.
• ➥ Y adapter or cable for converting mono to stereo: This variation can be used, for instance, to connect an amplifier with a single mono sub output to a subwoofer with two inputs.
• ➥ Audio adapter for converting an RCA connection to a 3.5 mm mini jack: This type of adapter is useful for connecting smartphones, notebooks and other standard portable devices with mini jack connections (also known as a headphone jack) to an amplifier or A/V receiver.
• ➥ USB to RCA: The iPhone 7 has made USB C / Apple Lightning to RCA adapters popular. They make it possible, for instance, to connect headphones with 3.5 mm headphone connection to the iPhone 7 which lacks this connection.
Audio adapters for S/PDIF
For many years, the S/PDIF interface was the most popular way to transmit digital audio signals. The interface supported two types of cable connections, the optical TOSLINK and digital coaxial. While standard Y-adapters are available for TOSLINK signals they cannot be used to duplicate the signal.
TOSLINK Y adapters therefore cannot supply two devices with the same signal but come in handy in avoiding the plugging and unplugging of TOSLINK cables if connections are in short supply.
For the conversion of a digital signal into an analog audio signal that can be passed through a cinch or RCA cable, a simple adapter won't do the trick. In this case, a digital to analog converter will be necessary.
A similar principle applies to adapters for digital coaxial to TOSLINK connections. Although both use the same S/PDIF interface, coaxial connections transmit electrical signals and TOSLINK connections transmit signals optically. This means that some conversion will also be required, even within this single interface. Since the signal is not simply transmitted through a different type of cable but needs to be changed from elecrical to optical, a converter rather than a simple adapter is required.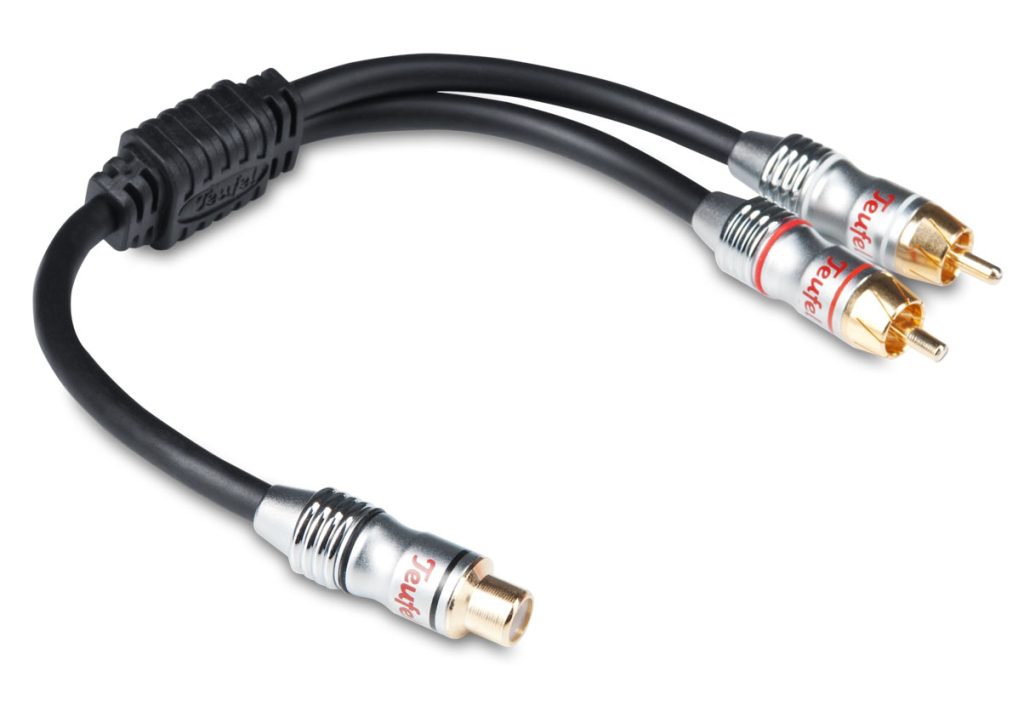 Common misunderstandings regarding TOSLINK to audio jack adapters
There's a good bit of confusion surround adapters with both audio jacks and TOSLINK connections. These are actually not intended to convert analog signals from a source device into a digital optical signal. For this, as already mentioned, a special converter is required. Cinch/TOSLINK adapters are therefore only useful if the source device is capable of transmitting an optical signal. This sort of S/PDIF cinch connections are usually found on notebooks and desktop computers.
Connect any speaker with Teufel Audio Adapters
• ▶ Subwoofer-Adapter: Subwoofer Adapters: A Y-adapter allows you to control both sub inputs. This not only raises the input levels, the subwoofer will also respond more quickly to impulses while in standby mode.
• ▶ BT Link Bluetooth-Adapter: BT Link Bluetooth Adapter: Teufel even offers adapters that convert standard cable connections into wireless transmitters. The Teufel Bluetooth Audio Adapter works as a receiver and attaches easily via cinch to any standard amplifier. Since the adapter supports the Bluetooth aptX codec, you won't experience diminished sound quality.
Coda: Audio adapters offer simple solutions to just about any connection problem
• Audio adapters for RCA and cinch cables can duplicate analog signals without diminishing signal quality
• Y adapters for mono to stereo cinch plugs are practical for connecting a subwoofer and source device to an amplifier
• The digital interface S/PDIF can only be connected to an analog interface with a Digital-to-Analog Converter
• A converter is required to connect the two standards within the S/PDIF interface, TOSLINK and digital coaxial.
All picture: Property of Teufel Audio