Soundbars and soundbases are popular compact solutions for home cinema sound. Instead of a 5.1 system consisting of 6 different speakers spread across the room (in addition to a separate receiver), a soundbase typically unifies all channels plus amplification and A/V receiver in a single enclosure. Soundbars usually come with separate subwoofers for the very low end of the frequency spectrum, but the system is still much easier to integrate into a home than a complete surround sound system.
Soundbars and soundbases generally cost less than a full surround sound system, making them perfect for those who aren't willing to commit to a larger home cinema set. These compact solutions also save the user time and nerves as very little setup and cabling is involved. After placing the soundbar or soundbase where you want it and plugging it in, all that's left to be done is connect the system to your TV as well as any source devices you might use such as Blu-ray players and game consoles. If you're interested in a soundbar or soundbase, the following article explores the soundbar connections you'll likely be using.
Types of soundbar connections
Generally speaking, there are three categories of home cinema connections: Analog, digital and wireless. The digital connection known as HDMI, short for High-Definition Multimedia Interface, is currently the most popular. Depending on your TV or source device, however, this may not be an option. The following is a complete list of possible connections:
•    HDMI: A digital interface for transmitting audio and video data (up to 4K). Contemporary soundbars are usually equipped with at least one HDMI connection.
•    Optical audio cable: This type of connection is also known as TOSLINK and transmits data as an optical signal.
•    Digital and analog coaxial cables: Coaxial cables are constructed in such a way that they can transmit audio and video data as either analog or digital signals. The connections for analog stereo signals are red and white.
•    Wireless standards: Many soundbars are equipped with the wireless technology standards WiFi and/or Bluetooth. This makes it easy to stream audio content from PCs and mobile devices.

Connecting televisions to audio and video source devices
First of all, it's important to determine which connections your television and soundbar have at their disposal. If HDMI connections are present, these should be your first choice. This is especially true if the soundbar is to play back sound from multiple source devices. Another thing to look out for is whether your HDMI connection is equipped with ARC, short for Audio Return Channel. This technology makes it possible for audio data to pass in both directions between your television and soundbar. If your HDMI connection supports ARC, you'll only require a single HDMI cable to pass audio from your television to the soundbar or from your soundbar to your television.  For instance, if your television uses a set-top box, the audio can be played back on the soundbar. If a Blu-ray player is attached to your soundbar, the video will be transferred to the television via the same cable. An important thing to remember is that the HDMI cable is connected to the HDMI-Out and no the HDMI-In. Another advantage to using HDMI is that it supports lossless multichannel sound formats like Dolby Digital and DTS-HD. If your HDMI interface doesn't support ARC, any sound coming from your television will have to be channeled to the soundbar via an additional audio cable.
Subwoofer
If your soundbar comes with an additional subwoofer, this is usually connected to the soundbar via an RCA cable. It may even be possible to choose between an RCA and digital connection from the soundbar's menu options. Wireless connections between soundbar and subwoofers are also becoming increasingly popular. An integrated transmitter in Teufel's Cinebar 11 sends the signal to a receiver in its included subwoofer.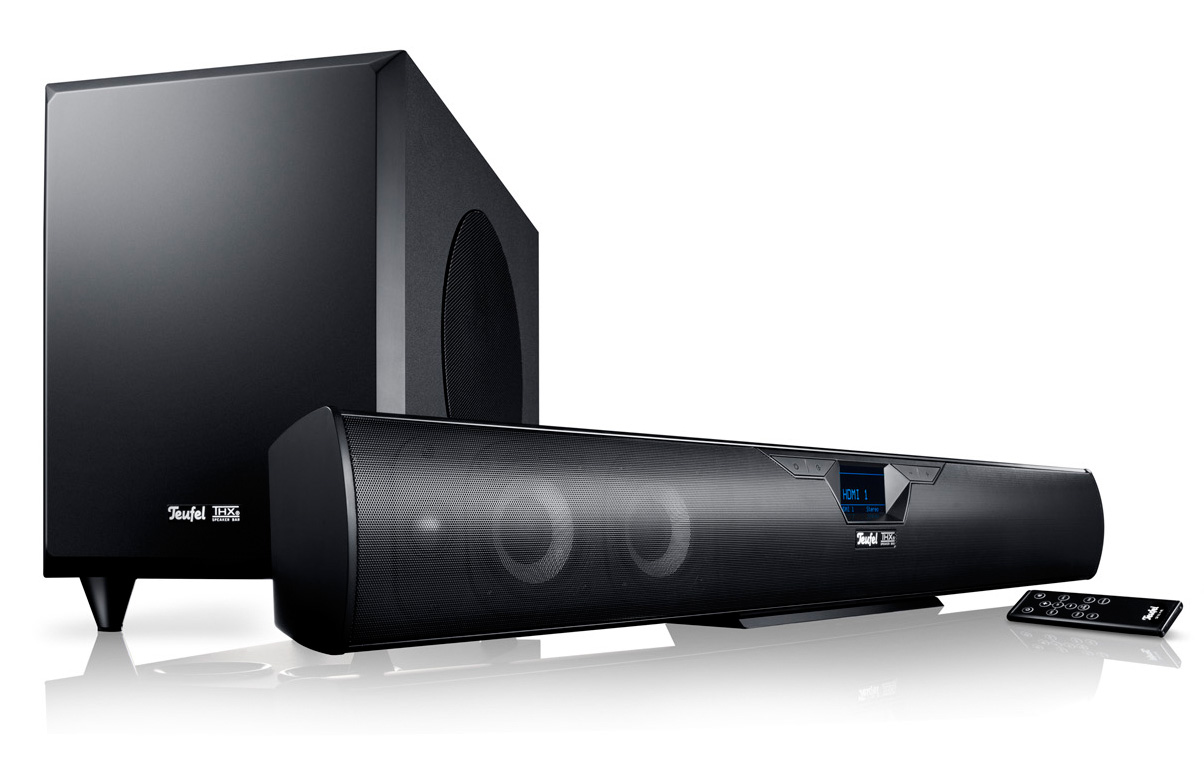 Connecting peripheral devices to the soundbar
Source devices like Blu-ray players and game consoles (PlayStation 4, Xbox, etc.) can be connected to the soundbar via HDMI-In. The video data is passed along to the television via the HDMI connection between the two devices. Newer soundbars are even able to transmit 3D video from Blu-ray players. MP3 and CD players can also be connected via the audio interfaced on the soundbar. Some soundbars are also equipped with USB ports. This comes in handy when playing back music and movie files from private collections stored on external hard drives or USB sticks.
In order to stream music via Bluetooth, your source device – usually your smartphone – and your soundbar will first have to be paired. If you plan to stream via WiFi, your soundbar needs to be connected to your local network. Some devices, like the Raumfeld Soundbar, use a free app to guide users through the WiFi setup, control playback and switch between music sources.
Conclusion: HDMI makes soundbar connections easier
•    HDMI is the most important interface for connecting soundbars
•    Most soundbars are equipped with HDMI connections for easy home cinema setup
•    TOSLINK and RCA connections can serve as alternatives to HDMI
•    The two most important things to consider when connecting your soundbar are the types of connections your soundbar has and the source devices you want to connect
•    If your HDMI interface is equipped with ARC, you won't need to run an additional audio cables from your television to the soundbar