As the thermometer slowly but surely edges towards the 20 degree mark, it's time to shake off your winter coat, don your shades, and get outside. Warmer days and longer nights promise barbecues, garden parties, and lazy days in the park – which are made all the more relaxing and fun when you can bop your head to your favorite beats. Teufel offers a variety of portable and compact speakers that are perfect for when you want the same high-quality sound as you get at home, on-the-go. But what exactly makes a speaker ready for the great outdoors?
What makes a speaker "portable"?
Of course, a good battery is one of the most important requirements for outdoor speakers – after all, it's pretty rare to find a power outlet in the wild. Take a closer look at the performance data of the battery: how long is the playtime with one battery charge and how long does it take until the battery is fully charged? Also, keep in mind that the operating time is only an approximation.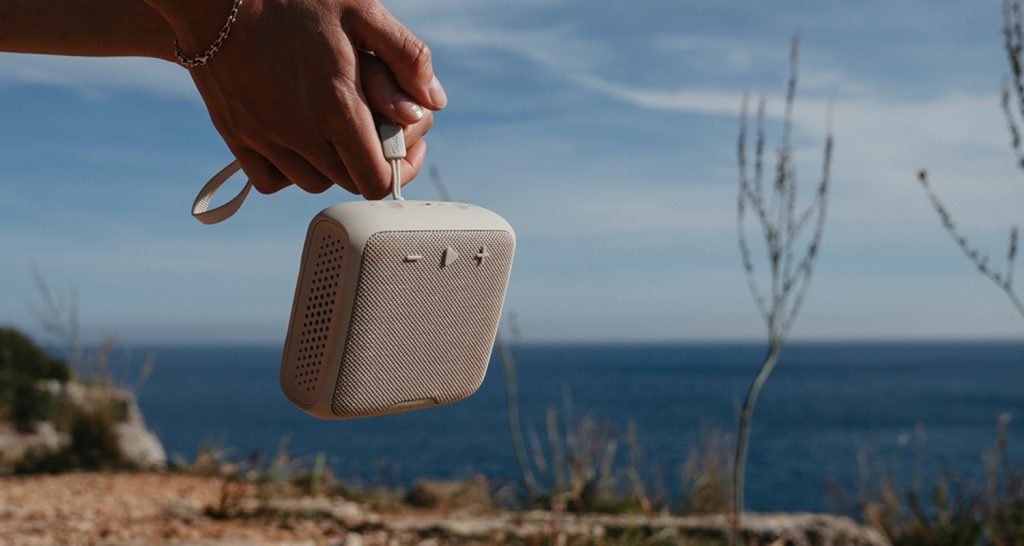 In practice, battery life depends mainly on volume, but especially bassy music can also have a negative impact. That is because bass frequencies are have much longer wavelengths, and thus require more power over a longer period of time to pump out. It can also be very useful to have a visual display of the battery level, so that you don't end up suddenly silent.
Stay connected in the great outdoors
Bluetooth products almost always come equipped with a battery and vice-versa because their practical benefits compliment one another very well. The high stability connection, low power consumption, and wide compatibility with smart phones and other media players make the synergy a no brainer. Some Bluetooth devices also come with a "party mode" that makes it easy to go track for track with a group of buddies. If your product also specifies that it includes Bluetooth aptx, the audio signal will be almost entirely lossless, meaning it will sound almost as true to the original recordings as a CD player plugged into an amplifier with a cable..
Whether your outdoor speaker also allows Wi-Fi transmission depends very much on how it was intended to be used. For at home uses, it can be very nice to have. However, once you're out on the go, it generally becomes pretty useless.
Most of our speakers also still come with an AUX port for wired connection. These can be useful if fidelity is very important, or your device is not Bluetooth compatible. Many also have a USB input for audio as well as power supply. But whatever the case, consider how you'll use your speaker and take a look at what connection options it offers before you buy.
HIFI sound from Teufel headphones
Open sound in the open air
Outdoors, you can often pick up on the weaknesses of a speaker more clearly. This is because the sound waves are much less reflected outdoors than in closed rooms. The sound can be dull and tinny. For a speaker to sound its best outdoors, it needs to be powerful and precise throughout the whole frequency range of the chosen music. This works best when the speaker is a multi-channel speaker with a separate woofer.
External values are also important
An outdoor speaker should not only be able to withstand being frequently transported, but should also be as easy to carry as possible. You should therefore make sure that the materials and speaker housing are of high quality. If plastic has been processed, it must be robust. It is also very important that the speaker diaphragm is adequately protected.
It is commonly known that water is no friend to electronic devices. That's why you shouldn't leave even outdoor speakers out in the rain. When considering such scenarios, be sure to check if and if so, which, IP protection classes are given in the product specifications.
Teufel outdoor speakers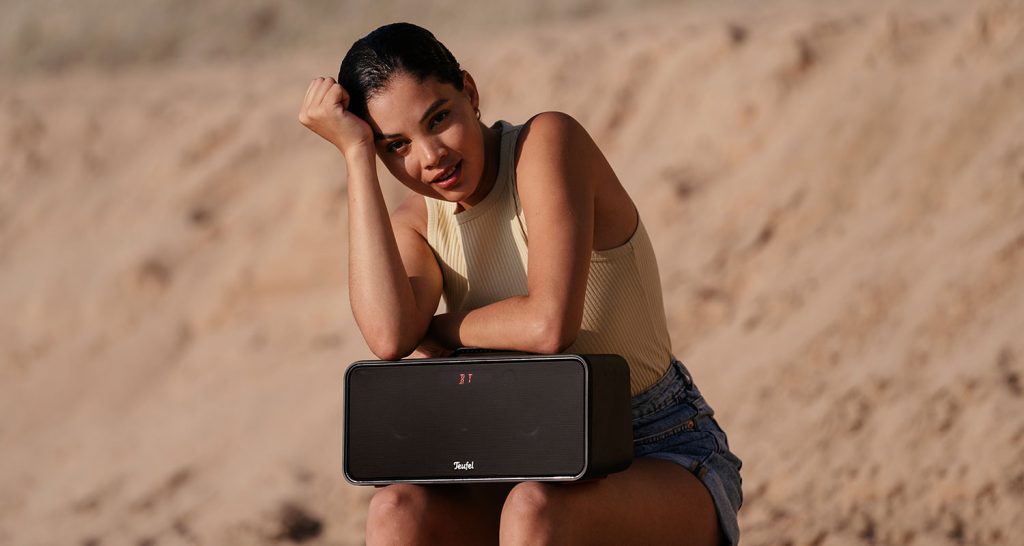 HIFI sound in the great outdoors – our ROCKSTERs guarantee big sound wherever you take them.
▶ ROCKSTER: There's nothing quite like the ROCKSTER! The high-end system brings sound levels – powered by a 450-Watt amplifier – up to 121 dB. The ROCKSTER also gives you all the freedom you need: battery life of up to 20 hours, connectable to a car battery (12 V), 2 Bluetooth interfaces, RCA and jack inputs, and you can even connect your guitar. All this comes in a practical speaker with handles and served on wheels.
▶ ROCKSTER AIR: In comparison to the larger ROCKSTER, the ROCKSTER AIR offers everything in one size smaller, but no less impressive. Like the large ROCKSTER (87 cm high), the 46 cm high cabinet contains a 2-way system with bass reflex ports. The system plays up to 30 hours off battery power alone! When it comes to connectivity, the AIR also has a lot to offer: Bluetooth aptX, AUX input, cinch analogue, and XLR. In adverse conditions, it shows that it is a real outdoor speaker. The metal grille protects the transducers and the underside is water resistant.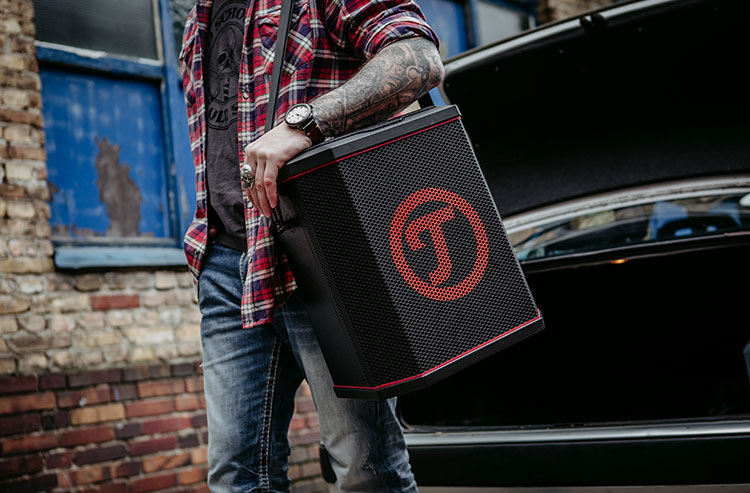 More Bluetooth speakers from Teufel
Outdoor speakers – keep these points in mind
How long does the battery last?
Which wired inputs are supported in addition to Bluetooth?
How strong is the integrated amplifier and what is the sound level of the speaker?
How good is the physical construction and what kind of abuse might you subject it to?