The range of podcasts available nowadays seems almost endless. In 2016, public broadcasting corporations alone offered around 800 online podcast series, and that's not to mention the large number of series also produced by private broadcasters. So, how can keen podcast listeners keep up-to-date with the latest broadcasts? Podcast apps! Here, we share the best apps available on Android and iOS to help you get the most from your podcast collection.
What actually is a podcast?
A podcast can contain either audio or video content. As a rule, individual episodes and/or broadcasts are provided as streams or file downloads. Many radio stations now offer broadcasts in this way.
Overcast – Free podcast app for Apple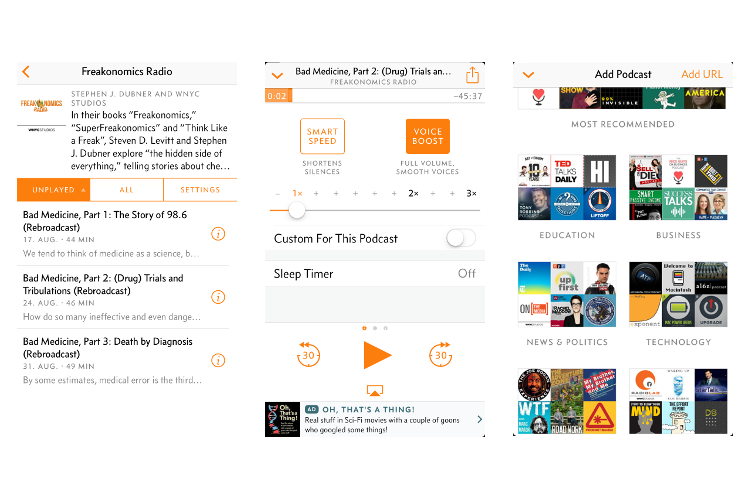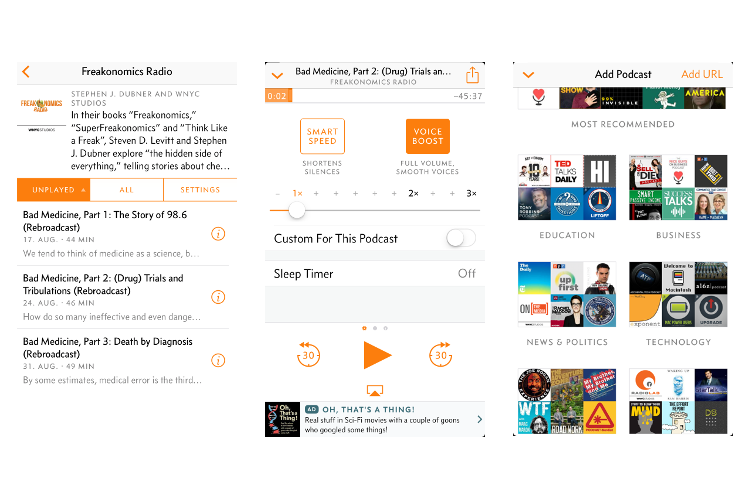 If you are currently using the pre-installed Podcast app on your iOS device, try using the free Overcast app. This podcast app, compatible with all Apple devices, allows users to subscribe to, manage and download a variety of podcasts for offline listening. New episodes are highlighted, whilst ones that have been listened to already are automatically cleaned up. A well-organised, integrated recommendation page allows users to discover a range of new programmes. Extra features such as a sleeptimer and SmartSpeed, which allows you to speed up speech levels and shorten overall playtime, are also pretty useful.
Castro – High-end option for iOS devices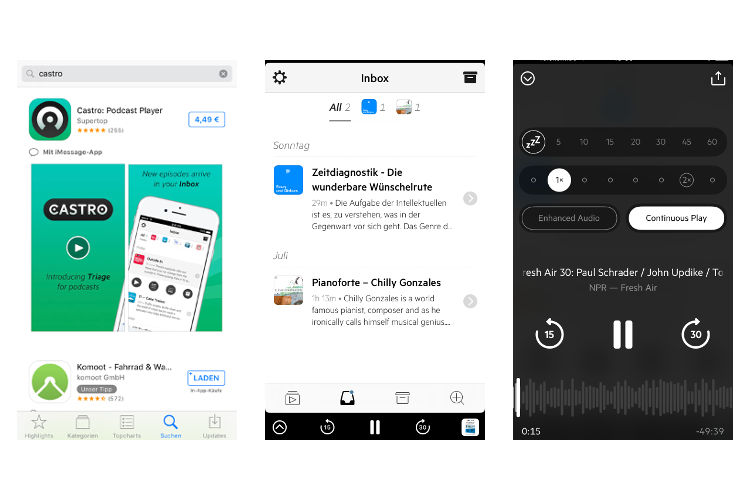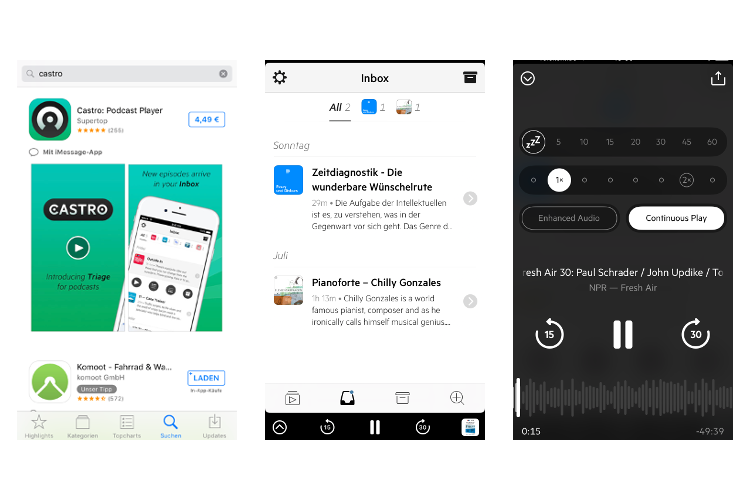 The paid iOS Castro app organises your favourite podcasts in a different way to most other podcast apps. New episodes of your subscribed programmes are shown in the "Inbox", and wait to be played in "Queue". Episodes that have been played are sent to "Archive". Initially, you won't be able to distinguish between individual episodes from the main menu, but you can filter out certain broadcasts in your Inbox. The app also includes a smart Archive function, which allows you to retrace your recently played podcasts. In Castro, your can easily skip to any point in the podcast, increase playback speed and improve playback quality.
BeyondPod – functional app for Android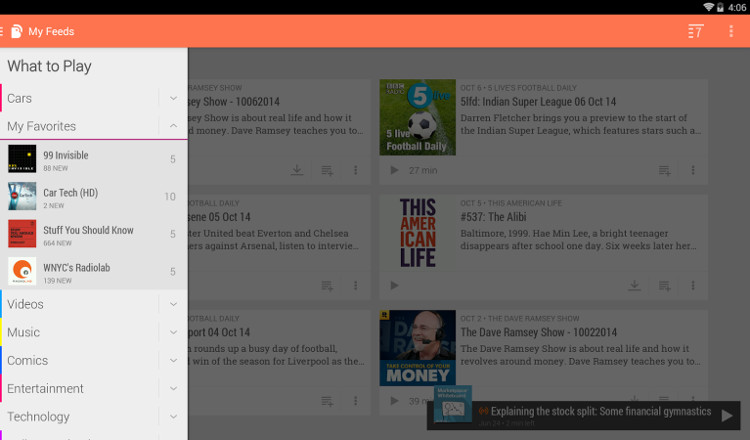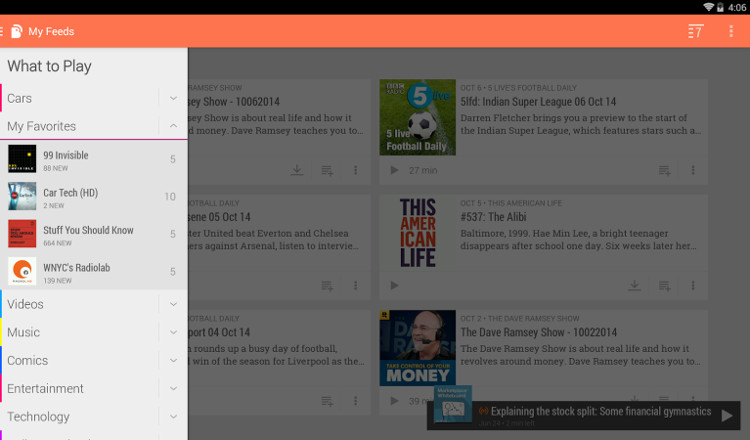 BeyondPod is a free podcast app for Android, which features basic functions like subscriptions and downloads, as well as other functions such as a speed controller and a timer available in the settings. A comprehensive and clear presentation of various podcast categories makes it easy to browse. Frequent listeners can use the podcast app in Android as a "widget". One disadvantage is the navigation and menu management: the nested level structure can be a little complicated to navigate as a beginner.
Pocket Casts – The cross-platform solution
Pocket Casts is a well-thought out, functional podcast app with one particular advantage: it is available for both iOS and Android, and allows the user to retrieve settings and favourites on different devices and across different operating systems. There is also a webplayer for desktop devices and laptops.  Pocket Casts also offers some useful features, that you cannot find in all other apps. For example, you can skip silent or intro sections. If you like, you can also be informed about new episodes via push notifications.
Raumfeld and Teufel – the best partner to your podcasts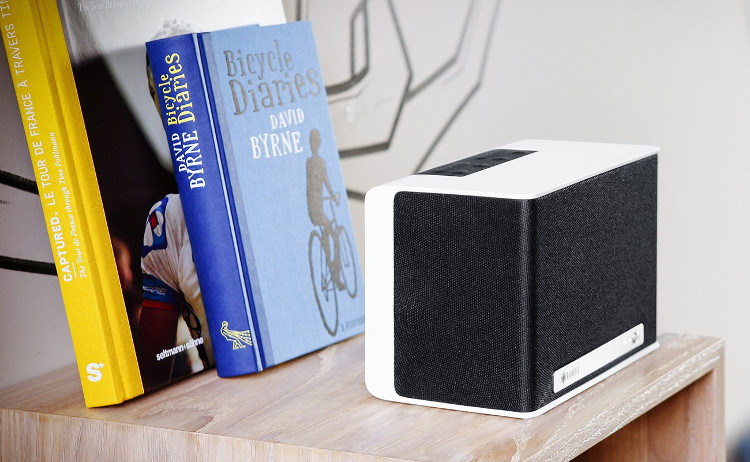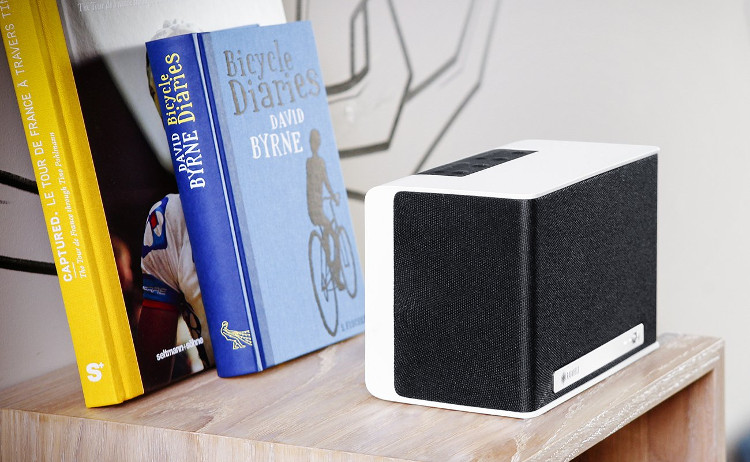 ▶ Raumfeld ONE S: This wireless speaker connects to your smartphone in seconds. With integrated Chromecast and the Teufel Raumfeld app, you have two streaming options at your disposal. The 2-way coaxial speaker system of the One S reproduces all range of sound, from deep bass to speech, precisely and fully.
▶ AIRY: The Teufel AIRY headphones offer great sound wherever you are. The lithium-ion battery offers a playtime of up to 20 hours and can also be charged by a quick-charge function. Audio data is transferred via Bluetooth 4.0 aptX. NFC eliminates the need for pairing to connect – you just need to keep your smartphone close to the AIRY.  You can play podcasts and music, control volume, pause and take calls, all from buttons on your earpiece.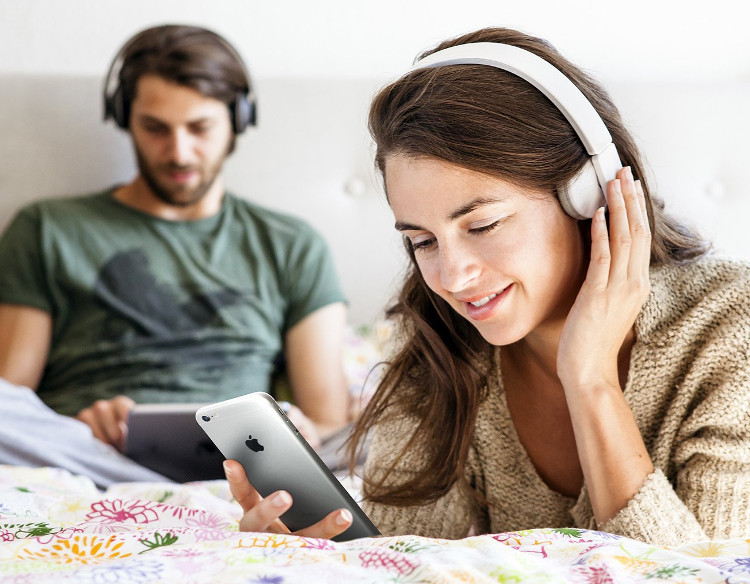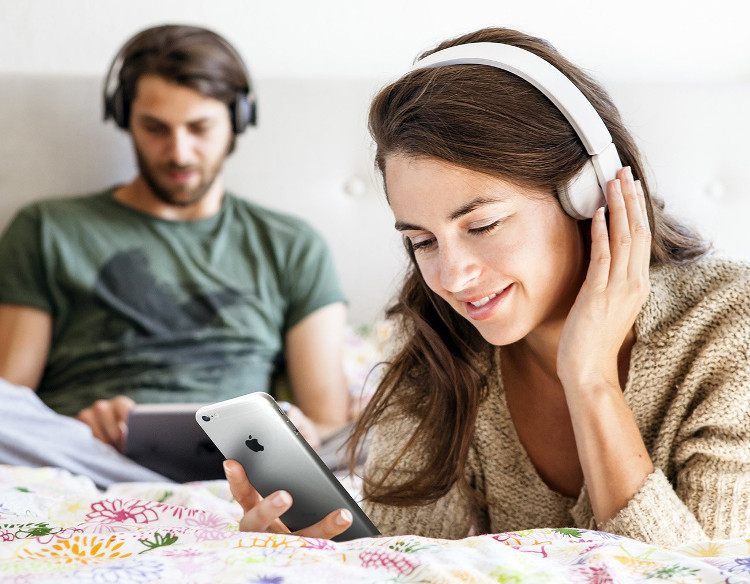 Get the best sound on-the-go:

Conclusion on podcast apps – similar basic functions, different details
Podcast apps allow you to automatically download favourite episodes and listen offline.
The apps often have features such as speed control, a timer and improved playback function.
There are free podcast apps available for both Android and Apple devices.
All the apps listed above have basic podcast features installed.
The difference lies in menu navigation, ease-of-use and special features. The best podcast apps even offer cross-platform synchronisation.