In many cases, bookshelf speakers are a practical solution for sound systems in any space. For example, if the room is relatively small, it might not be possible to install several floor-standing speakers. Compact speakers can solve this issue. But what should you consider when buying such compact bookshelf speakers?
Balanced sound – with extra bass on request
What would a stereo system or Bluetooth speaker be without good sound? Music has to sound good, otherwise it's obviously no fun. If you are looking for good compact sound transducers, you will find a huge range of bookshelf and compact speakers. These speakers should be able to deliver a balanced mix of strong bass, a defined mid-range and clear trebles, regardless of their size.
Due to the compact design of bookshelf speakers, the sound is naturally less brilliant than that of floor-standing speakers. This is especially true when it comes to comparing lower frequencies. But that doesn't mean that bookshelf speakers produce a weak sound – it is just a little less powerful. If you are a bass enthusiast, you should look for systems with a separate subwoofer, which we also offer in our range.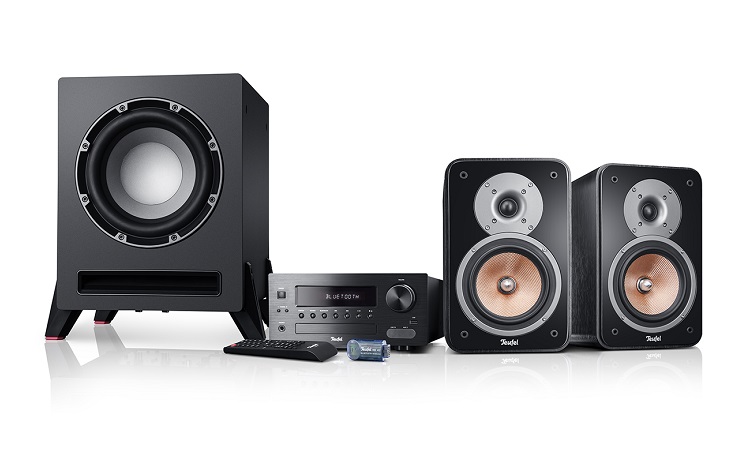 Important features of a bookshelf speaker
Before deciding on a bookshelf speaker, think about what you want to do with the speakers:
Do you want individual speakers that you can connect to existing CD players or separate amplifiers?
Are you looking for a small Hi-Fi system for listening to the radio and playing CDs?
Do you want to build a multi-room speaker network and need speakers with Wi-Fi connectivity?
Or do you mainly use your smartphone and streaming services as audio inputs and therefore need a good Bluetooth speaker for the shelf?
If you are unsure, look for a system that is designed for many purposes like our Teufel Stereo M, which also puts in a good bass performance.
The bass offered by bookshelf speakers won't push you into your seat like that of a full-blown home cinema system. But if space is limited, even without a 5.1 system with large floor-standing speakers, you can enjoy movies and music with powerful sound, for example with the Definion 3S, which offers high-end technology in a small chassis.
Compact shelf speakers from Teufel
Sound is one thing, positioning is another
A compact bookshelf speaker is much more flexible than a large floor-standing speaker. Depending on what you use it for and how you use it, you can set it up in a fixed location – for example, at ear level from your sofa – or you can move it around and put it where you need it, whether it's in the bathroom to listen to your favourite audiobook in the tub or on the balcony to play your latest playlist. Or as Willy Iffland (Dressed like Machines) does, set up in a lavishly stocked shoe rack as a musical accompaniment while you pick out your daily outfit.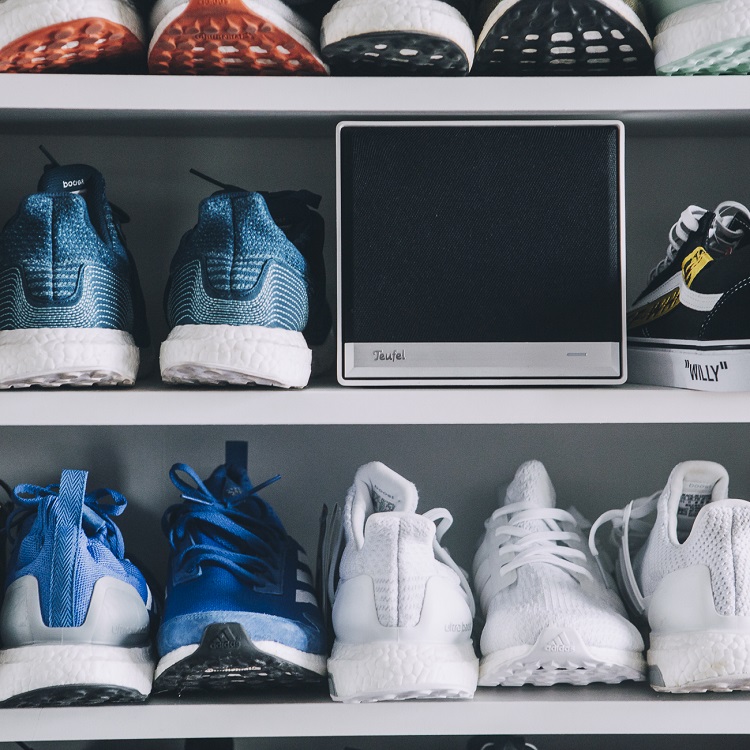 Here are some positioning tips on how to get even more out of these compact sound wonders:
Speakers generate vibrations during operation and have a certain amount of dead weight. Especially when you place them on a single shelf, make sure they are securely fastened.
You should also note the speaker dimensions. It should not fit snugly into a shelf compartment, but should still have some space behind it so that the bass has enough room to expand.
With a two-part speaker system, the speakers should emit sound directly towards the listener. Ideally, the listener position and location of the speakers form an isosceles triangle.
In order to emit sound around the room evenly, it is best to place the speakers at head height and at an angle.
Of course, the speakers should ultimately be arranged according to where the shelf is and not the other way around, so set up and adjust your shelves as you like and consider where to put your speakers afterwards.
Active and passive bookshelf speakers
Bookshelf speakers are also available in both active and passive designs. Active speakers – like our Teufel One M – only need a connection to an audio device (e.g. via Wi-Fi or Bluetooth) and already provide your living room with powerful sound. Passive bookshelf speakers – like our Theater 500S – need an additional amplifier, otherwise they remain silent.
Ultima 20: powerful performance in a small space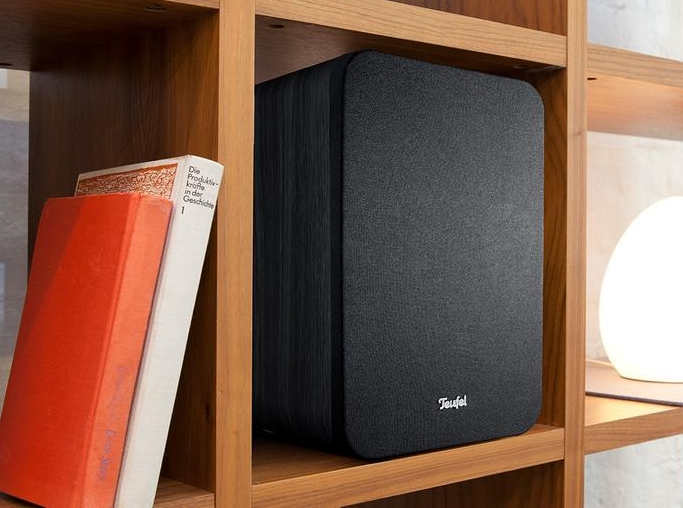 The Ultima 20 Mk2 are ideal for those who have little space but still want speakers with full sound. The two speakers provide a lot of sound pressure and convince not only with their elegant appearance, but above all with powerful sound:
▶ 165 mm bass-midrange driver with phase plug for precise bass response
▶ Reflex tubes with trumpet attachment eliminate flow noises
▶ Stable wooden struts prevent vibrations
▶ Power rating of 80-Watts
More bookshelf loudspeakers from Teufel
Conclusion: great sound even from small housing
Before you buy bookshelf speakers, think about what you want to use them for.
You can also choose between active and passive speakers for bookshelf speakers.
Keep our positioning tips in mind: a stable shelf, enough room behind the speaker, directed towards the listener.
If you're looking for powerful bass, choose a system with a separate subwoofer.