Digitalisation is rapidly progressing and it seems like the time is pretty much up for cable analogue radios. In some areas you can already no longer receive broadcasts over such devices. By 2019 analogue transmissions will be gradually cut out completely across Europe. We explain how you can stay connected without analogue.
The technical background to analogue cable radio
This article deals only with the wired transmission of analogue radio signals. This is transmitted from the standard multimedia sockets via coaxial cables (female antenna socket) to radios or audio receivers. The analogue cable signal (PAL) for TV sets is also affected by the switch-off. The FM signal received via antenna, on the other hand, will remain in transmission.
The reason for the shutdown lies with the requirements of the Internet. There is literally no more air space for analogue radio signals. Technically, the point is that transmission capacities in the cable network that were previously used for the analogue radio signal are needed to give way to Internet signals. This is required by the new Docsis 3.1 transmission standard, which is used in the cable network and enables Internet bandwidths in the gigabit range.
Teufel multi-room speakers
The change from analogue to digital radio
There are several ways to switch to digital DAB+ radio. If you want to continue using your existing analogue receiver, you will need a digital receiver (DVB-C) which is connected between the TV socket and the old receiver, and processes and transmits the digital signal. The old radio output at the TV socket remains free. The digital radio signal is forwarded to the system via RCA or optical digital cable. It is also possible to listen to digital radio via the TV set – although the sound may not be of the best quality.
You can also upgrade your FM radio with DAB+. Or you can buy a DAB+ radio.
UKW, DAB+, Internet radio, streaming – our world receiver can do it all

With the Radio 3Sixty, you can stay updated in the future. Not only does it support DAB+, but also Internet radio and Bluetooth, making it the ideal platform for all your music streams. Here is a brief overview of the features of Radio 3Sixty:
▶ Strong sound thanks to a 2-way system consisting of two full-range speakers and integrated down-firing subwoofer.
▶ Suitable for reception via FM, DAB+ and Internet radio.
▶ Supports streaming playback via Spotify Connect and Bluetooth 4.0.
▶ Practical functions such as an alarm clock, direct selection of favourite stations, dimmable display and USB 2.0 charging function.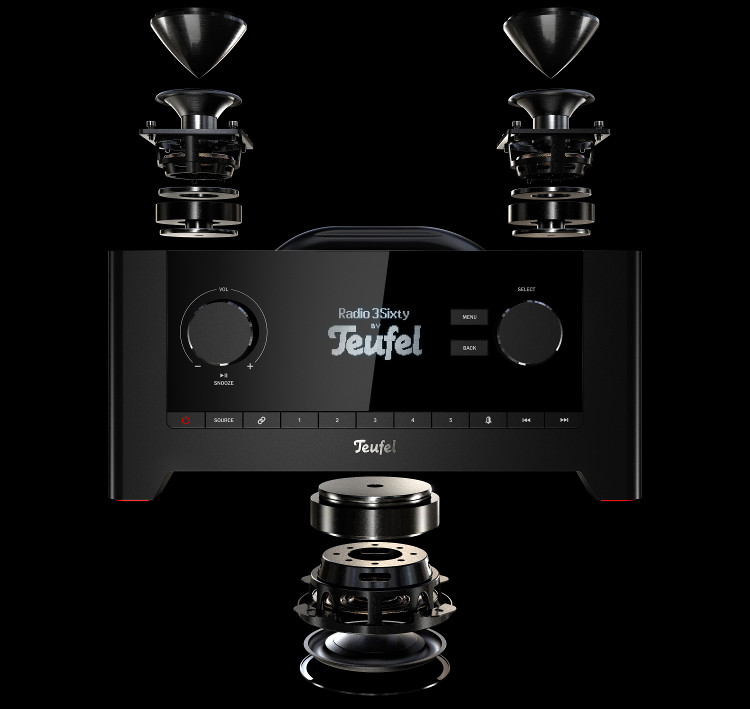 Devices with DAB+ reception
Conclusion: switching over from analogue radio
Analogue radio from a multimedia socket is to be switched off completely in 2019.
The switch-off will take place gradually and has already been completed in some areas.
The capacities previously used for analogue radio are to be used for a faster Internet connection.
Audio receivers previously used for analogue radio can be retrofitted with a DVB-C receiver.