Transferring signals from a SCART socket to an HDMI input? The two AV interfaces don't really fit together. A digital interface such as HDMI cannot process the analog SCART picture and sound signals. But there are ways to overcome the hurdle between analog and digital technology.
With this article we want to conclude our round of answers to readers' questions. One reader of our article on AUX and Co. asked how you can connect a DVD player to a television if it has no RCA input, while the DVD player has no HDMI interface. Instead, however, the DVD player could still have an older SCART output, which the modern television lacks. How do you fix this incompatibility? And is it worth the effort at all?
HDMI replaced SCART as the connection standard
To establish a connection between SCART and HDMI, one hurdle has to be overcome: the incompatibility between analog signals and digital data. Like HDMI (abbreviation for High Definition Multimedia Interface), SCART (Syndicat des Constructeurs d´Appareils Radiorécepteurs et Téléviseurs) transmits both audio and video information – only as analog signals. The standard was developed as early as the 1970s and has since established itself in the home entertainment sector throughout Europe as a manufacturer-independent standard.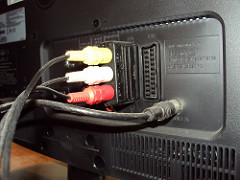 The advantage of the SCART interface was that it supports different analog transmission paths such as Composite Video, S-Video or RGB equally. However, SCART cannot process digital transmission methods. Even the maximum image resolution that SCART can transmit seems outdated in times of UHD (Ultra HD): the PAL standard of 720 x 576 pixels. In the meantime, HDMI has largely replaced SCART. This applies to players such as DVD and Blu-ray players as well as modern LED televisions with integrated tuners. You won't usually find an integrated analog interface there again.
In the blog post about the TOSLINK cable, we have already explained how HDMI even competes with the widespread optical transmission standard for audio data.
Converter solution for SCART to HDMI
Although HDMI has become the prevailing standard, it can happen that an old device is to be connected to a more modern television set – because a DVD player, for example, has an ideal value for its owner; or because you want to play old VHS cassettes with a video recorder; or because as a gaming nostalgia you want to connect your first-generation PlayStation to a flat screen. Due to the incompatibility between analog and digital transmission, it takes more than a mere mechanical-electrical adapter to transfer videos from SCART to HDMI.
Instead, a real converter is needed, which first converts the analog signal of the player into digital data. Since such active adapters usually cost at least around 30 Euros, you should consider whether the investment really makes sense. It speaks for the converters that they can upscale the analog signal to 1,080 pixels. This corresponds to Full HD quality. Another advantage is that they can often filter out audio data from the SCART signal and output it separately via jack or coaxial cable. This makes it possible to connect a SCART device directly to a modern hi-fi system or AV receiver.
However, such a converter might not be the right choice because it can be more lucrative to simply replace your DVD player with a Blu-ray player. As a rule, they are downward compatible and can play older DVDs. If you want to transfer from SCART to HDMI in order to use old VHS recorders, you can digitize the video cassettes completely at hardly any higher cost – if you have a computer or laptop. This is possible with special digitization kits (usually referred to as "grabbers") that have both a SCART input and a USB interface for connecting to the recording computer.
Products fitting to this article:
Conclusion: Bringing SCART signals to HDMI devices is possible, but not always worthwhile.
SCART and HDMI are used for the transmission of audio and video information.
SCART has been largely replaced by HDMI as an analog standard.
A converter is required to prepare analog data for an HDMI interface.
Converters are available from retailers starting at 30 Euro.
Per SCART-HDMI converter: scaling to 1,080 pixels; separate output of audio signals possible.
Contra SCART HDMI converters: hardly higher acquisition costs for downwards-compatible Blu-ray players with HDMI; attractive alternative is the digitization of VHS cassettes.