Everyone is talking about multi-room, networked speakers and voice control – but what comes next? In the #FutureSound series, we want to report on audio trends and gadgets that could be appearing in the near future. Today we're discussing windows that suppress noise and upcycling loudspeakers.
Vertical turntable
At this year's IFA fair several innovations for record players were presented. The main focus was on all-in-one systems. The Floating Record from Gramovox is also an all-in-one turntable, but with a very special trick: the record does not lie flat on the base, but stands upright. An MM system is integrated in this vertical turntable as a pickup. An integrated weight counteracts the contact pressure of the pickup. As with so many other innovations, supporters via kickstarters were initially sought for these too. Financing was successfully completed in 2015. The turntable is now ready for the market, but Gramovox only sells it in the USA.
In there world of vinyl, it's not just the record players that are evolving but the records themselves. HD vinyl records are producing a sound with greater definition from the beloved retro format than ever before.
Noise cancelling in a whole room
It sounds like an invention that could make life easier for city dwellers in particular: a device that suppresses external noise coming from outside into rooms. Various companies and start-ups have presented devices and concepts that are intended to achieve such an effect. The start-up Muzo, for example, has developed such a device and already attracted some attention. It is intended to be used mainly on windows and to create quiet zones, but can also be installed elsewhere.
Muzo introduction video on YouTube
The Fraunhofer Institute has also been working on solutions for "technical noise protection" for some time now. But how well does the concept work in reality?
Noise-cancelling headphones prove that emitted sound waves can be kept away from the ear very effectively. However, what works within a closed system and in a very small space cannot easily be transferred to larger rooms. In these rooms, it is much more difficult to eliminate certain frequencies with anti-noise – i.e. with sound waves of the same frequency that are phase-shifted by 180 degrees. Up to now, this has only worked with constant noise generation, such as that produced by ventilation systems.
Noise cancelling and other Teufel headphones
The Muzo anti-noise device mentioned above uses a modified procedure. Disturbing noises should not be reduced or suppressed by counter-noise, but by counter-vibrations. This is why windows are the best place for Muzo to function: this is where sound waves from the outside are most likely to penetrate into the interior of a building. A sensor detects the sound waves coming from outside and excites the window so that it suppresses them. However, one should not expect miracles from small and comparatively inexpensive devices such as Muzo; it would be very difficult to ensure absolute silence.
A speaker that sounds like an empty bottle
Manufacturers are looking at new and innovative ways to create portable speakers from various materials. You might have already seen DIY videos about how using an empty bottle can turn up the volume on your smartphone speaker, and this principle has been taken one step further with the Cork Speaker. Take a look at the concept of this speaker that uses empty bottles to generate a bigger sound in this video:
The makers of Cork have tried to transfer the upcycling principle to speakers as well. The structure looks like this: a compact, portable speaker (which looks like a cork) is placed on the opening of a bottle. The empty bottle serves as a resonance body and stimulates the sound, which remains rather flat without additional resonance bodies. The sound that comes out depends crucially on the size and form of the bottle. This bottle speaker is controlled via Bluetooth. Cork is certainly not a loudspeaker for high audio demands, but just experimenting with different bottles should be fun.
ROCKSTER newcomers: Teufel's latest audio innovations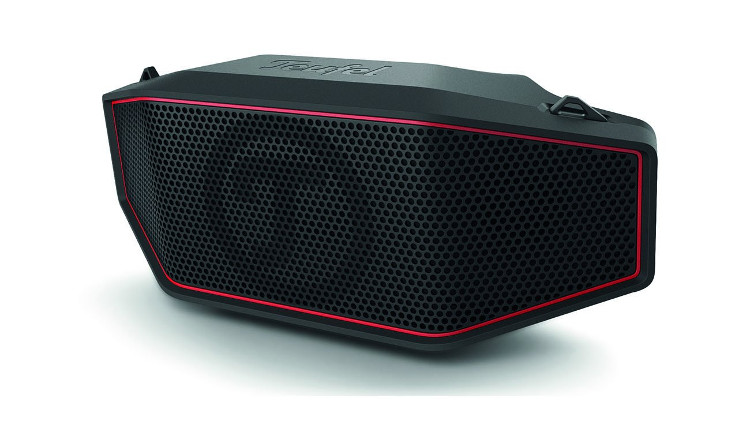 ▶ Ultima 40 Active: The most beautiful calottes since loudspeakers have been around, and much more – we have overhauled the Ultima 40 as an active version. The result is a stereo set with the usual outstanding Ultima sound, first-class workmanship and a whole range of special features. For example, our developers have added additional power (2 x 130-Watts) and integrated a dimmable display. The integrated amplifier supports Dolby Digital, among other formats, and can be upgraded to a surround sound set.
▶ ROCKSTER CROSS: The new ROCKSTER is a Bluetooth speaker the world has never seen before. With its thick-walled and jet-proof housing, it is the SUV among Bluetooth speakers. The acoustic equipment includes a powerful 3-way system and Bluetooth aptX. The ROCKSTER CROSS can also be connected to two smartphones simultaneously and is equipped with a hands-free system for applications such as Skype.
Overview of the latest audio trends
The US manufacturer Gramovox has implemented one of the currently most innovative turntable concepts with the vertical turntable (Floating Record).
The cork loudspeaker shows how upcycling can also be used in the audio sector.
Different manufacturers are working on anti-noise speakers and other noise-suppressing systems for interiors.