In the last few years Deezer really proved itself as an alternative to major streaming services such as Spotify and Apple Music. The service provider really offers that what we really want when we stream music – an endless selection of music, personal music suggestions and management of your own music library. And Deezer has other exclusive features. We're going on a digital tour to see how Deezer streaming works.
Deezer free, or as premium alternative and for the Familie
Deezer is one of the streaming services that you can use for free. In the basic version you have access to a desktop and mobile app. Just like with most services the functions are limited, however Deezer still has a lot to offer. In the basic mode you access your playlist, your favourites and song search (desktop only), which comparatively impressive. Here are the differences between the Deezer premium account:
| | Basic | Premium | Family  |
| --- | --- | --- | --- |
| PC/Laptop | ✓ | ✓ | ✓ |
| Mobile | ✓ | ✓ | ✓ |
| Advertisements | ✓ | ✗ | ✗ |
| Offline-Music | ✗ | ✓ | ✓ |
| Unlimited song Skipping | ✗ | ✓ | ✓ |
| Flexible Quality | ✗ | ✓ | ✓ |
| Multiple Accounts | ✗ | ✗ | ✓ |
| Child Accounts | ✗ | ✗ | ✓ |
| Costs | Gratis | 9,99 | 14,99 |
Lovers of audio streaming can pay 19,00 euros a month for high level transmission via FLAC streaming or Hi-fi Option.
The most important Deezer streaming functions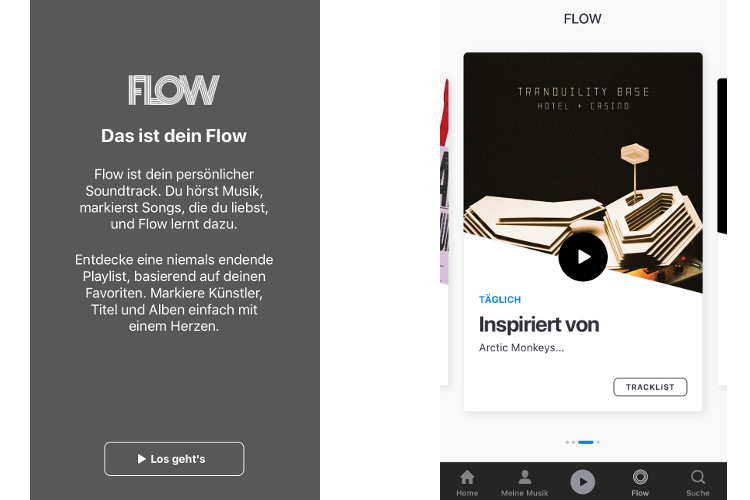 Deezer has been around since 2007, meaning the service is somewhat older than Spotify. The great experience is reflected in the mature and clear user interfaces of the desktop, browser and mobile apps (for Windows and macOS). As a Deezer users you navigate yourself between a "Home" and "My Music" for the personal library, the Flow and search function. From the Home section you can find under genres and special playlists you can access the Deezer Flow, a sort of personal radio. This section shows you possible new songs that you might love and the ability to mark your favourite tracks.
Particularly for newcomers the Flow's "discover" section would be a good place to start when using the Deezer app. You get presented with all the so-called channels. And it includes with music playlists, radio stations, podcasts, as well as a row of special offers from Deezer products. This is different, however, on the browser. You have to access all these channels via the "home" button.
Podcasts are one of the main benefits from Deezer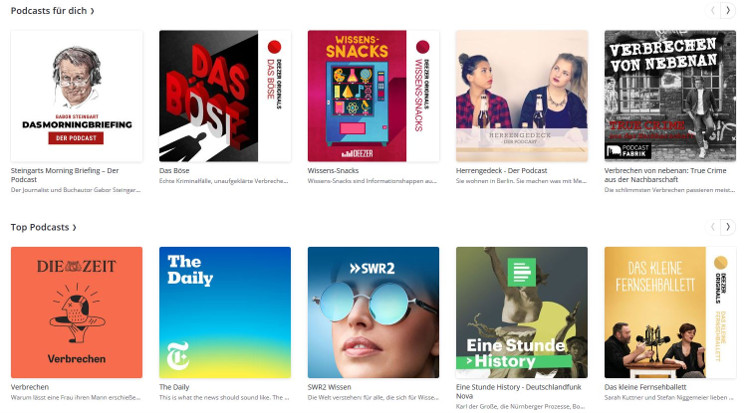 Along with the massive music selection – over 53 million titles – you have access to some fantastic podcasts. They are well sorted and offer a great deal (private, public
Neben der gigantischen Musikauswahl (laut Deezer über 53 Millionen Titel) sind Podcasts eine der Stärken des Dienstes. Sie sind gut sortiert und halten ein großes Angebot bereit (private, public domain and international offers as well as some of Deeze's own productions)) – you can have a click through, and forget about the concept of time.
Another major benefit is the Kids-channel, where you can find a large selection of audio books. Here are wide selection of kid's classics, as well as learning based audios too. The perfect thing for on the go with kids, or book lovers.
You can integrate your own MP3 files into the Deezer system. The function is only available for the desktop version under "My Music" and then "My MP3s". Imported songs, can be played on your smartphone via a separate playlist.
Bluetooth loudspeakers by Teufel
Overview of the settings: Streaming quality, offline mode, and the Deezer Lab
The deezer settings offers a wide-range of functions to explore. You can connect your account with multiple devices, and edit the audio setup accordingly. But there's much more!
▶ The Audio setup: you can find this on the mobile app when you go to "My Music" and click top right.  You can choose if you want the audio quality high or reduced (depending on the mobile date volume). Apart from that, you can regulate the streaming quality (to save your mobile data). The digital equalizer offer even further options.
▶ Offline mode: You can use the app in offline mode. Then only local files will be played. You can download any files from the playlist section on to your device when you click on the three dots and click "download".
▶ Deezer Lab: One of the special features is the Deezer Lab Eine Besonderheit ist das Deezer Lab. You can find it in your settings and then tryout new functions. Currently ( February 2019), you can the auto mode and activate the Sleep Timer.
Note: Another small but cool details is the ability to check out the song lyrics. You can do this when your listening to a song, and the three dots click and "song view" select.
Teufel Bluetooth portables play Deezer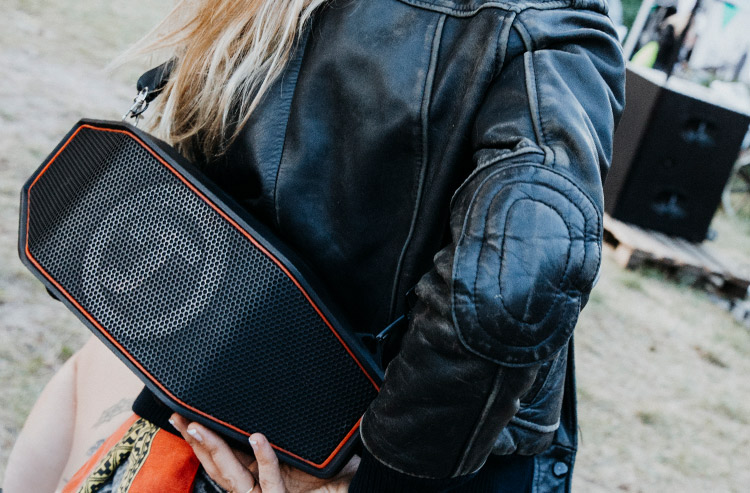 ▶ BOOMSTER XL: Not half a thing, but a full load of sound – this portable 3-way system delivers a massive 105 dB with first-class quality at the same time. The XL-BOOMSTER is equipped with NFC for fast pairing, radio function, Bluetooth aptX and 2-band equalizer. All this is packed in a stylish and robust aluminium case, which you like to show off.
▶ ROCKSTER CROSS: On turf, on the beach or in the bathroom – the CROSS plays as a powerful and robust streaming speaker wherever you want. The thick-walled casing and IPX5 certification make it possible. And if the party takes longer – with up to 16 hours of playing time, that's no problem.
Functions, versions and costs – overview of Deezer features
In addition to a free Basic version, Deezer is available in a Premium, Family and HiFi version.
One of the central functions is Deezer Flow, an algorithm-based playback that is based on personal preferences.
The premium version enables offline mode and MP3 integration.
Deezer allows different audio settings with audio equalizer and variable streaming quality.
Header image: ©Deezer Logo
Headphones by Teufel