Virtual surround sound techniques can produce an airy and spatial sound even when no surround system is installed in the room. This sounds unbelievable, because it ignores a fundamental principle of acoustics – one can only place the direction of a sound clearly if the source is positioned where the sound should appear to come from. But certain acoustic tricks can solve precisely this problem.
The basics of virtual surround sound
Does the direction of sound really make much of a difference to our listening experience? If someone stands in front of us and claps their hands, we already know even with our eyes close where they are standing approximately. If they move a few metres to the left, our hearing can tell us quite reliably where they have moved to. This may sound self-explanatory and straight-forward, but it requires a certain amount of effort for our brains.
Our spatial awareness is not solely determined by the direction from which we receive the sound; it is "calculated" from a series of different information. In essence, there are three other factors that contribute to this:
The difference in time between a sound wave hitting the left and right ear. A sound wave from the right, for example, will naturally reach the right ear before the left. Our hearing records even small shifts of the sound source between the left and right ears.
Differences in perceived sound pressure also allow conclusions to be drawn about the direction from which the sound is coming. There is a lower sound pressure produced in the ear that is turned away from the sound source, compared to the ear facing it. However, sound pressure and time differences alone are not enough to be able to detect all sound directions. For example, we can not locate sound waves that are emitted just before or behind us with these factors alone.
Our hearing also uses sound colours to perceive the direction from which sound waves are travelling. Depending on the angle at which the waves enter our ears, they are distorted by their specific structure. In addition, our physical head- and body-shapes also affect the overall modulation of sound sources.
Virtual surround sound in practice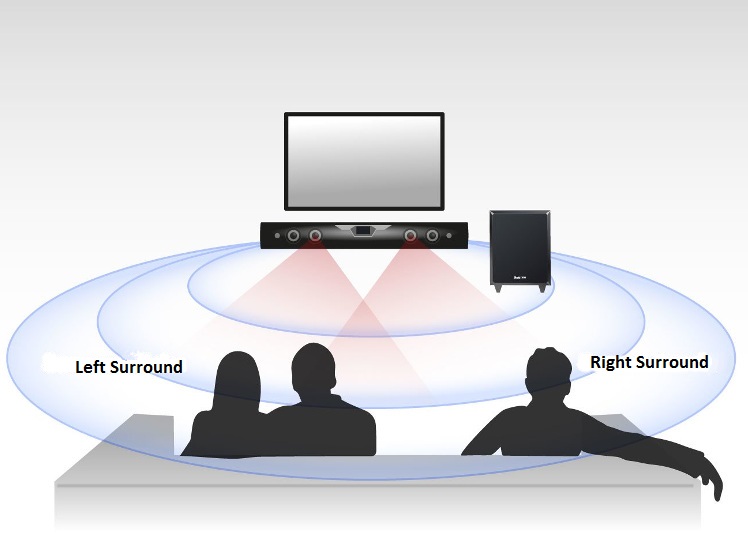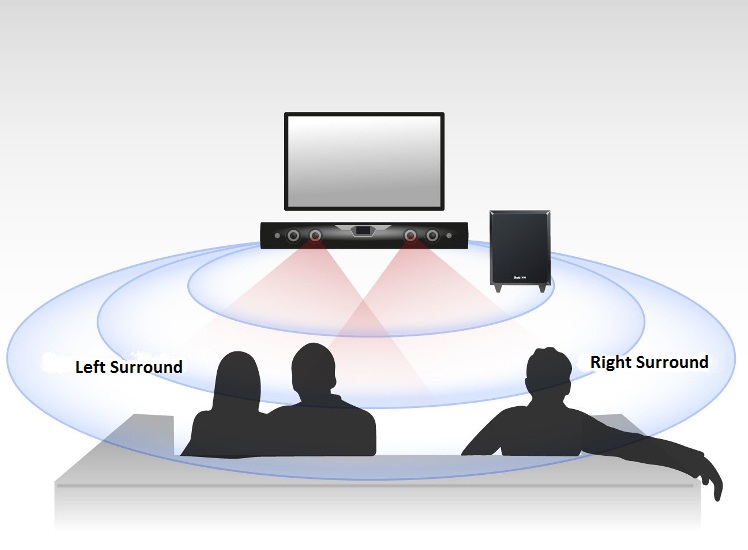 Sonic waves can now be modulated very precisely. This makes it possible to use the three listed factors in such a way that our hearing can perceive sound from directions where no sound sources are positioned at all. It is even possible to simulate sound sources that are behind the listener.
In order to create virtual surround sound, audio codecs must reproduce the differences in times and levels as well as the tone colour, to make it appear as if the sound signal has come from a certain direction. It doesn't just sound complicated, it really is. The audio signals are processed into virtual surround mode through two channels – one for each ear. Virtual surround sound can be played both through stereo systems and soundbars as well as headphones.
The most widely used virtual surround code is Virtual Speaker from Dolby. In addition, there are a number of other virtual surround standards such as 3D Sonic Emotion, DTS Surround Sensation and virtual room sound standards for headphones.
Teufel's trickster – virtual surround sound like never before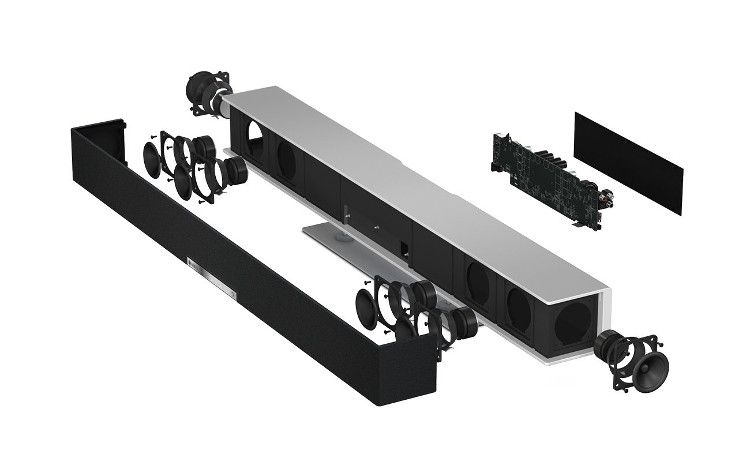 ▶ Cinebar 52:  The Soundbar with (THX) license for virtual surround sound. The 2-way system with a total of 6 speakers creates a differentiated, natural and spatial sound. And when you need to hear more bass, the powerful 250-watt subwoofer really kicks in.
▶ Raumfeld Soundbar: The Raumfeld Soundbar guarantees immersive sound with any audio stream. You can conveniently control the 9 integrated speakers and the massive subwoofer via the Teufel Raumfeld app or built-in Chromecast.
▶ CAGE Gaming Headset: A whole room fits between the headset and your eardrum – at least when you are wearing the CAGE. The gaming headphones with speaker headset produces an immersive sound thanks to ingenious sound-wave modulation.
More Teufel products with virtual surround sound:
Video: Virtual Surround Sound as Fast as Possible
Conclusion: Virtual surround sound is more than just a fantasy
Formats for virtual surround sound simulate spatial sound even without the use of a classic surround sound system (5.1 or more).
Our spatial awareness is tricked by processing time, sound pressure level and tone colour.
Soundbars, headphones and stereo systems that can reproduce virtual surround sound, manipulating the sound waves to sound like they hit the ear from a certain direction and angle.
In addition to Dolby Virtual Speaker, there are a number of other virtual surround formats.
Cover photo: © Shutterstock/Viewgene