Smartphones can do just about anything… except produce good sound. No one really enjoys hearing a YouTube video or Spotify tune played back by their phone. The sound is muffled, tinny. At the same time, it's not always practical to lug around a speaker everywhere you go. So what are the options for those who want to listen to podcasts on the back patio or share a playlist with friends in the park? Read on to find out.
Finding the perfect mobile speakers for your smartphone
The first thing we need to be honest about is the trade-off between portability and sound quality. The reason smartphones can't produce good sound is that their internal speakers are simply too small and there's no space for bigger ones. It stands to reason that the larger the mobile speaker one uses to supplement this sound, the better it will generally be. A speaker that is too large, however, becomes difficult to transport. Each person needs to decide which aspect to prioritize: Portability or sound quality. Thankfully, there are many Teufel mobile speakers that manage a near perfect balance.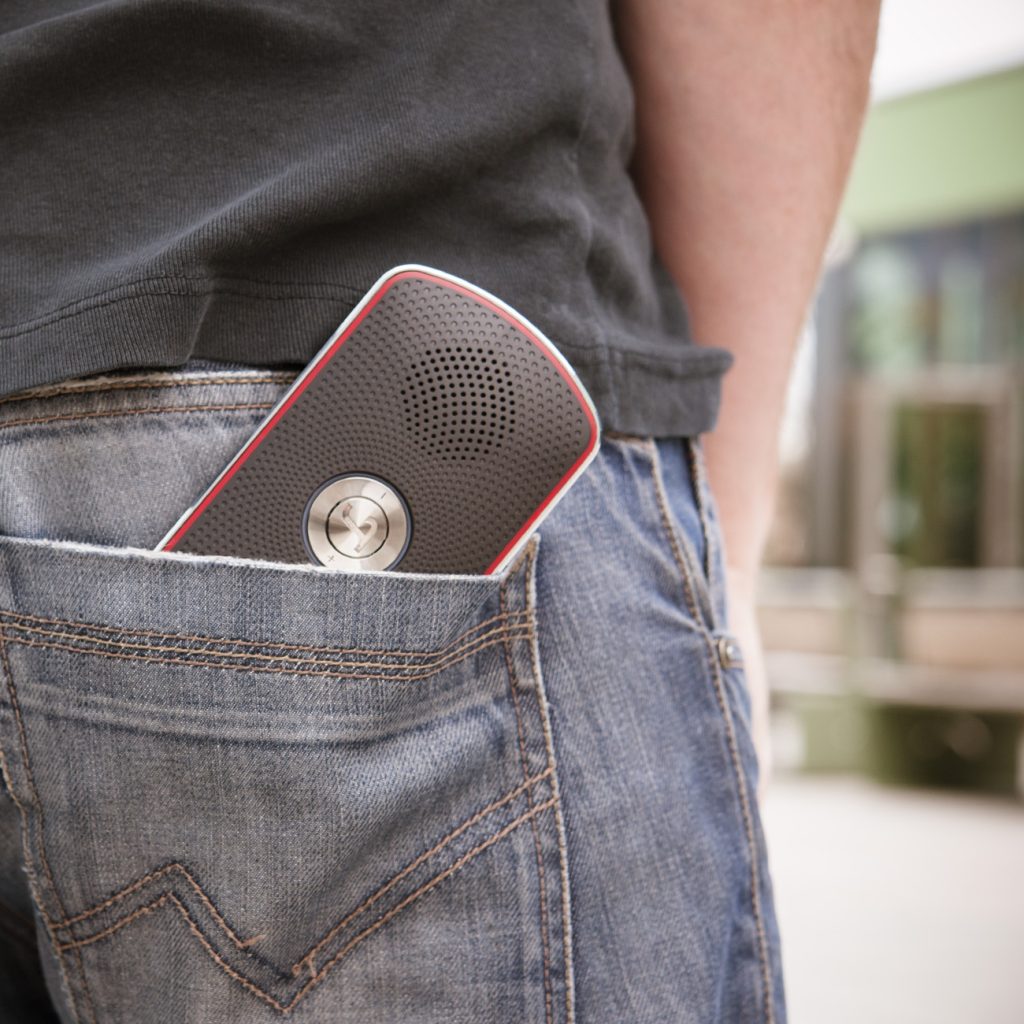 Pocket-size wonders: Ultra-portable mobile speakers
The BAMSTER XS from Teufel is approximately the same size as a smartphone. This makes it every bit as portable. Toss it in your bag or slide it into a jeans pockets. A carabiner hook even makes it possible to easily clip it onto a belt buckle. While the same size as a smartphone, the entire device is dedicated to sound. For its size, the easy-to-connect BAMSTER XS offers a clear sound. This alleviates the need to strain to catch the news and makes handsfree phone calls possible anywhere you happen to be. The mini Bluetooth speaker won't be able to generate room-filling sound and the bass response is necessarily limited, but the BAMSTER XS is an easy way to guarantee a 100% improvement over smartphone audio – anywhere. A runtime of up to 14 hours makes the BAMSTER XS ideal for even longer excursions.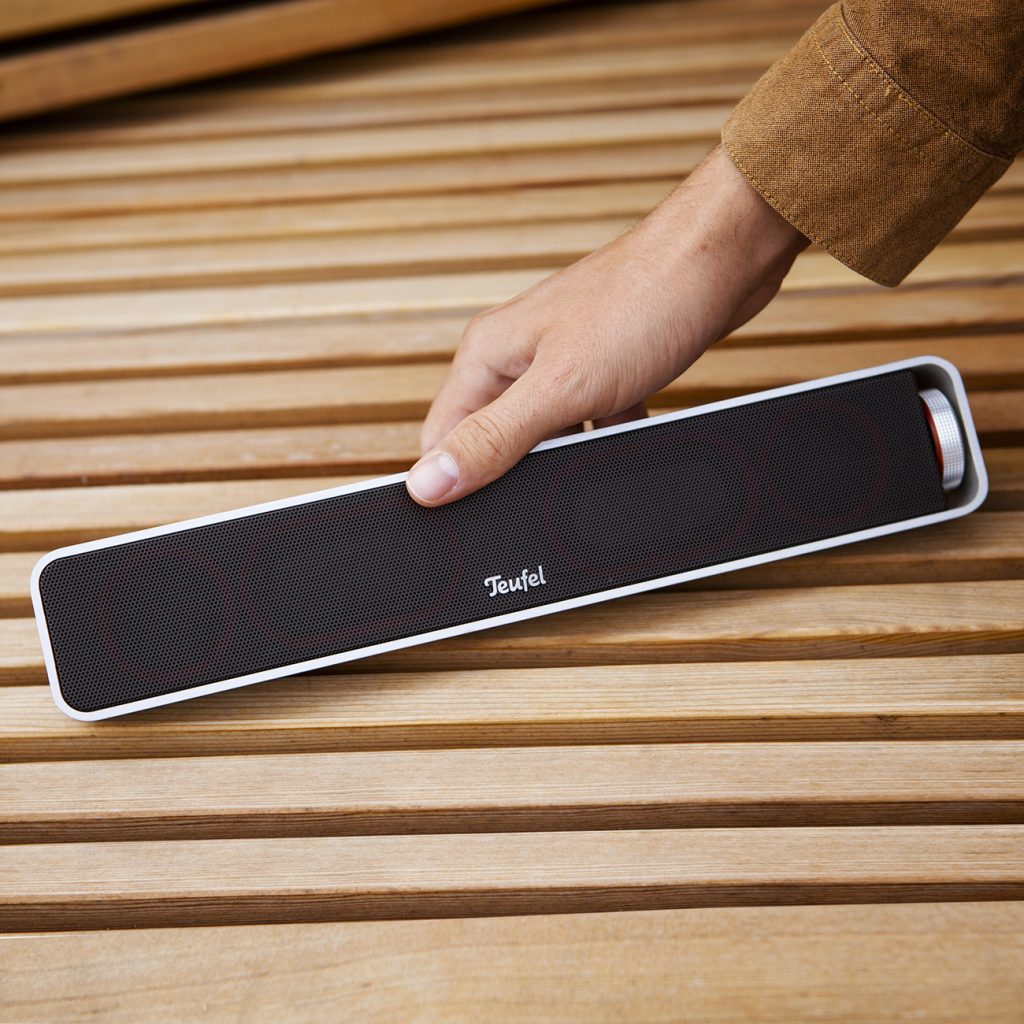 The middle way: Portable mini-soundbars for smartphones
The next step up from the BAMSTER XS in terms of size and power is the BAMSTER. This handheld Bluetooth soundbar can't be stowed in a pocket, but is still small enough to be tossed into a bag or backpack. Crank up the volume in your vacation rental and you'll be surprised at what the BAMSTER is capable of. Advanced broadband drivers and stereo construction make it a good choice for enjoying movies and series with laptops on the go.  A 12-hour runtime keeps the sound coming even when far from mains power. For those who enjoy more powerful bass, the slightly larger version of the BAMSTER, the BAMSTER PRO, offers just that. Enjoy deep rich bass along with the same long runtime and crystal clear sound.
Another mid-sized option that's especially practical for those who love the outdoors is the ROCKSTER XS. Like the BAMSTER XS, BAMSTER and BAMSTER PRO, the ROCKSTER XS is fashioned from solid aluminium for a strong build. In addition, the handheld speaker has a moisture-proof design and protective silicon bumpers, making it something of the mini-SUV among Teufel speakers. Like the BAMSTER family of portable devices, the ROCKSTER XS can play back audio via Bluetooth and AUX in. Thanks to a passive subwoofer, the little ROCKSTER can push out respectable bass levels although not quite as intensely as the BAMSTER PRO.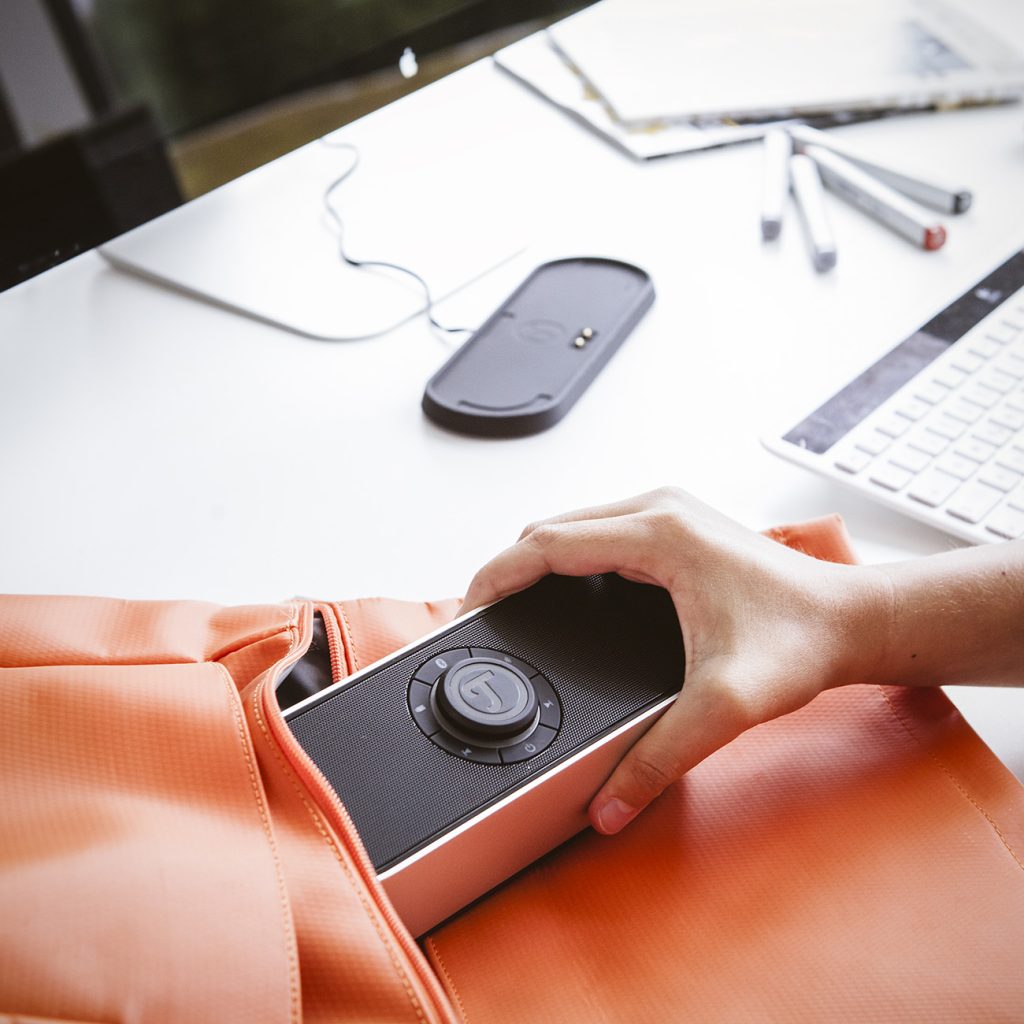 Larger mobile speakers for strong arms and discerning ears
What about those times when you need just a little more power and a bigger sound? The step up from Teufel's BAMSTER in terms of portable sound is the BOOMSTER range of next generation boomboxes. A total of 5 drivers, including downfiring woofer, allows the BOOMSTER to really push out the levels. Both a radio and a Bluetooth speaker, the BOOMSTER is equipped with a 10-hour lithium battery as well as AA battery option. A sturdy aluminium handle makes it easy to take the BOOMSTER everywhere, although this is not something you'll just be tossing into your handbag. For an even bigger portable sound, Teufel offers the BOOMSTER XL.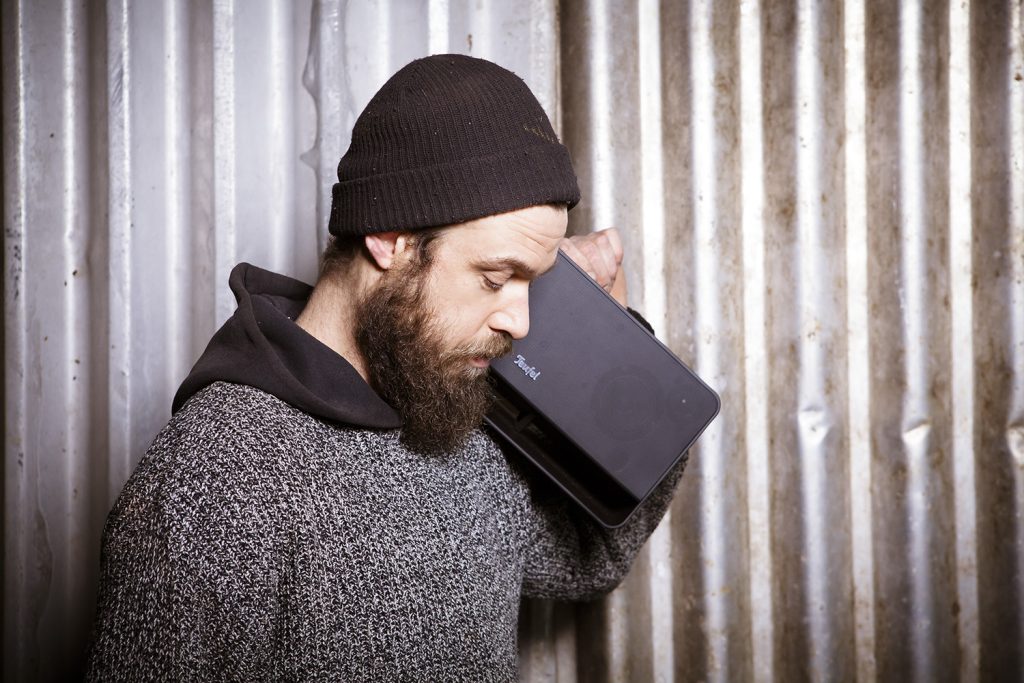 Pushing the concept of mobile speakers to the limit
We presented the ROCKSTER XS, now meet his big brother: 450 watts of super-sized party power. Integrated wheels help you get the ROCKSTER to the party where it can blast up to 11 dB of incredible sound with ground shaking bass. If the integrated 8-hour battery should run out, the ROCKSTER can be powered by a 12-volt car battery. The behemoth Bluetooth speaker makes it possible to pair two smartphones at once for collaborative (or competitive) playlists.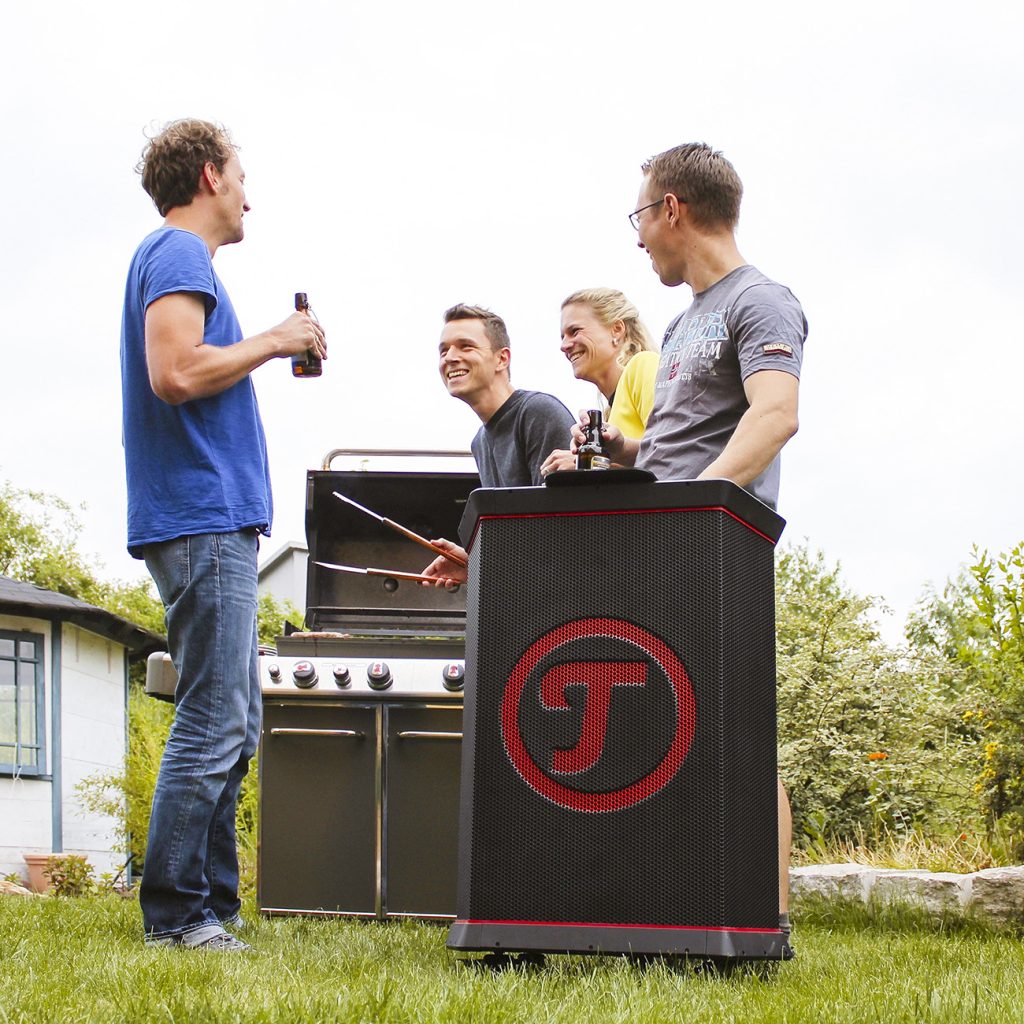 Getting the most out of Bluetooth with speakers for smartphones
Bluetooth is a great way to stream music. It offers the advantage of being completely independent of Wi-Fi and other networks along with low energy use and fairly universal adoption. Nearly every portable device comes equipped with Bluetooth these days. The downside to Bluetooth is a limited range – up to about 10 meters. The upside is its simplicity and ease of use. All that's required is a Bluetooth source and playback device.
The audio quality possible with today's Bluetooth is very high thanks to the Advanced Audio Distribution Profile (A2DP), a codec design for high quality stereo sound. For even better sound quality, look for smartphones with the aptX codec. If both the source device and speaker support aptX, the user can enjoy a high-definition sound that most people can't distinguished from a wired connection.
Since many Teufel Bluetooth speakers offer aptX for the very best quality wireless sound, you'll want to make sure you have a smartphone that supports this compression codec. The following list of products  with the aptX codec is a good guide.
One more thing to look out for is Near-field Communication technology, or NFC. If both the smartphone and Bluetooth speaker are equipped with NFC technology, the two devices will always spontaneously connect whenever they are in range after an initial pairing procedure.
Coda: Speakers for smartphones let you enjoy your audio out loud
•    Smartphones don't sound great as they don't have enough space for decent speakers
•    Even the smallest portable speakers will enormously improve the playback from your smartphone
•    There is a trade-off between size and sound quality, especially when it comes to bass
•    Nearly all mobile speakers use Bluetooth due to its ability to stream independently between source and playback device
•    Current generation Bluetooth devices with the Advanced Audio Distribution Profile will be able to play back high quality audio in stereo
•    If both the smartphone and speaker support the aptX codec, high-definition sound is possible
•    If both the smartphone and speaker support NFC technology, pairing the two devices will be effortless
All pictures: Property of Teufel Audio