Everyone's been there. There's a melody you can't get out of your head. It might be a commercial jingle but then maybe it was that song you heard at a party last night. Who sang it? In the past, there weren't many options other than bombarding friends and family with, "you know that song? The one that goes like this…" For the off-key and singing impaired, a humiliating experience and one that can strain the strongest of relationships. Thankfully, the internet and smart algorithms have given us other options.
Tracking down songs with audio fingerprints
Music recognition apps make it easy to find the name and artist behind a familiar melody. Popular apps like Shazam and Track ID use your smartphone's microphone to record an audio sample. This is a practical way of identifying all the songs we hear in restaurants, within television shows or on the radio. Shazam uses the audio sample to create an acoustic fingerprint which it then compares to its enormous music database. The songs that are found can then be immediately played or added to a Spotify playlist.
Since Shazam's data bases are accessible via the cloud, the service requires an internet connection in order to work. Shazam, however, also offers an offline mode. This allows the user to enter a melody sample at any time for analysis once the device has access to the internet again. The software is pretty good at finding a match but can run into difficulties if, for instance, there are voices in the background or other sounds that get recorded along with the melody.
When all you have is your memory
It's nice to be able to record a song you've heard, but what about the songs that simply haunt the mind and won't go away. How can these be matched? The music recognition app SoundHoud is able to match songs to whistled or hummed sound samples. Naturally, the software is not always able to find a match. Its accuracy varies according to the popularity of the song and the quality of the whistling and singing. Like Sharzam, SoundHoud is connected to the streaming service Spotify. Like Shazam, SoundHound also offers the ability to match recording audio samples along with a range of voice commands for handsfree control such as, "What song is this?" – a practical option for enjoying music in the car.
Up to now, we've covered apps that recognize songs based on the melody. But can't a song's unique beat be used to track it down? If you have a good sense of rhythm, musipedi.org offers a fun way to identify infectious beats. Simply hit the space bar according to the sequence of the song's rhythm for a chance of finding a match in the database. There are also open source platforms that track down songs based on a hummed or whistled melody.
Find a song from a snippet of text
If you have more of a memory for lyrics than melodies and rhythms, you can use the song text to track down the title and artist. Often simply googling a bit of song text along with the words "lyric" or "song" works. In addition to google itself, your search results will likely include sites like metrolyrics.com. The advantage to these sites is that they show the entire song text, often with writing and publishing credits and an audio sample. Genius.com also provides users with alternate recordings and user commentary.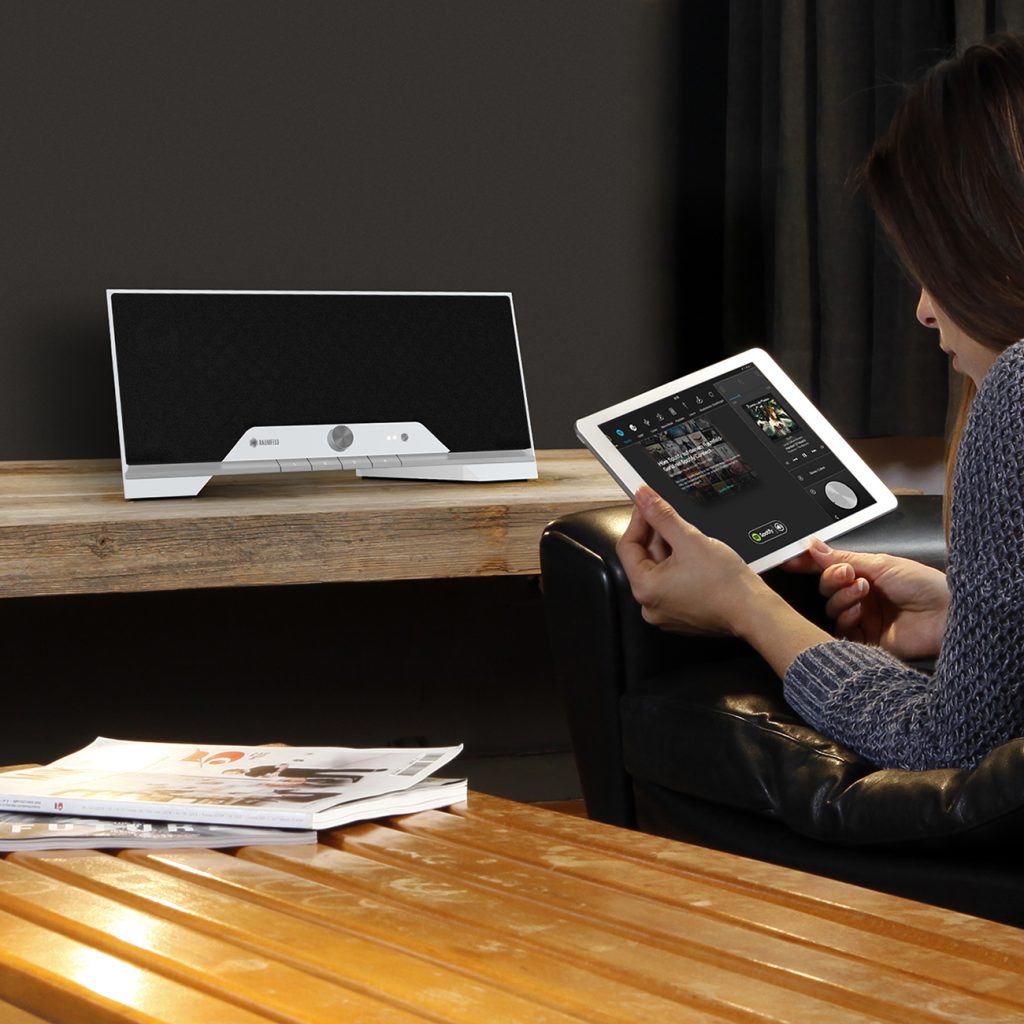 Raumfeld helps you find and play just about anything
Internet radio, music streaming and more – Raumfeld combines hi-fi sound with streaming technology. Find a song using a music recognition app on your smartphone and play it back from one of the many apps integrated into Raumfeld or supported by its Chromecast built-in technology. With the Raumfeld multiroom system, you can add your newly found song to your favourites, playlists or play it back it multiple rooms.
• ✔ Raumfeld Sounddeck: The Wi-Fi sounddeck offers six drivers and two downfiring woofers for hi-fi sound and thrilling bass. The solid wood speaker with aluminium accents serves as a sturdy and beautiful pedestal for your television.
• ✔ Raumfeld Stereo L: Enjoy a live concert in your living room from these powerful streaming towers. The fully active stereo pair with integrated 400-watt amplifier plays back audio from over 100 music apps.
Coda: Stop pining for that song and start enjoying it!
• Music recognition apps like Shazam recognize audio samples of songs and match them to titles within their data base
• The app SoundHound is even able to match whistled or hummed melodies to real recordings
• Music recognition apps help users find a song by creating acoustic fingerprints for comparison
• Musipedia.org allows users to tap out rhythms on a space bar for possible matches
• Matching song lyrics can be easily done via google or through a specialty site for more background information
Title picture: Property of Teufel Audio