We all love to do a bit of online shopping, sadly, however, it isn't always the safest place to shop. Believe it or not, online there are actually whole "online stores" that are completely fake and scam people. As we've been selling online since 1997 via Teufel.de (now available at Teufelaudio.com), and rely heavily on uses trusting our site, we decided to help you to spot fake shops online. Read on as we present you with tips on how to spot fake online stores.
Tip 1: Contact details
Online stores are required to have a reachable address. This is often found in the Impressum, likely located at the bottom of the page.  It would also be expected that an online store has a contact email or number. But be warned, just because there is an address and number shown, it doesn't always mean it's correct. If you're unsure, it's better to quickly proof the address for you splash the cash.
Tipp 2: Clear and precise
Buttons involved in the buying process have to be clearly labelled. You will often see "Buy Now", "Order now", or "Add to basket"  – and not just "continue" or "register". If we're honest no one reads the terms and conditions when buying a product. But in the case of uncertainty when shopping online, check them out! Look out for strang terms, especially involving the Right of Return, and also pay attention to the language used and if there are spelling errors.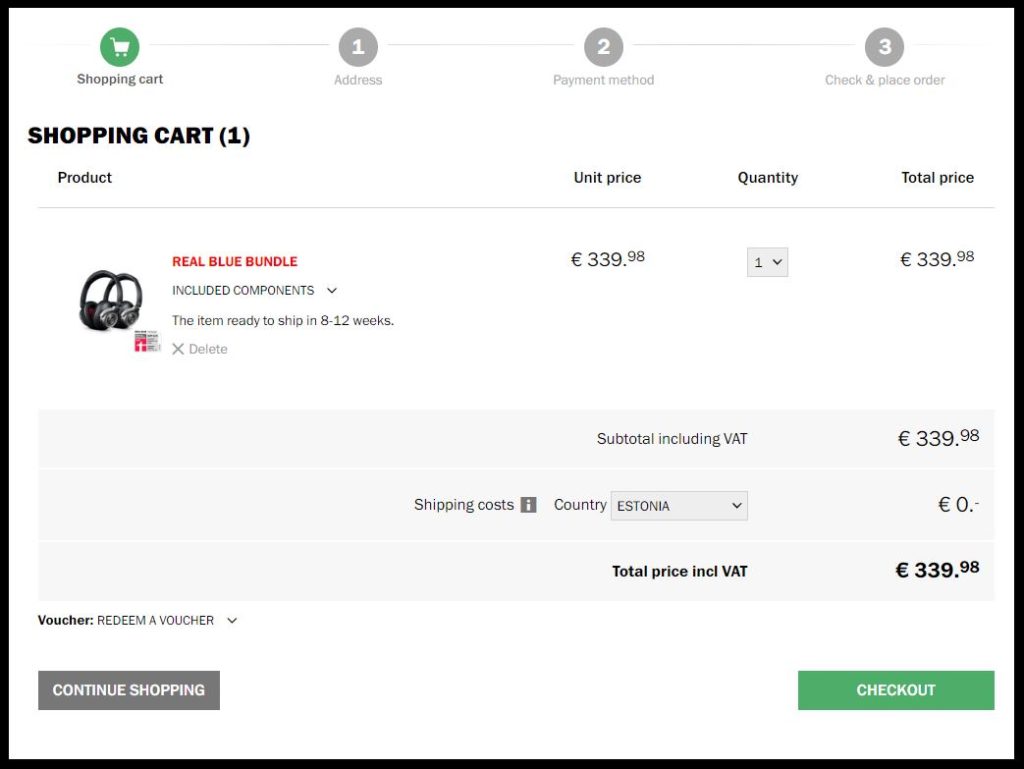 Tip 3: Pay attention to the price
To entice you in scammers will present amazing once-in-a-lifetime deals that seem just too hard to miss out on. However, as soon as a price is significantly lower than the entire competition or a product is offered which, according to the manufacturer, has not been available for a long time, this can be quite suspicious.
Products from the Teufel online store
Tip 4: Customer feedback
Positive feedback is a great sign when shopping online as it shows some credibility. However, should the feedback be overly hyped, placed directly in front of you, and the feedback is nothing but outstanding, then perhaps things could be fishy. Usually, feedback is located somewhere at the bottom of the page and should vary. Nowadays, websites can integrate trusted independent feedback platforms such as Trustpilot and Google Reviews. The reviews on these websites can always be trusted and can help you figure out if a shop is real or not.
Tipp 5: Check the seal of approval
Seals of approval are intended to indicate to consumers that they can shop safely here. Unfortunately, however, even these seals are not completely forgery-proof. Some fraudsters simply copy them and paste them into their online shop. Often, however, you can quickly check their authenticity. With the well-known seal from Trusted Shops, for example, you can find out whether a current certificate is available by clicking on the seal. The same applies to seals of approval from TÜV Saarland, which you can also find in the German Teufel webshop.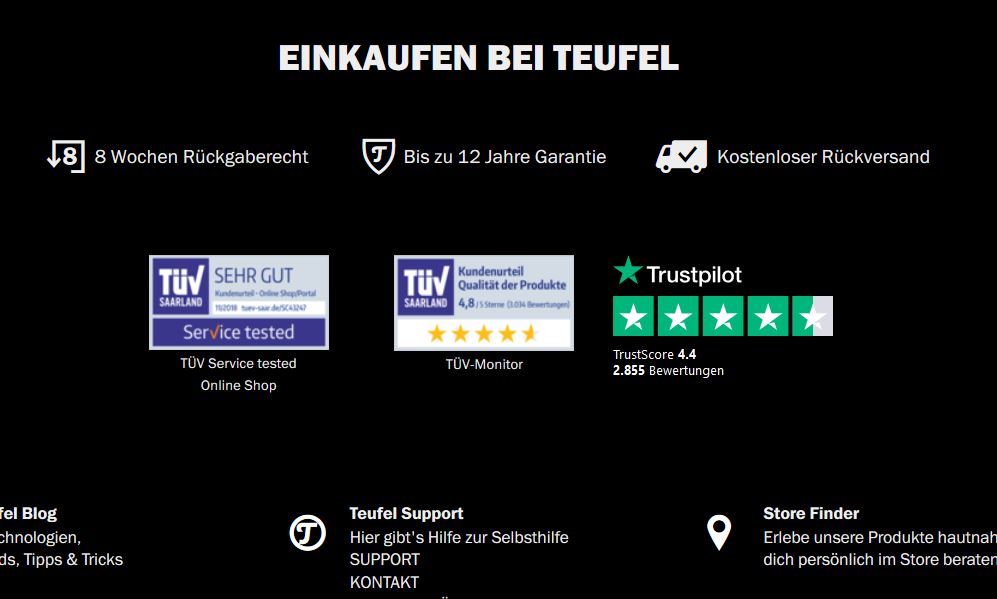 Tip 6: Watch out for a variety of payment methods
The payment methods prepayment or instant bank transfer are in principle not suspicious, but should never be the only available options. Because with these payment options the money is gone in case of doubt – even if you never receive your goods. With PayPal, for example, you are protected and can reclaim your money much easier. You can recognise a secure online shop by the fact that you are offered many payment options. However, fraudsters are also tricky here: They mention other payment methods such as "purchase on account" or "credit card", but you cannot really select these options at the end of the ordering process or an error message will appear. This suggests to you that these payment methods just don't work at that moment.
Special case online marketplace
It is somewhat more difficult for customers in online marketplaces, where different sellers offer their goods. Even in large and trustworthy shops like Amazon or eBay, fraudsters can be found. The shop interface is always the same here and the imprint on the website concerns the operator of the marketplace, not the individual seller. A current expert opinion from the consumer advice centre, therefore, demands that it is precisely in such places that the rights of consumers should finally be protected more and that it must always be clear who is the contractual and contact person, even in online marketplaces.
Guaranteed not Fake: Headphones from Teufel
▶ AIRY: Hardly noticeable but clearly audible – that's the AIRY. Thanks to Bluetooth, nothing restricts your freedom of movement and you can rock out spontaneously to your favourite music. Thanks to effective external soundproofing, it penetrates your ear in a targeted and undisturbed manner. ▶ REAL Blue NC: You don't want to be distracted by the world around you while listening to music anymore? Then put on our noise-cancelling headphones. The REAL Blue NC safely envelops your ear and provides precise sound under the auricle.
More headphones from Teufel
Conclusion: How to recognise a secure online shop
One of the most important indications is correct and complete imprint.
If the online shop only offers prepayment or if the other payment methods indicated do not work during the final order process, a purchase on this page is not recommended.
As soon as something seems strange to you, take a closer look to see if you recognize any further indications of a fake shop.
You can find our official shops online: