Since January 16th 2023, the new HBO original series The Last of Us has been available for streaming on WOW and Sky Q (at least at our home in Germany). And since then, it's earned heaps of praise from gamers and film critics alike. Here at Teufel, we are also pretty into it, though we have a few questions. What is the steaming quality on the various platforms? And what about audio? In this article, we aim to answer those questions with (almost) no spoilers while also bringing you up to speed.
For The Last of Us newcomers: What is everybody talking about?
The Last of Us is the first HBO adaptation of a video game and is based on a cult game of the same name. We even wrote about it before in an article on the best game soundtracks ever. The premise is that, 20 years ago, there was an outbreak of a mutated fungus, which turned planet Earth into an apocalyptic zombie hellscape. But that isn't exactly right. Because these "zombies" are referred to as "infected," or mutants.
Like in I Am Legend and World War Z, the remaining people do what they can to survive. The Last of Us stars tight-lipped smuggler Joel (Pedro Pascal) and rebellious teen Ellie (Bella Ramsey). Joel escorts Ellie through the grim landscape of a future America because she may be the key to finding a cure for the disease. Episode one also goes into the backstory around Joel's daughter Sarah, though the main storyline continues in episode two. And overall, the creators never shied away from dramatic plot twists…
Watch the trailer here:
Video game adaptations have a troubled history…
As soon as it was confirmed that the gaming masterpiece was coming to the small screen, a wave of skepticism swept the internet. There have not been many good video game adaptations in the last few years. The situation is very similar to when books are put to film – the fans are always afraid of being disappointed. As a rule, the movie or series is just not as good. And that disappointment often leads quickly to anger. Many are left wondering if it was all just an attempt to make a quick buck.
Anyone who played the games knows that they were already very cinematic. Excellent story-telling, great characters. And that leads to a reasonable question: Why bother making it into a TV show?
Opinions on the matter are split. It may perhaps be a fundamental question. For some, the movie or TV version can simply never live up to the original. Others are more open and believe that adaptations can bring new perspectives to old material, meaning its okay to change the atmosphere and look. We think the TV format like that brings a lot of potential that can expand on the game's already great story.
Brass tacks: our conclusion on The Last of Us
First of all, personal opinions are of course always very subjective. Nevertheless, we would like to share our thoughts and impressions outside of objective description so you can better determine if the series could be right for you.
The online community has spoken. The internet is full of comments like:
"It would have been impossible to make the first episode better."
"I played parts 1 and 2 all the way through 10 times. The show is awesome. The way game adaptations should be."
"The first season was 10/10!! Awesome start, and very faithful to the game."
That near universally positive buzz has then been backed up by near universal acclaim from critics. In Germany, for instance, it has garnered praise from the likes of famous film critics Robert Hofmann and Sebastian Gerdshikow. Although Hofmann criticized the series for having a "clicker problem," meaning there were a lot less infected than in the game, his overall view was positive. His criticism was fair, too. In many season 1 episodes, infected are practically nowhere to be seen. On the other hand, the creators put a lot of emphasis on fleshing out the main and secondary characters, which came out great.
Season one definitely met our expectations! Early on, our opinion was that the success of the show would depend completely on sustaining the chemistry between the two main characters. In the beginning, Joel and Ellie clash often, but over time they grow to be a team and even forge a kind of father-daughter bond. But now that the series is over, we can say they not only pulled it off, but that The Last of Us is one of the most amazing and intense shows in a long time.
The makers of The Last of Us took plenty of time to tell the stories of characters who only appeared in a single episode such as Bill and Frank from the third one. It drew us into their story and made us feel sympathy and excitement on a level we otherwise never would have. At times, when the characters we got attached to left the series, things got emotional. But we don't want to spoil too much.
Another thing we really appreciated were the amazing set designs, such as the ruins of Boston in episodes 2 and 3.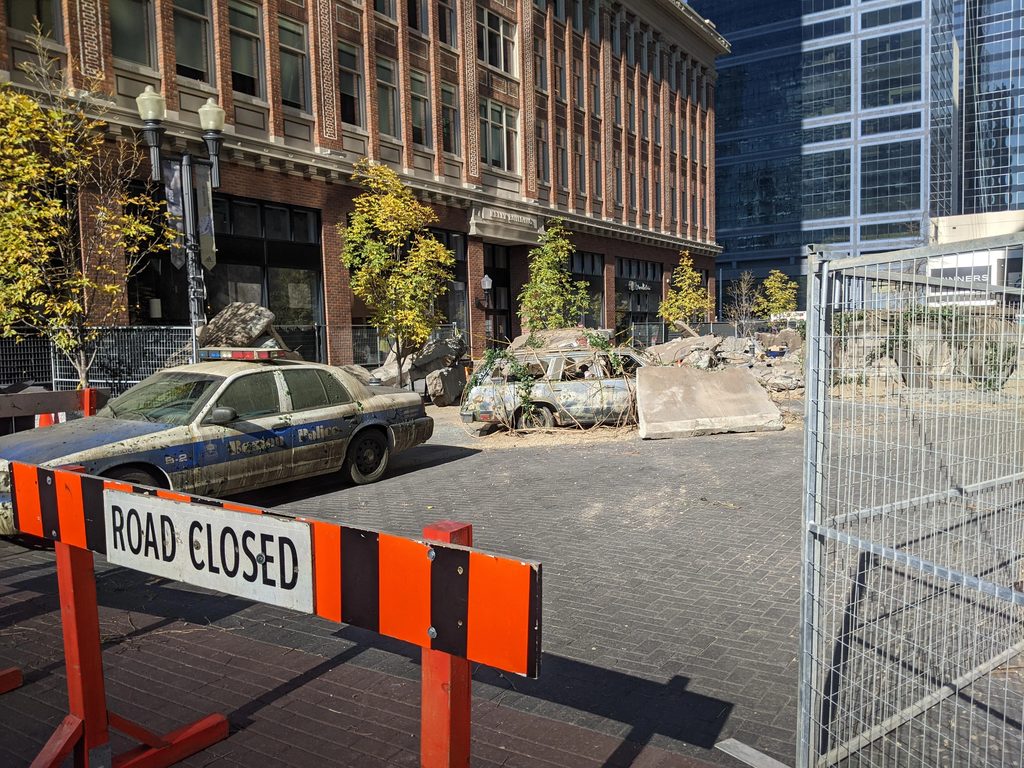 The series makes several jumps back into the past. And those flashbacks really round out the story because they answered some of our most burning question. But it wasn't just that we wanted to know the story. We want to experience it firsthand. And that was exactly what the creators delivered.
For example, in the intro to episode one, we see a talk show from the 1960s where a scientist waxes philosophical about the potential danger of mutated fungi in the future. A reference to modern-day debate shows discussing climate change in a world where we aren't doing enough to combat it?
In episode two, we also get a glimpse of how the apocalypse started and how the cities ended up bombarded. And the whole season is full of similar flashbacks. In episode nine, we first are shown why Ellie is immune. That was never even in the game. A tip of the hat to the creators for deviating from the game material there.
Read also: Ready to revisit the game and want to know more about how AAA game designers approach the issue of audio, and why its so important? Check out our interview with a 3D artist on the topic.
Teufel soundbars to up your binge-watching game
Where can you stream The Last Of Us?
The Last of Us is currently available on WOW, Sky Q, and Amazon Prime Video in Teufel's home country of Germany. Elsewhere, it can be found on HBO Max, and Apple TV.
Is there any way to stream The Last of Us for free?
Neither WOW nor HBO Max are currently offering trial subscriptions. However, in Germany you can get WOW for €7.99 a month with a 6-month subscription, or €9.99 with cancellation any time. As of 16/03 you can also find the series on Amazon Prime Video, which does offer a 30 day free trial.
When is the next season coming?
Though it has been announced, production on season two has yet to begin, so it will probably be a while. Avid fans can always play back through the game and DLCs if they're craving content.
Who is The Last of Us for?
Any Walking Dead fans who don't know what else to watch after that series ended. There are definite parallels, though The Last of Us is obviously more centered on the relationship between Joel and Ellie, while The Walking Dead wove many storylines together. Any fans of the game, or simply drama in post-apocalyptic settings are sure to enjoy it as well.
Can I stream The Last of Us in UHD and Dolby Atmos?
Yes and no. Currently, Dolby Atmos is only available for the original English-language soundtrack. All dubs are currently only in Dolby Digital Plus (DD+). If you want to enjoy The Last of Us in Ultra-HD in Germany, you can do so with the UHD package from Sky, the new Sky Q receiver, and a UHD-capable television. If there is no high-resolution image format shown, make sure your receiver has the newest firmware installed.
Get the best sound for your The Last of Us binge watching session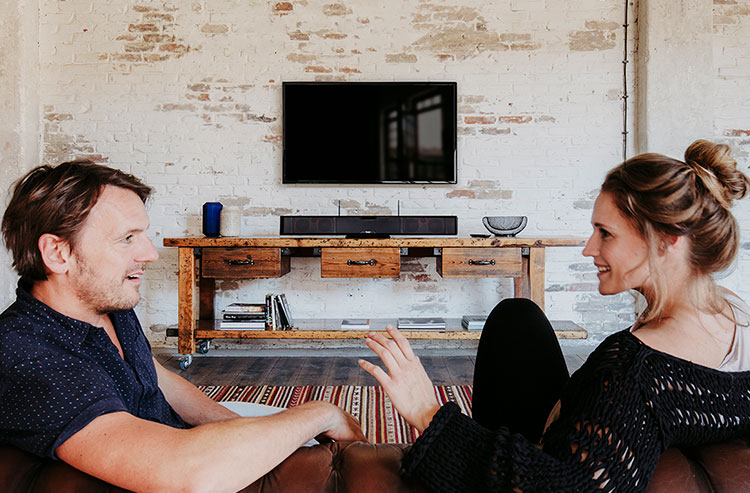 ▶ CINEBAR PRO: Want to bring the movie theater feel into your living room without the space requirements of a classic home cinema system? With our Dynamore® Ultra Technology, the CINEBAR PRO delivers high-end virtual Surround Sound. Booming bass, crystal clear tone, and strong output. It's the perfect way to immerse yourself in the world of The Last of Us and other blockbuster series.
▶ Reflekt: They may look minimalist, but their sound will blow you away. Our Reflekt speakers put you right in the middle of true 3D sound! It's also easy to combine with your current Surround system. Extremely practical with a switch on the back! You also have the choice to either mount them on the wall or simply place them free standing.
▶ Find more Dolby-Atmos speakers and compatible home cinema sets in the Teufel Webshop.
Read also: Looking to upgrade your gaming setup? Learn what to consider when buying gaming speakers. An absolute must for horror games that rely on hearing, like The Last of Us.
More Dolby-Atmos ready sets from Teufel
Key takeaways on The Last of Us
Available for streaming since January 16th on WOW, Sky Go, or HBO Max depending on country. All 9 episodes of season 1 available since March 13th. You can also watch the series on Amazon Prime Video.
This end-times drama takes a lot of time to explain the central relationships and characters.
Experts and fans are in agreement: the creators pulled it off. The DNA of the original game permeates the series very effectively.
The series goes into more detail on the background of several side characters from the game, which was also very welcome.
If you want to watch in UHD and Dolby Atmos, there are prerequisites. You may need a special UHD subscription to your streaming service, and a special receiver. You will also need a UHD-capable television.
Season 2 is coming, but we don't have a firm date. Unlikely to be out before the end of 2024.