Sometimes music streaming also has its drawbacks. For example, when you want to switch from one streaming service to another, what do you do with your personal music library and playlists that you have created over the years? You obviously don't want to start from scratch or invest a lot of time copying playlists into a new home. Don't worry – there are several apps that offer a solution for exporting media libraries to make your life easier. We took a closer look at three of them.
Soundiiz – for entire music streaming media libraries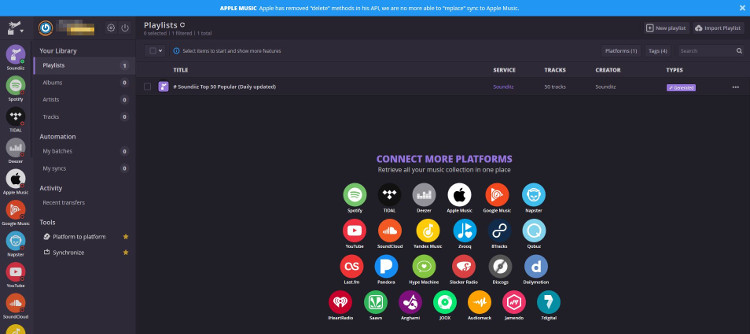 Soundiiz is a free and really helpful tool. A nice advantage is the web app – it means that you don't need to download the app to desktop PCs or smartphones. As you can see on the screenshot above, not only well-known and less well-known music streaming services are compatible with Soundiiz, but also social networks with a music focus such as 8Tracks and LastFM. Once the respective streaming service has been connected to Soundiiz, exporting a playlist is simple and intuitive: just select the three points on the right and activate convert to.
Teufel Bluetooth speakers
The "Platform to Platform" function is also very convenient. It allows you to transfer all saved data (playlists and favourites) at once. However, this feature is only available in the premium version. The same applies to the export of favourite albums and artists. The premium version costs a maximum of 4.50 US dollars per month and can be cancelled anytime. Despite the large selection, there is one large streaming service that Soundiiz does not cover (as of September 2018) – Amazon Music. You can use another app for this service.
Advantages and disadvantages:
+ Free and easy transfer of playlists between many platforms
+ Thanks to the web app, no local app download is required
+ Saved favourites (artists and albums) are transferable (Premium only)
+ Automated synchronisation between services (Premium only)
 ‒  Amazon Music not covered
‒  Premium version can only be rented
Stamp – Amazon Music specialist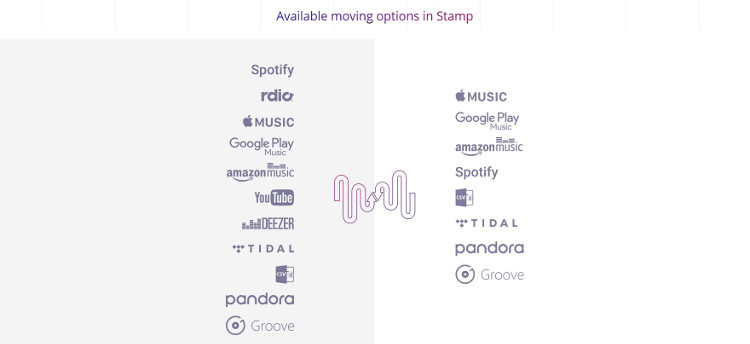 Unlike Soundiiz, Stamp also features Amazon Music. Otherwise, the two apps work very similarly in how they transfer playlists and saved albums between platforms. However Stamp does not perform so well when it comes to certain functions. Even in the paid version you may search in vain for an export possibility for saved favourites. Furthermore, while Soundiiz allows you to transfer 200 songs within a playlist, Stamp is limited to 10 songs. The removal of this restriction costs €9. You can download Stamp as a mobile and desktop app for Windows, Linux, Mac, Android and iOS.
+ Slim user interface and intuitive mobile and desktop apps
+ Amazon Music is covered
+ You can purchase the complete app
 ‒  10-song limit in playlists
 ‒  You cannot transfer favourites, even in the paid version
SongShift – exclusive for iOS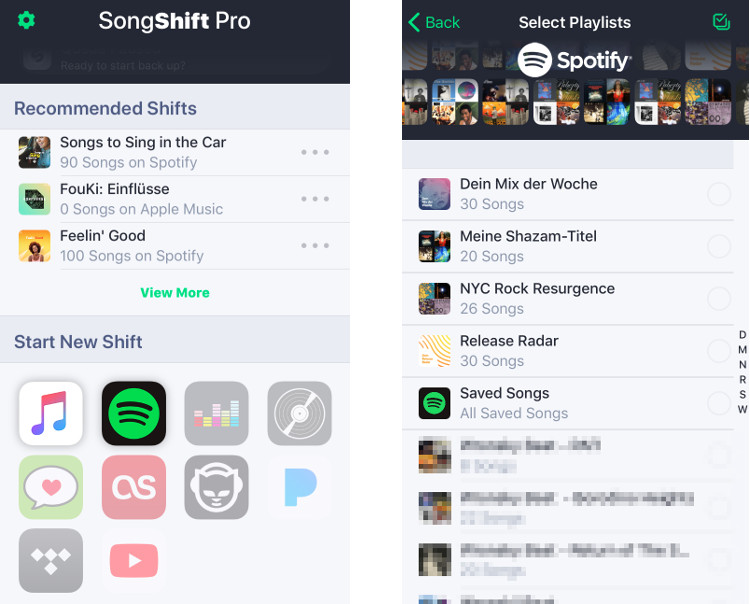 SongShift is only available for iOS, but for users of this system it is a pretty good solution. The user interface is minimalist and the operation is well-tuned to iOS (with 3D touch for shortcuts). Similar to Soundiiz, SongShift also includes music-oriented social networks like LastFM. It doesn't include 8 tracks, but you can transfer lists from Discogs and Hypemachine. One of the core features of the premium app is the automated synchronisation between fixed services. What's missing here is an option to transfer saved albums and artists.
+ Slim and easy to use app for iOS
+ Permanent premium app after one-time payment
+ Transfer up to 100 free songs per playlist
+ Automated synchronisation between services (Premium only)
 ‒  Amazon Music is not covered
 ‒  You cannot transfer favourite albums and artists
 ‒  You can only transfer one playlist at a time in the free version
NB: With SongShift and Soundiiz you can export Spotify playlists to CSV files. If you are only interested in the CSV export function, you can also use this web tool.
Next level streaming sound with Teufel Streaming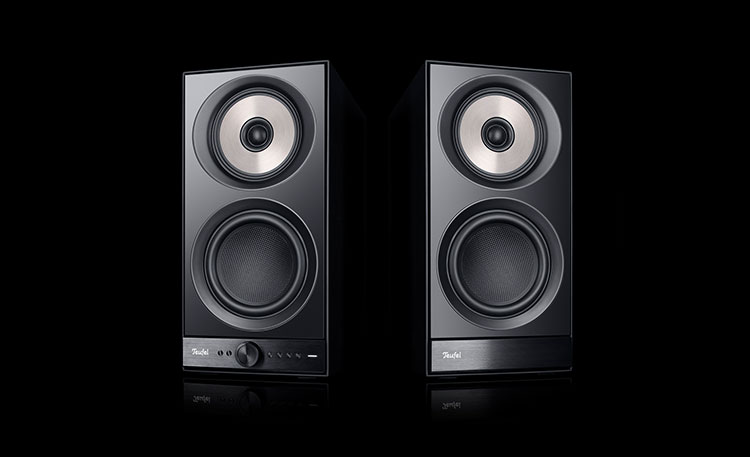 ▶ Stereo M: This multi-room stereo set combines Hi-Fi sound with the power of music streaming. A 3-way system with a Kevlar woofer delivers first-class sound across the entire frequency range, even at high levels. The Teufel-Raumfeld app (Android and iOS) serves as the control centre, allowing you to set up and control multi-room systems as well. It is also possible to set up a voice control connection via Amazon Echo and Google Home.
▶ Soundbar Streaming Easy: A soundbar and subwoofer duo that is a master of all audio playback: home cinema sound, music streaming and multi-room integration. 7 sound converters within the Wi-Fi soundbar  produce a spatially differentiated sound, whilst a compact wireless sub takes over the low frequency range.
Teufel multi-room speakers
Conclusion: moving and exporting playlists
Soundiiz is a free tool for synchronising playlists. The paid version can also transfer favourites.
In contrast to Soundiiz, the Stamp app also covers the Amazon Music music streaming service.
SongShift is a powerful streaming relocation app only for iOS. The premium version allows for automated playlist synchronisation between different services.
Various web services as well as SongShift and Soundiiz allow you to export playlists from Spotify and co.to CSV files.
Cover photo: Hemin Xylan/Shutterstock