Mix different tracks, create flowing transitions or make your own sounds by rotating the turntables and using different noises and instrument sounds. With DJ apps for iOS and Android, it's all possible to do right from your smartphone or tablet. For example, you can play two songs in parallel, mix them and switch back and forth as you fancy. You can also play the music slower or faster, and put filters and effects over the tracks. As a rule, a DJ app can access different streaming services such as Spotify, Deezer or SoundCloud and also use playlists stored there.
3 DJ apps for Android and iOS
The range of DJ apps is growing and growing – whether free of charge or at a small cost. The following three DJ apps are available for both Android and iOS and are consistently at the top of the charts with fans.
Djay 2
The developers of Djay 2 have been familiar with DJ apps for a long time and deliver a very solid product with this app. It offers many options: in addition to basic effects such as loops, adjustment of the playback speed and beats per minute (BPM), the tool also offers various effects for changing musical pieces more creatively. Cutting and reassembling songs is also no problem. Additionally, you can use the scratch function to feel like a real DJ. Djay 2 can use music data from the memory of your smartphone or tablet as well as from Spotify – provided you are a subscribed member of the streaming service. You can also easily record your own sounds and play them back later.
Edjing Mix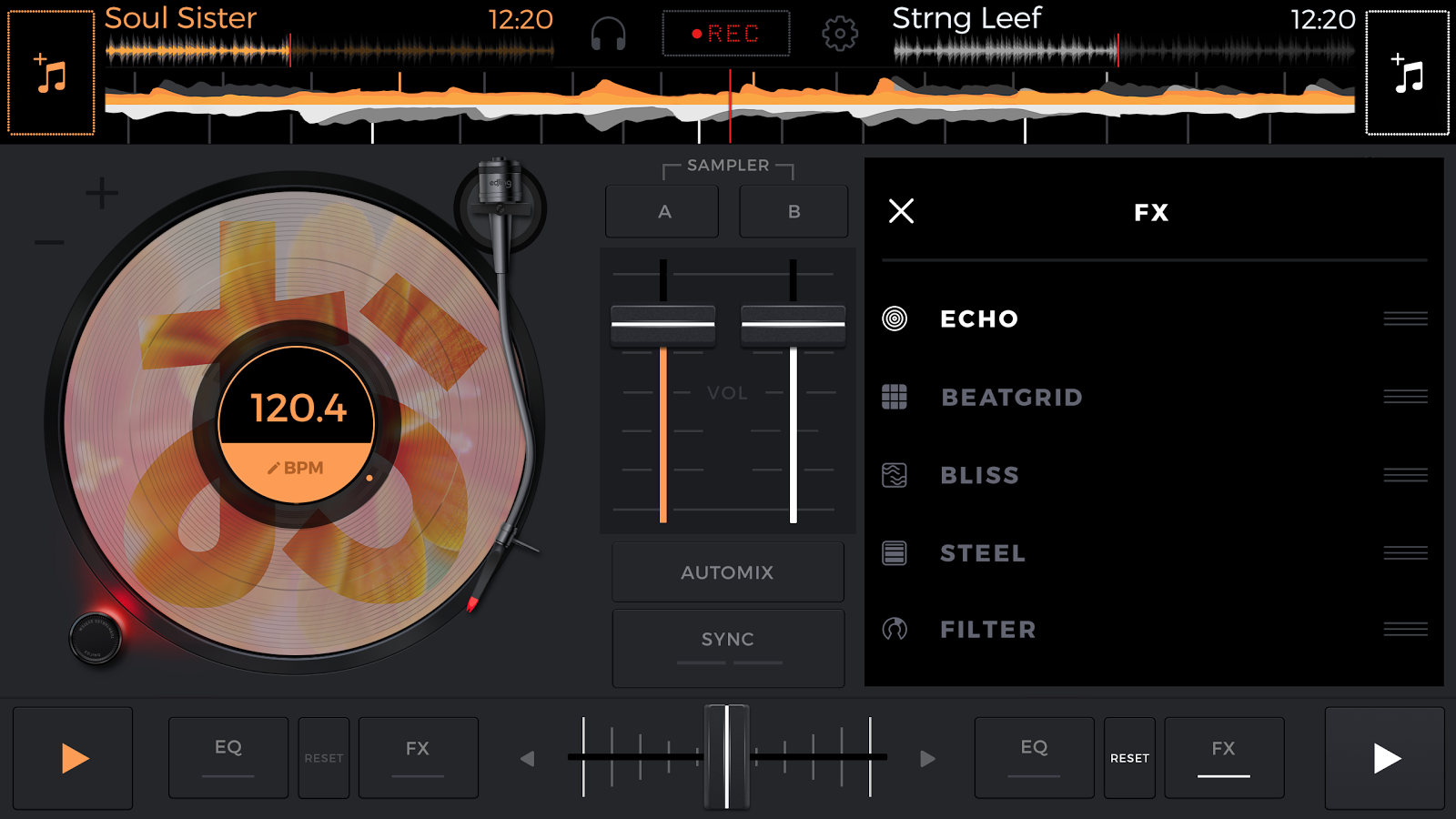 Edjing Mix is also a highly recommended app for music lovers. An equalizer, various sound filters and effects as well as control over the BPM offer everything you need for sound mixing. Thanks to the well-arranged system you can prepare songs easily and play them continuously without interruptions. Edjing Mix also allows for a highly flexible integration of music, in contrast to many other DJ apps. It doesn't matter whether you use Spotify, Soundcloud, Deezer or iTunes. Music from You can also integrate music from Cloud storages such as Dropbox, iCloud and Google Drive with just a few clicks.
Cross DJ Pro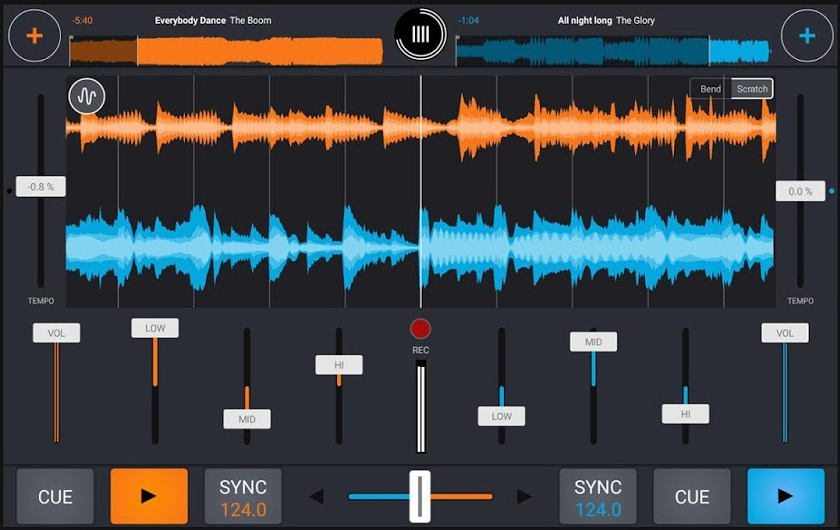 If the free Cross DJ app is not enough for you and you are looking for more in-depth mixing options, Cross DJ Pro could be the right choice for you. The many functions of this paid app are reminiscent of professional software for computers and really cover all bases. The intuitive user interface can be customised to suit your tastes. Thanks to a parallel waveform representation, it is super easy to synchronise two tracks – though that the app is happy to do this itself and will do it automatically if required. The DJ app responds to changes without delay and feels even more like a real DJ console -thanks in part to the very realistic scratch sound.
Not only for the road: rock your next party with a DJ app
DJ apps aren't just a quirky gimmick that you can use to put together a unique playlist for your morning run. You can also act as DJ at your next birthday party or on your friends' wedding night! To ensure that the music can be played on devices other than headphones, you need to choose the right streaming solution for the event. Teufel has a variety of multiroom streaming solutions, speakers that allow you to listen to the same or different music in all rooms around your house – and of course in the garden – at the same time without any problems.
Listen throughout the house thanks to the Raumfeld Connector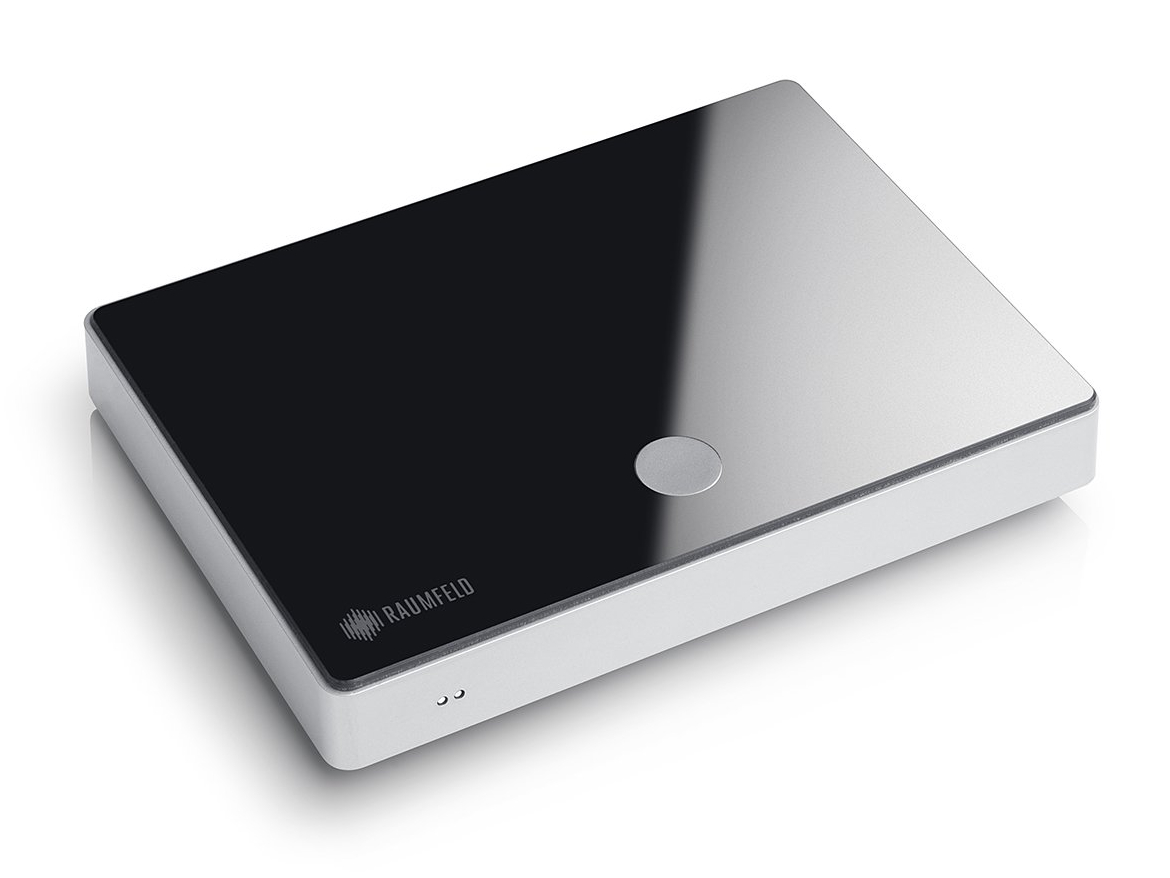 To do this, however, you first need a kind of control centre that allows streaming from the Internet and distributes the music to the speakers. With the Raumfeld Connector you can stream over any Hi-Fi system – even older devices that are not Wi-Fi enabled on their own. The connector serves as a link between your smartphone, tablet and other devices as well as the domestic speakers. Music is distributed to the various output devices via your home Wi-Fi network. You can play playlists stored on your phone or listen to music via Spotify, SoundCloud and other streaming services.
▶ Easy control via a free app for iOS and Android
▶ Multi-room streaming throughout several rooms
▶Allows streaming with any Hi-Fi system
▶ Equipped with a high-end Cirrus Logic™ digital to analogue converter (DAC) for lossless audio transmission
▶ Energy-saving standby mode
Conclusion: you can use DJ apps to create a unique sound
Mix your own sound with a DJ app – thanks to seamless transitions, various effects and realistic scratching sounds like the pros.
Combine music from local device memory and numerous music streaming services.
Wide range of DJ apps for Android and iOS from freeware to professional software.
Fill your whole house with sound with a multi-room streaming system.
More Teufel Streaming products: