The undeniable king of online videos is now transitioning to the music streaming world with a new app. YouTube will be joining the big players like Spotify, Apple Music and Amazon Music with a new streaming platform. But can the app keep up with its competition? We take a look at the pros and cons of YouTube Music and see if its up to the challenge.
Is YouTube Music any different from other streaming platforms?
If you are already familiar with Spotify and other streaming services, you won't find it difficult to find your way around the YouTube Music app. The user interface and core functions are similar to those of the competition. There is a comprehensive selection of titles that you can search, save in a library and organise into playlists; and the YouTube streaming app also collects data that can be used to create custom playlists. For example, when you launch the app, it asks you to select your favourite artists for this purpose.
As part of the Alphabet Inc. group, which includes Google, YouTube Music has access to a wealth of technical expertise. This means that the service can give particularly smart, tailored recommendations based on algorithms. These recommendations take into account not only listening habits, but also the location of the user and the time of day. So you will get different recommendations when you are enjoying your morning coffee compared to when you hit them gym after work. Location access can also be disabled.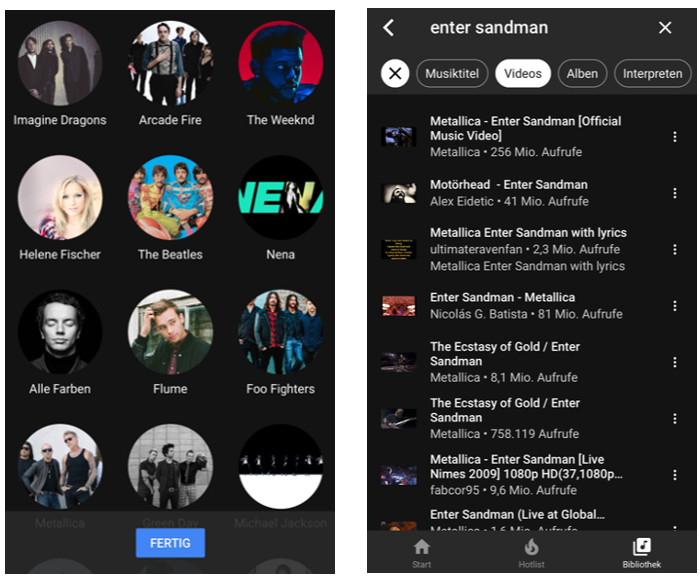 Advantages of YouTube Music
YouTube has succeeded in setting itself apart from the competition with the integration of music videos. As anticipated from the video platform, the app also features a huge selection of video material. You can also access playlists created in your classic YouTube account in the streaming app, however you cannot import your lists from Google Play Music, and neither can you import playlists from other streaming apps.
The user interface is clean both in the app and in the browser. There are only three categories in the navigation:
✔ Start: Personalised playlists are displayed here.
✔ Hotlist: Here you can see songs and videos that are frequently searched for.
✔ Library: Your added artists, songs, albums and videos.
One real weakness is the lack of a sorting function in the library (as of July 2018).
How functional is the free version of YouTube Music?
Similarly to Spotify, you can sign up for a free version of YouTube Music. You can access your entire streaming library using the search function and songs can also be grouped into playlists. This gives YouTube Music an advantage over the free version of the Spotify mobile app, in which songs are only played using a personalised algorithm.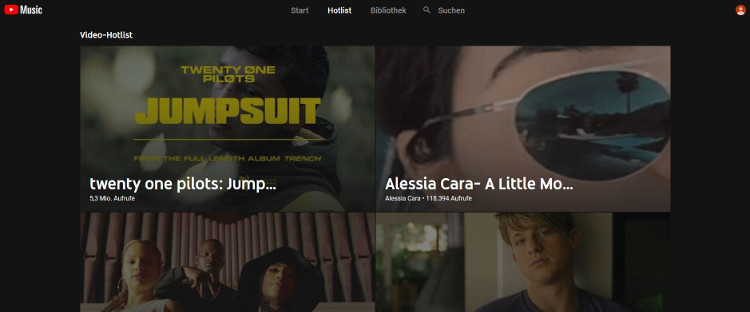 However, as with Spotify's free version, you do have to bare with advertisements on the free YouTube Music app. Another major disadvantage is that playback stops when the screen is locked or another app is opened, and is therefore not so practical for use when you are on-the-go.
Stream directly from your smartphone to Teufel Streaming speakers
Premium functions and streaming quality
The premium version, which costs €9.99 (there is a family subscription available for €17.99 for up to six members) per month does not include advertising and playback restrictions. Another important feature of the subscription is the "Offline Mixtape". This feature automatically saves up to 100 songs, depending on listening habits, on your smartphone. Videos can also be downloaded with the subscription. In addition, you have access to "YouTube Originals", series and films produced by YouTube.
With a 128 kbit/s (in AAC) compression rate, YouTube Music is lagging behind the competition. The standard rate is 256 kbit/s. However, YouTube has already announced that compression will be improved.
More important facts about the functionality of YouTube Music:
✔ Smart Search: The search function allows for a semantic song search, so you don't need to input the correct title and artist. For example you could search for "theme song la la land" and get City of Stars as a result or "kanye sample bam bam" and get Famous.
✔ No equaliser: Neither the app nor the desktop version are equipped with a sound equaliser.
✔ Audio and video modes: You can only switch from video to audio mode in the premium version.
✔ Test period: YouTube offers a one-month free trial period.
Teufel Streaming speakers: The right partner for every smartphone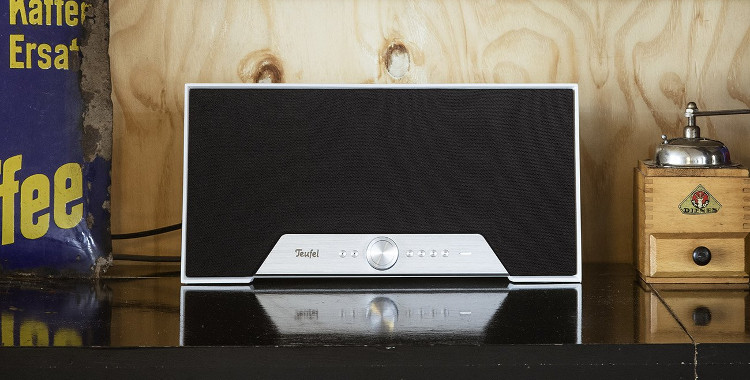 A Wi-Fi module, high-end sound converter, integrated streaming support as well as cable connections – with our streaming speakers and the Teufel Raumfeld app you get the full streaming package. YouTube Music users can connect their smartphone and tablet via Bluetooth or line-in.
▶ Teufel One M: Chic on the outside, WOW on the inside – the One M is a compact Wi-Fi speaker with Bluetooth (4.2) and integrated subwoofer. It is equipped with a jack connection and USB 2.0 so you can connect any audio player.
▶ Stereo L: These column speakers mean business. They combine the best stereo sound with streaming functionality. The 3-way system provides crystal clear sound in your living room. Raumfeld technology supports Spotify, Internet radio and NAS playback, among other things.
Teufel soundbars
Conclusion: what you need to know about the new YouTube Music app
YouTube Music offers classic streaming functions as an app and in the browser.
A big advantage is the integration of a large video selection within the streaming app.
The free version allows free song selection, but does not support background playback.
In the premium version, the "Offline Mixtape" automatically loads up to 100 songs into the local memory.
Title image: ©YouTube, Logo
Image 1 and Image 2: ©YouTube, Screenshots