Tablets are light and handy, but so thin there's not much space for integrated loudspeakers. It's therefore difficult to enjoy good sound without extra speakers for tablets. But before purchasing a sound system for your tablet, you should consider how and where you use your device. The following three questions will guide you to the right sound solution.
How will the tablet be connected to the speaker?
The first and perhaps most important consideration is how the tablet will be connected to the loudspeaker. Since tablets were designed for easy handling, a wired connection is undesirable. Thankfully, there are many great streaming options in a range of prices and sizes.
For several years now, Bluetooth has been able stream audio files in a way that guarantees good sound quality. But Bluetooth isn't the only option for those who want the flexibility of a wireless connection. Wi-Fi speakers can play back audio from a tablet that shares the same Wi-Fi network. The following is a review of the advantages and disadvantages of each wireless streaming option.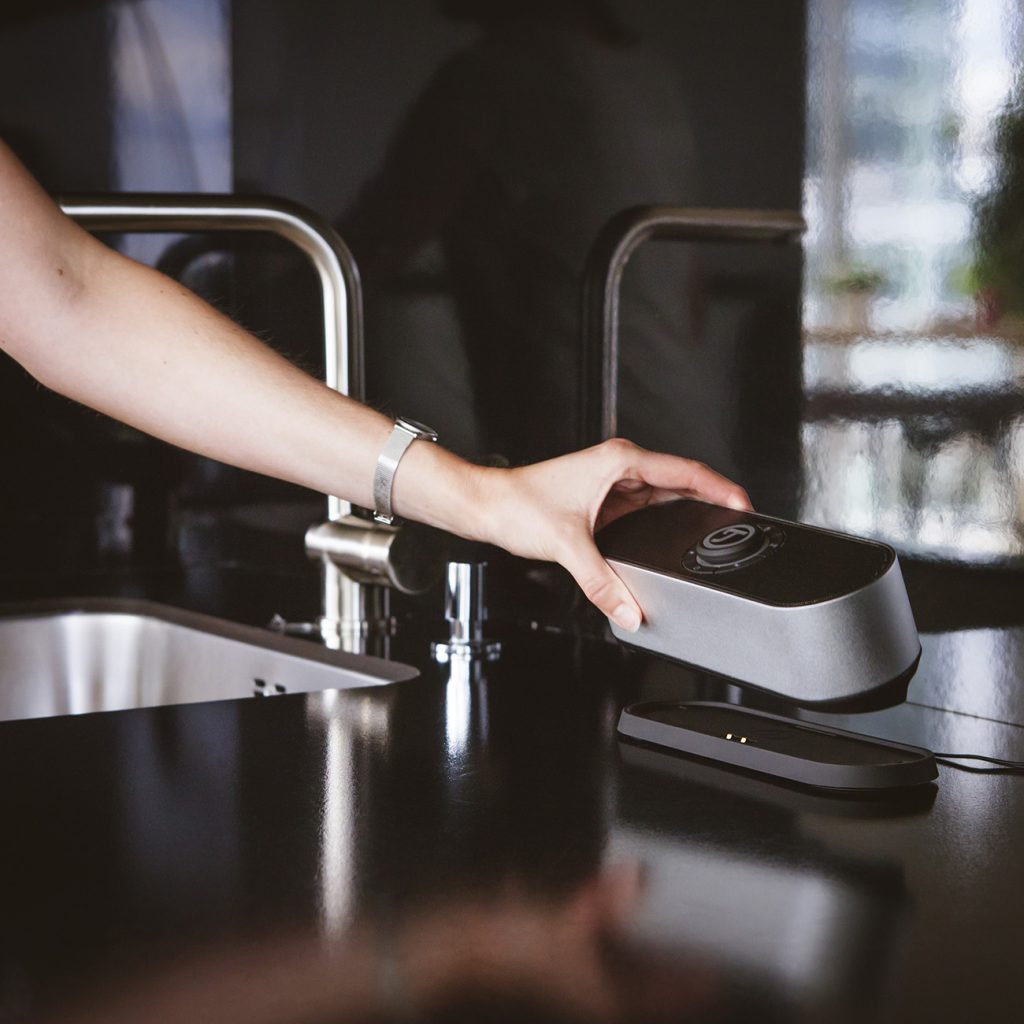 Bluetooth speakers
Pros:
•    Playback devices and speakers (i.e. the source and sink devices) require no additional infrastructure such as a Wi-Fi network
•    Bluetooth is very energy-efficient and creates a stable connection that is easy to establish
•    Bluetooth speakers usually come with integrated batteries which makes them a good option for traveling or listening to music on the go
Cons:
•    Bluetooth's range is limited to 10 meters and physical barriers like walls can break up the connection
•    Bluetooth does not have a big bandwidth. This means that higher resolution lossless files cannot always be streamed (depending on the Bluetooth version used)
•    Bluetooth only works between two devices: The source and sink device. Multiroom streaming is therefore not possible with this streaming technology.
Wi-Fi speakers
Pros:
•    Wi-Fi has a much greater range than Bluetooth, making it possible to move freely within the Wi-Fi zone with a tablet and still control the speaker
•    Wi-Fi can stream hgher resolution / lossless files
•    Wi-Fi makes it possible to control audio streams to multiple speakers from a single tablet
Cons:
•    Wi-Fi streaming requires a Wi-Fi infrastructure in order to work
•    Wi-Fi speakers do not always come with integrated batteries so aren't the best option for transporting outside the house or using on a back porch
If you're looking for a mobile speaker for your tablet that can be used just about anywhere including outdoors, Bluetooth speakers are a good choice. Wi-Fi speakers are best if you're interested in a whole house audio system consisting of multiple speakers or if you simply want to enjoy higher-resolution files.
How big should the speaker be?
The desire for mobility necessarily limits the size of speakers for tablets. Smaller speakers can be easily thrown into a backpack or carry on, making them the perfect option for trips and excursions. Just about all portable speakers today are equipped with Bluetooth streaming modules for use with smartphones and tablets.
Many Wi-Fi speakers, while not quite as compact, are still small enough to carry from room to room. Most however need to be connected to mains power and all require a Wi-Fi network. This generally limits their scope of use to the home.
How smart should your speaker be?
The main job of a speaker is produce good sound. But today's speakers offer so much more. Speakers intended for use with tablets are likely to offer many additional features. The following explains some of the key technologies you should look out for.
Chromecast built-in is Google's proprietary Wi-Fi streaming architecture. Speakers that have integrated this technology can easily play back audio from any Chromecast-enabled app the user has installed on his or her tablet. Unlike Bluetooth, the audio content is not directly accessed from the tablet, but rather from the cloud. The tablet bascially serves as a control device for volume and other settings. This keeps your battery from getting drained and allows you to move around with your tablet – even outside of the Wi-Fi zone – without interrupting playback. It's even possible to set up multiroom streaming with Chromecast via the Google Home app.

Streaming from a tablet to a speaker via Bluetooth requires a pairing procedure so that both devices recognize each other. Many devices, however, offer Near Field Communication (NFC). Speakers for tablets that come with NFC simply require that the tablet be held close to the NFC tag on the speaker which is generally indicated. NFC allows the two devices to begin communicating without any additional procedures or drop-down menus.

An additional Bluetooth feature is the aptX codec. This makes it possible for even lossless FLAC files to be compressed and streamed via Bluetooth without any audible compromise. The result is a sound quality that resembles more a CD than an MP3. Note that both the speaker and the tablet need to support aptX for this technology to work.
Teufel speakers for tablets: Tap into hi-fi sound
Bamster Pro: The portable speaker is compatible with iOS, Android and Windows operating systems and supports Bluetooth 4.0, aptX and NFC. Most of all, the sound is simply amazing. The BAMSTER Pro produces a stereo image far beyond the size of its 20-cm long enclosure thanks to Teufel Dynamore Technology. The compact speaker makes clever use of two passive bass membranes for a rich and powerful sound.
Raumeld One S: This compact Wi-Fi speaker really punches above its weight when it comes to sound. The 2-way coaxial system is supported by 2 passive bass membranes for playback with excellent detail and a rich bass foundation. Chromecast built-in technology makes it possible to directly stream from over 100 apps.
Raumfeld Stereo M: These large bookshelf speakers are perfect for those who want the convenience of streaming along with true stereophonic sound. Control playback via the Raumfeld App or select a Chromecast-enabled app. The system's integrated 320-watt amplifier powers a coaxial driver and woofer within each bass reflex enclosure to pure, high and distortion-free levels.
Coda: Tablets are ideal source devices for music when paired with the right speakers
•    Speakers that stream with either Bluetooth or Wi-Fi are ideal choices as speakers for tablets
•    Bluetooth allows two devices, the source and the sink, to stream directly — no other devices or infrastructure is required
•    Wi-Fi makes it possible to transmit even lossless audio streams
•    Multiroom streams can be controlled with Wi-Fi speakers for tablets
•    Chromecast built-in is a streaming architecture for easy Wi-Fi streaming with over 100 Chromecast-enabled apps
Title Picture: Property of Teufel Audio
Picture #1: ©NFC-Kennzeichnung, Aufgrund geringer Schöpfungshöhe nur marken-/namensrechtlicher Schutz. Quelle: Wikimedia
Picture #2: ©Qualcomm aptX Logo bestimmte Rechte vorbehalten. Quelle: Wikimedia