Speaker stands are often the easiest way to finely tuned speaker placement, but are still often ignored or forgotten. Stands are mainly used for bookshelf speakers, satellites and dipoles. You can improve a set-up both acoustically and optically. We explain how.
Which role do speaker stands play in creating the sound image?
Speaker stands can be used with the front speakers or the rear surround satellites of a 5.1 system as well as with a classic stereo system. Their main function is to lift the boxes to the right height. This is usually the ear height for stereo and front speakers (for a seated person). The situation is similar with surround satellites, which often work best when they radiate sound waves over the heads of the listeners.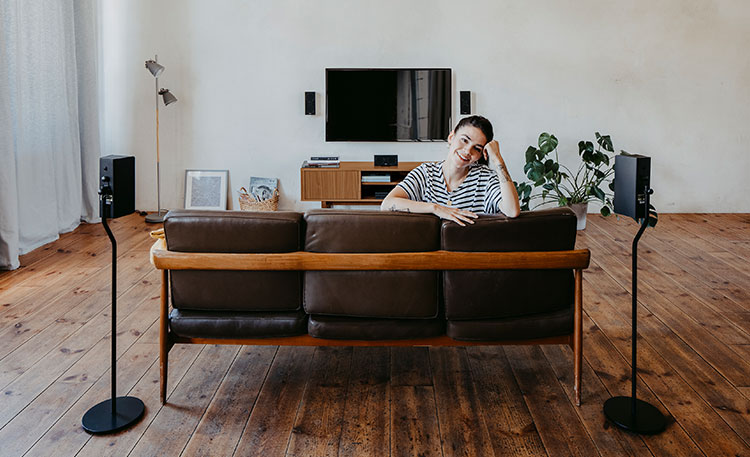 You can find detailed information on the installation of speaker systems here.
With correctly positioned speaker stands, the topic of speaker decoupling should also be settled. The aim is to avoid unwanted vibrations in the place of installation. These can occur, for example, when the speakers are standing on or in shelves. Vibrations can cause the sound to "shake".
You can also use speaker stands to easily and elegantly bypass the wall mounting of speakers. The design and interiors factor should of course not be underestimated when it comes to speaker stands. From a purely aesthetic perspective, speakers that stand alone in the room or appear squashed on the shelf can look instantly better on a stand.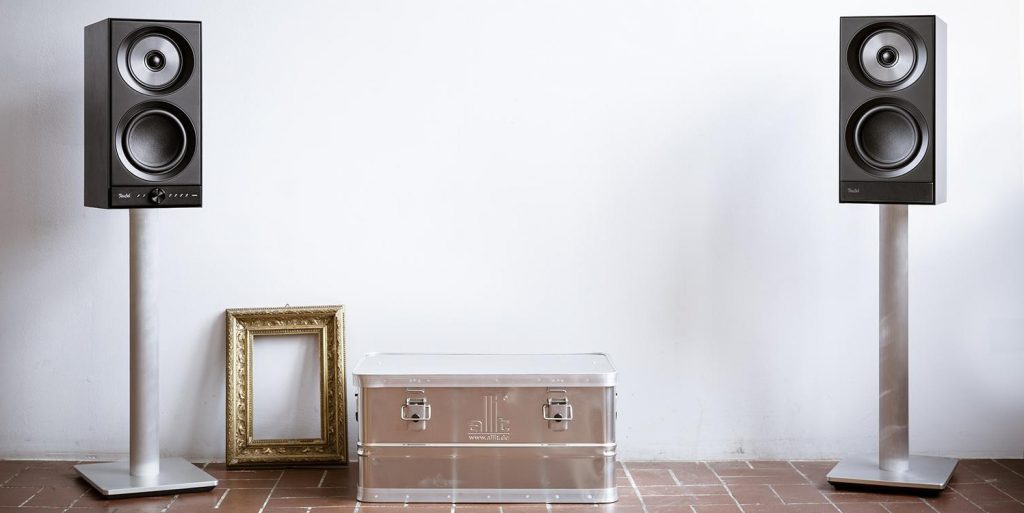 Bookshelf speakers from Teufel
Important features of speaker stands
So what does a stand actually have to do? It's not just as simple as standing around. On the one hand, there is the general workmanship and stability. Everything should fit perfectly here, otherwise stands can do more harm than good. In addition, there are other aspects and functions that you should keep in mind:
✔ Cable routing: the speaker cable should be laid in the base. This is practical and looks good.
✔ Adjustable height: not a must, but can make it easier to fine-tune the speakers.
✔ Stand properties: the stand should be as heavy as possible to prevent the stand and speaker from tipping over easily.
The speakers are usually mounted on the stands using screws or keyhole holders. It is important that the speakers are prepared for screw mounting. This generally ensures compatibility with universal stands.
All-rounders and specialists – Teufel speaker stands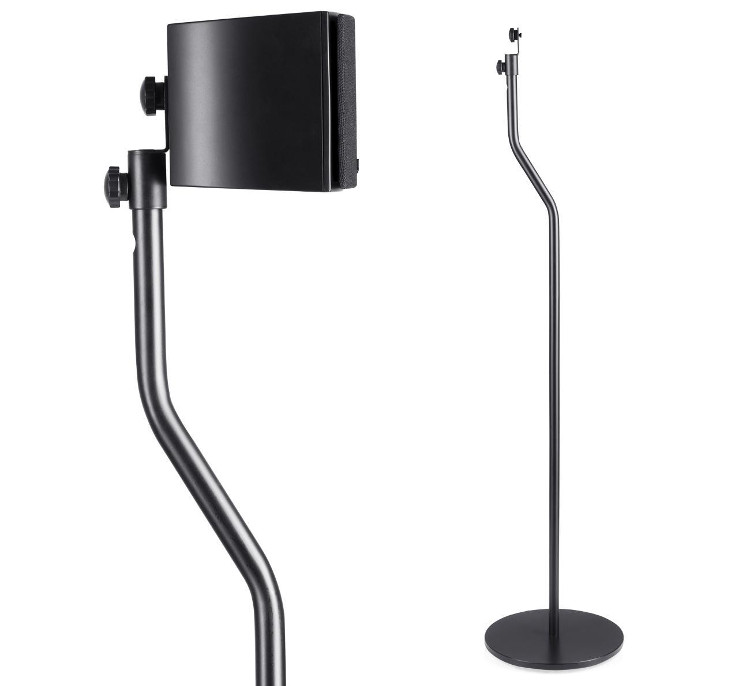 ▶ Stand AC 3001 SP: this speaker stand does what it's supposed to do, and it's damn good. The construction of aluminium column and cast iron base is of first-class workmanship and offers flexibility. Two interchangeable columns are included: one short for micro-speakers and small satellites and one longer for larger compact speakers.
▶ Stand AC 7001: With this speaker stand you can raise speakers in landscape format as well as upright. The extra wide and heavy base provides the necessary stability.
Hi-Fi in all room – Teufel multi-room speakers
Conclusion: the most important information about loudspeaker stands
Speaker stands bring surround satellites and bookshelf speakers to ear level.
This allows you to bypass the wall mounting of speakers in a way that looks good in any interior.
In addition, speaker stands can prevent unwanted vibrations and oscillations.
Other important features of speaker stands are concealed cable routing and height adjustability; they can be mounted with screws.