The first thing to consider with bathroom speakers is whether they can tolerate humid environments, the odd splash of water or wet fingers. But what else should one look out for in the quest for the perfect sound to shower by? Read on to find out along with useful tips for safely setting up your bathroom speaker.
Speakers for bathrooms and waterproofing
Normally sound quality, appearance and price are the top considerations when purchasing loudspeakers. When it comes to a sound system for the wettest room in the house, however, the criteria "water proofing" needs to be considered.
Some bathrooms are equipped with ventilation systems that effectively remove moisture from the air. This minimizes the risk of damage to a speaker system. Most bathrooms, however, are exposed to high levels of humidity on a regular basis.
It's therefore best to look for Bluetooth speakers designed for damp outdoor conditions or humidity-resistant Wi-Fi speakers like the One S. Also, both of the streaming options via Bluetooth and/or Wi-Fi dispense with the need to attach any source devices. Some speakers even come with preset buttons for getting streams up and running without a smartphone – perfect for sleepy mornings.
What qualities make for a good bathroom speaker?
The following overview summarizes some important points to consider when purchasing a bathroom speaker:
Water resistance / water proofing
Bathroom speakers should have a degree of splash proofing or at least water resistant rubberized controls, moisture-proof grilles to protect the drivers and a non-slip stand or wall-mounting option.
Good sound with plenty of bass
The speaker should have a good sound across the entire frequency spectrum. Decent bass can be a particular challenge since most bathroom speakers tend to be smaller, but clever acoustic technology can remedy the problem. The Raufmeld One S, for instance is equipped with passive bass radiators for a very respectable low end.
Broad sound dispersion
Bathroom speakers should ideally have the ability to disperse sound over a wide area. Since you won't be sitting passively in a "sweet" spot but rather moving from shower to sink to towel rack, this will ensure the most consistent audio enjoyment.
Practical features
In rooms like bathrooms and kitchens, practicality is key. Convenient options like Bluetooth and/or Wi-Fi streaming, radio and preset buttons can make it easier to control your sound while otherwise occupied.
Compact form
Since the average bathroom is not very big, bathroom speakers should be compact. A wall-mounting option is also a nice option as this save shelf room and is a safer option in a wet environment.
The following blog post goes into more depth about waterproof and water resistant speakers. Here you can learn more about the IP code for intrusion and water proofing.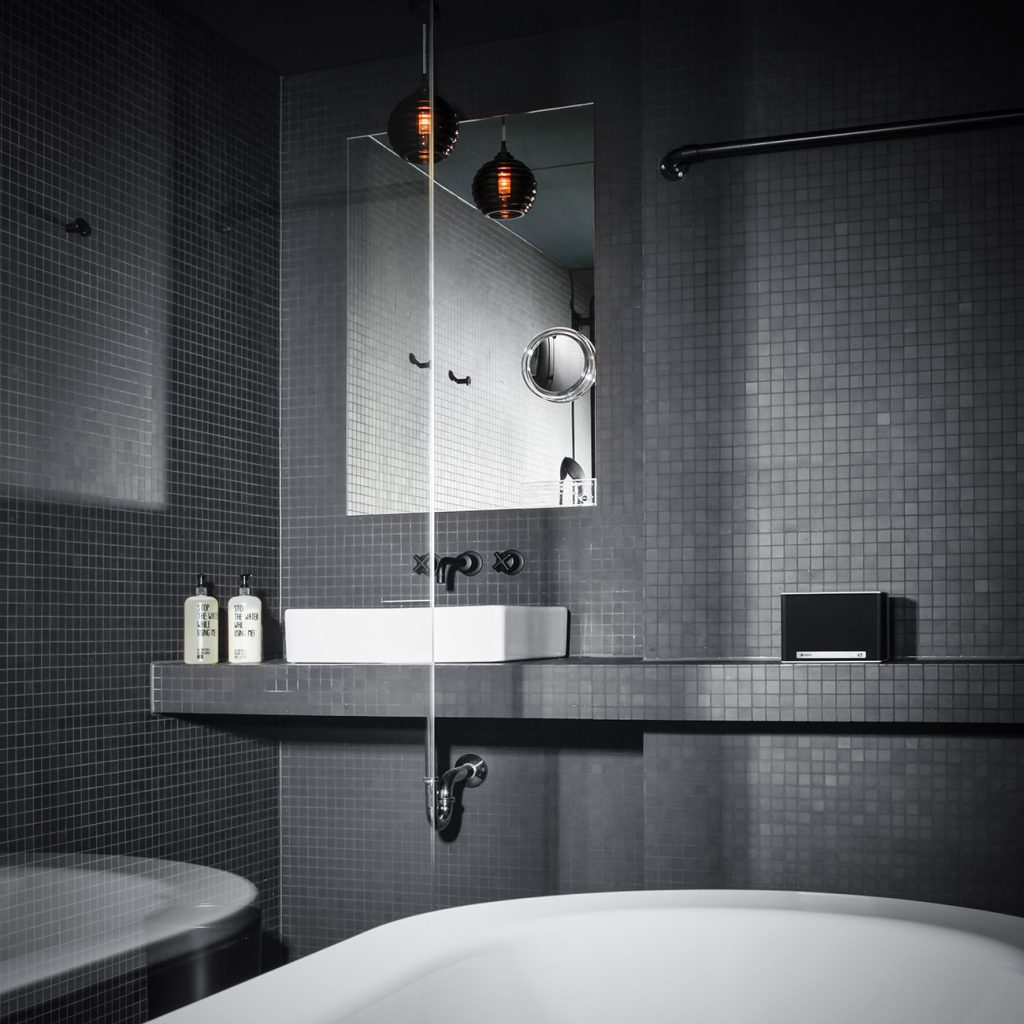 Raumfeld ONE S: The perfect bathroom speaker
Naturally, the Teufel product portfolio contains a loudspeaker perfect for bathroom conditions: The Raumfeld One S. Hydrophobic preset buttons, impregnated humidity resistant grilles and a rubberized cover over the back connection panel makes this a very good speaker to use in damp rooms. In addition, the One S's compact yet robust build and excellent sound quality with plenty of bass promises a fantastic listening experience during all your grooming rituals.
From our Bluetooth line, the ROCKSTER XS is a good choice for bathrooms. A splash-proof design and protected inputs are perfect for wet rooms. Bluetooth 4.0 with NFC offers CD quality streaming along with easy pairing. The speaker's slender form also takes up very little shelf space. A high-capacity lithium ion battery means you can play the little ROCKSTER for hours between charges. Note however, that this speaker's strong bass can cause it to vibrate out of place. It's therefore a good idea to anchor it somehow, such as by placing it on a non-slip rubber mat.
All pictures: Property of Teufel Audio