As a gaming trend, virtual reality glasses, or "VR" glasses, have been around for years. They promise to transport the user into a new and über realistic world. But beyond the hype, what are these devices capable of and what remains a distant dream? The following presents the major manufacturers of VR glasses, their features, use scenarios and what the industry plans for the future.
Virtual reality glasses
VR glasses are essentially a display positioned directly before the eyes, cutting out all other visual cues. To the extent that one sees one's own body, this is portrayed as an avatar within the virtual world, adding to the impression of being in the action. In addition, virtual reality glasses are able to adjust the images projected according to the movements of one's body so that a turn of the head causes a corresponding change in the scene. This makes gaming with VR glasses a completely different experience than gaming in front of a TV or computer screen.
There are two basic categories of virtual reality glasses on the market:
1. VR glasses with integrated displays (standalone)
Standalone VR glasses can be directly connected to a console or computer. Everything required comes included with these plug-&-play devices.
2. VR glasses for smartphones (smartphone required)
With this type of VR glasses, the smartphone becomes a part of the device with the screen serving as the VR display. Content for the virtual experience can be accessed from a wide range of VR apps for games, movies and simulations like riding a roller coaster or even checking out the colosseum via the Google Street View App.
The following are the most popular VR glasses in both categories.
Standalone virtual reality glasses
Name
Resolution (pixel)
Field of vision (degree)
Frame rate (fps)
Special features
Price (€)
Oculus Rift

2160 x 1200
110°
60
• Comes with an Xbox One Controller
• Compatible with PCs and Xbox One consoles
589.00
HTC Vive

2160 x 1200
110°
90
• The most technologically advanced VR glasses of 2016
• Many accessories needed to assemble the glasses not included
--> Assembly is time consuming and complex
1,290.00
Playstation VR

1920 x 1080
100°
120
• Delivery only includes glasses and requisite cable
• No controller
• No camera
399.00
Virtual reality glasses for smartphones
Name
Field of vision (degree)
Special features
Price (€)
Samsung Gear VR

96°
• Only compatible with certain Galaxy S6/S7 and Note 7 smartphones
64.99
Google Daydream


101°
• Only compatible with certain select smartphones
• Comes with a remote for controlling the smartphones, but not for accessing content
97.98
Zeiss VR One

100°
• Only compatible with smartphones with 4.7 – 5.2 inch displays
• Very good ventilation
107.00
What should I consider when purchasing VR glasses?
Since all virtual reality glasses serve the basic purpose of entertainment, it's important to consider which movies, videos or games you want to experience as virtual reality. Hard core gamers might want to invest in more expensive standalone VR glasses, whereas VR glasses that work with smartphones are a good introduction to the virtual experience and its possibilities. Those who normally wear prescription glasses will also need to consider which VR glasses can accommodate their regular eyewear.
Virtual reality glasses for smartphones
Due to the smaller price tag, VR glasses for smartphones are a good idea for virtual reality beginners. To get the most out of the experience, opt for a smartphone with the following features:
• Hi-res display
• Movement sensors
• 4 GB RAM
A high-resolution display will go a long way towards a heightened sense of diving into an alternate reality. Movement sensors such as accelerometers and gyroscopes for sensing motion and directionality are vital for many games, as is a larger RAM of at least 4 GB. Generally, the very cheapest models on the market are not going to fulfil all of these criteria, but midrange models are usually sufficient. In addition, the shape of the smartphone can be a factor with certain VR glasses, so it's a good idea to check the requirements.
Once you have a pair of VR glasses and compatible smartphone, the best experiences are generally simulations and movies. Since games require a method of control, they can be a bit limited in this setup.
Standalone VR glasses for consoles
Those serious about virtual reality gaming and who are willing to spend a little more should look into standalone virtual reality glasses. Here the type of game console and games are a big consideration. Those, for instance, who use a PlayStation 4 would do well to get a PlayStation VR which is ideal for playing games and watching movies with the console. The drawback is that this device can only be used with the PlayStation 4. The PlayStation VR glasses also require a cable connection and so mobility will be restricted.
PlayStation's parent company, Sony, offers a large number of games that can be played with or without VR glasses. Some can be played with the PlayStation VR and a standard PS4 Controller, but some require a special Move Controller. If one does not already have a PlayStation camera, this will also have to be purchased for the VR glasses to work.
Xbox One fans can use Oculus Rift VR glasses. By using Microsoft's Xbox One Streaming to Oculus Right app, the user can stream Xbox One games to the VR glasses.
Standalone VR glasses for PCs
Those who prefer gaming PCs to consoles, the Oculus Rift or HTC Vive VR glasses are good choices. The emphasis here is on performance. For the best virtual gaming and movie experience, your PC should meet the following criteria:
• Processor: Intel i5-4590
• RAM: 8 GB
• Video card: Geforce GTX 970
VR glasses for PCs are usually connected to a power source via USB cable and to the video signal via HDMI. Games can be controlled as usual with a keyboard, mouse or external gamepad. Some manufacturers have even managed to integrate successful eye-tracking technology. The ability to navigate a game with eye movement is in its infancy, but promises a whole new level of realism in the future.
Dive deeper into the virtual with realistic sound
Virtual reality glasses create an incredibly realistic visual interface for gaming and video content but a tinny or muffled sound can quickly break the spell. It also makes little sense to invest in a quality VR visual interface and then skimp on the audio. For this reason, it's recommended that the user not rely on the in-ears that usually come with VR glasses and headsets and instead find their own sound solutions.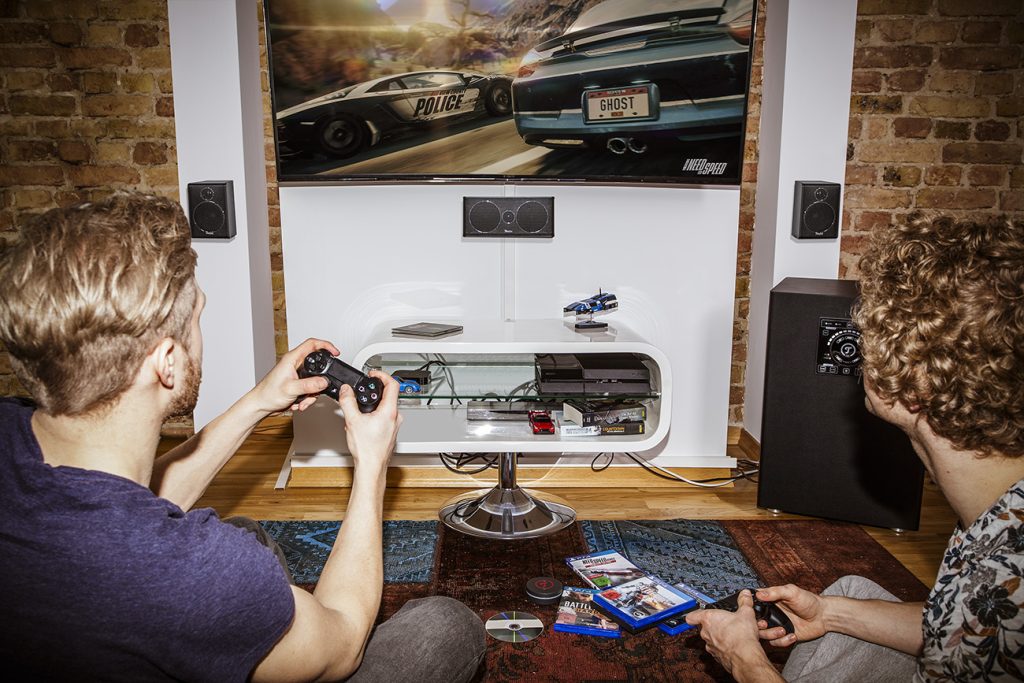 In general over-ear headphones offer a more realistic soundscape. Closed over-ear models offer excellent noise-blocking properties and some, like the MUTE BT, offer Active Noise Cancellation (ANC) technology. By neutralizing incoming sound waves, ANC technology transforms the headphones into a sonic oasis. This makes them very much the acoustic equivalent of VR glasses which block all visuals from the "real" world. The use of Bluetooth to transmit the audio signal frees the user from another cable while ensuring excellent sound quality.
In addition to the MUTE BT, Teufel offers the Mediadeck 2.1 multimedia sounddeck and the Concept E 450 Digital. These are good options for those who don't want to wear headphones. After all, it's sometimes helpful to have at least one of your senses open to what's happening in the non-virtual world.
Useful VR tips: Beginners should take it slow!
Those using VR glasses for the first time shouldn't wear them for more than 30 minutes at a time without small breaks of 10 to 15 minutes. Ignoring this can lead to motion sickness. Normally a sensation we associate with long car trips or boat rides, this "motion sickness" results from the eyes not being in sync with the rest of the body. With normal movements, the vestibular in the inner ear senses the same movements perceived by the eyes. When there is a disconnect between information sent to the brain from the inner ear and eyes, a sense of nausea can result. The good news is that, with a bit of practice, it's possible to get virtual "sea legs" and overcome this sensation.
What will the future bring for VR?
VR technology is still in its infancy but can certainly add an interesting new dimension to gaming and other visual content. The future should continue to chip away at some of the current drawbacks such as the relatively large size of VR glasses, their cable connection and imperfect eye recognition software.
The virtual reality experience is also expected to expand beyond the realm of sight and sound to encompass tactile sensation. New technology like the Hardlight Suit from NullSpace VR make it possible to feel an opponent's arrow or blow (as pressure, mind you, not as intense agony). What they describe as a "haptic feedback vest" uses 16 pads to indicate points of contact and even rain. The suit can even be used as a controller for certain in-game activities like shooting, punching and deflecting. These sorts of innovations are set to untether gaming from a 2-dimensional space. They also promise to include the full body, not just thumbs and fingers, for a more involving and active experience.
Title picture: By Evan-Amos (Own work) [Public domain], via Wikimedia Commons