Fabio Wibmer has already made a name for himself beyond the scene with spectacular videos of his fast mountain biking. For the latest Teufel campaign, we were able to win Fabio for a video shoot in Berlin. And this shoot was a completely new challenge for everyone, not least because of Corona. We asked Fabio how he experienced the shooting days and what he plans to do after the lockdown.
The beat of the city: The video on YouTube
For the current campaign, we accompanied Fabio on his bike through Berlin. The charismatic professional athlete turned the streets of Berlin into his freeride playground. Of course, with sound support from Teufel.
Fabio on 2020, the video shooting in Berlin and the risky stunts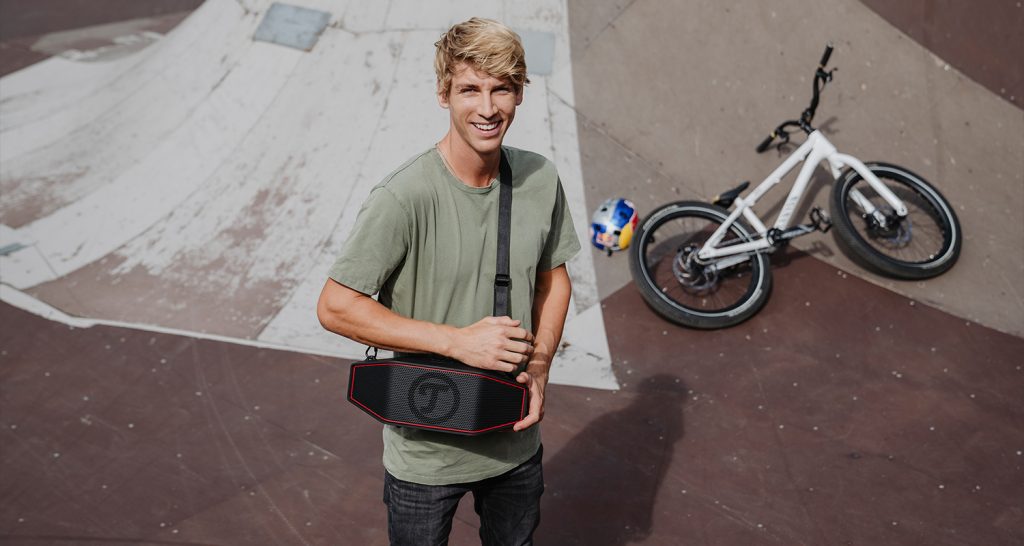 Blog Team: Fabio, as an Innsbrucker who is actually constantly on the road beforehand, you were one of the first to be confronted with the restrictions that started about a year ago. How did you experience this time?
Fabio: The last lockdown, which started shortly before Christmas 2020, affected me comparatively little. Because I had broken my ankle in the south of France shortly before, I had to concentrate on my recovery. Travel and projects were therefore postponed for the time being and I was actually exclusively occupied with the recovery.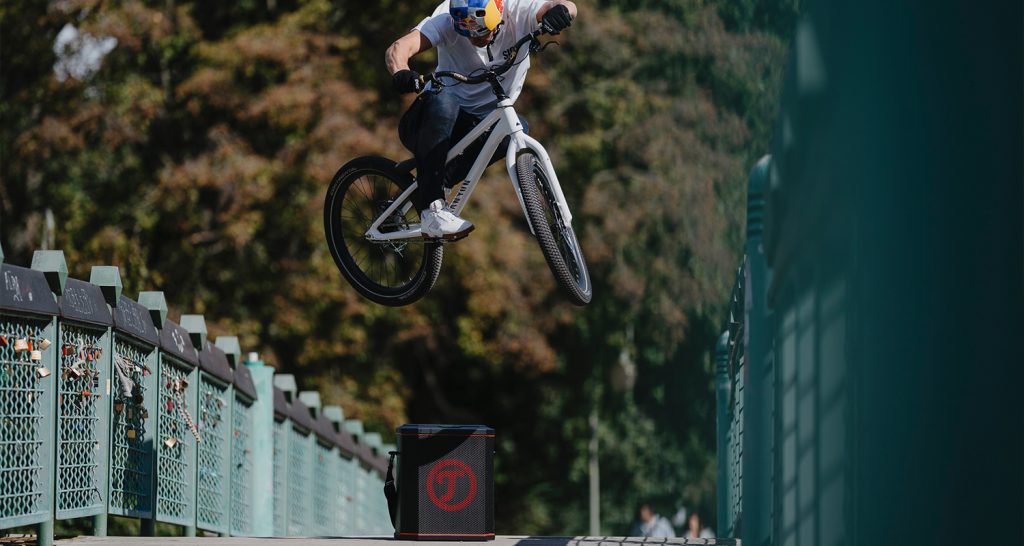 Blog Team: What was the biggest challenge for you last year?
Fabio: All in all, the last year was of course associated with many restrictions and challenges. Many projects had to be brought forward or rescheduled, international projects had to be moved to Europe. Larger trips were practically impossible. But I have to say that I'm quite happy about what we were able to realise last year. First and foremost, of course, my home office video, which was shot only on my Innsbruck lot during the lockdown. But there were also many smaller projects or short trips, for example, the shoot with Teufel in Berlin. So we pretty much made the best of it.
Home Office – Fabio Wibmer (YouTube)


Blog Team: Let's move on to The Beat of the City video shoot in Berlin with Teufel. When someone watches this video for the first time they might not realise that this was shot in such difficult times. How could this succeed?
Making the video Corona-compliant was indeed a challenge. The fact that this is not noticeable at first glance is mainly thanks to the good cooperation between my team and the Teufel team (Fabio Wibmer on the filming).
Fabio: Making the video Corona-compliant was indeed a challenge. The fact that this is not noticeable at first glance is mainly thanks to the good cooperation between my team and the Teufel team, who each took care of the implementation. The detailed preparation of the shoot was enormously important. Flexibility in the choice of dates was certainly also a big advantage. This was certainly the biggest challenge: finding a time that allowed several people to come together, for example for the beatboxer scene or the final scene on the roof.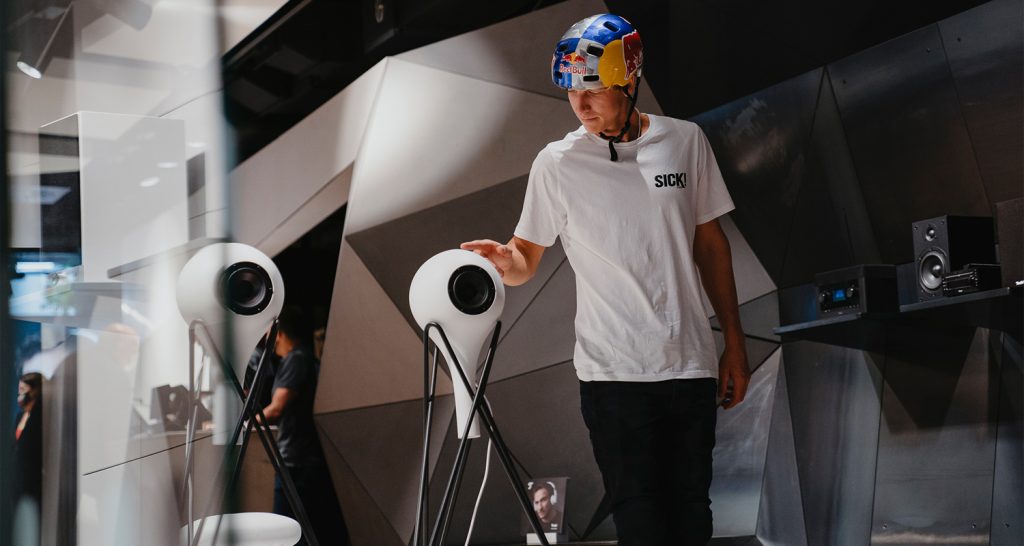 On the front wheel down the ledge
Blog Team: Which stunt was the most fun during the video shoot?
Fabio: It's very hard to say which one thing was good. The whole shoot was pretty cool and fun. Looking at the more technical lines, I'm happy that everything worked out so well. Then there was this scene with the steep ledge, which I partly rode down only on the front wheel. Getting up there at all was probably the most difficult part of the shoot. I really slipped every time *laughs*.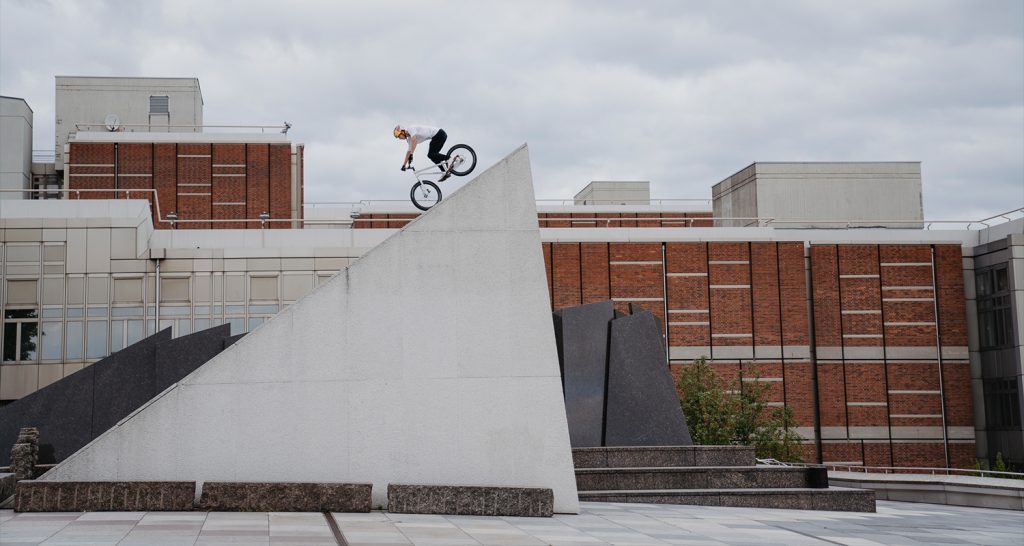 Blog Team: If you had a free choice of locations in Berlin, where would you like to ride your mountain bike?
Fabio: I've already been biking in Berlin several times and still don't know all the spots by far. That's why it's super hard for me to choose one. The mix of modern and historic places offers great features for trial biking. I should really come back again and go on a longer exploration tour.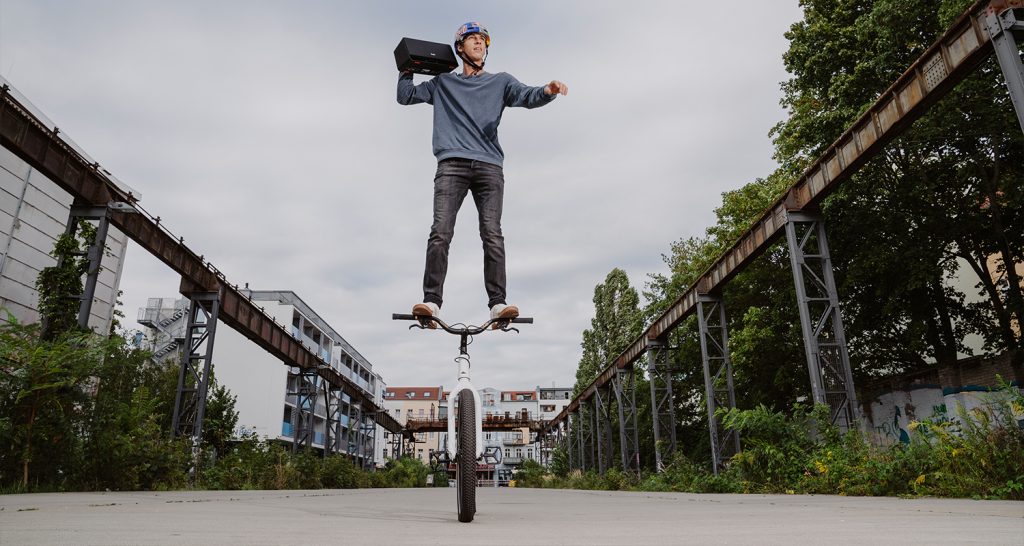 Music that moves you
Blog Team: Do you have a song/album/artist that has accompanied you over the last year or that you have perhaps discovered for yourself? Which concert would you like to attend again first?
Fabio: Last year I listened more to skate punk and punk rock again, for example, Blink-182 or The Offspring. So it's more like rediscovering old favourites. I would really like to go to a rock and punk rock concert again and really party. The Offspring is currently releasing a new album – with a lot of luck, there will also be a tour. If the pandemic allows it.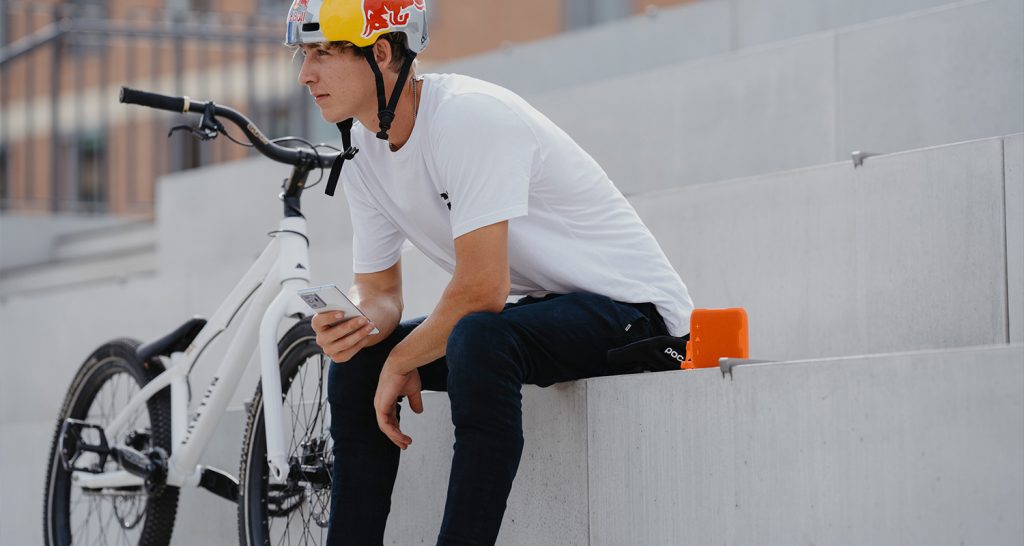 Blog Team: I'm sure you're waiting – like all of us – for the lockdown to end completely. Do you already have plans for what you will do then? Where could we see you live again, for example?
Fabio: I have some video projects in the pipeline that I'm really looking forward to. By then I should be completely fit again. What was also missing a lot were live events where I could meet my fans. I hope that will be possible soon. Events like Crankworx Innsbruck or the one or other film premiere.
That feeling of having made it
Blog Team: The Beat of the City the motto of our joint campaign. Which songs do you associate with Berlin or with the shooting days with Teufel in Berlin?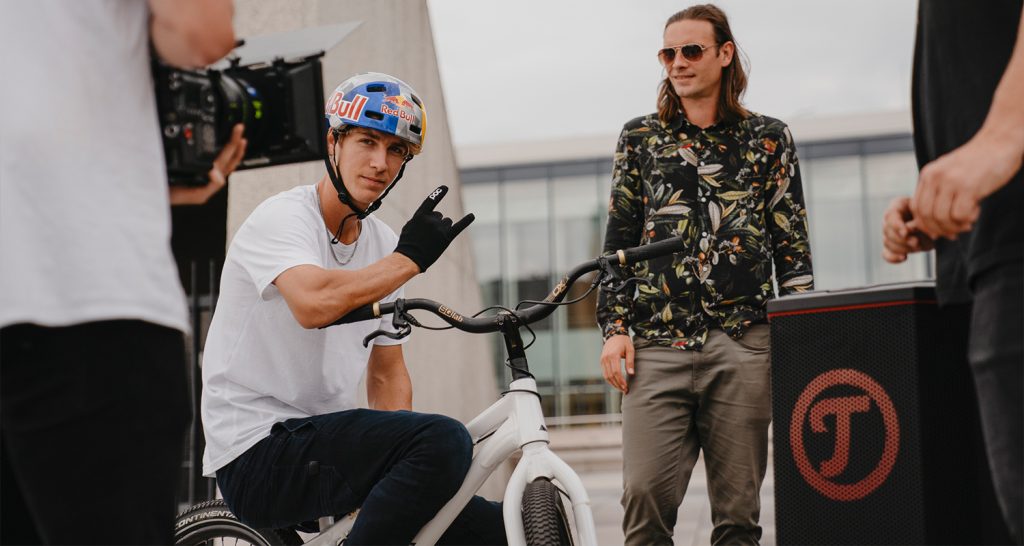 Fabio: In fact, I somehow associate "Young Thug, 2 Chainz, Wiz Khalifa & PnB Rock – Gang Up" [note: the song can be found on the playlist] most with the Berlin shoot. We listened to the song after we shot the very last shots at Potsdamer Platz and that feeling of having made it.
Blog Team: We thank you for the interview and wish you accident-free stunts.
The Beat of the City: Fabio's Playlist on Spotify
Fabio with the BOOMSTER GO from Teufel in all its 5 colours: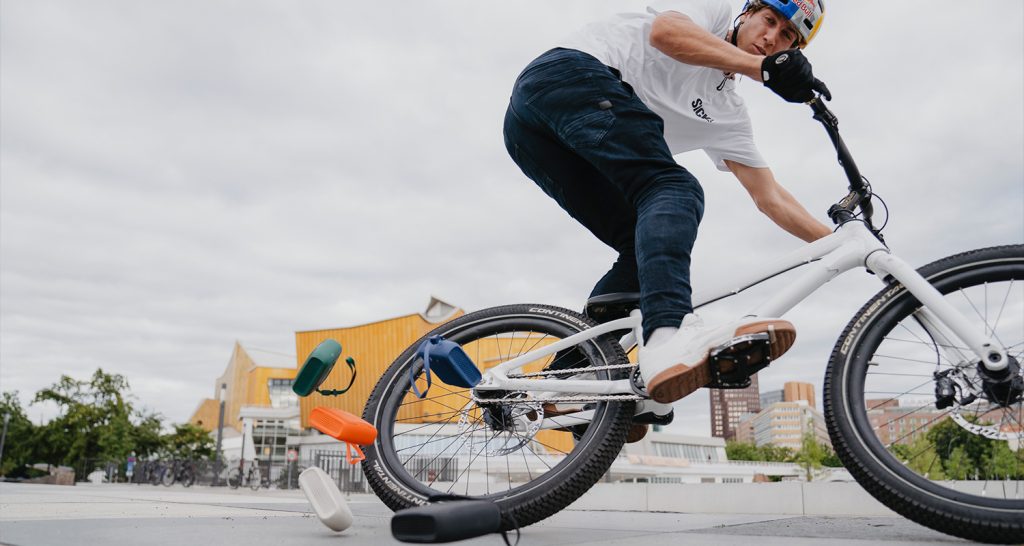 Fabio Wibmer online
YouTube: youtube.com/fabwibmer
Instagram: instagram.com/wibmerfabio
Facebook:  facebook.com/wibmerfabio
TikTok: @wibmerfabio